The Highest Peaks Reached by NBA Small Forwards in the Modern Era

Small forward has become the do-everything position in today's NBA.
The best of the best aren't just tremendous scorers. They can facilitate for their teammates, lock down against opposing wings and rebound the ball with aplomb. One-way standouts have still managed to gain prominence, but no one can touch the superstars who get the job done on both ends.
But how do they all stack up against their positional counterparts throughout the modern era? Since the beginning of the 1973-74 season, when the NBA began tracking more stats and allowed for the retroactive calculation of many advanced analytics such as total points added (TPA), the league has played witness to plenty of high-quality small forwards.
Plenty of basketball analysts have looked at their careers as a whole. The best single seasons tend to take center stage when the Maurice Podoloff Trophy is greeting a new MVP. But here, we're concerned only with lengthier peaks.
Having a one-off campaign can be special. Maintaining that success for a three-year stretch, however, is far more impressive and meaningful.
Journey with us as we travel through the best three-year stretches from modern-era small forwards (as defined by Basketball Reference and based on number of seasons listed at each position) by adding together their TPA scores in each of the three relevant consecutive campaigns. One stellar season can counteract more lackluster contributions surrounding it, but playing at a high level for the entirety of a three-year period is the best way to vault up the rankings.
20. Detlef Schrempf, 1991-93: 589.16 TPA
Detlef Schrempf was a role player for the Dallas Mavericks early in his career. Before he finished up his playing days with the Portland Trail Blazers, he suited up for the Seattle SuperSonics and earned two of his three All-Star appearances.
But he was never better than while wearing an Indiana Pacers uniform.
With Reggie Miller spacing the floor, Schrempf was allowed to attack on the inside and create for his teammates without defenders crashing toward him. It paid off throughout his time in blue and gold, but never more so than in 1992-93, when he earned his first All-Star bid and averaged a whopping 19.1 points, 9.5 rebounds and 6.0 assists.
Schrempf's best season came two years later in the Pacific Northwest, but only after he'd struggled a bit while fitting in with his new teammates. The sustained excellence at the end of his Indiana tenure, just before he was traded for Derrick McKey and Gerald Paddio, couldn't be topped.
19. Paul George, 2012-14: 665.6 TPA
Even though Paul George is a great fit next to Russell Westbrook, he probably won't top this peak while he wears an Oklahoma City Thunder uniform. He's only 27 years old and has many excellent seasons left, but his brutal leg fracture cut his prime a bit short and made it harder for him to produce three consecutive All-NBA seasons.
To put that in perspective: George would need 259.89 TPA in 2017-18 to match his three-year peak from 2011-12 through 2013-14. In other words, he'd need to replicate his efforts from either of the latter two campaigns in that true peak (262.5 TPA in both), which will be rather difficult as he adjusts to his new environs and cedes touches to a dynamic point guard.
It is doable, largely because his 2011-12 efforts were cut short by the NBA lockout. But it's safer to bet against him doing so, if only because few superstars post career-best seasons during Year 1 in a new location when sharing the rock with the most ball-dominant teammate of their careers.
18. Andre Iguodala, 2007-09: 692.49 TPA
Andre Iguodala wasn't always a role player for the Golden State Warriors. He's been tremendous while filling that niche as the leader of the second unit and a vital ingredient in the small-ball death lineups, but he was once a bona fide star for the Philadelphia 76ers.
During the relevant three-year stretch, the small forward averaged 18.6 points, 5.9 rebounds and 5.3 assists while shooting 45.7 percent from the field, 31.6 percent from downtown and 72.5 percent from the stripe. His shooting stroke was his game's only weak spot, and he counteracted it by throwing down devastating Iguodunkas in transition, locking up perimeter opponents on the defensive end and making everyone around him better.
Of course, it also helped that he played so damn much.
From 2007-08 through 2009-10, Iguodala never missed a game and averaged 39.4 minutes per contest—only Joe Johnson topped his per-outing playing time, and the Atlanta Hawks 2-guard suited up nine fewer times.
17. Dominique Wilkins, 1986-88: 695.61 TPA
Did Dominique Wilkins provide much defense for the Atlanta Hawks? Not really.
But the man was nicknamed "The Human Highlight Film" for a reason. When he wasn't peppering the opposition with mid-range jumpers and isolation finishes around the hoop, he was throwing down ridiculous dunks that showcased the full extent of his eye-popping athleticism.
Wilkins was a remarkably consistent offensive force throughout the late-1980s and early-'90s. But he earns this peak because he paired that point production with adequate work as a stopper before Father Time started to sap some of his stamina and forced him into becoming even more of a one-way commodity.
16. Paul Pierce, 2001-03: 750.64 TPA
Let's not forget how ridiculously good Paul Pierce was during the earliest stages of his NBA career.
Only a few years removed from thriving at the University of Kansas, this small forward took the league by storm. He averaged over 25 points during each season of this three-year peak, thrived as a secondary facilitator for the Boston Celtics and still found time to hold his own defensively. He could do everything, and it didn't hurt that he caught fire from downtown for two straight seasons before regressing significantly in 2002-03.
If images of Pierce in a Brooklyn Nets, Washington Wizards or Los Angeles Clippers uniform are dancing through your head, do yourself a favor. Just watch how good he used to be:
15. Alex English, 1982-84: 828.76 TPA
Here are your scoring leaders (total points) during the 1980s (1980-81 through 1989-90):
Alex English: 21,133
Moses Malone: 18,491
Larry Bird: 17,974
Adrian Dantley: 16,916
Dominique Wilkins: 16,695
And now, from 1981-82 through 1983-84:
Alex English: 6,575
George Gervin: 6,561
Kiki Vandeweghe: 6,241
Moses Malone: 6,037
Adrian Dantley: 5,551
So yeah. English's peak deserves some love.
14. Adrian Dantley, 1980-82: 841.9 TPA
Forget about defense. Adrian Dantley usually did.
The lanky small forward was one of the most impressive scoring talents the game has seen since the ABA-NBA merger. Blocking his shot was nearly impossible, and he so rarely committed to looks that weren't directly within his wheelhouse. Most things were.
Dantley didn't just put up points in volume; he scored with remarkable efficiency, especially for a player who took only 41 three-point attempts throughout his entire career. He led the Associated in offensive box plus/minus during each of the three seasons contained in his peak, and he did so while spending quite a bit of time on the floor.
13. Chris Mullin, 1989-91: 878.18 TPA
Even though Chris Mullin would eventually become one of the NBA's great flamethrowers during the tail end of his career, he had trouble making a substantial impact from beyond the arc while submitting his peak seasons. During the relevant campaigns, he took only 1.9 triples per contest and connected at a 32.1 percent clip—a far cry from the 3.1 and 46.5 he'd post in 1998-99 (his penultimate go-round with the Indiana Pacers).
Mullin just found other ways to thrive.
He was never much of a defender, but the opposition had no idea how to slow him down as he moved toward the basket. Mullin could knock down mid-range jumpers, even off the bounce. He was tremendous at drawing contact—ahead of his time, really—and made his foes pay by becoming one of the greatest free-throw shooters in league history. And if that wasn't enough, he knew how to keep his eyes up in search of the open man, who he could easily hit with an on-target feed to rack up yet another assist.
12. Cedric Maxwell, 1979-81: 888.33 TPA
Why isn't Cedric Maxwell remembered more fondly?
Well, the double-double threat never put up too many glamorous numbers. He just rarely made mistakes and shot with inordinate levels of efficiency in his supporting role. During his three-year peak, he averaged 17.0 points, 8.4 rebounds and 2.7 assists while shooting 59.4 percent from the field and 79.2 percent at the stripe. Plus, he turned the ball over just 2.8 times per contest.
Maxwell wasn't great in any one area. He just did all the little things well for the Boston Celtics, even as he ceded the spotlight to the team's more well-known superstars.
11. Marques Johnson, 1979-81: 942.7 TPA
Were it not for a neck injury that shortened his career—holding him to 10 games in his age-30 season and then forcing him to sit out the entirety of the next two campaigns—Marques Johnson likely would've produced numbers that elevated his standing and allowed him to remain a household name a few decades later. Prior to that aforementioned 1986-87 disaster, the small forward had made five All-Star appearances in nine opportunities while averaging 20.4 points, 7.1 rebounds and 3.7 assists for his career.
Let's put those numbers in perspective by listing every single player who has posted at least 20 points, seven rebounds and three dimes for an entire career: Kareem Abdul-Jabbar, Charles Barkley, Elgin Baylor, Larry Bird, Wilt Chamberlain, DeMarcus Cousins, Billy Cunningham, Kevin Durant, Blake Griffin, LeBron James, Johnson, Bob Lanier, Karl Malone, Bob Pettit, Oscar Robertson and Chris Webber.
Johnson's late-career exploits ultimately made his peak easier to brush aside when evaluating NBA legends. But let's not harbor any delusions about this small forward: He was a legitimate stud who kept pace with plenty of first-ballot Hall of Famers.
10. Andrei Kirilenko, 2004-06: 964.39 TPA
The impact of Andrei Kirilenko's defense can't be overstated. In fact, he has some of the most impressive scores in defensive points saved (DPS) of any small forward in the modern era. Take a gander at the only seven seasons at the position that have topped 200 in DPS:
2003-04 Andrei Kirilenko: 245.48
2005-06 Andrei Kirilenko: 233.39
1994-95 Scottie Pippen: 231.08
1996-97 Grant Hill: 204.98
1981-82 Larry Bird: 203.97
2008-09 LeBron James: 203.18
1993-94 Scottie Pippen: 200.72
During that 2003-04 campaign, Kirilenko averaged an audacious 1.9 steals and 2.8 blocks while locking down countless stars at multiple positions. And if that wasn't enough, he grabbed 8.1 rebounds per game and contributed an efficient 16.5 points per game.
Had he come around a decade later and played during the analytic era, he may well have emerged as a legitimate MVP candidate.
9. Shawn Marion, 2005-07: 982.32 TPA
In 2004-05, Steve Nash won MVP for his exploits with the Phoenix Suns, while Amar'e Stoudemire and Shawn Marion joined him on the Western Conference's All-Star squad. And yet, it was Marion (307.97 TPA) who singlehandedly accumulated almost as much value as his two teammates did combined (345.13)
In 2005-06, Nash repeated as MVP, but Stoudemire was limited to just three appearances. Marion did make the journey to the All-Star contest, and he again led the Suns in TPA (338.63). Nash sat at a healthy 212.04, and Boris Diaw was third on the team (177.82).
In 2006-07, Nash couldn't go back-to-back-to-back, but he did make his third consecutive trip to the midseason festivities. A healthy Stoudemire rejoined him, and the same was true of Marion, who led the squad in TPA for the third time in three years (335.72). This time, Nash and Stoudemire combined for 288.68.
Need any further reasoning about why "The Matrix" remains one of the most underrated players in league history?
8. Rick Barry, 1974-76: 1001.62 TPA
Recording a cumulative TPA with four digits in a three-year span is rather difficult. Rick Barry is one of only eight small forwards to accomplish the feat during the modern era, and he's joined by just eight point guards and five shooting guards.
But oh, what could have been.
Barry was trucking along marvelously with his offensive dominance in both 1973-74 and 1974-75. Then his game dropped off during his age-31 season, as he stopped getting to the free-throw line so frequently and started ceding touches to Phil Smith and Jamaal Wilkes. He simply couldn't replicate his former exploits.
Of course, this is also a bit unfair to Barry. Truthfully, his peak would've been even higher had we been able to include the 1972-73 campaign or any that came even earlier. Unfortunately, those fall outside the range of TPA.
If we incorporate the estimation methodology I once used to evaluate Jerry West's career, though, we see that Barry's three-year peak might've risen as high as 1128.97 from 1972-73 through 1974-75 (and higher still if we include the ABA years that came prior to that stretch of unabated dominance).
7. Kawhi Leonard, 2015-17: 1011.96 TPA
Yes, that's Kawhi Leonard's 2014-15 work serving as the upper-left orange dot. He wasn't quite the same offensive superstar he functions as today, and that held back his overall score.
Leonard already ranking seventh is impressive enough. But the 26-year-old is only getting better every year, and it's by no means a stretch to imagine him outpacing his best work in 2017-18. He's more comfortable than ever as a featured scoring option, which should allow his defense to rise closer to the heights it hit while he earned back-to-back Defensive Player of the Year trophies.
Just for fun, let's pretend Leonard replicates his 2016-17 score next year. In that scenario, he'd boast a three-year peak of 1153 TPA and rise to No. 6 in these rankings.
And assuming he can stay healthy, that might be his floor.
6. Grant Hill, 1996-98: 1037.49 TPA
Grant Hill was rather unfortunate, and not just because injuries cut his prime far too short.
The small forward was on pace for a legendary career before his body betrayed him, but the NBA as a whole also held him back. Though his three-year peak began during his sophomore season and ended in 1997-98, he was actually even better one year later. Unfortunately, the lockout shortened the season to just 50 games, and Hill played in all of them. Had he done that during a full 82-game campaign while maintaining his exact level of play, his peak score would've shifted to 1061.45 TPA.
Would that have moved him into the top five? Nope.
But it's still an even better score, and there's no telling how much better he could've grown if he'd stayed healthy.
5. Scottie Pippen, 1994-96: 1253.63 TPA
Scottie Pippen wasn't just a sidekick.
The small forward was a tremendous defensive presence alongside Michael Jordan (who, it should be noted, never won a title without Pippen sharing the court) and remains one of the most feared point-preventing presences in NBA history. But he was no slouch on offense, becoming a two-way standout who was capable of carrying the Chicago Bulls on his own.
Say it with me this time: Scottie Pippen wasn't just a sidekick.
4. Kevin Durant, 2012-14: 1263.35 TPA
The full list of players with a higher OPA than Kevin Durant posted in 2013-14? Charles Barkley, Stephen Curry, James Harden, LeBron James, Michael Jordan, Tracy McGrady and Russell Westbrook. That's it.
Unfortunately, Durant had bad timing.
His efforts in that record-setting, MVP-winning campaign were incredible, but they were surrounded by the lockout-shortened campaign in 2011-12 and the 2014-15 season in which he played only 27 games while dealing with foot injuries. He just didn't have enough opportunities to mach the standouts listed ahead of him, though replacing the worst of his peak years with a duplication of his 2012-13 work would bump his three-year score up to 1467.6 and move him past the next player in this countdown.
And even though his actual mark might not show it, that's a more accurate summation of his ability and production.
3. Julius Erving, 1981-83: 1276.87 TPA
Julius Erving was never more dominant than during his ABA days, but those don't count for our purposes.
After he transitioned to the NBA with the Philadelphia 76ers, the Hall of Famer experienced a slight adjustment period. He was a superstar, but he wasn't throwing up the mind-numbing numbers he'd earned with the Virginia Squires or New York Nets. Then he figured everything out and became a two-way force, dunking on everyone and using his ridiculous athleticism to contribute in every area imaginable.
Erving's 1980-81 season, in which he averaged 24.6 points, 8.0 rebounds, 4.4 assists, 2.1 steals and 1.8 blocks while shooting 52.1 percent from the field, remains one of the greatest all-around performances the Association has ever witnessed.
2. Larry Bird, 1985-87: 1740.43 TPA
Larry Bird was just on a different level. The worst season of his three-year peak came in 1986-87 (567.91 TPA), and only one small forward has ever posted a better season: our No. 1 finisher.
In fact, the distance between him and No. 3 Julius Erving (463.56 TPA) is larger than the gap between Erving and No. 15 Alex English (448.11).
That's just patently unfair.
1. LeBron James, 2008-10: 2082.46 TPA
Unfortunately for Bird, LeBron James is on yet another level.
You've seen how all the other peaks stack up, but just take a look at what the future Hall of Famer and G.O.A.T. contender has done during every season of his NBA tenure: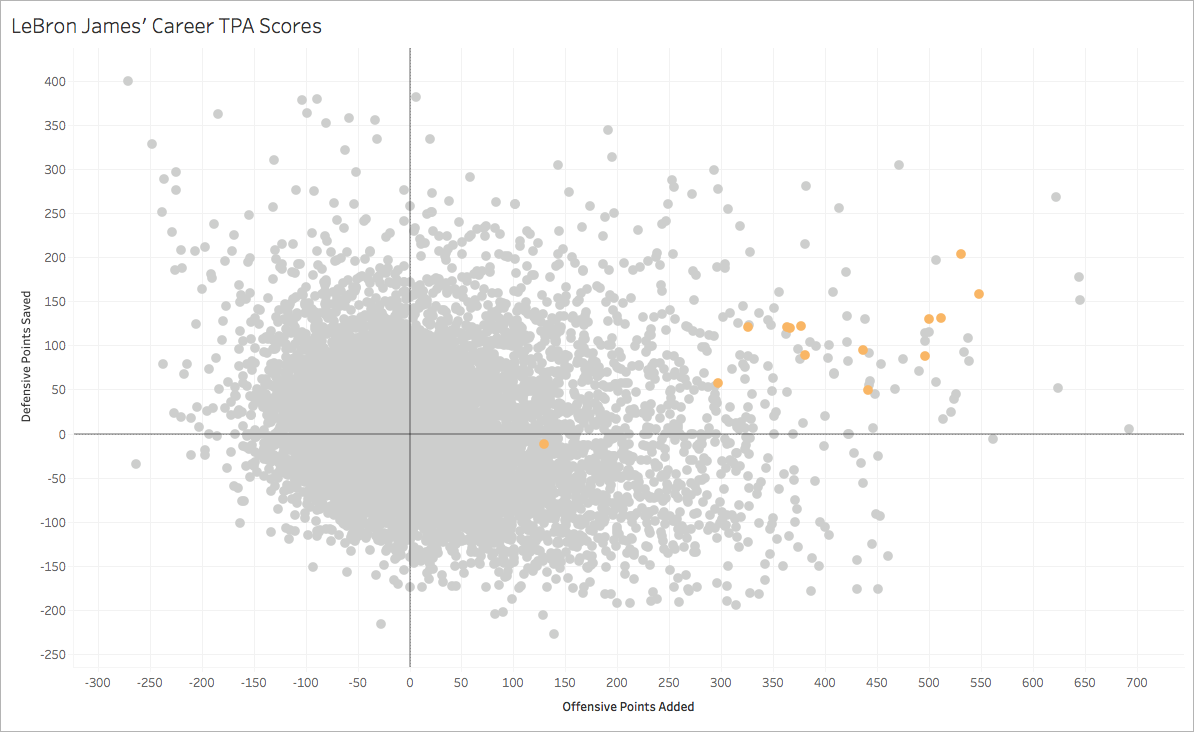 In the first three seasons of his career, he accumulated 1234.71 TPA, which would rank No. 6 in this countdown. He's produced three different three-year stretches that would surpass Larry Bird.
He's No. 1, and it's not even close.
Honorable Mentions: Giannis Antetokounmpo (584.1 TPA from 2015-17), Nicolas Batum (576.67 TPA from 2013-15), James Worthy (564.55 TPA from 1989-91), Bernard King (532.5 TPA from 1983-85), Peja Stojakovic (526.86 TPA from 2002-04)
If you'd like to run through all these graphics in quick succession or see the players at other positions who surround these top-notch small forwards, you can do so by playing around here:
Adam Fromal is the founder and Editor in Chief of NBA Math. Follow him on Twitter @fromal09. 
Follow NBA Math on Twitter @NBA_Math and on Facebook.
Unless otherwise indicated, all stats are from NBA Math or NBA.com.