The Highest Peaks Reached by NBA Shooting Guards in the Modern Era

Spoiler alert: Michael Jordan has the best peak of any shooting guard in the modern era.
That's not for a lack of effort from the other legendary figures who have consistently lined up next to point guards in NBA backcourts. Kobe Bryant and Dwyane Wade did everything in their power to match the earlier exploits of Jordan and Clyde Drexler. James Harden and Jimmy Butler are doing their things right now. And plenty of standouts racked up points and defensive stops before and after the widely accepted G.O.A.T. patrolled the hardwood.
But how do they all stack up against their positional counterparts throughout the modern era? Since the beginning of the 1973-74 season, when the NBA began tracking more stats and allowed for the retroactive calculation of many advanced analytics such as total points added (TPA), the league has played witness to plenty of high-quality shooting guards.
Plenty of basketball analysts have looked at their careers as a whole. The best single seasons tend to take center stage when the Maurice Podoloff Trophy is greeting a new MVP. But here, we're concerned only with lengthier peaks.
Having a one-off campaign can be special. Maintaining that success for a three-year stretch, however, is far more impressive and meaningful.
Journey with us as we travel through the best three-year stretches from modern-era shooting guards (as defined by Basketball Reference and based on number of seasons listed at each position) by adding together their TPA scores in each of the three relevant consecutive campaigns. One stellar season can counteract more lackluster contributions surrounding it, but playing at a high level for the entirety of a three-year period is the best way to vault up the rankings.
20. Brandon Roy, 2008-10: 653.57 TPA
Oh, what could have been.
Brandon Roy was on an incredible trajectory, beginning his three-year peak as a sophomore when he averaged 19.1 points, 4.7 rebounds and 5.8 assists for the Portland Trail Blazers. He was the next big thing at shooting guard, set to challenge Kobe Bryant and Dwyane Wade for positional supremacy as he moved closer to his athletic peak.
Then, his knees stopped working.
First, he played just 65 games during the 2009-10 campaign—had he maintained his exact level while appearing in 80 contests that year, his peak score would've bumped him up to No. 18 in this countdown. He could only suit up in 47 games the next season (starting just 23) and retired for the first time at age 27 prior to the start of 2011-12.
So again: Oh, what could have been.
19. Reggie Miller, 1996-98: 680.06 TPA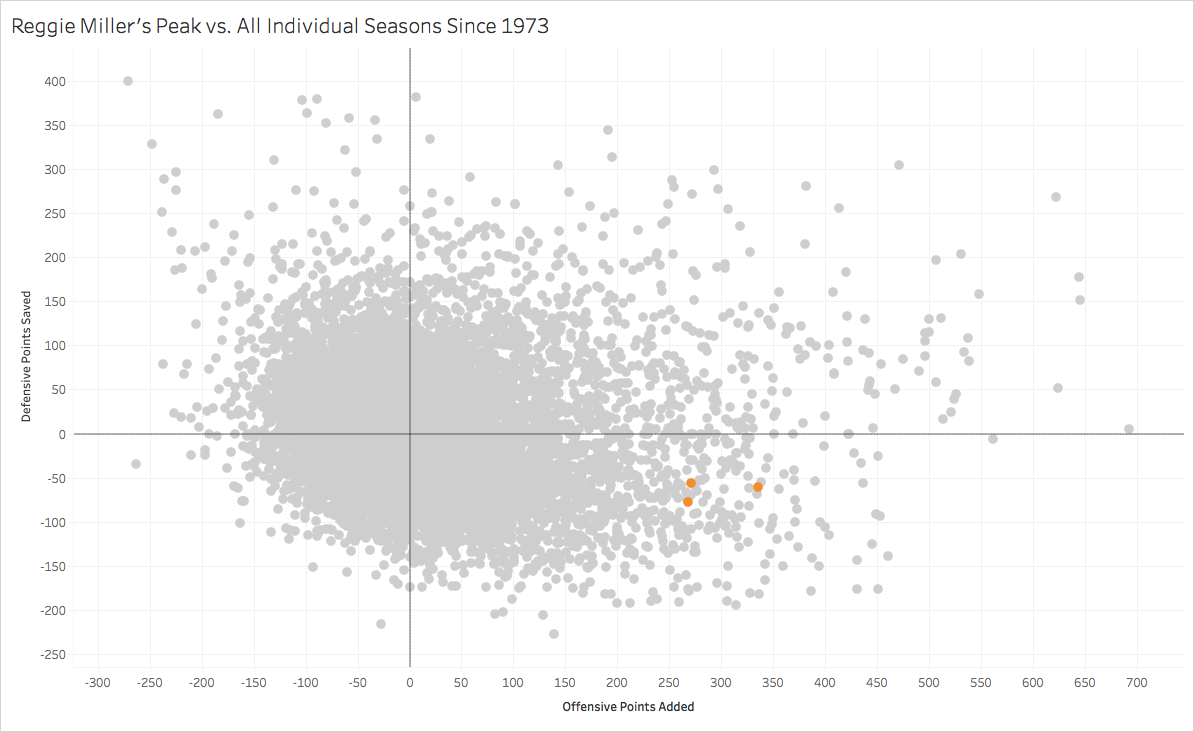 One of the greatest shooters in NBA history, Reggie Miller never had a true peak.
He has a score here, but that's only out of necessity. In reality, the three-year stretch from 1995-96 through 1997-98 just barely outpaced what he did at nearly any other stage of his career. Just take a peek at his entire tenure with the Indiana Pacers, and note how difficult it is to pinpoint the three proper dots: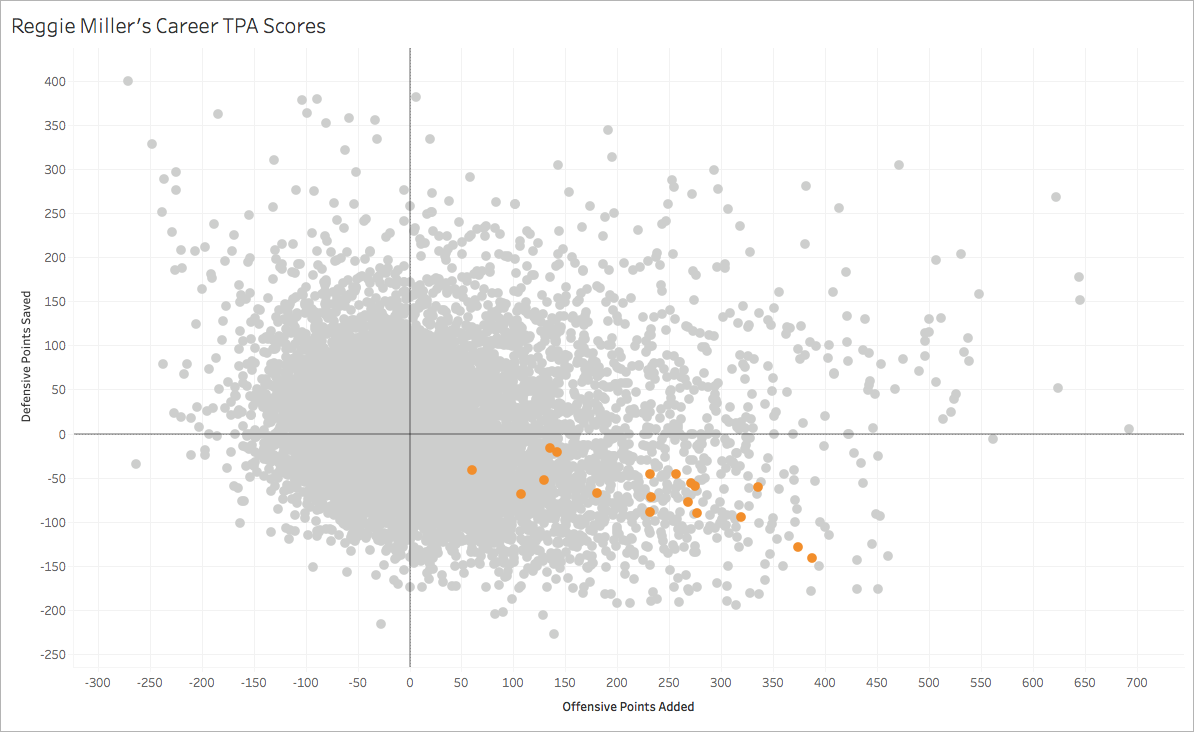 What made those three take the cake?
Not only did Miller stay remarkably healthy, missing just seven games during the three-year stretch, but he was also as involved as ever. He shot 42.2 percent from downtown while taking an ahead-of-his-time 5.6 attempts per game, and he still found the opportunities to average 3.1 rebounds and 2.9 assists without serving as an always-featured ball-handler.
18. Dan Majerle, 1991-93: 685.88 TPA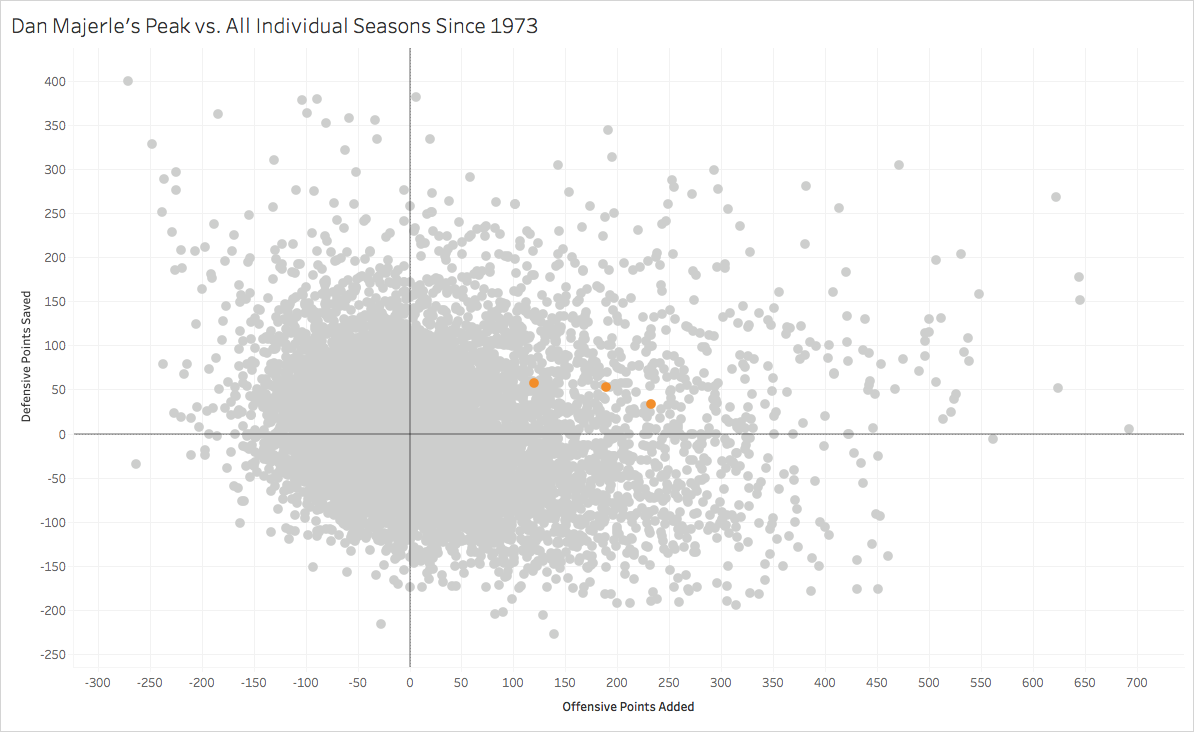 Dan Majerle's role belied what we've come to expect from modern-day shooting guards. He only topped a 20 usage rate once during his 14-season career (20.3 percent in 1992-93 with the Phoenix Suns), and he instead focused on making the most of his touches.
Even during his peak years with the Phoenix Suns, Majerle wasn't a high-scoring guard. He topped out at 17.3 points per game.
But that didn't stop him from producing like a true star, nor did it keep him from dazzling crowds with his thunderous dunks and twine-tearing shots from beyond the arc. A fan favorite who overcame draft-night boos when the Suns selected him at No. 14 out of Central Michigan, Majerle knew how to contribute across the board and consistently leveraged his athleticism into above-average defensive play.
17. George Gervin, 1977-79: 705.03 TPA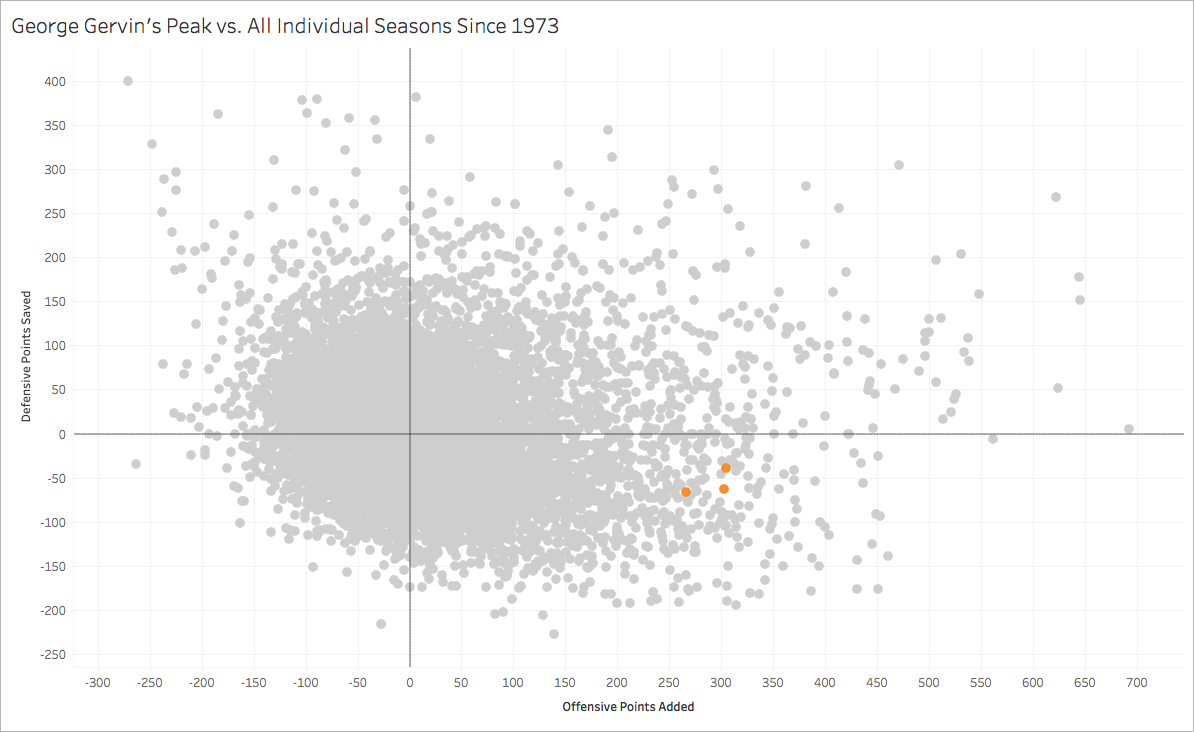 It's all about the finger-rolls.
Keeping George Gervin away from the basket was a foolhardy endeavor during the late-'70s. The San Antonio Spurs legend had a near-perfect understanding of angles, used a quick first step and his lanky strides to get by defenders and possessed remarkable touch around the hoop. As a result, he became one of the deadliest scorers the NBA has seen.
Was he a lackluster defender? Yep. Did he contribute much in other areas? Not really.
But during this three-year stretch, he won two of his four career scoring titles while shooting 54 percent from the field and 83 percent from the charity stripe. And if his defense hadn't fallen off a cliff while he three-peated as the scoring champion in 1979-80, his peak score could've been even more impressive.
16. Eddie Jones, 2000-02: 710.46 TPA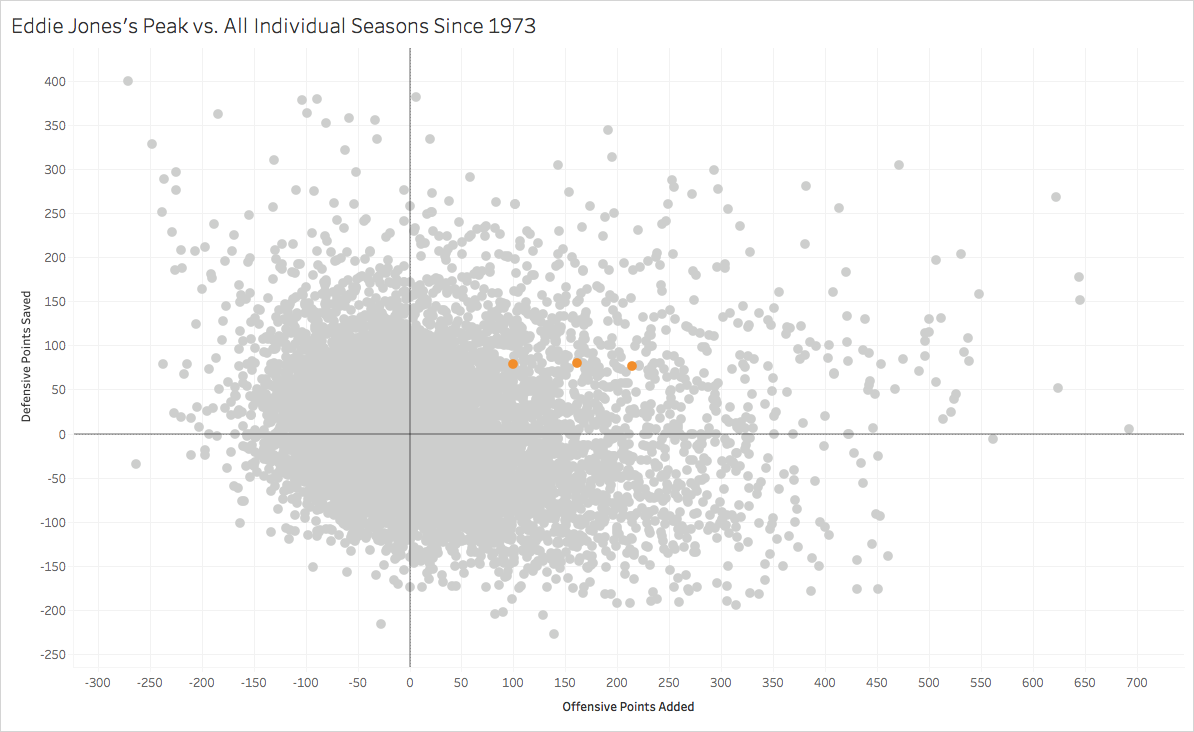 The Los Angeles Lakers can't regret trading away Eddie Jones, because doing so allowed them to open up more minutes for a young Kobe Bryant. But they still can't be too pleased that he  submitted such a fantastic three-year peak just after he departed Hollywood.
Jones was dealt to the Charlotte Hornets midway through the 1998-99 campaign, and he'd begin the best part of his career shortly thereafter. An All-Star during his only full season wearing teal, he continued to thrive as a two-way ace even after Charlotte subsequently shipped him to the Miami Heat (along with Ricky Davis, Dale Ellis and Anthony Mason) for P.J. Brown, Rodney Buford, Tim James, Jamal Mashburn and Otis Thorpe.
It's a lot of movement, but Jones' game stayed fairly consistent. The worst season in the graphic above was only recorded because injuries held him to just 63 appearances.
15. Paul Pressey, 1985-87: 723.9 TPA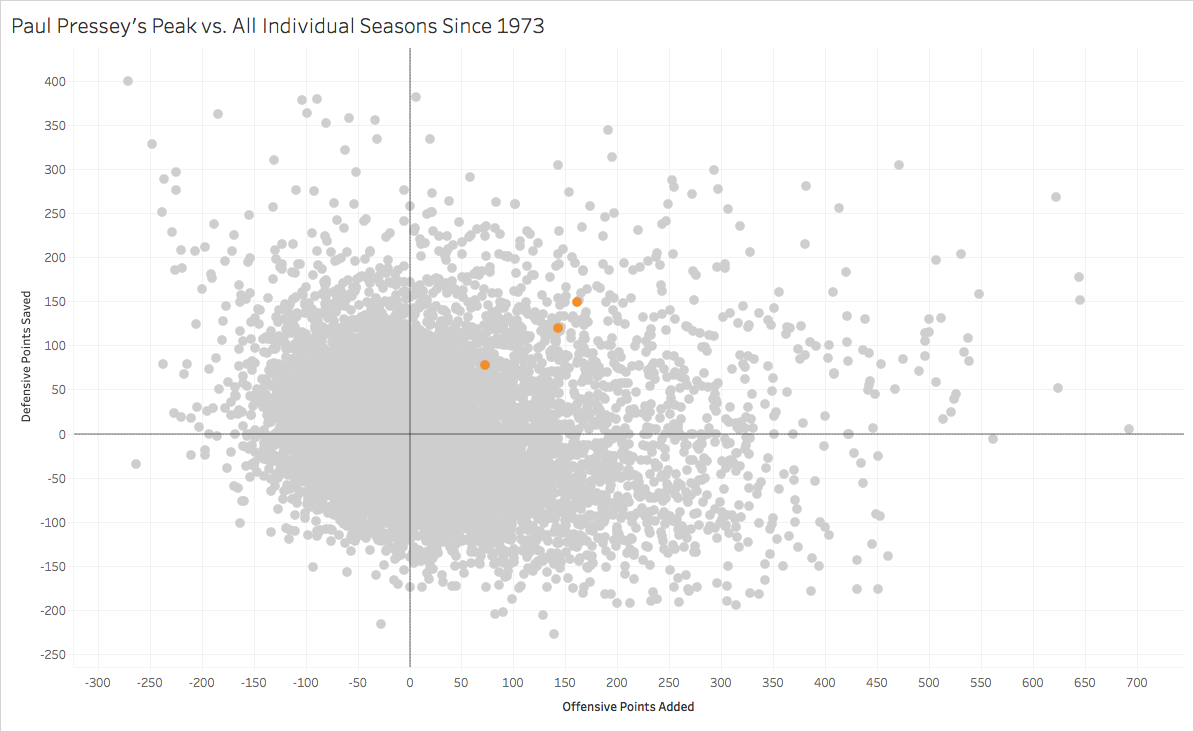 Paul Pressey was never a traditional shooting guard.
He didn't score many points—his career high came in 1984-85 (16.1)—and he had immense trouble shooting the ball from well outside the paint. He never spaced the court for the Milwaukee Bucks, San Antonio Spurs or Golden State Warriors.
And yet, he still provided serious offensive value while doing plenty of damage on the defensive end. It goes without saying that Pressey was a devastating defender; he didn't submit a negative score on the preventing side until the final season of his career. But his offensive production may be surprising, if only because he was such an unorthodox player.
How many 6'5″ swingmen have averaged 6.8 assists for their career? During this three-year peak, that number even rose to an even seven.
14. Ray Allen, 2001-03: 739.57 TPA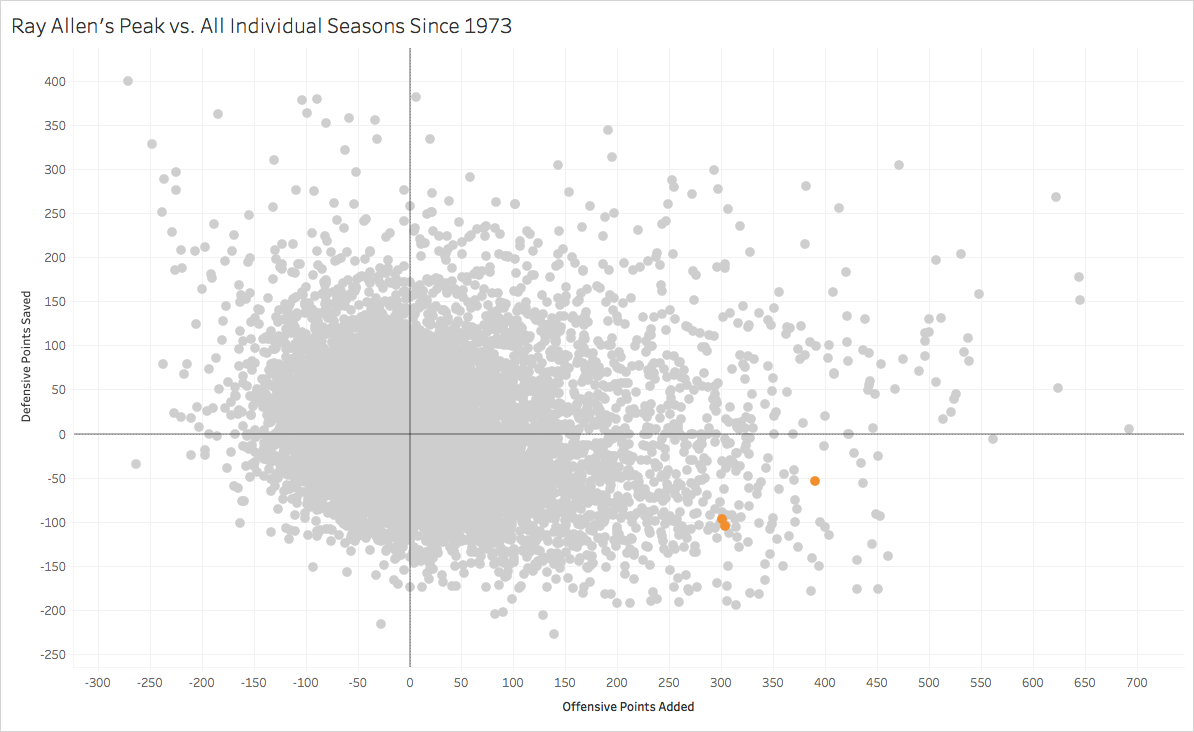 Just as was the case with Reggie Miller, we're doing Ray Allen a disservice by looking only at the best three-year run of his Hall of Fame career.
You don't become the all-time leader in made triples by having a short spurt of excellence surrounded by many years of mediocrity. Allen was a dominant presence throughout his career, from the time he entered the league as an uber-athletic 2 with the Milwaukee Bucks to his role-playing days for the Miami Heat: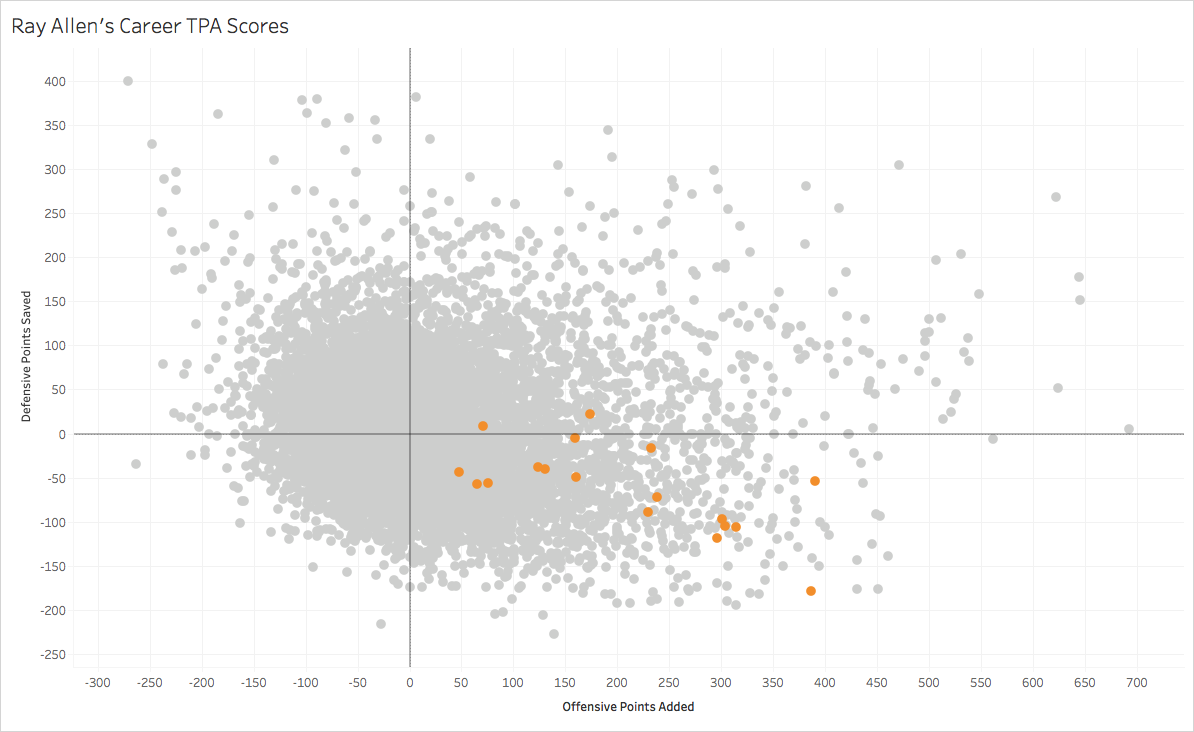 A lack of impact on the defensive glass prevents Allen from looking like a defensive stalwart, so it's worth noting he was a bit better on the preventing end than these sub-par scores might indicate.
The offensive production, however, remains overwhelming.
13. Jeff Hornacek, 1990-92: 786.37 TPA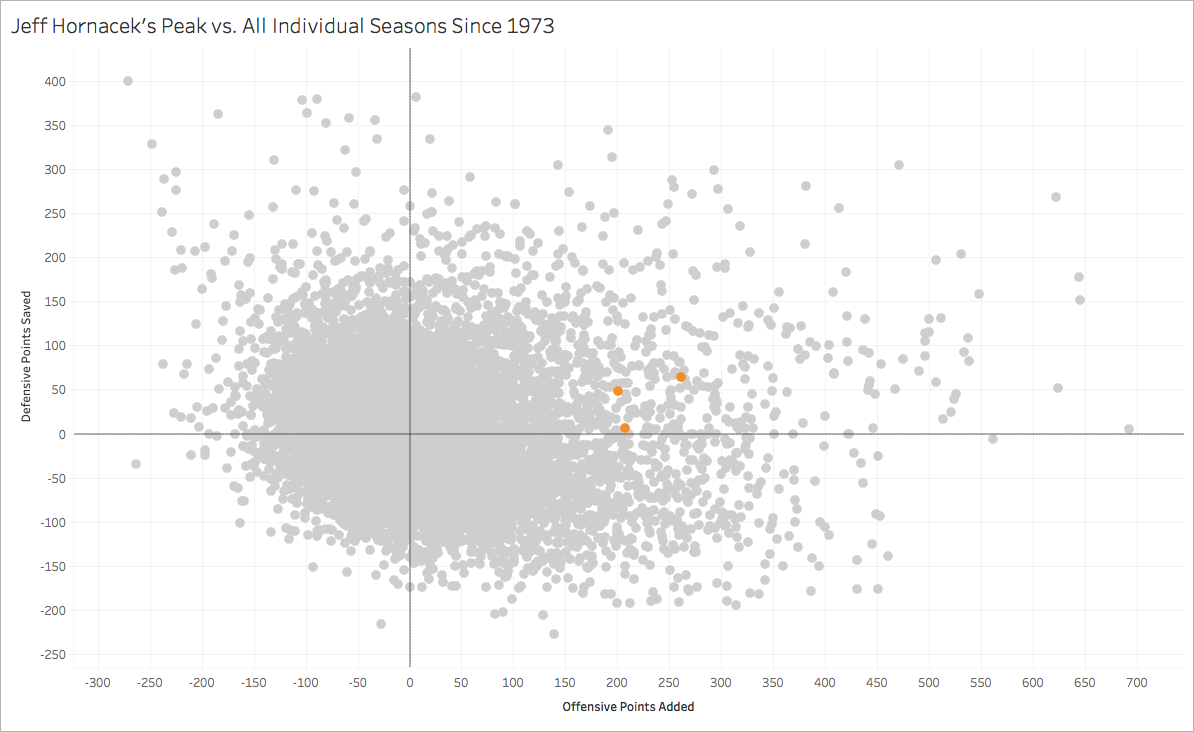 It's an enduring shame Jeff Hornacek was only granted a single All-Star appearance during his illustrious career. It came at the tail end of this three-year peak, rewarding him for his 1991-92 efforts with the Phoenix Suns, which saw him average 20.1 points, 5.0 rebounds and 5.1 assists.
Hornacek just missed his window by a couple decades.
Shooting efficiency wasn't nearly as prized during the early-'90s as it is today. Had that been different, he might have been given more credit for averaging 18.3 points over a three-season stretch while shooting 52.1 percent from the field, 42.5 percent from downtown and 88.1 percent from the free-throw line.
Hornacek isn't frequently mentioned as one of the NBA's best all-around shooters. During his prime years, though, he functioned as exactly that.
12. Jimmy Butler, 2015-17: 810.47 TPA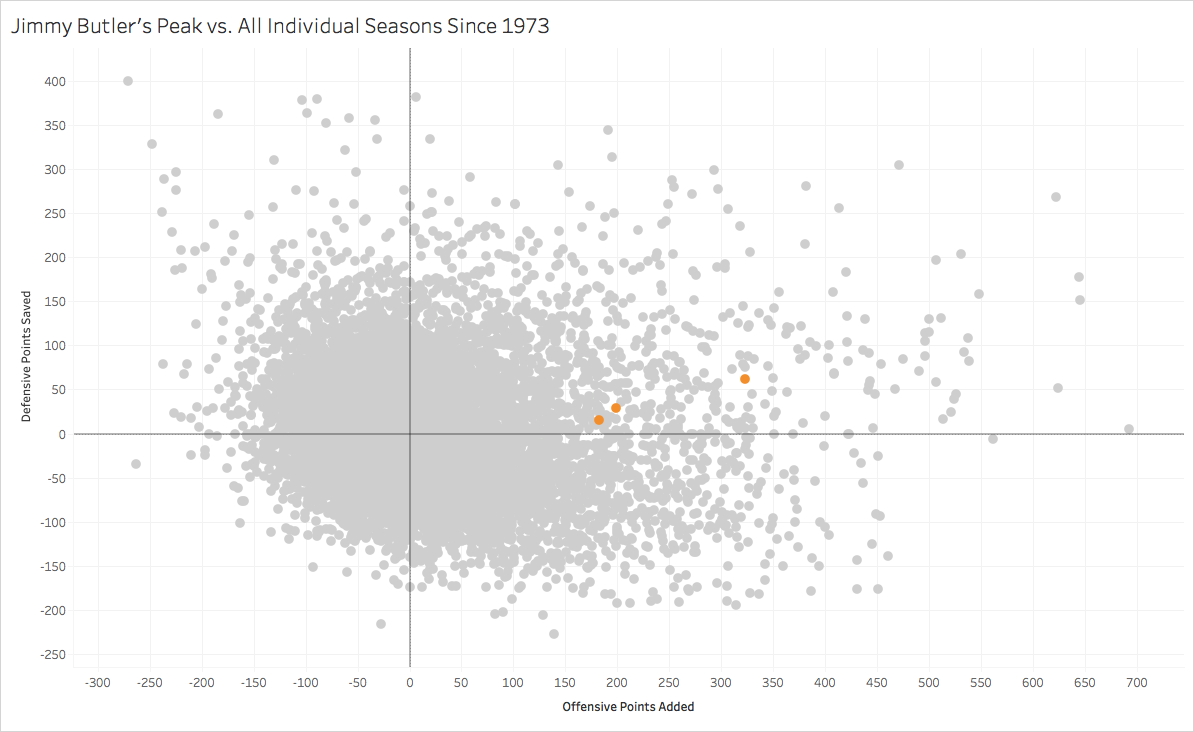 Jimmy Butler was great during both the 2014-15 and 2015-16 campaigns. But he was downright legendary in 2016-17, almost single-handedly overcoming the Chicago Bulls' dearth of perimeter shooting to carry his team into the Eastern Conference playoffs.
The swingman remains a defensive stud, but his offense truly blossomed when he was allowed to serve as the unquestioned alpha dog. Now, he's more comfortable than ever in the featured-scorer role, which gives him the ability to simultaneously resume serving as a defensive ace.
If Butler is able to keep up the pace with the Minnesota Timberwolves, he'll just keep ascending. Replicating his 2016-17 numbers would shift his three-year score to 967.1 (No. 7 in these rankings). Doing so for two more seasons would push him all the way to 1154.7 (No. 6).
That's how great he was during his final go-round with the Bulls.
11. Manu Ginobili, 2006-08: 818.31 TPA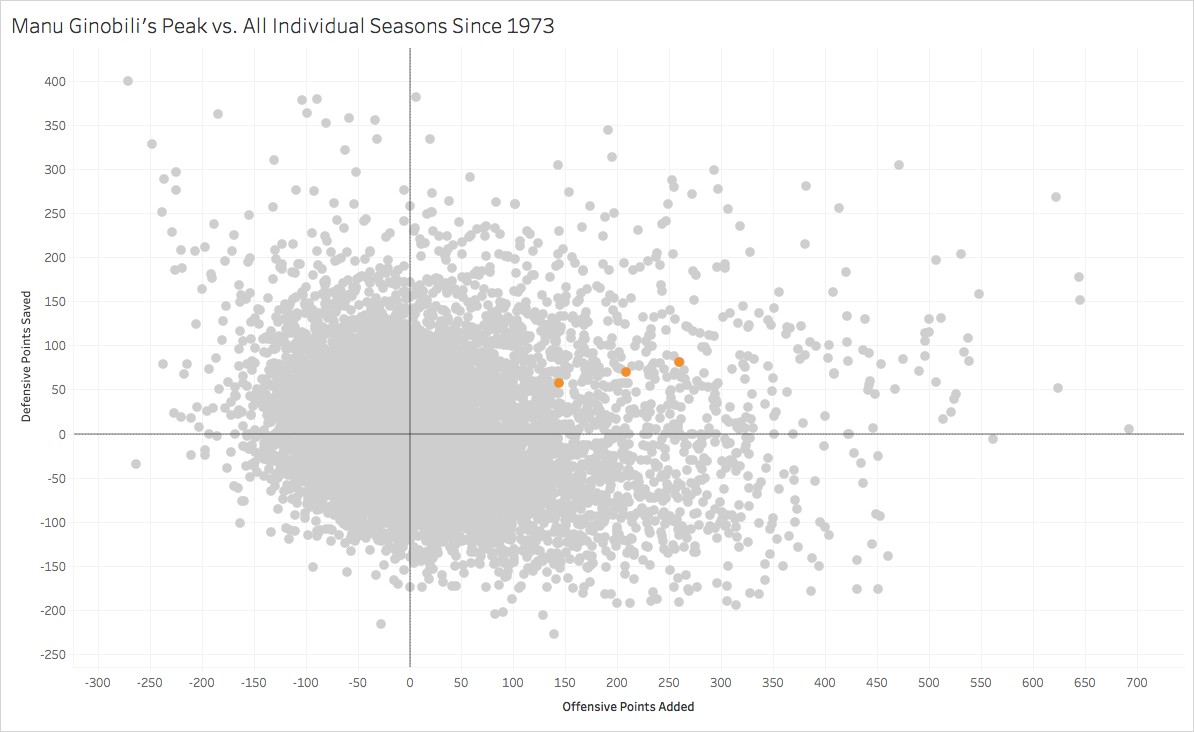 Dear NBA players,
You don't have to start in order to produce eye-popping value.
Love,
Manu Ginobili.
10. Anfernee Hardaway, 1994-96: 837.67 TPA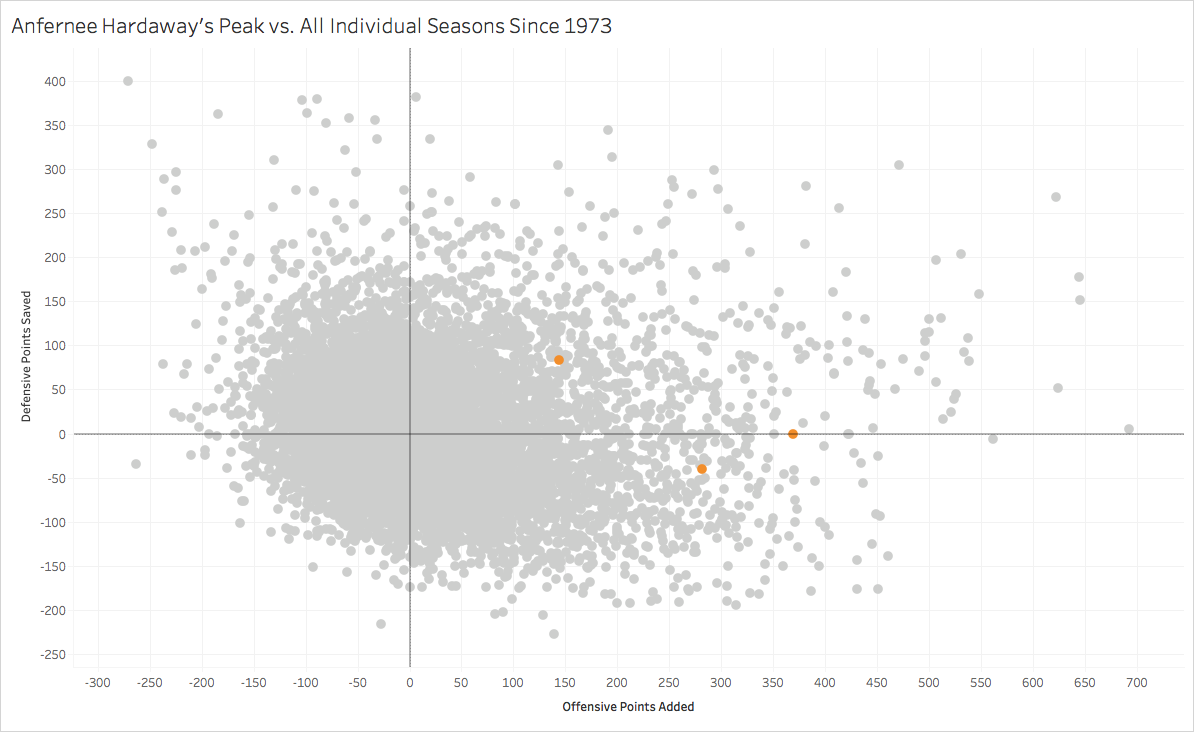 Though these three seasons might seem like they're haphazardly scattered across the plot, they actually represent an extreme version of a typical maturation process.
The year in which Anfernee "Penny" Hardaway served as a distinct two-way plus came during his rookie campaign with the Orlando Magic. He was young and full of energy, ready to contribute in every way imaginable as he teamed up with Shaquille O'Neal, Nick Anderson and Dennis Scott.
One season later, the Magic leaned far more heavily on Hardaway, upping his usage rate and asking him to spend even more time on the floor. As a result, he broke out on the scoring end, but his defense suffered dramatically. Then, he grew more comfortable in that lead role during the 1995-96 campaign, continuing to improve as a point-producer while also rediscovering some of his former excellence on defense.
9. Vince Carter, 2000-02: 858.52 TPA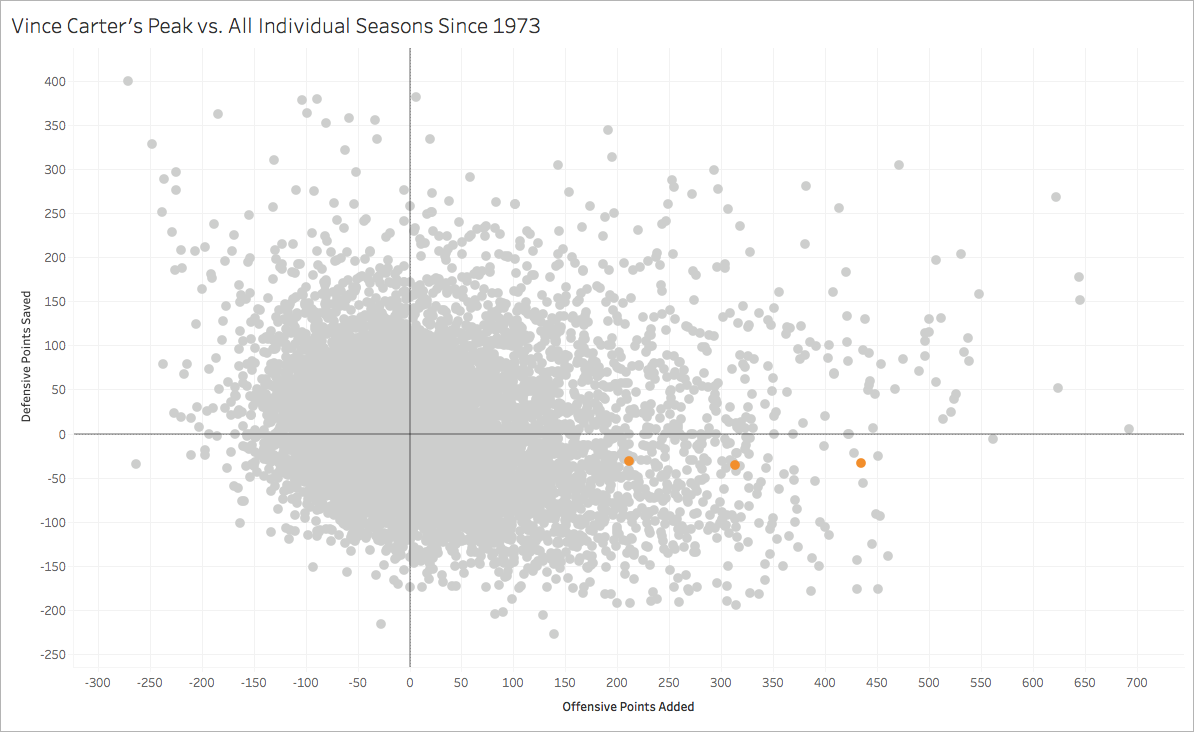 Vince Carter's 2000-01 campaign remains one of the greatest offensive seasons anyone has produced at any position.
Only three years removed from North Carolina, the legendary in-game dunker averaged 27.6 points, 5.5 rebounds and 3.9 assists for the Toronto Raptors. Better still, he shot 46.0 percent from the field, 40.8 percent from three-point territory and 76.5 percent on his freebies. And even better still, he did all this while turning the ball over just 2.2 times per contest and holding his own on defense—at least somewhat.
Injuries prevented Carter from making the most of his offensive potential, and the 2000-01 efforts stand alone as—rather easily—the best results from his lengthy career. But even without two more standout seasons quite on the same level to pair with that one-year peak, his three-year body of work can't be topped by more than eight 2-guards.
8. Alvin Robertson, 1986-88: 904.9 TPA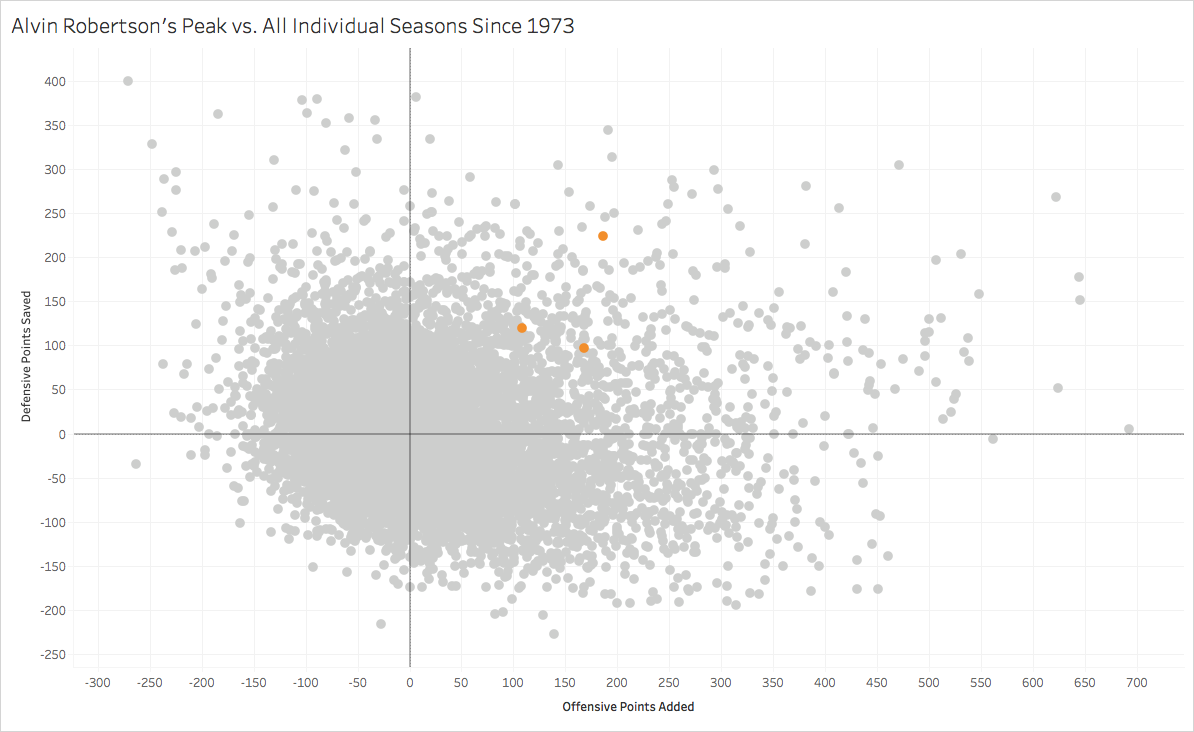 The defensive portion of TPA tends to favor bigger players. It rewards them for their work cleaning the defensive glass, and recording blocks never hurts.
That's why Alvin Robertson's efforts are even more impressive: Shooting guards just aren't supposed to occupy that portion of the chart. But while making six All-Defense squads and winning Defensive Player of the Year in 1985-86 (yes, that's the dot you think it is), he established himself as one of the greatest on-ball defenders in NBA history.
Robertson's quick hands allowed him to swipe the ball away from countless opponents. And he was just as dangerous contesting shots, which allowed him to lead the charge for some excellent Milwaukee Bucks outfits.
7. Sidney Moncrief, 1982-84: 961.24 TPA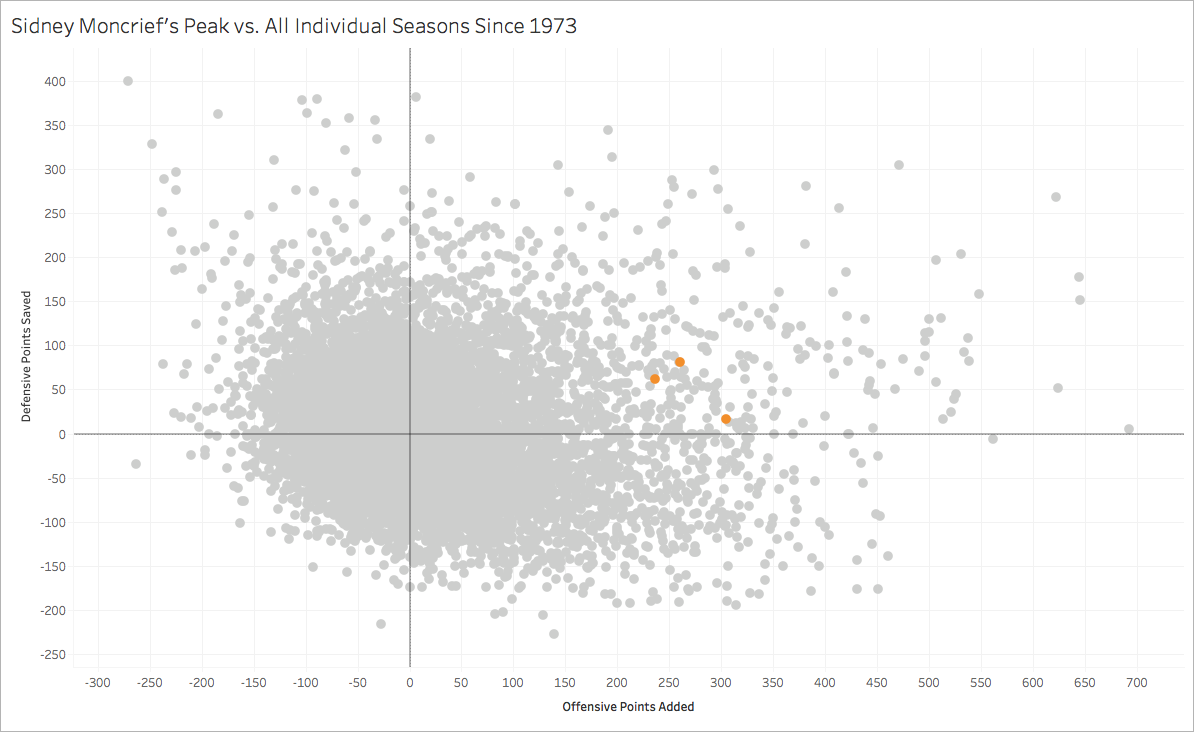 It stands to reason that Sidney Moncrief is remembered most for his defensive work. A two-time Defensive Player of the Year who checked one superstar after another, he established himself as one of the league's premier stoppers throughout the 1980s.
And yet, it's his offense that stands out most in the TPA breakdown.
Moncrief was never a great outside shooter, but he rarely made poor decisions. Whether he was squeezing the ball into tight spaces or attacking around the basket, his choices benefitted the Milwaukee Bucks. And from 1981-82 through 1983-84, he averaged 21.1 points, 6.4 rebounds and 4.4 assists while shooting 51.5 percent from the field and 83.1 percent from the stripe.
The Arkansas product wasn't just one of the best defenders in modern NBA history; he was one of the best two-way studs.
6. Kobe Bryant, 2006-08: 990.69 TPA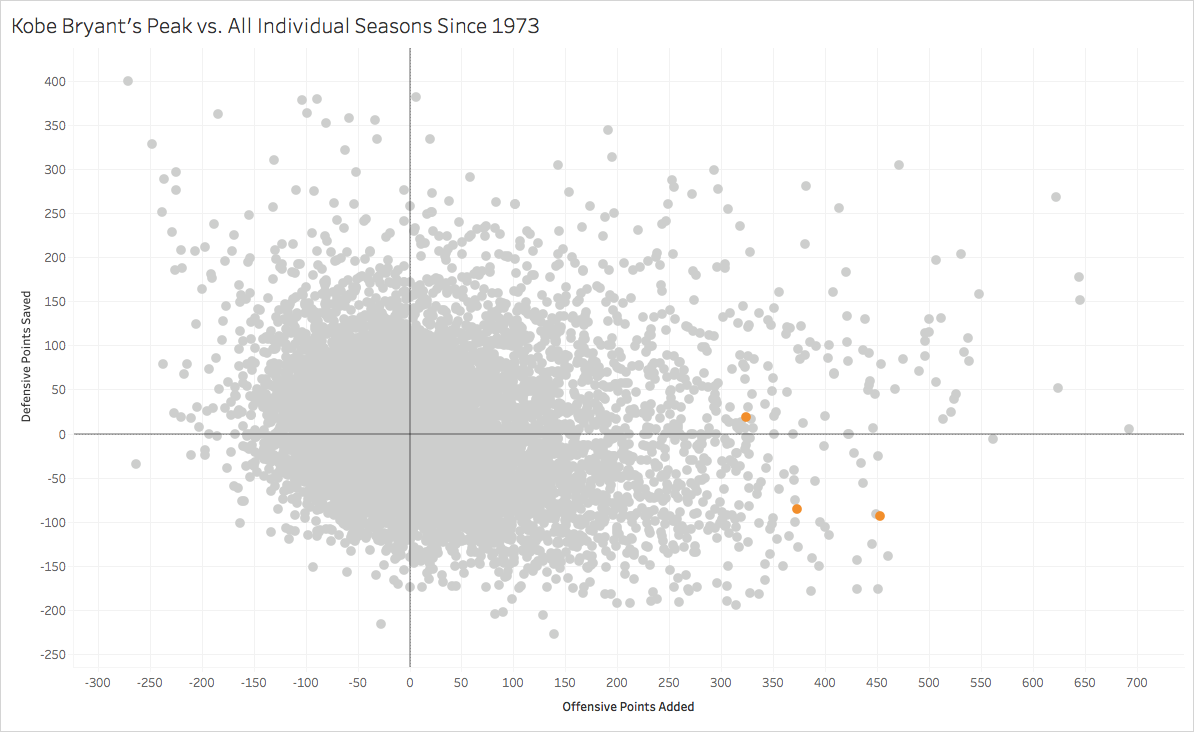 During Kobe Bryant's first three-peat with the Los Angeles Lakers (2000-02), he accumulated a total of 753.12 TPA, which would've been enough for him to rank No. 14 in this countdown. Nearly a decade later, he was even better.
At his core, Bryant was best when he was allowed to take over the offense. Pau Gasol let him do so more frequently than Shaquille O'Neal ever did, and his skyrocketing usage rate gave him the opportunities necessary to consistently—the operative word—put up some premier offensive scores.
To be clear, this three-year peak did not contain Bryant's best overall season. He was never better than in 2002-03, and his second-best TPA came three years later. But in terms of sustained excellence, this stretch just barely trumps his early-career work.
5. Tracy McGrady, 2003-05: 1249.6 TPA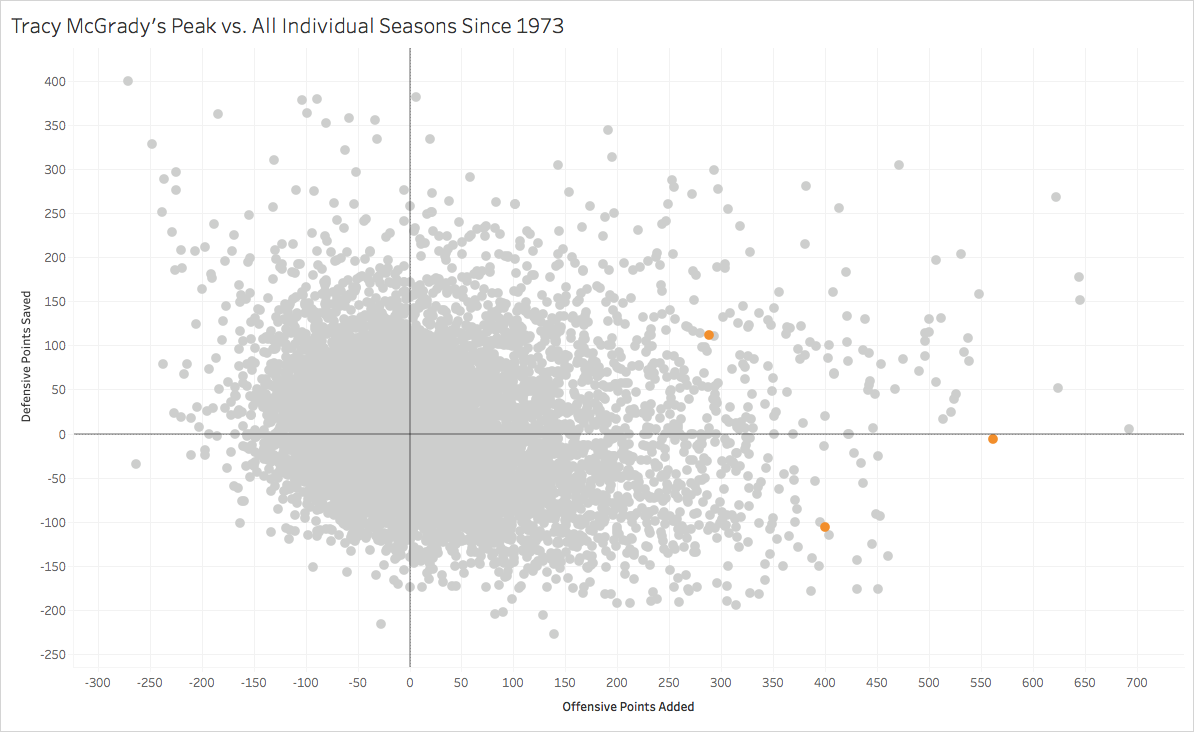 How hard is topping Tracy McGrady's 2002-03 campaign?
Just three men in the modern era have posted a higher score in offensive points added: Russell Westbrook (2016-17), Stephen Curry (2015-16) and Michael Jordan (1987-88, 1988-89 and 1989-90). That's it. LeBron James, Charles Barkley and James Harden are the only players to even come close to joining the club.
During his penultimate season with the Orlando Magic, McGrady paced the NBA in points per game (32.1) while also averaging 6.5 rebounds and 5.5 assists. As if that wasn't enough, he shot 45.7 percent from the field, 38.6 percent from deep and 79.3 percent on his free-throw attempts.
McGrady wasn't a particularly gifted long-range shooter throughout his career, but this campaign was a significant aberration—in a positive way, of course.
4. Dwyane Wade, 2009-11: 1416.2 TPA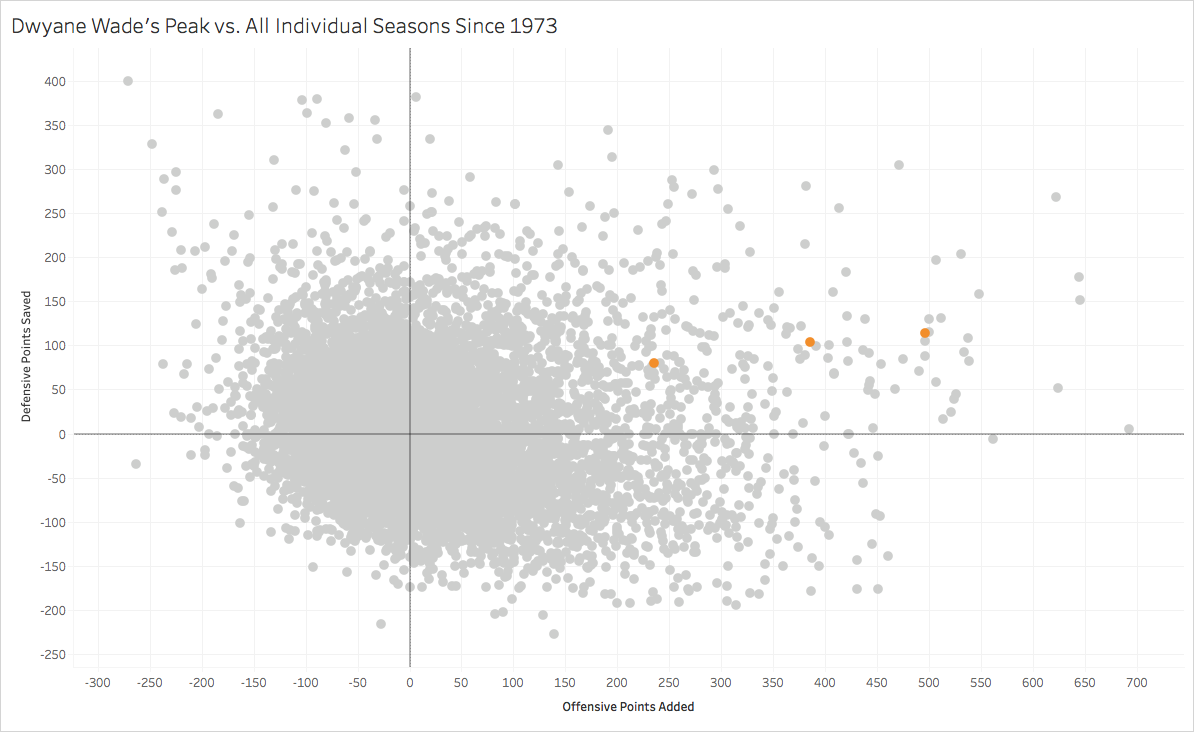 Dwyane Wade was never better than in 2008-09, when he finished third in the MVP voting, behind only LeBron James and Kobe Bryant. And while he was slightly superior before that one-year peak than after it, injuries prevented him from racking up enough minutes to make that earlier three-year stretch his entry in these rankings.
Then again, it's not like the future Hall of Famer struggled in the aftermath of his 2008-09 exploits.
He was an MVP candidate once again in 2009-10, and he posted incredible numbers despite ceding touches to LeBron James throughout the 2010-11 campaign. Just imagine if he'd remained the South Beach alpha dog for one season more, still handling the heavy lifting on the offensive end rather than trading off possessions and learning how to play with another superstar in his prime.
Wade's score is already incredible. And it could've been even better.
3. Clyde Drexler, 1988-90: 1425.55 TPA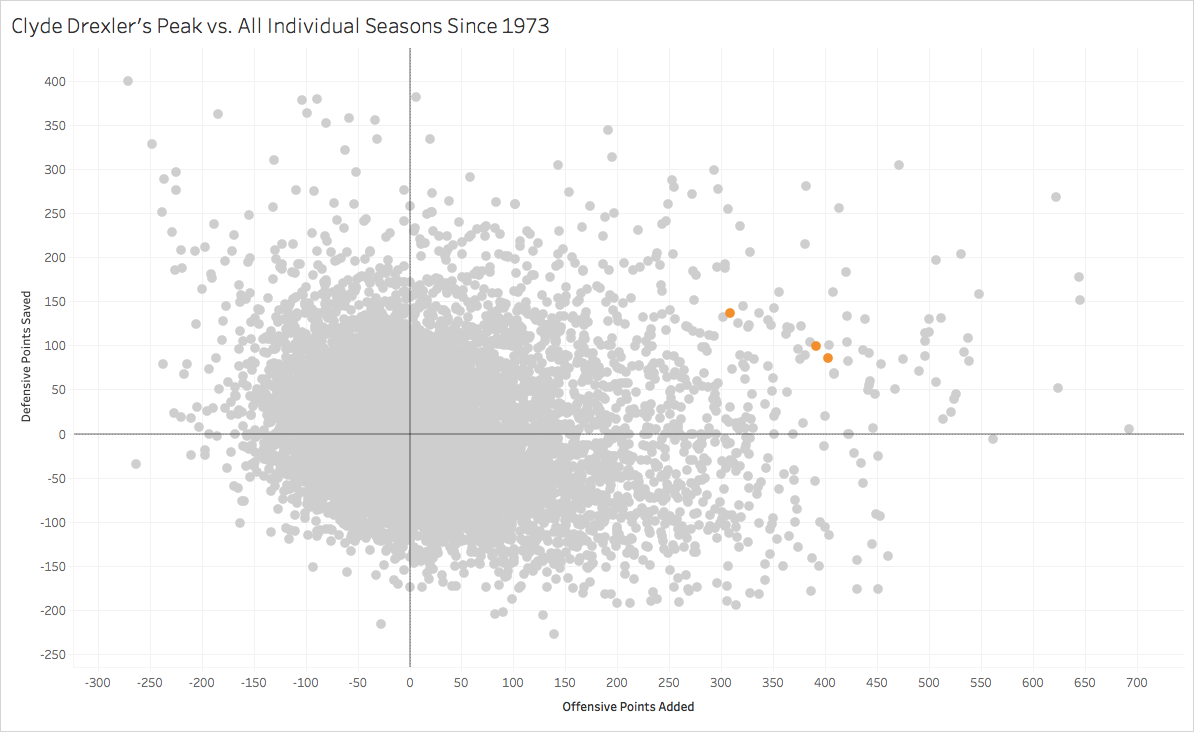 Fun fact: Only 10 players have accumulated more career TPA during the regular season than Clyde Drexler, and Michael Jordan is the lone man ahead who played the 2.
Drexler's name doesn't tend to come up in those type of G.O.A.T. discussions these days. His exploits have faded away a bit—perhaps because the only ring of his career came during his first season playing alongside Hakeem Olajuwon on the Houston Rockets.
But Drexler was incredible throughout his NBA tenure. These three years don't actually stand out by much: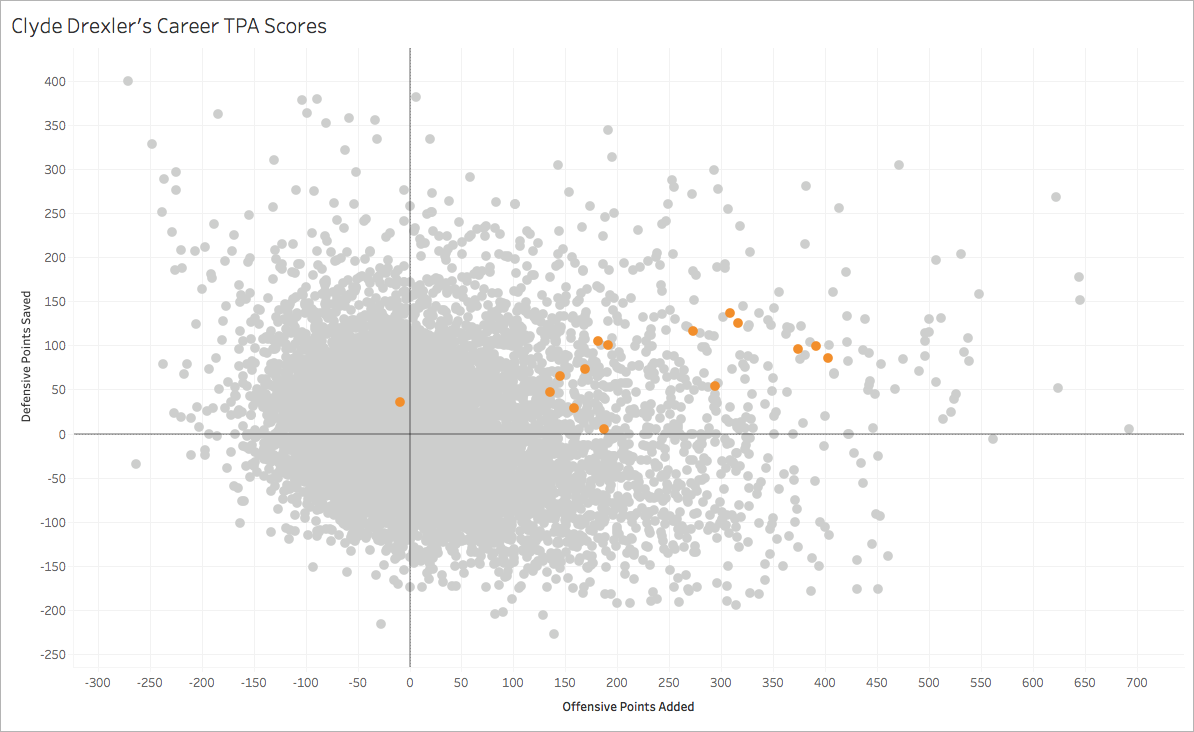 Now that's one helluva career.
2. James Harden, 2015-17: 1555.35 TPA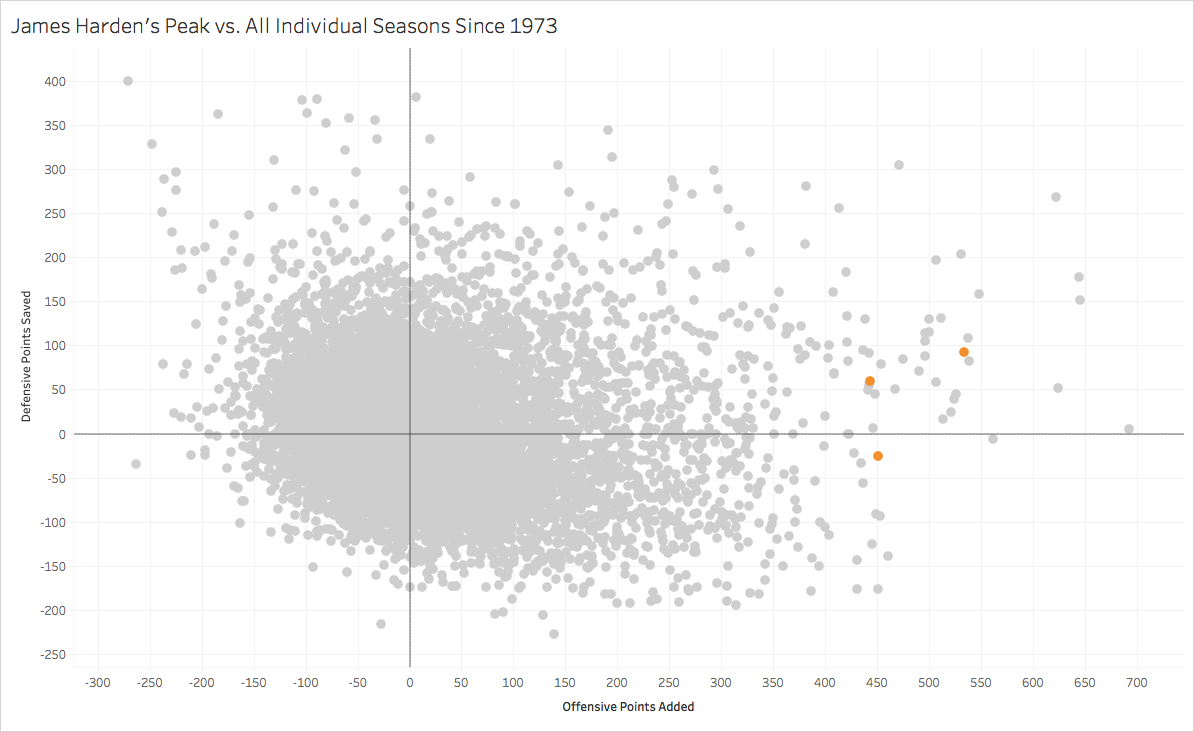 This might be as good as it gets for James Harden.
The bearded guard has plenty of prime years left, though he'll now be giving up touches to Chris Paul in the Houston Rockets backcourt. Without total control of the rock, it'll be tough for him to match his 2016-17 exploits, when he created a jaw-dropping percentage of Houston's total offensive production; Harden was responsible for scoring or assisting pretty much every bucket while finishing as the runner-up to Russell Westbrook in the MVP race.
And that's fine.
There's still a chance Harden could keep improving. At this point, ruling out such a trend would be foolish, since he's surpassed even the loftiest expectations throughout his career. But even if he can't ever top this three-year peak, he'll go down as one of the most dangerous backcourt members in NBA history.
1. Michael Jordan, 1988-90: 2295.7 TPA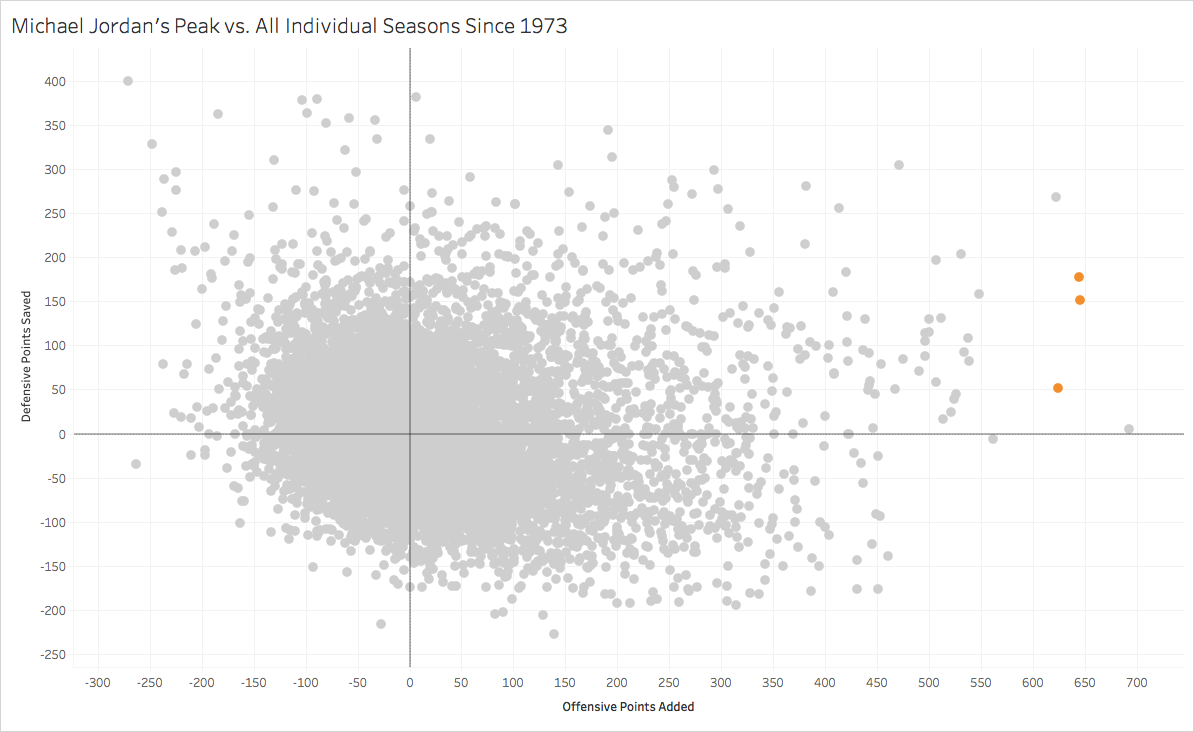 Putting Michael Jordan's unabashed dominance into perspective is a tough task, especially when we're not spending a lengthy amount of time on any one player.
You've read about him before. You know what the numbers look like. You've heard the stories.
So let's just focus on one simple fact: The difference in three-year peaks between Jordan and James Harden is larger than the gap between Harden and Manu Ginobili, and the San Antonio Spurs' sixth man supreme finished No. 11 in these rankings.
Enough said.
Honorable Mentions: Allen Iverson (650.72 TPA from 2001-03), Walter Davis (607.12 TPA from 1978-80), Paul Westphal (602.09 TPA from 1976-78), Hersey Hawkins (575.5 TPA from 1995-97), Brent Barry (567.39 TPA from 2001-03)
If you'd like to run through all these graphics in quick succession or see the players at other positions who surround these top-notch 2-guards, you can do so by playing around here:
Adam Fromal is the founder and Editor in Chief of NBA Math. Follow him on Twitter @fromal09. 
Follow NBA Math on Twitter @NBA_Math and on Facebook.
Unless otherwise indicated, all stats are from NBA Math or NBA.com.