Sorry, Not Every NBA Team Can Live up to the Expectations

As the offseason winds down, the feeling NBA fans have shifts to one of hope. Regardless of what happened during the last spell, or in the summer, each fan has aspirations for their team's success.
Not all optimism is warranted.
Take the Indiana Pacers. They held a press conference on July 8 to announce their acquisitions of Victor Oladipo and Domantas Sabonis in a trade where they sent away Paul George. If you ask anyone around the league (besides Indiana president of basketball operations Kevin Pritchard) the front office significantly worsened their team for the upcoming season. The press conference made it clear Indiana thought otherwise. Pritchard told a crowd of reporters, per Greg Mengelt of the News and Tribune: "There's been a lot of speculation that we wanted to go back and start over and that's not the case. We want to be a competitive team next year. I think we will be competitive and we have a team we can grow in the next three years. The Pacers don't start at the bottom."
Sure, you can want to compete all you want, but it doesn't take a genius to know that Indiana won't be very good next year. Thankfully, many experts have tempered expectations set reasonable predictions for the new-era Pacers squad. Kevin Pelton's real plus/minus (RPM) projections on ESPN.com have them finishing at 32 wins, and most insiders seem to think that number is fairly accurate.
Unfortunately, some other organizations look to be getting different treatment. Not every team can reach the heights everyone expects them to, and it is important for fans to be mindful of that so as not to be disappointed by season's end. Many squads appear to have expectations set slightly too high for them, but three organizations stand out for having the most unreachable goals for the upcoming season: the Sacramento Kings, Portland Trail Blazers and Philadelphia 76ers.
Sacramento Kings
Important players lost: Rudy Gay, Langston Galloway, Tyreke Evans, Darren Collison, Anthony Tolliver
Important players added: George Hill, Zach Randolph, Vince Carter, De'Aaron Fox, Bogdan Bogdanovic
The Kings went for depth in their first offseason post DeMarcus Cousins. They traded down in the draft to add more youth while also using their cap space to bring in some vets. Now, they head into the season with a strange combination of experienced players and guys in their salad days, and the franchise is hopeful that they will gel.
These changes have created an understandable reason for optimism. Hill, Randolph and Fox are talented players, and the future of the Kings seems promising. The upcoming season, however, does not look as rosy. While the Kings have a skilled roster, none of them excel at arguably the most important basketball skill: shot-creation.
Last year, the top six players on the Kings in assist percentage were Jordan Farmar, Ty Lawson, DeMarcus Cousins, Darren Collison, Tyreke Evans and Matt Barnes. All of them have departed. Now the Kings are left without any distributors or shot-creators, and their offense will be stagnant. Shot-creation isn't a defined skill, but the name says it all: being able to create shots for the person handling the ball or a teammate. A good calibrator for shot-initiation is when a play breaks down, can a player take two or three dribbles and set something up for either himself or his teammates? If so, he is talented at establishing shots, and not many guys have this skill.
The best rosters have many shot-creators. Russell Westbrook is one of the best in the league at it. The middling squads have a smaller number of players who can produce shots, and the worst groups have none. The Kings, now sitting with George Hill as their only player with an assist percentage above 20 last season, have no shot-initiation, as that number is not a high one for the supposed best creator on a team.
Collison was that guy last year for them. He beats a defender off the dribble here and finds Willie Cauley-Stein for a monster finish: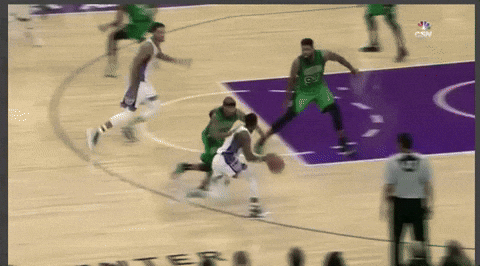 Collison getting a step on his defender and making Amir Johnson shift ever so slightly created this scoring opportunity. Now, they have nobody who can do that at an above-average rate. Hill is probably the closest, but he is heading into his age-31 season and is already known to be injury-prone and miss time.
Without a viable shot-creator, combined with having nine players with one or fewer years of NBA experience, the Kings are going to have trouble putting the ball in the basket. Add in the fact that Zach Randolph, the only Sacramento player with a modicum of experience playing the 4, could be suspended for some of the season, and Sacramento has quite the list of reasons to think it will be worse than its projections dictate.
Vegas Insider has set the line at 30.5 wins, but a lack of players who can create shots and a significant number of young players will make that number hard to reach.
Portland Trail Blazers
Important players lost: Allen Crabbe.
Important players added: Zach Collins, Caleb Swanigan.
The Blazers return a largely similar roster from last season. They added two promising rookies in Collins and Swanigan but lost possibly their most productive bench player in a tax-saving move that sent away three-point-shooting specialist Allen Crabbe.
The Kings' reason for pause was very complicated, but the Blazers is much more simple: The team got worse. Crabbe had the third-highest offensive points added (OPA) on the team, and they shipped him off for nothing. Collins and Swanigan both show the potential to be quality rotations players in the coming years, but they look like they will be buried behind Jusuf Nurkic, Ed Davis, Al-Farouq Aminu and Noah Vonleh in the post rotation.
Crabbe was a part of the best lineup Portland put out last season (with more than 100 minutes), so it's clear how big his impact was to the team. Losing him will be a huge challenge, as most of the other lineups the Blazers had with a positive net rating involved Mason Plumlee, and he is also gone. Now that Crabbe has departed, Portland has few offensive threats off the pine and will struggle to score when Damian Lillard or C.J. McCollum sits.
Here, he shows his knockdown shooting ability, getting by his defender and rising for a jump shot: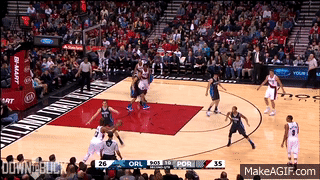 Nobody else on the Blazers bench could do this quite like Crabbe, from either deep or mid-range. Now, he's gone.
Vegas predicted a minuscule decrease in wins for Portland, putting them at 40.5. Losing Crabbe will hurt the team's shooting off the bench, and the West improved significantly, so many signs point to the Blazers being much worse than last year, and they will struggle to reach the near-.500 mark set for them.
Philidelphia 76ers
Important players lost: Gerald Henderson, Sergio Rodriguez.
Important players added: J.J. Redick, Amir Johnson, Markelle Fultz.
The Sixers have many young players—and one of the most popular players in the league (Joel Embiid)—so it's no secret why there is so much fascination surrounding this team. They have built a very exciting roster with many intriguing young players. The Process appears to have paid off.
But let's give them some time.
Ben Simmons, Markelle Fultz and Embiid all look like they will have promising NBA careers. However—and this is a stat you've probably seen before—they have only played a combined 37 games in the NBA. All of these guys have skills that suggest that they can mesh and be a good unit, especially in the weak Eastern Conference, but experience matters.
Paying J.J. Redick and Amir Johnson to join the team are moves largely meant to address that issue. But when your core is so young, that's tough to overcome.
Oh, and injuries. Embiid and Simmons have been in the league for a combined four seasons. They have missed 3.5 of them due to injuries. Fultz, the new guy, got hurt in summer league, to make matters worse. Nate Duncan and Fred Katz joked on a mid-August edition of Dunc'd On that everyone says "[the Sixers] will be better in April than they will be in October," implying that as teammates figures each other out and accumulate on-court chemistry, they improve.
They also argue Philly could be the only case in the whole league for whom this is the opposite. The team has three young, injury-riddled players who will likely be on minutes restrictions, and most of them won't play in back-to-backs. That worsens the team significantly, and Philly will likely lose many of the contests they sit out. Maybe all of them.
That's 14 games.
It cannot be overlooked that there is a chance all the youngsters gel right away and excel. Given their inexperience and how prone many players are to injuries, there is a better chance the team struggles and battles through injuries during the season, and it could cause it to fall behind the expectations.
The over/under for wins that Vegas has set is at 40.5 wins. If they lose all 14 of their back-to-backs, they have to go 40-28 in the games all the young players participate in to reach that mark. Even without injuries, that's a tall task for the 76ers.
Having the right preseason expectations can make a season more fun to enjoy. Setting presumptions that are too high for a squad causes a lack of favorable outcomes to be frustrating for fans and analysts alike, so being calibrated properly for an organization's success is important. Most win totals are set at a good number, but these three rosters, as constructed, offer reasons to believe the expectations for their 2017-18 seasons are too high.
Follow Tony on Twitter @TEastNBA.
Follow NBA Math on Twitter @NBA_Math and on Facebook.
Unless otherwise indicated, all stats are from NBA Math, Basketball Reference or NBA.com.