Can Norman Powell be the Difference Maker for the Toronto Raptors?

In life, we all have the small things that have "changed our worlds" from good to great. For some, it can be as simple as adding an extra tablespoon of thyme to your soup; for others, it may be switching to Geico so you can save 15 percent or more on your car insurance.
For the Toronto Raptors, it may come down to using more of Norman Powell.
The 24-year-old has been the darling of NBA Twitter for a couple years now with his random showings of 20-plus scoring nights, typically unfolding once he gets a starting opportunity or just more run when he gets hot. The mystery surrounding what Powell can be still seems hidden below the surface. He's a weapon the Raptors have yet to fully unleash, and his ceiling can be what unlocks their potential as the clock continues winding down on their stars.
The Raptors have won at least 48 games in each of the past four seasons and have enjoyed varying degrees of success when they've made the playoffs. Making these strides comes after a period in which they passed the first round once in their entire existence. Getting to this sustainable level means something to the Raptors organization, but it isn't crazy to expect championship dreams to infect a fan base that has been lulled into a sense of "good" play. And even if expectations of reaching that next step are foolhardy, the hope of being able to stand a chance is what can keep the passion alive in Toronto.
The strength of the Raptors stems from their two stars and depth. Kyle Lowry and DeMar DeRozan have been everything—and more—you can ask from two players, but they've reached their ceiling, and simply expecting a repeat might even be a bit bold. The questions surrounding the offensive translations to the playoffs involve a mix of these two factors. The reliance on the depth that served them so well during the regular season becomes less useful come playoff time, and the burdens placed on DeRozan and Lowry seem to cement them, and the team, as the offense falls completely into the tank.
But a sidekick has been emerging, and he's finally ready to help.
Powell was selected at No. 46 in the 2015 NBA draft by the Milwaukee Bucks and subsequently moved with a 2017 first-round pick to the Raptors in exchange for Greivis Vasquez. Throughout his rookie year, he bounced from the NBA to the D-League on a fairly regular basis, accumulating meaningful minutes only during the end of the regular season. In those final two months, he started 20 of 22 games and averaged 10.7 points on 47.1 percent shooting from the field. His three-point percentage (46.7 percent) obviously hinted at future regression, but the form suggested legitimacy beyond the small sample size.
In his follow-up season, the Raptors gave him a bit more to handle, upping his minutes to 18 per game and playing him in all but five contests.
His three-point shooting percentage certainly dipped—from 40.4 to 32.4 percent—but overall he was able to remain as efficient as the year before with an effective field-goal percentage a tick above the 50.2 percent he turned in the season prior. The key difference was taking control of the pick-and-roll more often, where he ranked near the top of the league among players who used at least two relevant possessions per game. Playing in Toronto with Lowry and DeRozan will naturally limit the number of times you can actually handle the ball, but having the option to go to three efficient ball-handlers in key moments was an excellent luxury.
Powell's athleticism puts him in a class of his own. He's able to explode toward the lane and use his 6'11" wingspan to stretch his arms beyond big men defending the rim. He's excellent at plays like the one below, where he gets a defender in space and capitalizes as they have trouble generating enough foot speed to close out at the point of the shot:
As is the case with his play in pick-and-roll actions, his first step is so quick he often times doesn't even need a teammate to pick his man. His typically dangerous shot forces defenders to stick closer to him, and before they have a chance to get back, he's already a step past them, ready to throw down another monstrous dunk.
That's why he was one of the best players at getting into the lane. He was among the top five in driving to the lane for players who averaged fewer than 20 minutes per game.
Naturally, Powell has combined all of these characteristics into a fantastic transition game. Whenever he gets the ball off of a turnover or long rebound, he's able to survey the court and explode past defenders who are still scrambling back to their spots. A lightning bolt through confusion typically yields pretty solid results:
The Raptors making the playoffs will not shock anyone. They will probably be one of the top five teams in the Eastern Conference, but Powell's presence will most affect their play come April.
During the latest playoff round, the Raptors scored 6.2 more points per 100 possessions with him on the court than when he was off. It should come as no surprise that Powell's minutes jumped to a little over 25 per game during the nine postseason contests, or that he shot a blistering 44.1 percent on treys. Extending his workload during the playoffs was smart; when he took over five three-pointers in a game during the regular season, he shot 47.3 percent.
The primary problem for the Raptors has become evident over the past few years: They can't score during the playoffs.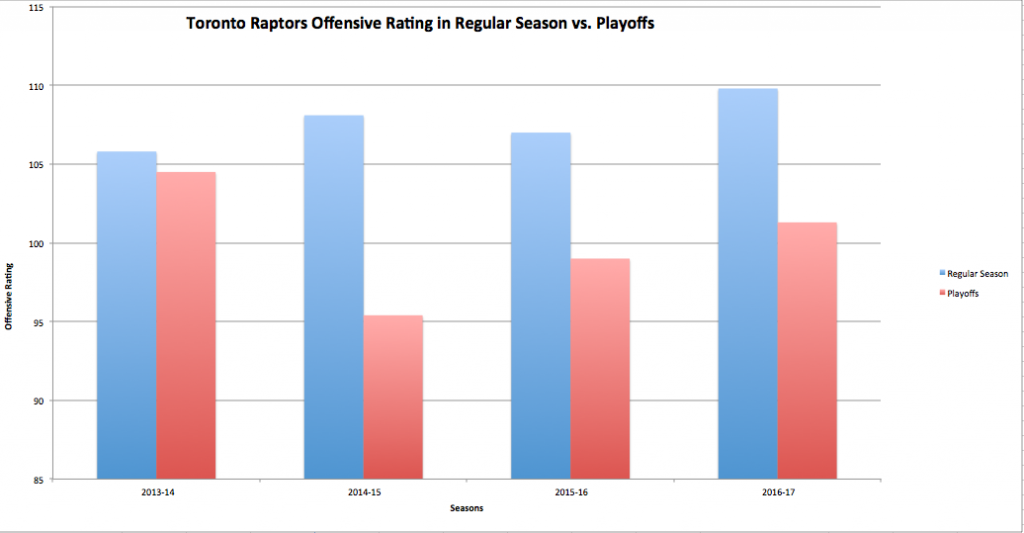 The stark differences circle back to the big issues identified earlier about the two superstars and depth, but what can Powell do to help?
Simply playing him enough would be a good start.
Powell is better suited as a shooting guard, but he can work alongside DeRozan just fine—and, because of his length, he can handle most small forwards. Ideally, they'd be able to put out a similar lineup to the Lowry, DeRozan, Powell and Patrick Patterson pairing that netted a 26.5 rating in the 100-plus minutes they played together last year. With Patterson gone, that replacement gets a bit tricky, but the formula is evident. Utilize the three guards, play Serge Ibaka and get another piece to fill in at the 4. Powell gives the third-banana variability of being able to shoot from three and attack the rim, which is essential for a modern offense that lacks the first quality from one of its star players.
Expecting Powell to resolve these scoring issues entirely seems a bit unrealistic. Though he can make tangible differences with his development, the Raptors probably won't be able to entirely shake off the playoff disappointment until they have a different core. But in the meantime, he gives the Raptors their final card to play until they have to fold.
Let's hope they play it.
Follow Thomas on Twitter @Trende19.
Follow NBA Math on Twitter @NBA_Math and on Facebook.
Unless otherwise indicated, all stats are from NBA Math, Basketball Reference or NBA.com.