Can DeMarcus Cousins and Anthony Davis Save the New Orleans Pelicans?

In February 2017, the New Orleans Pelicans shocked the NBA nation when they acquired the supremely talented DeMarcus Cousins in a trade with the Sacramento Kings. In order to acquire the disgruntled big man, the Pelicans gave up two expiring contracts, an overrated, irrationally loved, undersized shooting guard (Buddy Hield), a second-round pick and a first-round pick. Talk about some tomfoolery.
This gave the Pelicans the most-talented 4-5 combo in the entire league.
Unfortunately, it didn't lead to the win-loss results everyone imagined. At the time of the trade, New Orleans stood with a record of 23-34 and was 2.5 games back of the No. 8 seed in the Western Conference. That was the closest it would get the rest of the season, as it went 11-14 down the stretch. This abysmal run forced it to finish seven games out of the last spot in the playoffs and sent it home.
The media and fans hit the team with a blizzard of questions about Cousins' fit alongside budding superstar Anthony Davis. Can two high-usage big men co-exist on the same team? Will the Pelicans acquire enough guard play? Can they survive defensively by going big when the rest of the league is going small? Blah, blah, blah.
They'll be just fine next year. In fact, they will make the playoffs and erase the majority of the question marks and concerns we had about them coming into the season.
Before the acquisition of Boogie, they were beginning to play their best basketball of the season. Jrue Holiday was finally regaining his form after missing 15 games earlier in the season. Davis was doing Davis things. And the team was rolling (pun intended):
After Cousins' arrival, they only further enhanced their already improving play. He helped increase his new team's offensive rating from 102.3 before his arrival to 105.5 after. The team's offensive rebounding percentage, true shooting percentage and effective field-goal percentage also rose slightly.
Now, the two superstars will build upon their end-of-season play and take it to new heights.
Boogie and The Brow have opposing skill sets, which make them quality fits next to each other. Davis is a great shot-blocking presence, roll-man and mid-range extraordinaire. Cousins is a great passer and post player with a budding outside game:
In fact, Cousins' playmaking is the most underrated aspect of his game. People see a big, bruising body who bangs down low, but they forget about his ability to play with finesse, as well. He averaged a career-high 4.8 assists per 36 minutes last season. That's the third most for any center who played more than two games. His 26.2 assist percentage is basically identical to the dubbed passing savant Nikola Jokic (26.2).
He reminds me a lot of Draymond Green on the play below:
Right before Holiday crosses half-court, he shows surprising confidence in his center by throwing the ball ahead. Cousins catches it before he even reaches the three-point line. At this point, he takes one hard dribble to get to the elbow before tossing a beautiful lob toward the rim for the sprinting Davis. The pass is thrown in a perfect position, allowing Davis to throw it down with authority and sending the crowd into a frenzy.
Even though this looks pretty as hell, the impulsivity of his passing has led to a multitude of turnovers, and he was responsible for 37.3 percent of his team's cough-ups. However, half-court offense allows the game to slow down, and the former Kentucky Wildcat thrives. On the following play, he's placed in a simple pick-and-roll situation where he only has to read one guy. What that defender does will tell Cousins exactly what he needs to do:
It starts out with a formation similar to horns—a set the Pelicans ran a bunch after the trade. However, instead of using one of the ball-screens, which start to appear on both sides, the point throws an entry pass to Cousins at the elbow. From there, Davis sets a ball-screen and immediately rolls to the basket. The center, once again, delivers a brilliant lob near the rim, which allows a free-rolling Davis to gently dunk the ball through the hoop.
Typically, a big-to-big screen struggles to be effective due to the defense's ability to simply switch. Fortunately, on this particular set, the Denver Nuggets defenders hesitate just for an instant. This lack of communication allows Davis to quickly slide to the rim through the empty space for two points: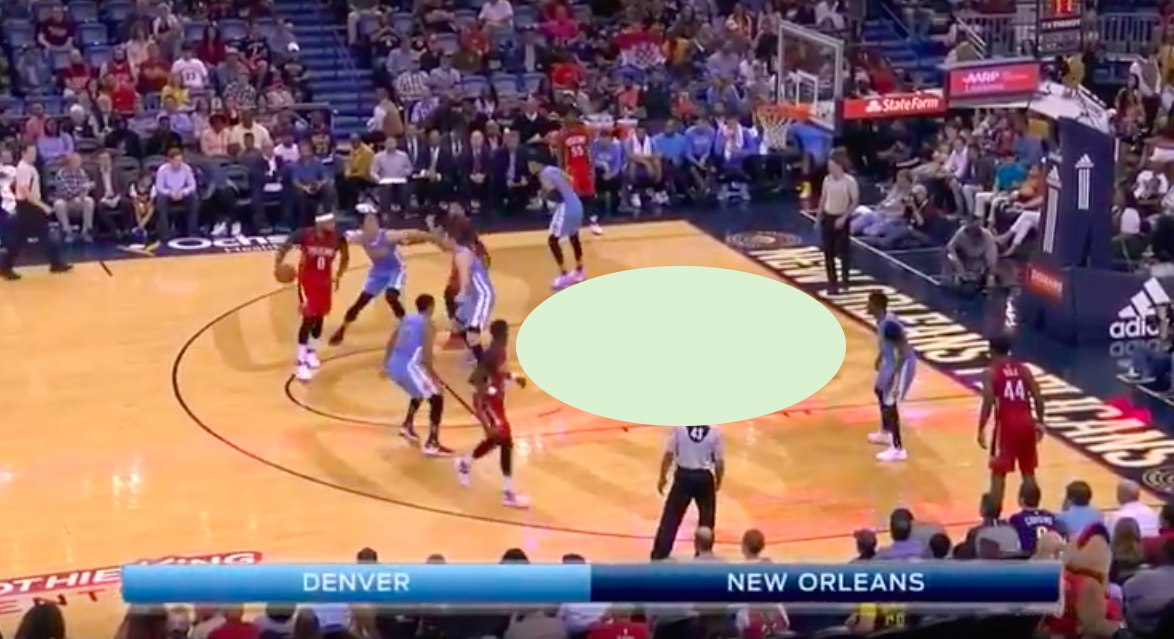 Head coach Alvin Gentry deserves a lot of the credit for the offensive improvement as the season wore on. He was willing to experiment with different types of offenses in order to discover the best method for his new star. The above play, for example, is commonplace between Blake Griffin and DeAndre Jordan in the Los Angeles Clippers' offense.
Cousins' passing isn't the only aspect of his playmaking skills that deserves recognition. His ball-handling is also a unique talent, as it's not uncommon to see him start a fast-break opportunity:
After corralling the rebound, he takes off down the court instead of looking for an outlet pass to a guard. His teammates react accordingly and begin finding running lanes as they are sprinting the length of the floor. This is when he uses his passing ability to find an open Solomon Hill for a spot-up three-pointer (the shot went in, by the way).
Hill figures to play a major role in the Pelicans' supporting cast, which will be an extremely important part of the team's success next season.
New-age NBA logic says to fill the rest of the roster with outside shooters. This will maximize the space the two superstars have and force the defense to stay close to their assigned man. However, their biggest offseason acquisition, Rajon Rondo, is the complete opposite. He's a career 30.4 percent three-point shooter and has never averaged more than one triple per game.
They have a couple of players who can knock down an outside shot, including Jordan Crawford, Hill and E'Twaun Moore. But those players are nothing to write home about. Perhaps their ability to get stops on defense will instead be where they have their biggest impact.
After the Cousins acquisition, New Orleans slipped some on the preventing end. The defensive rating fell slightly from 104.6 to 105.6. However, that still would have left it as the No. 13 unit in the league last season—more than acceptable for an offense that figures to be a force to be reckoned with.
The Holiday-Rondo pairing will have the most to say about how good this defense can become. Davis is a stud who will be able to clean up most of the messes down low. Unfortunately, opposing teams might be able to get open looks after open looks on the perimeter. Holiday is an adequate defender, but he will be forced to move up a position while sharing the floor with Rondo. This means he will now be guarding bigger and stronger 2's.
Rondo, on the other hand, has become a defensive liability. He still has the capability to defend at a higher level but often seems disinterested.
How far the Pelicans really go will depend a lot on this backcourt pairing.
No matter how questionable the guard play is, Cousins and Davis will at least be able to lockdown the paint. Respectively, they finished with the seventh (127.65) and eighth (127.16) most defensive points saved in the league, per NBA Math. Cousins was one of nine players to play 50 or more games and average 1.5 steals and 1.4 blocks per 36 minutes. Davis, not to be outdone by his counterpart, was one of only five players to average 1.1 steals and 2.2 blocks per game.
By controlling the area around the rim, teams will be forced to hunt for their shots outside. There will undoubtedly be games where teams hit enough buckets to hand the Pels an "L." However, due to New Orleans' great offensive ability, it will outscore its opponents more times than not.
In an era where the NBA is transitioning to smaller and quicker frontcourts, the Pelicans are going bigger and stronger. This bold strategy may appear as if they are stuck in time and not willing to be flexible with the changing landscape. But sometimes in order to win big, you have to zag while everyone else is zigging.
Follow Brian on Twitter @BrianSampsonNBA.
Follow NBA Math on Twitter @NBA_Math and on Facebook.
Unless otherwise indicated, all stats are from NBA Math, Basketball Reference or NBA.com.