What Does Carmelo Anthony Have Left in the Tank?
You either love him or you hate him. You either know him best as a ball-hogging, team-chemistry destroyer or as one of the most unstoppable scorers to play the game. You either think he's still a star or an aging, below-average contributor.
So that begs the question: Is Carmelo Anthony still good?
First we must qualify that there is evidence to support both answers to this question. It's also important to define "good" in today's NBA. Is it being a top-50 player? Is it simply grading out as above average in the majority of advanced metrics?
When it comes to Anthony, many just look at his scoring numbers and answer, "Yes, of course he's still good." And it's easy to come to that conclusion on the surface. After all, the former Syracuse Orangeman averaged 22.4 points, 5.9 rebounds, and 2.9 assists last season. He even made the All-Star team!
But if you look deeper than the traditional counting stats (and the fact that All-Star selections aren't always true testaments to level of play), you'll find some concerning evidence that suggests otherwise. Anthony posted his lowest player efficiency rating (17.9) since his first two professional seasons, compiled just 4.7 win shares and owned a box plus/minus (BPM) of minus-0.7—primarily due to his minus-2.2 defensive box plus-minus. Not great, Bob.
The 33-year-old has never been known for his defense, but as he continues to age, his play on that end will continue declining. ESPN.com's defensive real plus-minus (DRPM) had the former NCAA national champion ranked No. 421 (minus-1.75) out of a possible 468 players. As you can see from NBA Math's play-type profile below, he actually grades out well defensively in a couple of categories, but struggles mightily in others:
It will surprise many to know that in isolation, Anthony was a good defender last season (84.9 percentile). Isolation plays are still very common, so it's good to see him more than hold his own in that regard. The former No. 3 pick was also excellent when guarding the roll men in the pick-and-roll, and everyone knows how prominent that set has become for today's offenses, placing even more emphasis on quality coverage.
Then we get to the other defensive areas. Anthony is below the 66th percentile in all other defensive play types, including below the 50th percentile defending against shooters coming off screens, handoffs and post attempts. He wasn't motivated to consistently chase shooters, and handoffs certainly didn't help, either. Of course, the Knicks ranked 25th in defensive rating last season, and poor communication and switching certainly played a big role in the putridity.
Perhaps most frustrating, the 2013 scoring champion has shown flashes of consistently good defense. These flashes almost always occur when he is on a winning team with quality leaders and teammates around him who can also help ease his offensive burden (one reason it'd be fascinating to see him on the Houston Rockets). Being stuck on the New York Knicks' dysfunction train has led to an unmotivated Anthony, spiraling into poor leadership and effort on the defensive end.
But we all knew defense wasn't his bright spot. So let's take a closer look at the 15-year veteran's offensive game.
Anthony is still a good isolation scorer (78.3 percentile) and a prolific spot-up scorer (93.8 percentile). Unfortunately, he is nearly average or well below average in other offensive areas such as coming off screens, handoffs and in transition.
But the former Denver Nugget still has one of the league's most diverse offensive games, as he has the ability to score from nearly anywhere on the floor: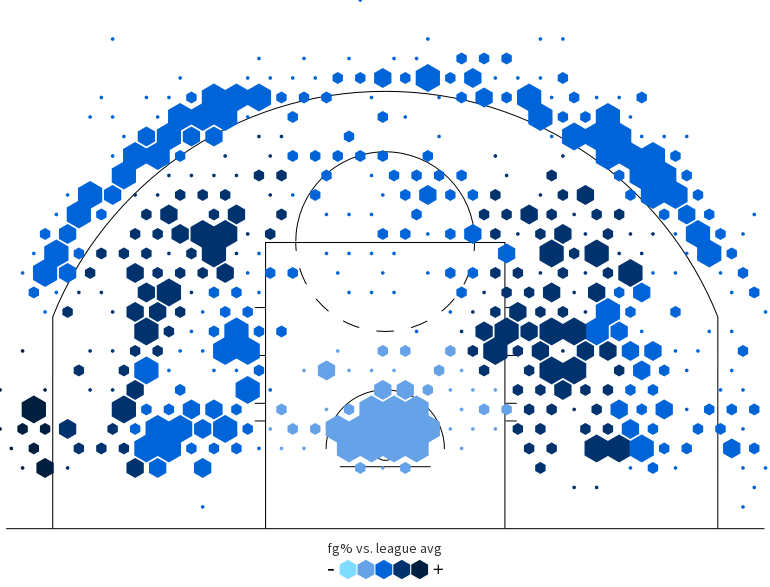 Last season, the 10-time All-Star was deadly around the elbows and at various spots behind the arc, per Statmuse. However, he struggled at the rim, shooting just 50.2 percent—well below the league average of 57 percent. Also, Anthony was essentially league average on three-pointers (35.9 percent), which was actually his highest percentage on such shots since the 2013-14 season.
It's important to note he was, for the most part, surrounded by (at best) average talent in the past couple of campaigns with the Knicks, further cramping his ability to work on the offensive end.Last season, the three-time Olympic gold-medalist even posted his lowest offensive box plus-minus (1.5) and his fewest offensive win shares (3.2) since the 2008-09 season (not counting the 2014-15 season, in which he only played in 40 games). Playing alongside better floor-spacers and shot-creators (cough cough Chris Paul and James Harden cough cough) could do wonders for him.
Of course it isn't all bad for Anthony.
He is still capable of single-handily winning games with his scoring, and he can be a go-to option down the stretches of tight games. A perfect example is the quadruple-overtime classic between the Knicks and Atlanta Hawks this past season:
At this point, it seems he is best suited as a second option on a winning team, thus allowing him to get better looks and give more effort on defense.
Countless reports have alleged that the Knicks are looking to trade Anthony and that Houston is interested in acquiring his services (as well as subsequent reports, per Marc Berman of the New York Post, that he will only waive his no-trade clause to join that southern squad). It would be extremely interesting to see how he fits on a team such as the Rockets, where he would in all likelihood be a third option.
Playing alongside Paul and Harden would allow Anthony to get open shots, which is where he can feast if given quality catch-and-shoot looks. On such attempts last season, his effective field-goal percentage jumped up to 58.6—a far cry from the 48.8 percent he posted overall. Also, he shot 42.6 percent on catch-and-shoot three-pointers, and he would get plenty of those attempts fairly often in Houston.
Playing as a second or third option alongside Paul, a good friend of Anthony's, could also get this forward more engaged defensively.  Also, the Rockets have P.J. Tucker, Luc Mbah a Moute, and Trevor Ariza on the roster, so he wouldn't have to guard any of an opposing team's top three options. He would also be a defensive improvement over Ryan Anderson while providing more dynamic offensive contributions.
In the end, while FiveThirtyEight's CARMELO NBA Player Projections rate Anthony as simply an "average starter" worth just $30.8 million over the next five years, he can still be a good contributor on a winning team. His defense continues to be poor, and age is catching up to him on the offensive end, but moving him to a secondary or tertiary role can allow "ME7O" to bounce back from disappointing recent campaigns.
It's time to put Anthony in a winning situation and save him from mediocrity. Only then will you get the best from him.
Follow Eric on Twitter @ericspyros.
Follow NBA Math on Twitter @NBA_Math and on Facebook.
Unless otherwise indicated, all stats are from NBA Math, Basketball Reference or NBA.com.