The Highest Peaks Reached by NBA Centers in the Modern Era

Remember when centers ruled the NBA?
The position has produced so many awe-inspiring talents, ranging from Kareem Abdul-Jabbar as the Association moved into the modern era to the David Robinson/Hakeem Olajuwon battles of the early-1990s to Shaquille O'Neal's unrelenting combination of physicality and finesse as we neared and jetted past Y2K. And though big men's roles have largely shifted in today's game, plenty of dominant figures have prevented a shortage of contest-changing centers. Five frontcourt standouts who suited up in 2016-17 can be found among the honorable mentions and 20 featured spots in this countdown.
But how do they all stack up against their positional counterparts throughout the modern era? Since the beginning of the 1973-74 season, when the NBA began tracking more stats and allowed for the retroactive calculation of many advanced analytics such as total points added (TPA), the league has played witness to plenty of high-quality centers.
Plenty of basketball analysts have looked at their careers as a whole. The best single seasons tend to take center stage when the Maurice Podoloff Trophy is greeting a new MVP. But here, we're concerned only with lengthier peaks.
Having a one-off campaign can be special. Maintaining that success for a three-year stretch, however, is far more impressive and meaningful.
Journey with us as we travel through the best three-year stretches from modern-era centers (as defined by Basketball Reference and based on number of seasons listed at each position) by adding together their TPA scores in each of the three relevant consecutive campaigns. One stellar season can counteract more lackluster contributions surrounding it, but playing at a high level for the entirety of a three-year period is the best way to vault up the rankings.
20. Jack Sikma, 1982-84: 679.18 TPA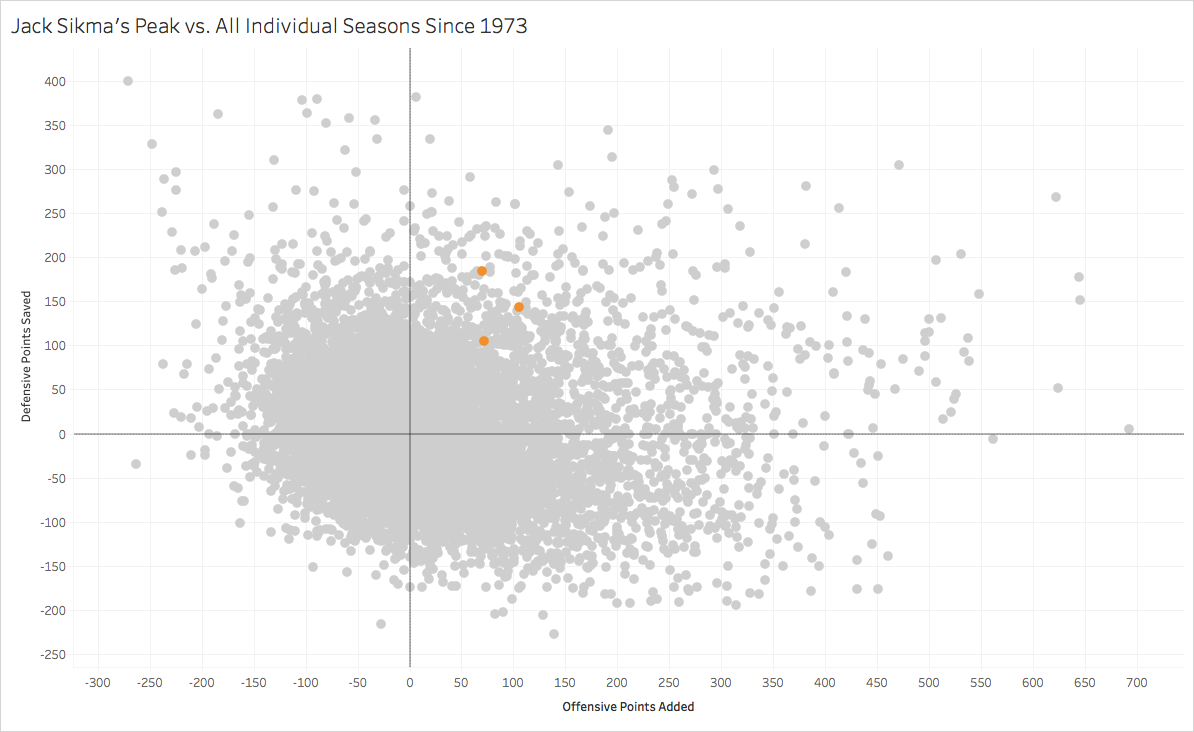 Skill was the name of the game for Jack Sikma, who remains one of the best players in NBA history without a Hall of Fame induction. It wasn't until later in his career that he developed a three-point shot, but he still thrived in so many different facets for the Seattle SuperSonics, whether he was striping in shots from the free-throw line, spacing out the floor with a potent mid-range jumper or dropping dimes with aplomb.
During his three-year peak, the 6'11" center averaged 19.0 points, 11.7 rebounds, 3.5 assists, 1.2 steals and 1.1 blocks. He may not have stood out in any one area, even after adding his 48.1 percent shooting from the field and 84.9 percent clip at the charity stripe into the equation, but the well-rounded nature of his game allowed him to become a two-way contributor and a mainstay on the Western Conference All-Star squad.
19. Rudy Gobert, 2015-17: 680.19 TPA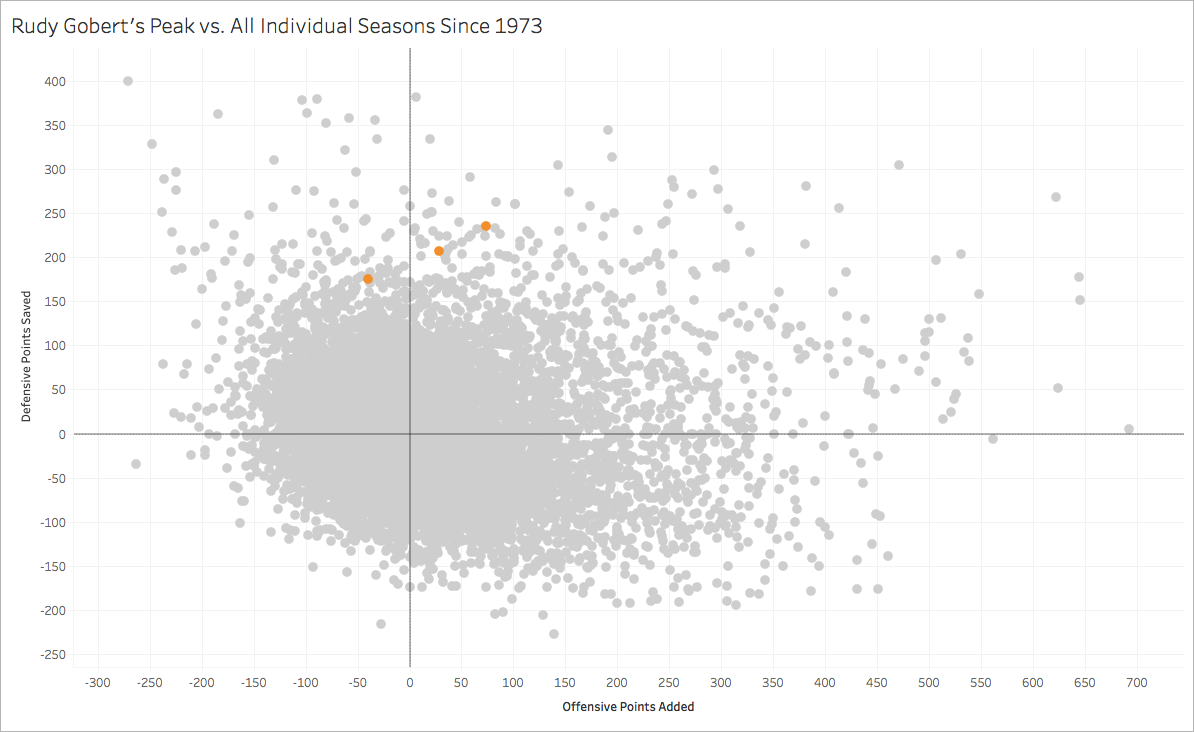 Only recently has Rudy Gobert become an offensive force. He displayed improved touch throughout his 2016-17 campaign for the Utah Jazz, showing off patience after receiving feeds around the rim and then deftly dropping in close-range attempts. The French center may not boast much range and rarely even thinks about taking shots from outside the painted area, but he's such a devastatingly effective roll man that he's now posted positive offensive scores in two of his past three go-rounds.
Of course, defense remains his forte.
With Pterodactyl arms and tremendous instincts, "The Stifle Tower" routinely shuts down all traffic in the restricted area. Driving foes are forced to respect his mere presence, to the point that they defer to their teammates and refuse to force up shots in his immediate vicinity. That's not changing anytime soon, and merely replicating his 2016-17 efforts for two more years while serving as Utah's unquestioned leader in the wake of Gordon Hayward's departure would push him to No. 7 in this positional countdown.
Yes, he was that good last year.
18. Sam Lacey, 1974-76: 702.87 TPA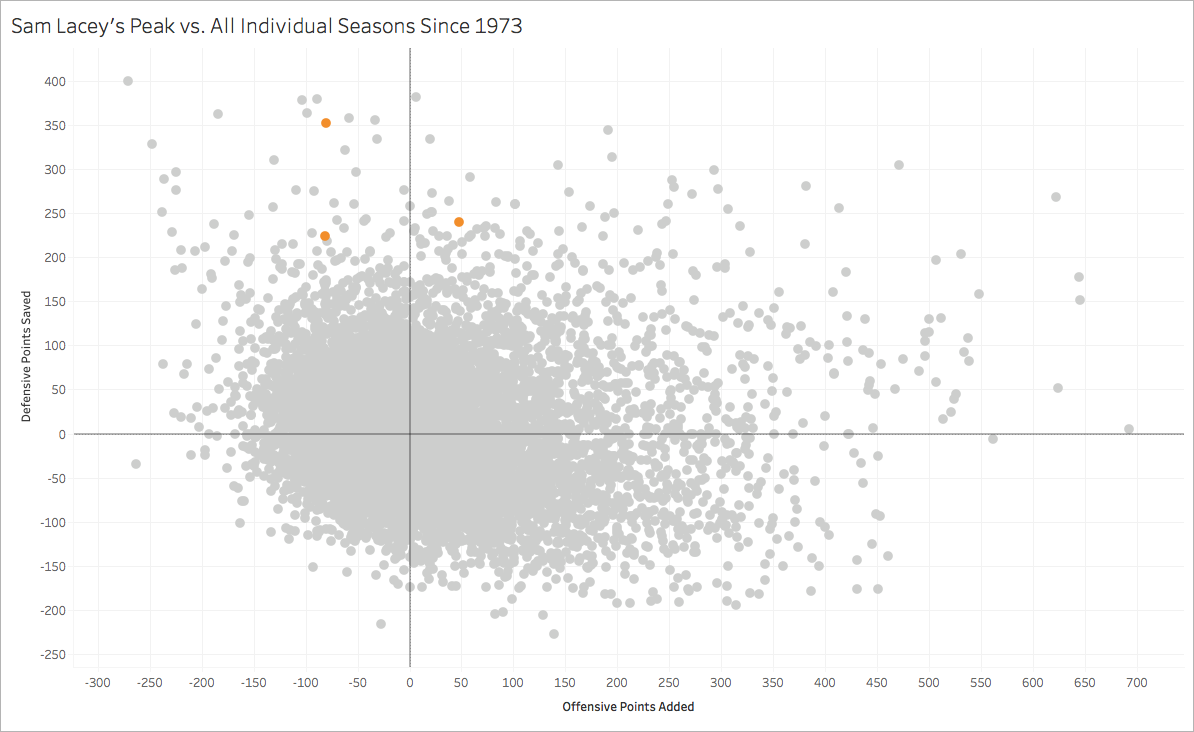 Even though Sam Lacey's career began before the advent of the TPA era, he's not disadvantaged by our restrictive years. His breakout season came in the 1973-74 season for the Kansas City-Omaha Kings, as he averaged a sterling 14.2 points, 13.4 rebounds, 3.8 assists, 1.6 steals and 2.3 blocks. But even then, while he averaged a career high as a scorer, he was more impactful for his shot-swatting skills and rebounding dominance.
Lacey never displayed too much touch on the offensive end, though his surprising passing chops allowed him to retain some value. It was on the stopping end where he made his mark by shutting down the interior and then ensuring no one received any easy second-chance opportunities.
The Mississippi native wasn't a glamorous player. But he didn't need to be in order to boost his squad's chances at victory.
17. Alvan Adams, 1976-78: 759.8 TPA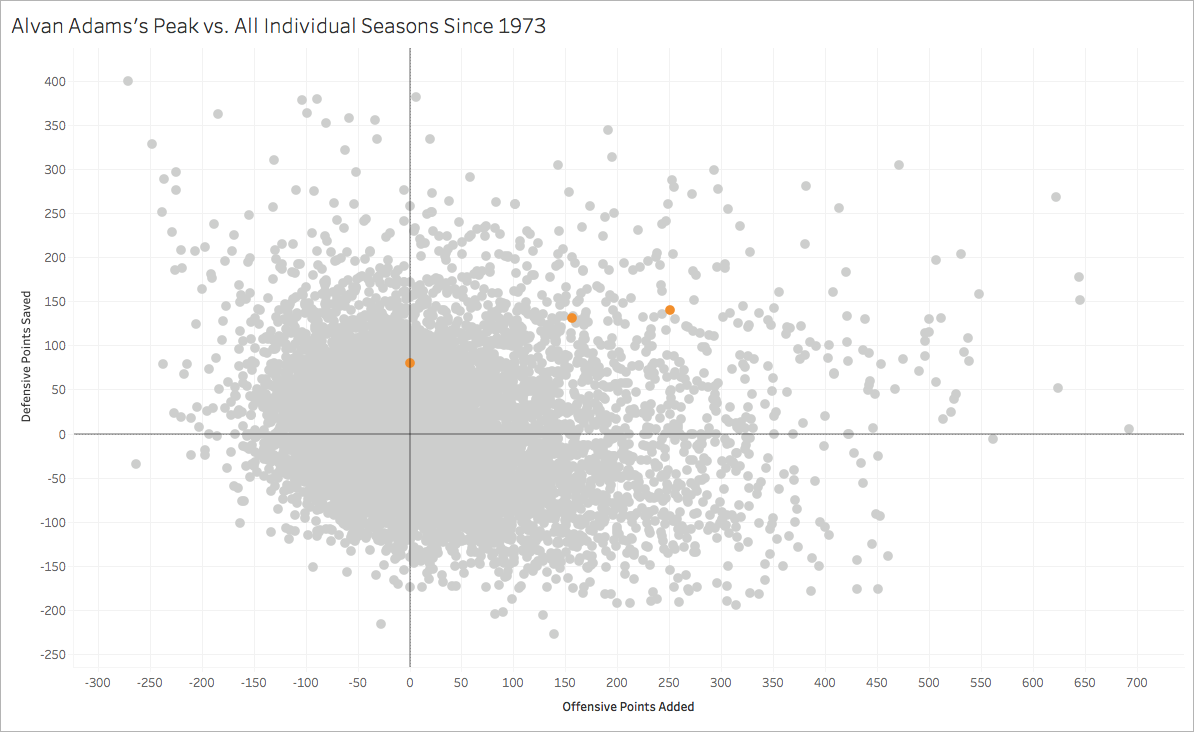 It didn't take long for Alvan Adams to make an impression.
A fresh-faced rookie out of Oklahoma, he torched the league throughout his rookie season with the Phoenix Suns, making the All-Star squad and helping carry his troops all the way to the NBA Finals, where they'd lose in six games to the Boston Celtics. The No. 4 selection of the 1975 NBA draft, Adams found immediate comfort operating out of the high post and serving as a dual threat who could either score or pass, which led to—rather easily—the best TPA score of his career.
Then came his second-best in 1976-77, which marked the start of a rapid decline. Adams just didn't have that magic feeling anymore as he began ceding more and more touches to his teammates.
"I never felt that rookie season was an albatross that I carried around my whole career, but I remember thinking there very likely will never be anything like this again, with this much excitement," he told the Associated Press (via the New York Times) after announcing his retirement in 1988.
16. Moses Malone, 1981-83: 759.83 TPA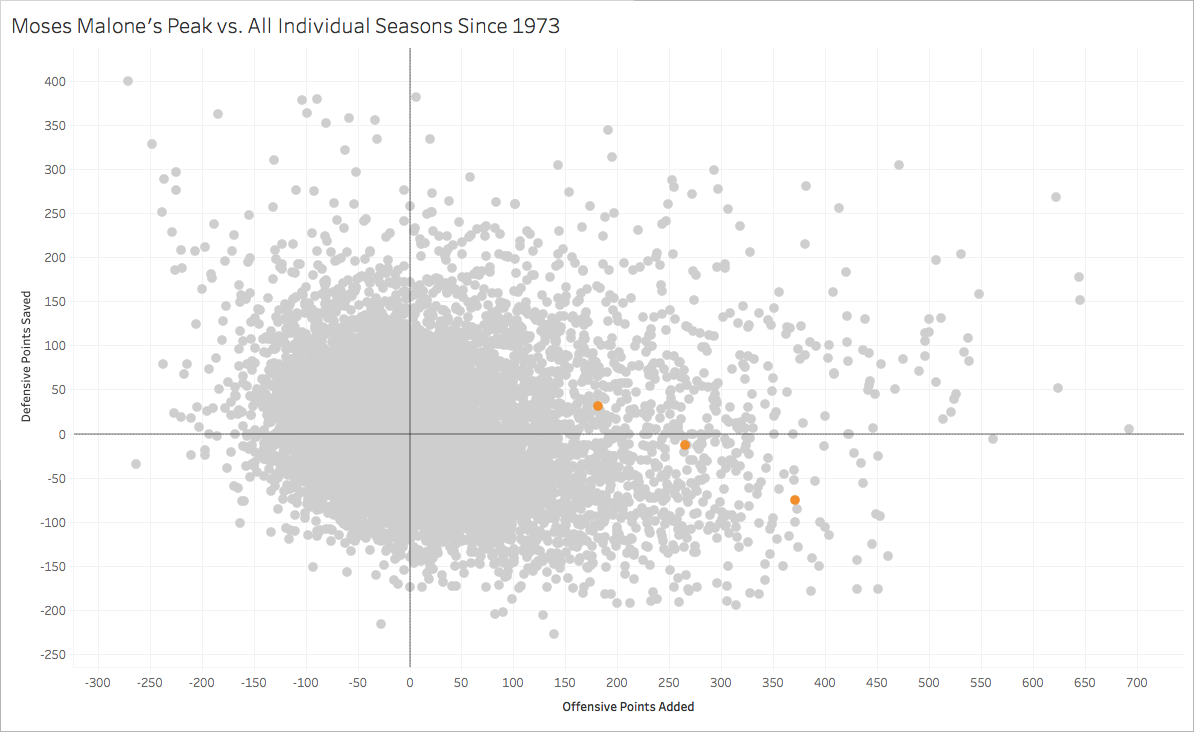 Though Moses Malone remains one of the greatest rebounders in NBA history and led the league in offensive rebounding percentage during two seasons of his three-year peak (once with the Houston Rockets, and again with the Philadelphia 76ers), his remarkable scoring acumen took him to that proverbial next level.
And he was never better than in 1981-82, just before he signed a complicated offer sheet that eventually forced the Rockets into trading him to the City of Brotherly Love.
During that campaign, which resulted in the second MVP trophy of Malone's illustrious campaign, he averaged a career-best 31.1 points and 1.8 assists while shooting 51.9 percent from the field and 76.2 percent from the stripe. He was an unstoppable physical presence on the interior, capable of overpowering defenders on the first attempt and then cleaning up around the hoop if he or one of his Houston teammates happened to miss.
15. Bill Walton, 1976-78: 782.22 TPA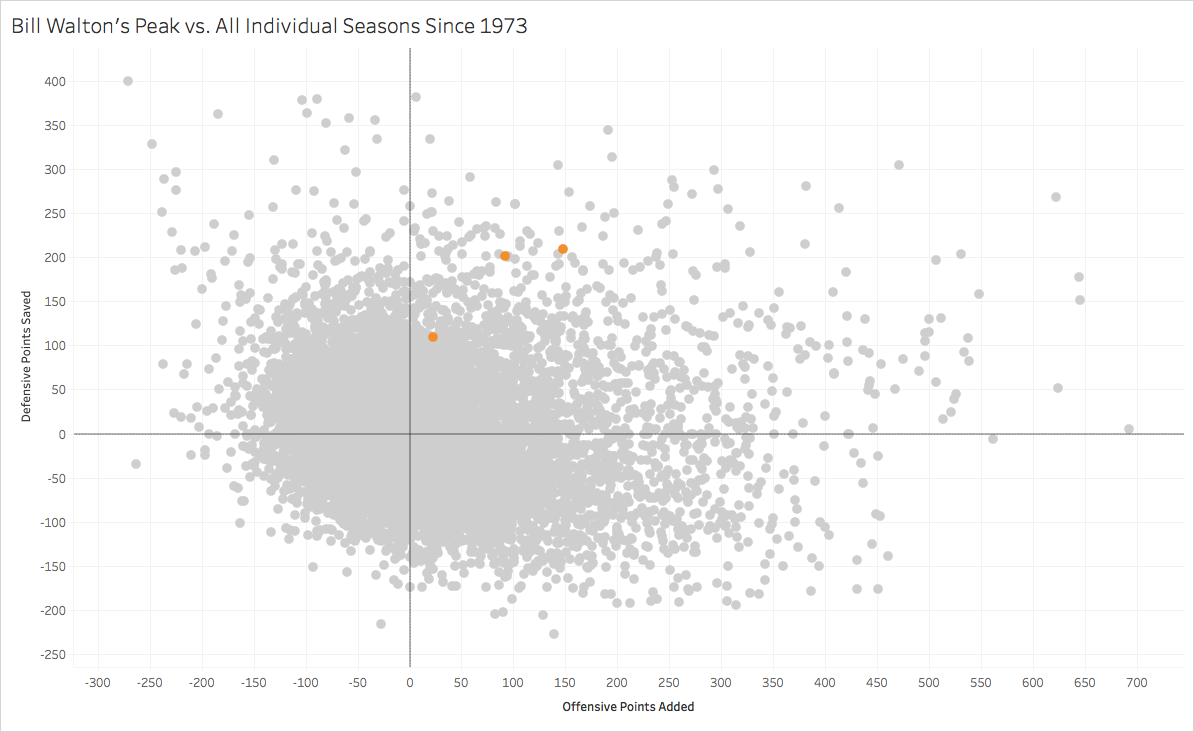 Even during his three-year peak, Bill Walton wasn't completely healthy:
1975-76: 51 games played
1976-77: 65 games played
1977-78: 58 games played
And yet, this still has to be the choice. Early-career Walton was the best Walton (unless we're counting his broadcasting days), and he'd miss the entire 1978-79 campaign while recovering from the first of many foot injuries. After he came back with the San Diego Clippers, he was never the same.
But just imagine: Had Walton played even 70 games during each of those seasons while maintaining the same statistical paces, his three-year score would sit at 919.6 and bump him up to No. 9 in this countdown.
14. Joakim Noah, 2012-14: 793.79 TPA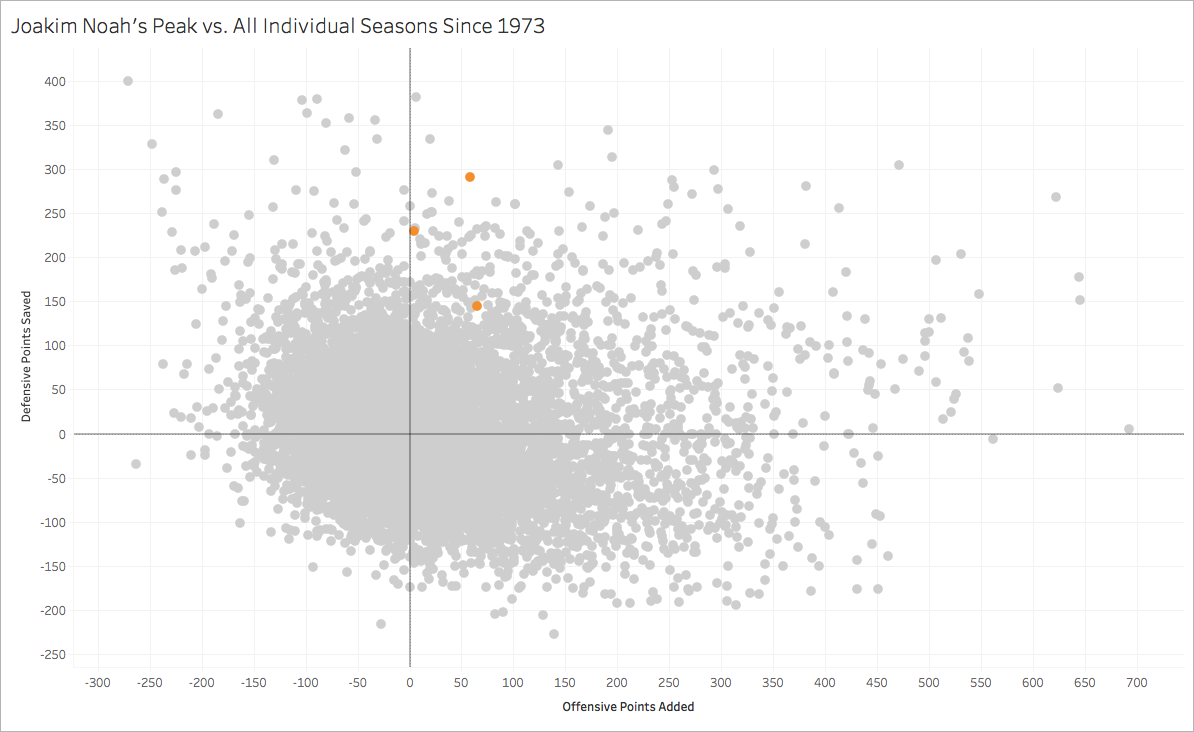 Joakim Noah, even when healthy, was never much of a scorer. His sidewinding push-jumper made for awkward attempts from the free-throw line and a hideous mid-range stroke, and he rarely received close-range opportunities. It was only his phenomenal passing, which allowed him to hit cutters in the half-court set or push the pace in transition, that made him a plus on the offensive end.
But complaining about Noah's defense is impossible.
Even winning Defensive Player of the Year at the tail end of his true peak, Noah was an impenetrable force on the interior who made head coach Tom Thibodeau's schemes work. The signal-caller believed in packing the paint and daring referees to blow the whistle for three-second violations—a strategy that worked because Noah's timing was so exquisite and his presence around the rim allowed his Chicago Bulls teammates to drift all around him.
13. Dwight Howard, 2009-11: 800.65 TPA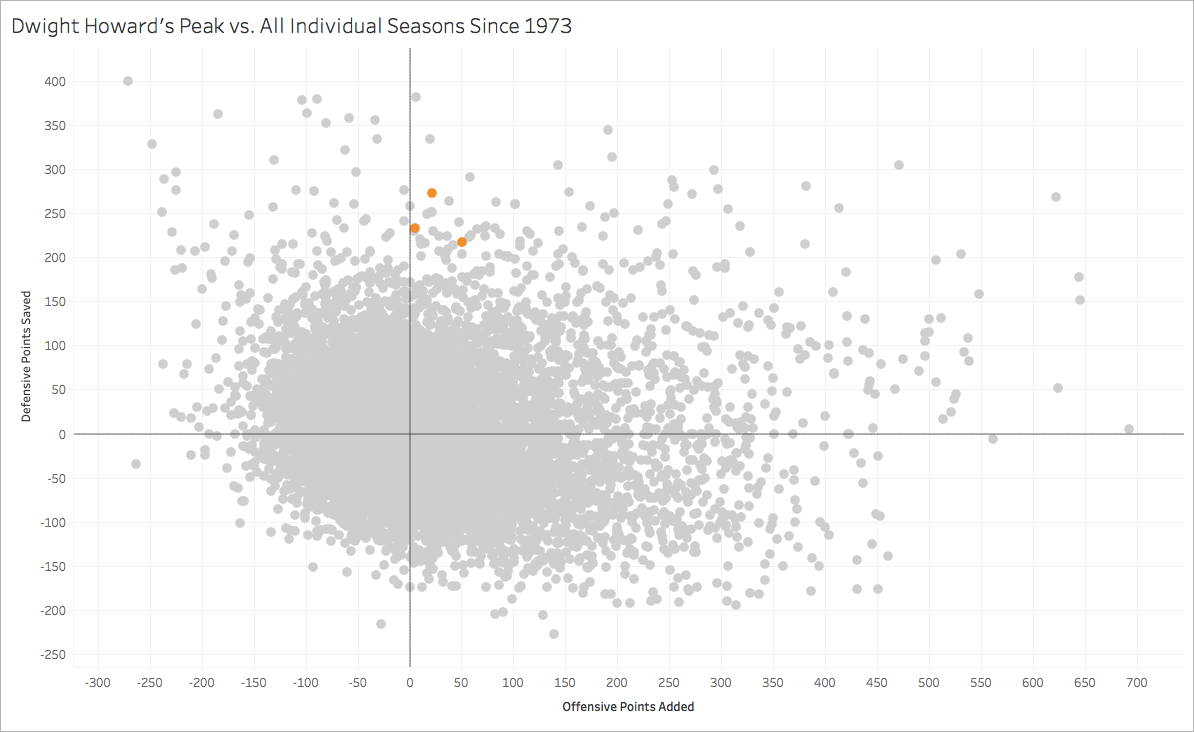 In some ways, Dwight Howard's career has been disappointing.
He's never learned how to shoot free throws. His post-up game remains atrocious, even though he's spent offseasons training with legends and working to shore up that vital part of his game. Ever since forcing his way out of the Orlando Magic organization, with which he spent the entirety of his three-year peak, he's upset teammates, displayed his immaturity and failed to find a permanent home.
But let's not sell Howard too short.
Despite all his flaws, he was a Hall-of-Fame talent who emerged as one of the Association's most impactful defenders. He made head coach Stan Van Gundy's four-out, one-in system work so well that he led Orlando all the way to the 2009 NBA Finals, and his overwhelming athletic superiority still allowed him to pair his jaw-dropping defense with some rather gaudy offensive numbers.
12. Patrick Ewing, 1989-91: 827.02 TPA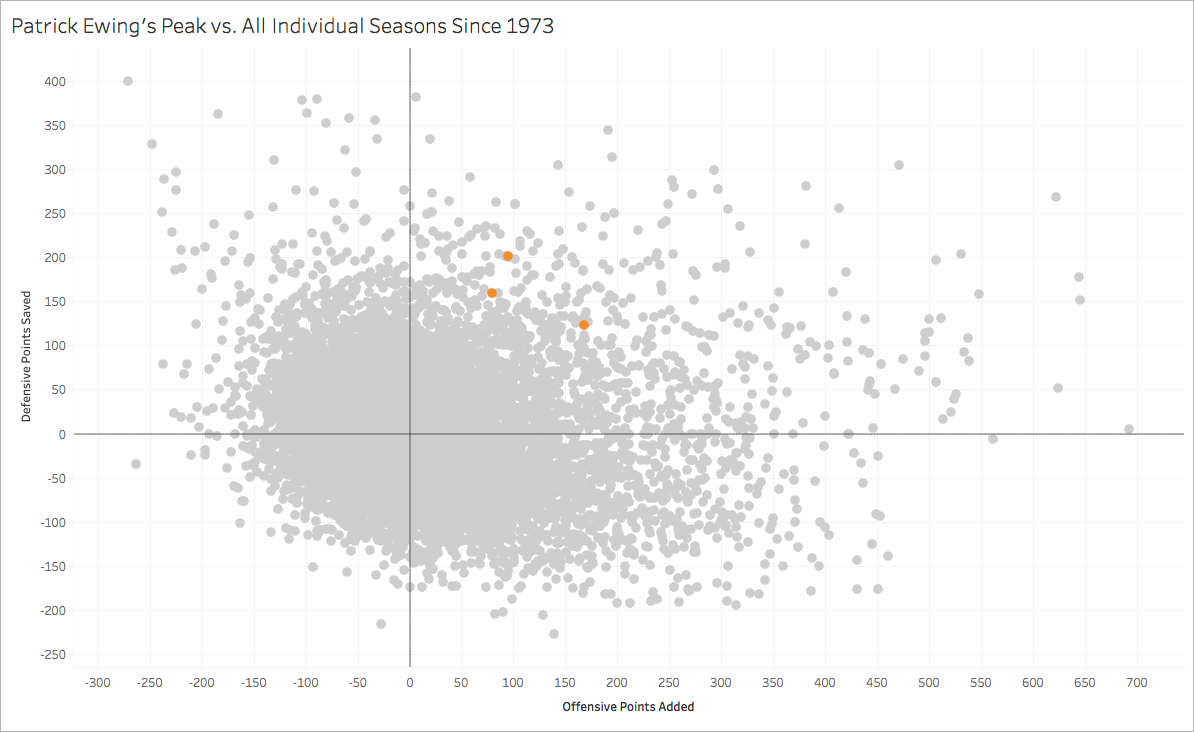 Wrapping your head around Patrick Ewing's career is a difficult task. For all his talent, the primary narrative always seemed to be that he wasn't quite good enough.
Sure, he was a legendary big man, but he was never the absolute best at his position. Sure, he carried the New York Knicks into the playoffs, but he missed big shots and couldn't ever get over the hump to win a ring. Sure, he was good in every area, but was he truly great in one of them?
We'll allow the "but"s to continue.
Ewing's three-year score is impressive, but it may be better still that another non-overlapping portion of his career produced similarly sterling stats. From 1991-92 through 1993-94, he accumulated another 632.86 TPA, which would have left him just shy of the position's honorable mentions.
11. Dave Cowens, 1974-76: 837.03 TPA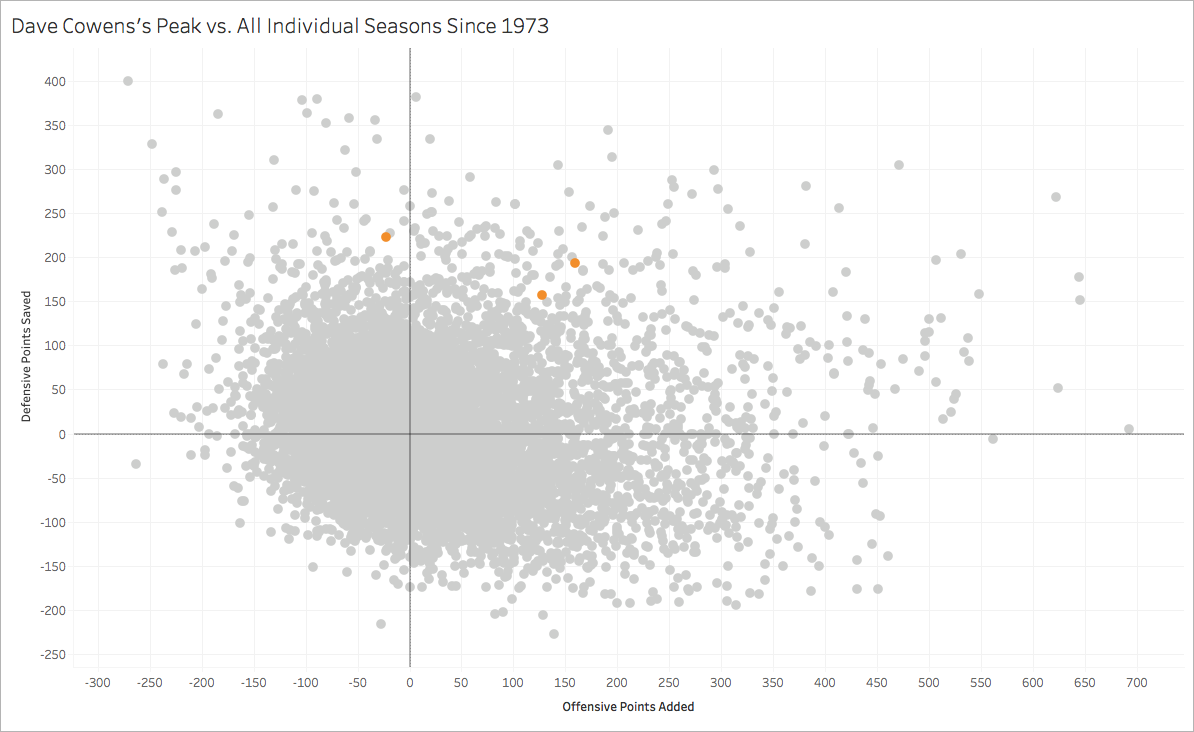 Hustle, hustle, hustle.
And then some more hustle.
During his three-year peak, Dave Cowens averaged 19.4 points, 15.5 rebounds, 4.4 assists, 1.2 steals, 1.1 blocks and 16.7 dives onto the floor after loose balls. He was constantly willing to sacrifice his body for the Boston Celtics, emerging as a true leader and a player who posted big numbers while still finding time to do all the little things. It's no wonder he won an MVP award, though that actually came in 1973, just before we're able to calculate his TPA score.
10. Pau Gasol, 2009-11: 843.91 TPA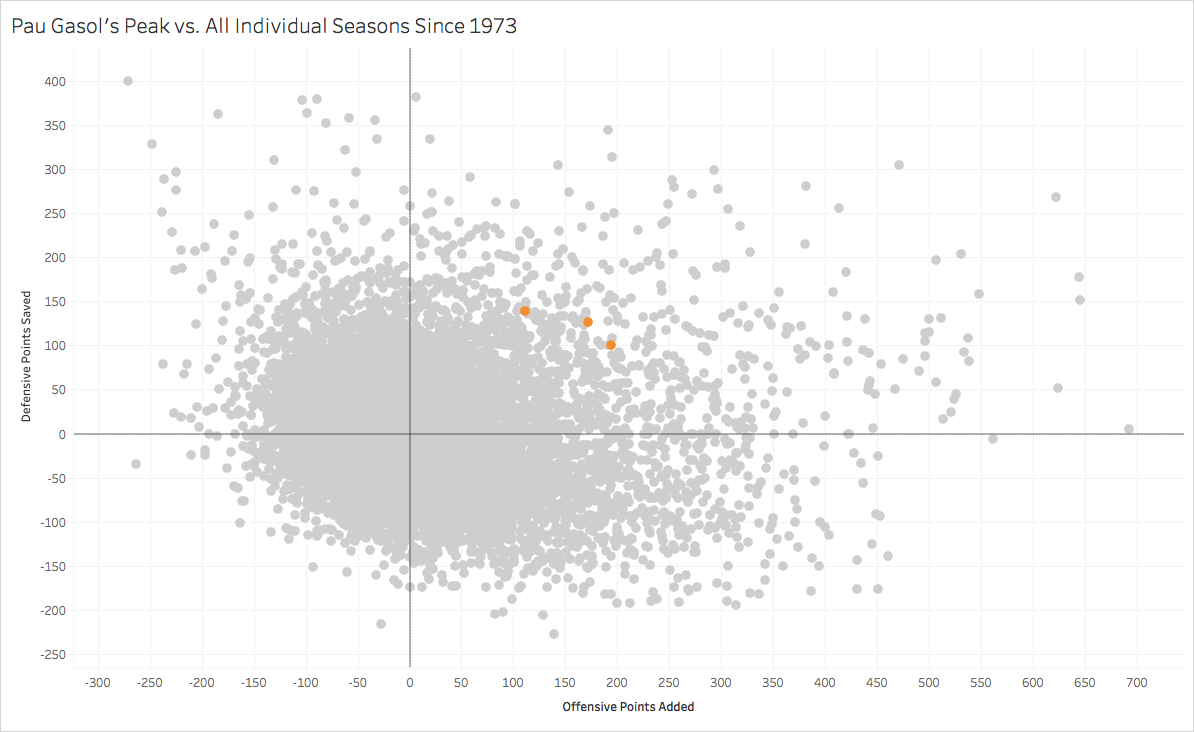 Yes, Kobe Bryant was a better basketball player than Pau Gasol.  But during the latter's three-year peak, which coincided with two championship runs by the Los Angeles Lakers, he was just as valuable to the cause.
The offensive numbers (especially in the scoring column) weren't quite as gaudy, but just take a look at where each placed on the TPA chart: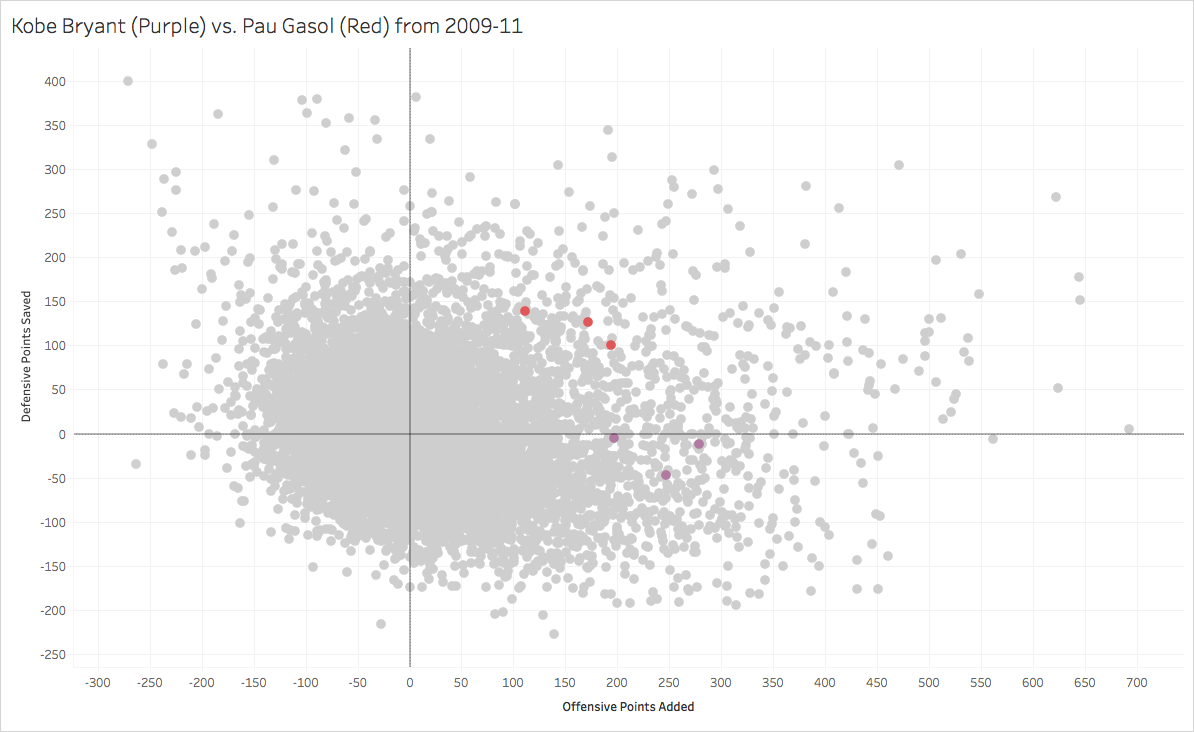 Bryant totaled 658.97.
Gasol, thanks to his well-rounded play and ability to contribute in every area, tallied 843.91 TPA.
9. Ben Wallace, 2002-04: 878.51 TPA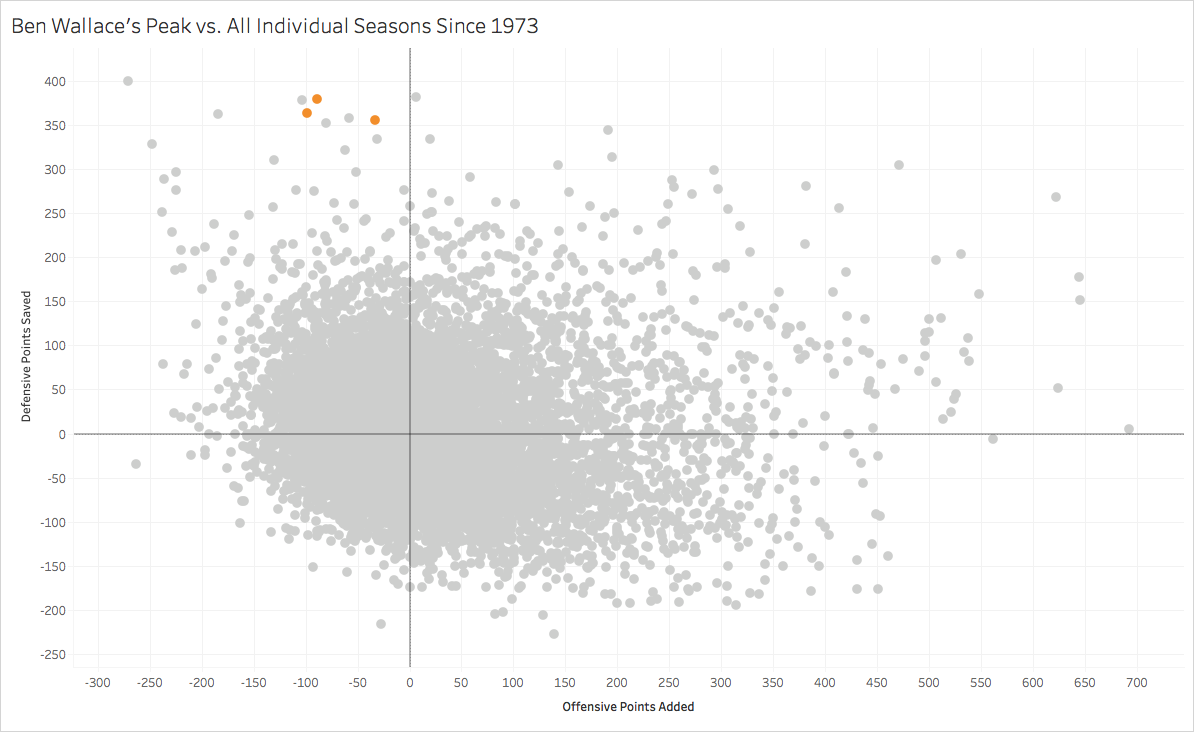 Cue Joe Dumars, then serving as the Detroit Pistons president of basketball operations, who said the following after Ben Wallace earned the fourth Defensive Player of the Year trophy of his career, per The Associated Press (h/t ESPN.com): "I didn't get to see [Bill] Russell or [Wilt] Chamberlain, but I can't remember a guy that wreaks so much havoc of the court like Ben does. [Hakeem] Olajuwon and [Dikembe] Mutombo were great defenders, but they only guarded centers. Ben can basically guard 1s through 5s, and the closest guy I saw do that was Dennis Rodman."
Per defensive points saved (DPS), Wallace even posted this three-year stretch, in which he earned three of the nine greatest scores since 1973.
The only ones he didn't account for? Mark Eaton had two such seasons, including the record-setting 1984-85 campaign. Marcus Camby, Sam Lacey and Hakeem Olajuwon each joined the group once. And that leaves one final go-round: Wallace himself in 2006-07, just for good measure.
8. Artis Gilmore, 1977-79: 920.97 TPA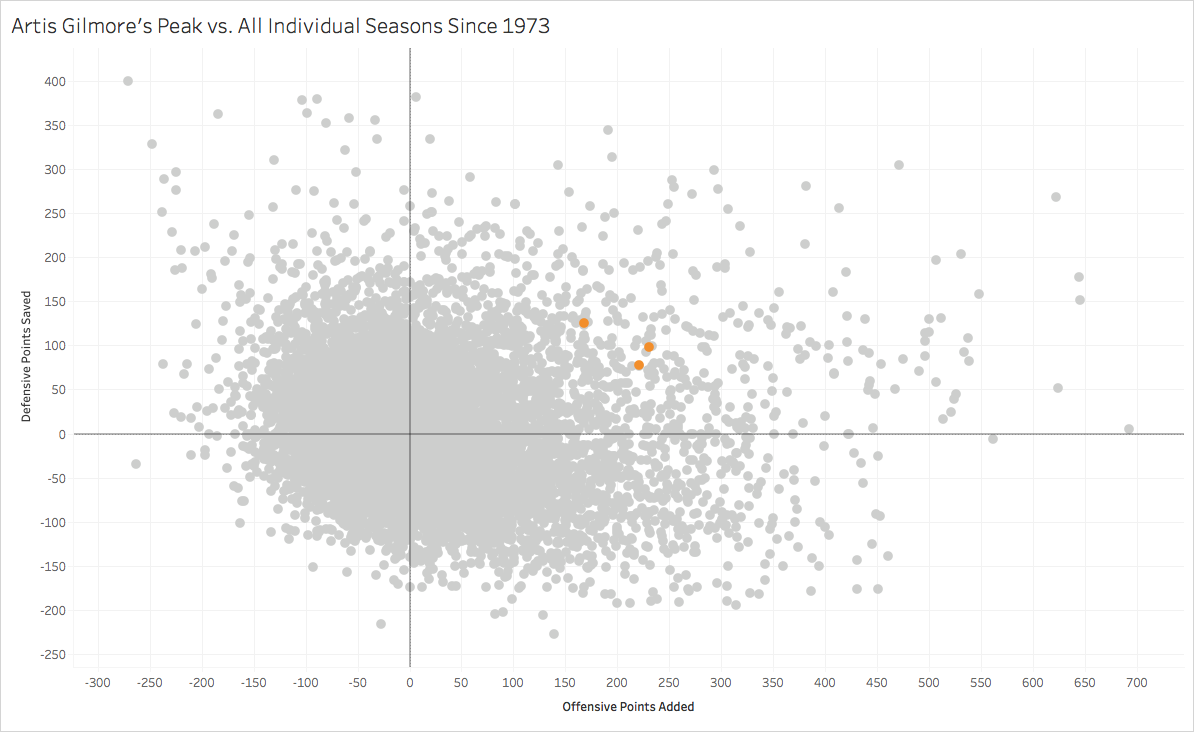 Thanks to his rebounding prowess and seeming inability to miss shots around the basket, Artis Gilmore dominated throughout his first three years in the NBA, all of which came while he was wearing a Chicago Bulls uniform.
But just imagine what his score might've been if we'd counted his work for the ABA's Kentucky Colonels.
During the three seasons directly preceding his represented peak, Gilmore piled up 1254.25 TPA with the Colonels, which would've placed him just outside the top five at the center position. And somehow, he was even better during his first two seasons of professional basketball, though we can't quite calculate what his TPA score would've been. Basically, consider Gilmore a historic great whose talent is somehow still undersold during this countdown.
7. Wes Unseld, 1975-77: 923.17 TPA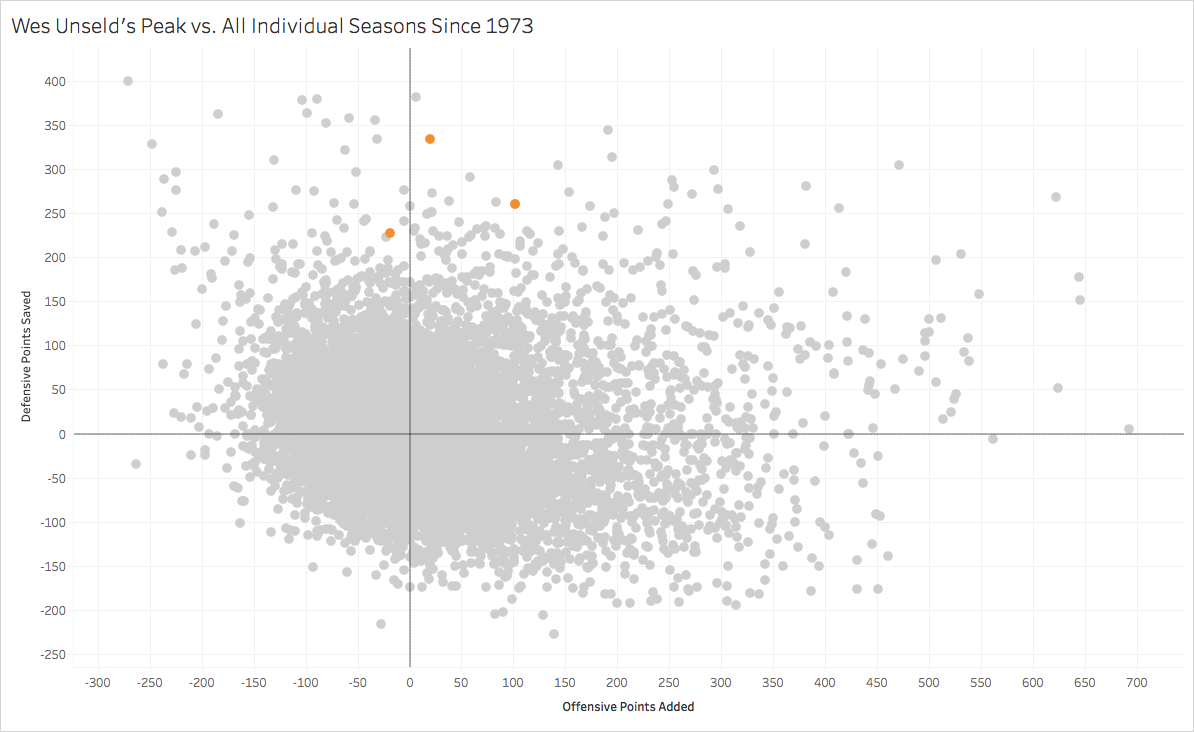 Wes Unseld was so good at collecting rebounds and throwing outlet passes that he managed to submit such a stellar three-year score while moving into his 30s. He's one of the players most disadvantaged by the unfortunate inability to do anything more than estimate TPA marks prior to 1974, though we'll turn to the Jerry West method once again here.
Though we have to factor in some margin of error, Unseld's approximate three-year score from 1968-69 through 1970-71 stands at 1169.4, which would move him past the next player in these center rankings. And that makes sense, considering his rookie campaign with the Baltimore Bullets was so dominant that he won both Rookie of the Year and MVP.
Unseld's modern-era peak was impressive enough, but he was even better than it would lead you to believe.
6. Bob McAdoo, 1974-76: 1111.71 TPA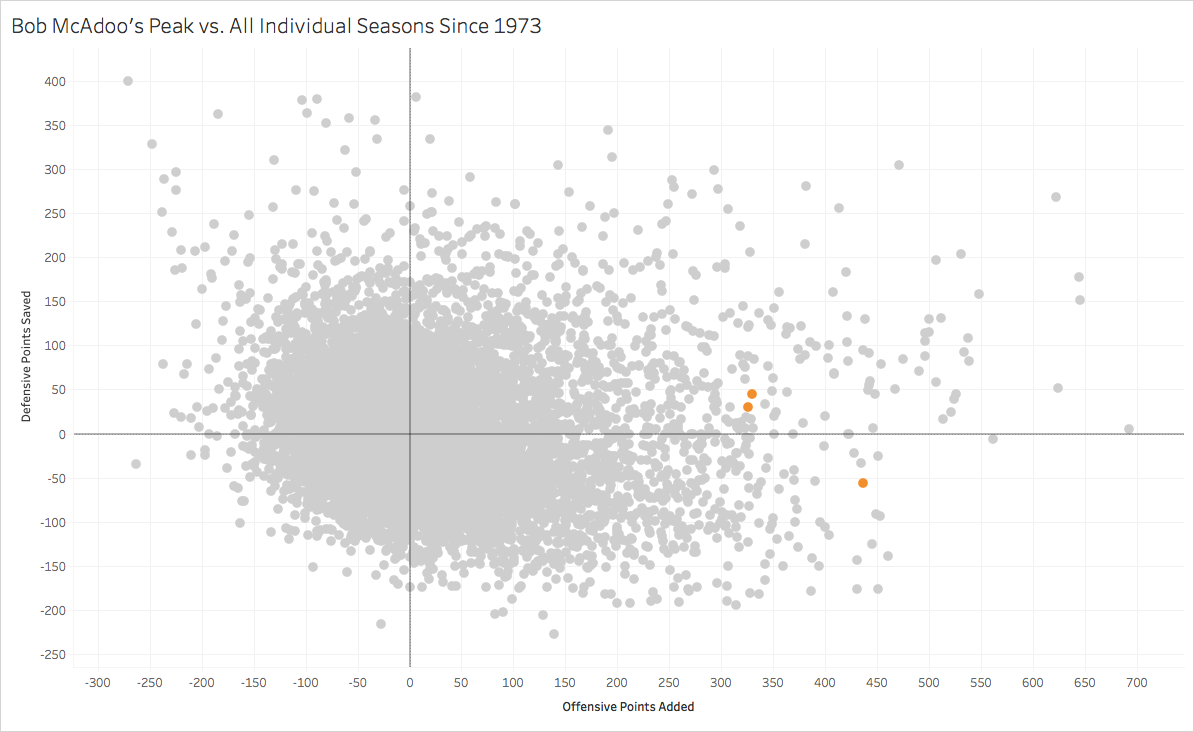 In 1973-74, Bob McAdoo led the NBA in points per game, averaging 30.6 while shooting a league-best 54.3 percent from the field and hitting 79.3 percent of his free-throw attempts.
In 1974-75, McAdoo led the NBA in points per game, averaging 34.5 while shooting 51.2 percent from the field and hitting 80.5 percent of his free-throw attempts.
In 1975-76, McAdoo led the NBA in points per game, averaging 31.1 while shooting 48.7 percent from the field and hitting 76.2 percent of his free-throw attempts.
Enough said.
5. Hakeem Olajuwon, 1993-95: 1279.86 TPA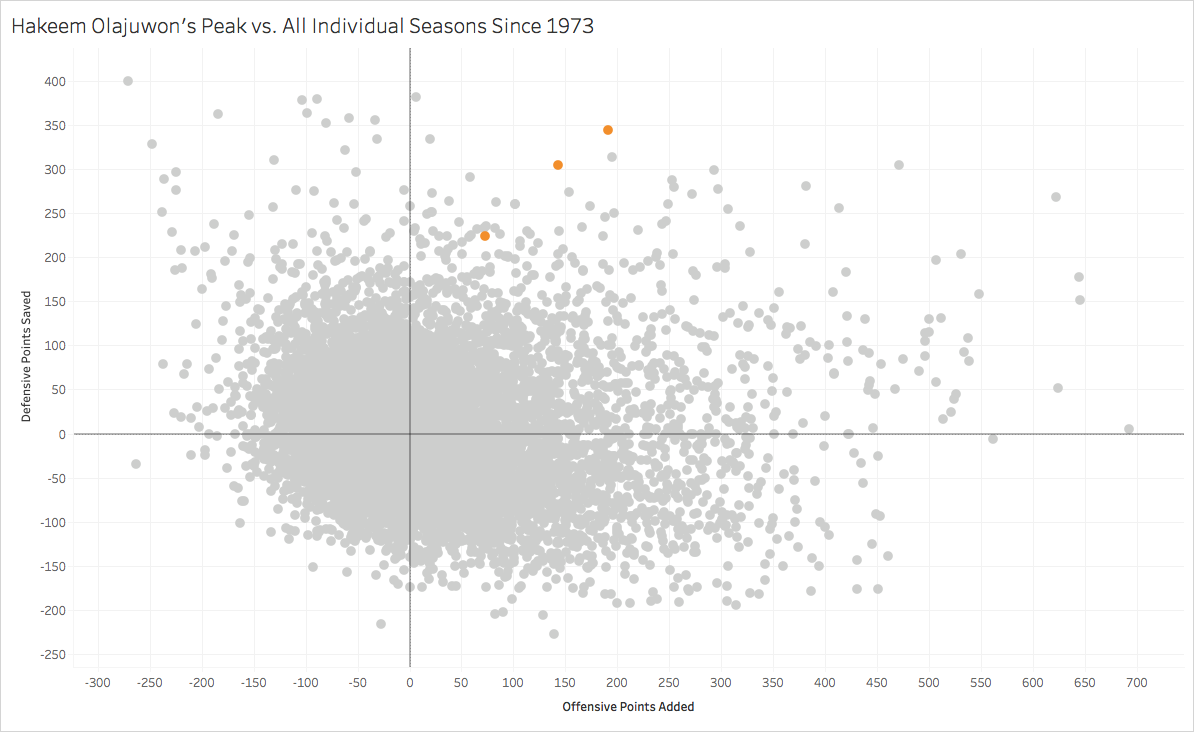 What couldn't Hakeem Olajuwon do?
One of the greatest all-around players in the history of the sport, "The Dream" was capable of filling up the stat sheet in myriad ways. He could reject shots left and right around the hoop, step into passing lanes and spark fast breaks for his Houston Rockets, take over a game with his mid-range shooting or torture opponents with the infamous Dream Shake. That last move became his signature selling-point, but reducing him to a series of unstoppable post moves would be akin to overly simplifying his diverse arsenal.
A back-to-the-basket-game alone didn't make him the league MVP in 1993-94.
4. Shaquille O'Neal, 2000-02: 1329.44 TPA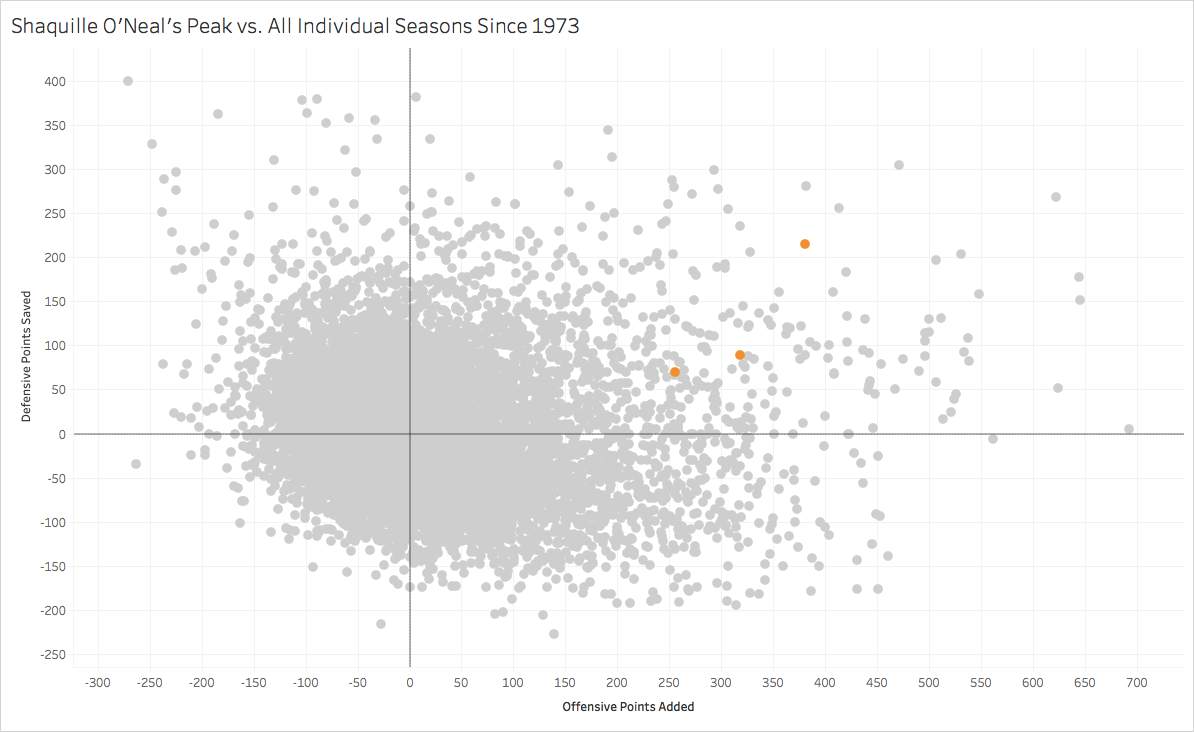 During his first three seasons with the Orlando Magic, the baby-faced Shaquille O'Neal, just coming off his dominant collegiate career at LSU, managed to post a total of 962.69 TPA. He was one of the Association's most impactful players from the get-go, and he'd only improve after joining the Los Angeles Lakers in free agency.
His 1999-00 campaign, in which he averaged a league-leading 29.7 points, 13.6 rebounds, 3.8 assists, 0.5 steals and 3.0 blocks while shooting 57.4 percent from the field, remains one of the greatest years in NBA history. Only two centers have ever posted a higher single-season TPA, and each of them have yet to show up in this countdown.
Just imagine what O'Neal could've done with a working free-throw stroke.
3. Bob Lanier, 1974-76: 1386.62 TPA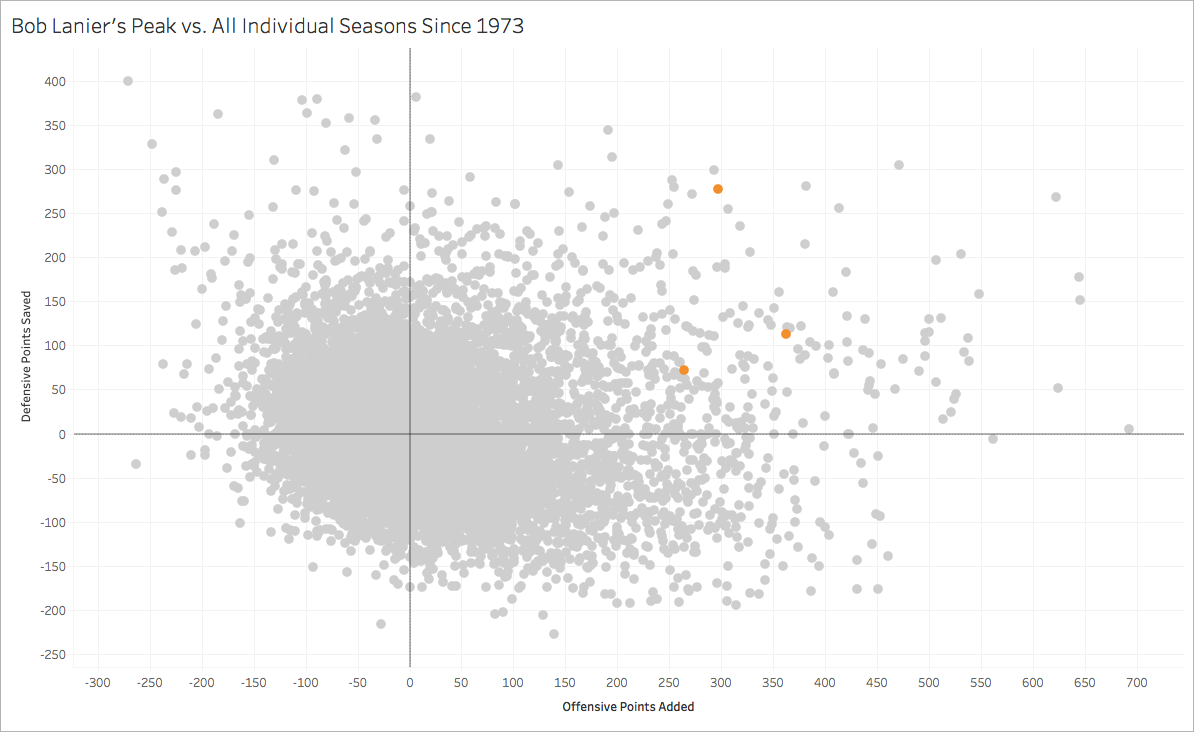 Seeing Bob Lanier rise so high might seem strange, but that's largely because he experienced a distinct lack of team-based success.
As an individual, this center was ridiculously dominant. He just happened to play on lackluster Detroit Pistons teams throughout his prime, surrounded by a supporting cast so underwhelming that he could barely make the playoffs and only twice advanced out of the first round. During his three-year peak, the best TPA scores posted by his teammates were Dave Bing's 97.03 in 1973-74, Eric Money's 79.5 in 1975-76, Bing's 67.46 in 1974-75, Chris Ford's 52.99 in 1975-76 and Ford's 50.24 in 1973-74.
Winning with that type of supporting cast is hard, especially in a condensed version of the NBA that only featured 18 teams. And without playoff success on his resume, Lanier has become more anonymous than he ever should've been allowed to become.
2. David Robinson, 1994-96: 1717.96 TPA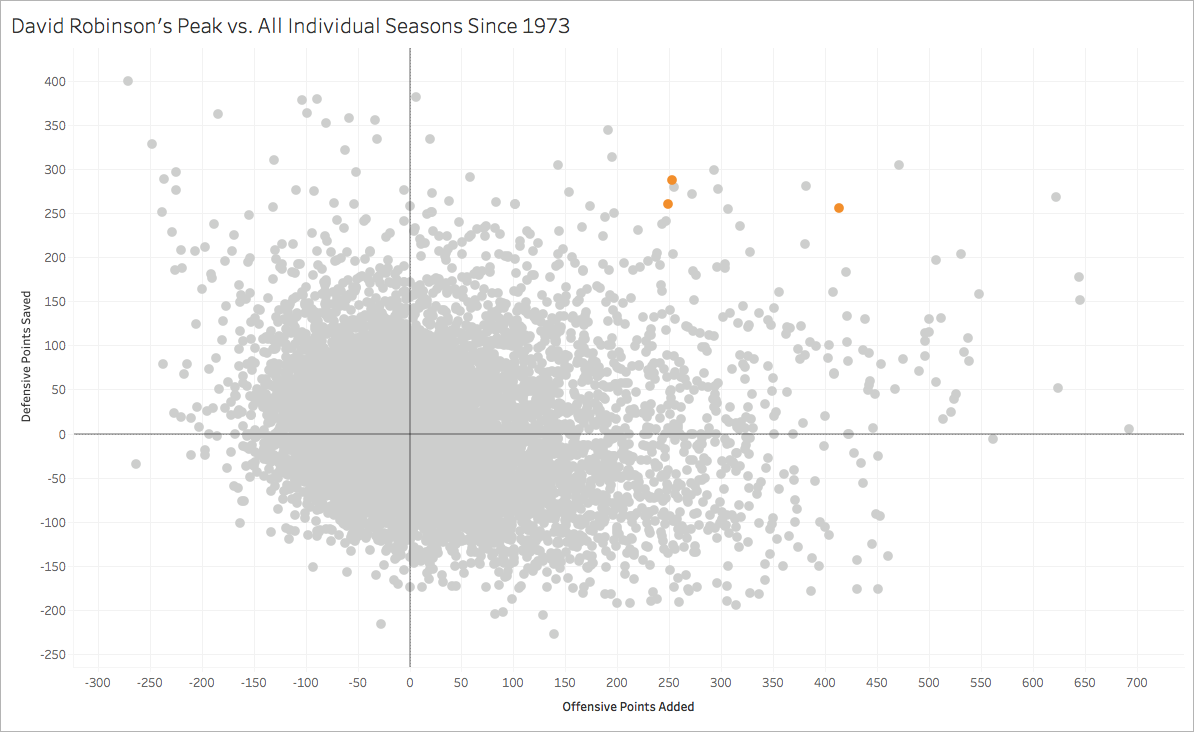 David Robinson could do everything.
Blessed with one of the most ridiculous physical frames in NBA history, "The Admiral" was another stat-sheet-stuffer who could contribute in virtually any area. Had he come around a decade later, he'd probably even have learned how to shoot from beyond the arc rather than finishing his career at a mediocre 25-of-100 from Curry-range. But he played in the '90s, when physicality and interior excellence still reigned supreme at the 5.
Robinson could jump out of the gym and finish with exquisite touch, which allowed him to do unfathomable things on the basketball court. He was phenomenal throughout his time with the San Antonio Spurs, but his 1993-94 efforts were so special that they've only been topped by the No. 1 center in our countdown.
1. Kareem Abdul-Jabbar, 1975-77: 1952.75 TPA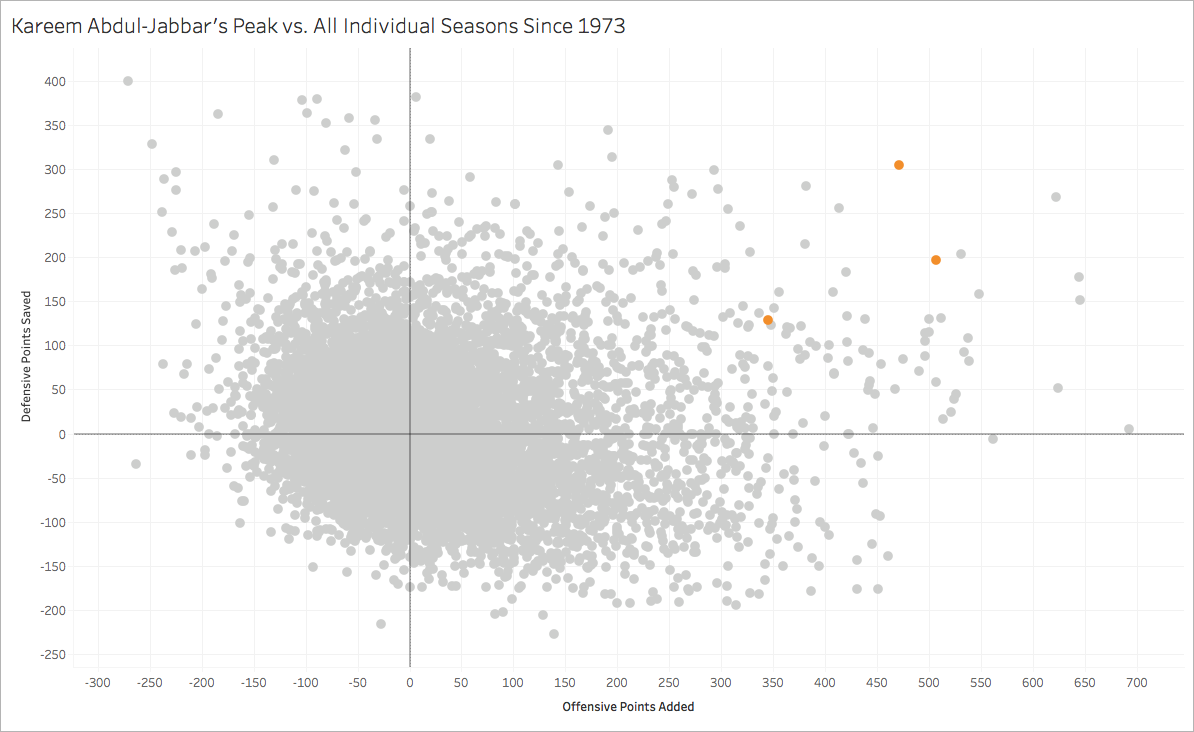 The above graph is ridiculously impressive, featuring two orange dots that outpace anything produced by another player at the center position. In fact, only LeBron James, Michael Jordan and Russell Westbrook (during a year in which his usage metrics may have effectively broken the metric and unfairly elevated his mark) have produced single-season TPA scores that outpace Kareem Abdul-Jabbar's work in either 1975-76 or 1976-77.
Now, allow us to show you an even more impressive graph: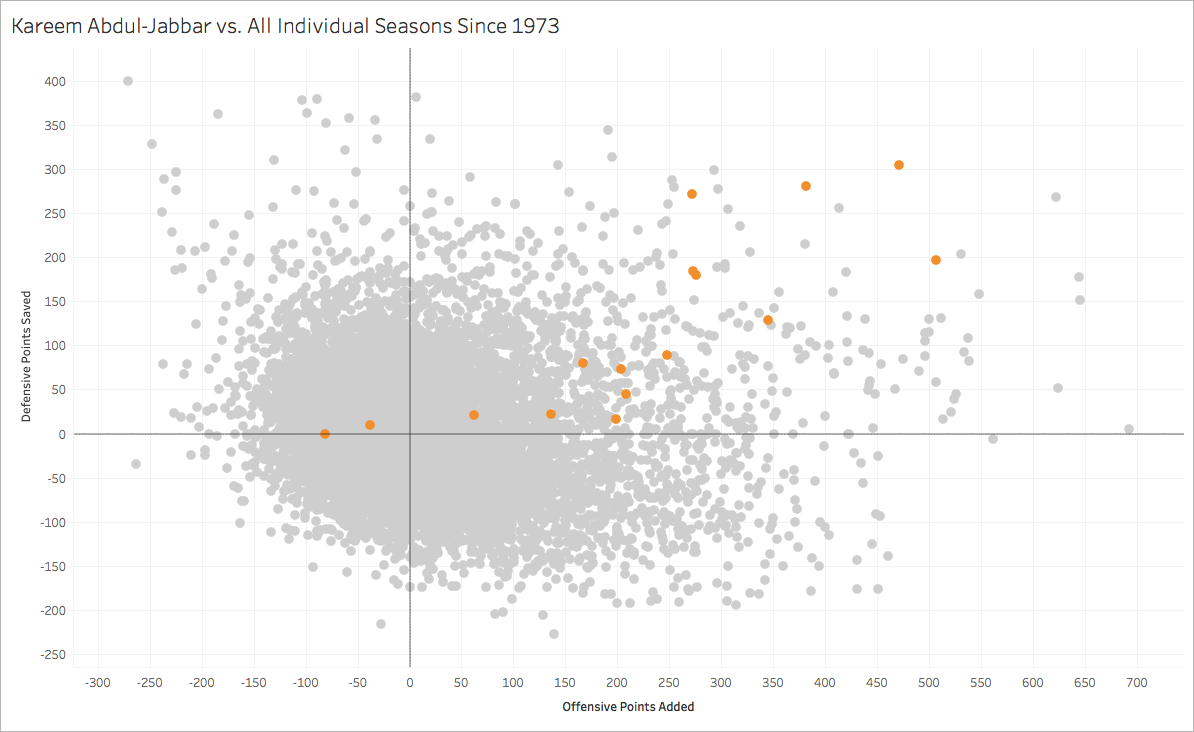 Almost his entire career was spent in praiseworthy territory. Oh, and this visual doesn't even include the first four seasons of his career, when he was fresh out of UCLA and arguably an even more destructive force. His legendary sky hook was still a relatively unknown move at the time, thereby elevating its unstoppable nature to an even greater degree.
From 1970-71 through 1972-73, Abdul-Jabbar's estimated TPA sum is a staggering 2624.33, including what would be a record-setting 959.55 for his 1971-72 efforts with the Milwaukee Bucks.
So, remind me: Why isn't he featured more prominently in the G.O.A.T. conversation?
Honorable Mentions: Vlade Divac (674.56 TPA from 1995-97), Marcus Camby (672.62 TPA from 2006-08), Marc Gasol (668.3 TPA from 2013-15), Brad Daugherty (666.36 TPA from 1991-93), Robert Parish (658.05 TPA from 1981-83)
If you'd like to run through all these graphics in quick succession or see the players at other positions who surround these top-notch centers, you can do so by playing around here:
Adam Fromal is the founder and Editor in Chief of NBA Math. Follow him on Twitter @fromal09. 
Follow NBA Math on Twitter @NBA_Math and on Facebook.
Unless otherwise indicated, all stats are from NBA Math or NBA.com.