Ranking the Point Guards of the '90s by NBA Math's Total Points Added

If the 1980s saved basketball from sinking into oblivion, the 1990s helped take the game to another stratosphere. Players like Michael Jordan, Hakeem Olajuwon, Clyde Drexler, Charles Barkley and Patrick Ewing formed rivalries and partook in playoff showdowns still revered to this day.
But you'd be remiss to think the '90s were all about back-down bigs and explosive wings.
No, no, no, the decade was also a sort of golden era at the point guard position, with various eventual Hall of Famers toting the rock on a nightly basis.
We've already looked at the top point guards of the 1980s using NBA Math's cumulative total points added (TPA) scores. This time, we hop in our time machine and park it a decade later in order to check out the elite floor generals of the 1990s.
10. Nate McMillan: 938.27 TPA
As a head coach, Nate McMillan's teams are often remembered as defensive behemoths—slow, trudging, stingy monsters, and units without much care for what happens on the more popular side of the ball. So should it be any surprise that he, as a player, could be described in that exact same way?
From 1989-90 through 1997-98 (the last year of his playing career), McMillan averaged 5.6 points per night for the Seattle SuperSonics on inefficient 44.0 percent shooting from the floor and a 64.5 percent clip from the charity stripe. However, he also chipped in with 3.8 boards, 5.1 assists and 1.9 steals per contest, which, along with his defensive excellence, is exactly how the point-stopping floor general amassed an astounding 938.27 TPA for the decade.
(Whoa, who knew? Maybe points per game aren't everything? Gasp!)
His complementary style of play helped the Sonics achieve much team success, as the northwestern franchise qualified for postseason play in 12 of McMillan's 13 years of service. One of those teams even made it as far as the NBA Finals. Unfortunately for McMillan and Seattle, though, they ran into some guy named Jordan in the 1996 championship series, so we all know how that ended.
9. Terry Porter: 974.58 TPA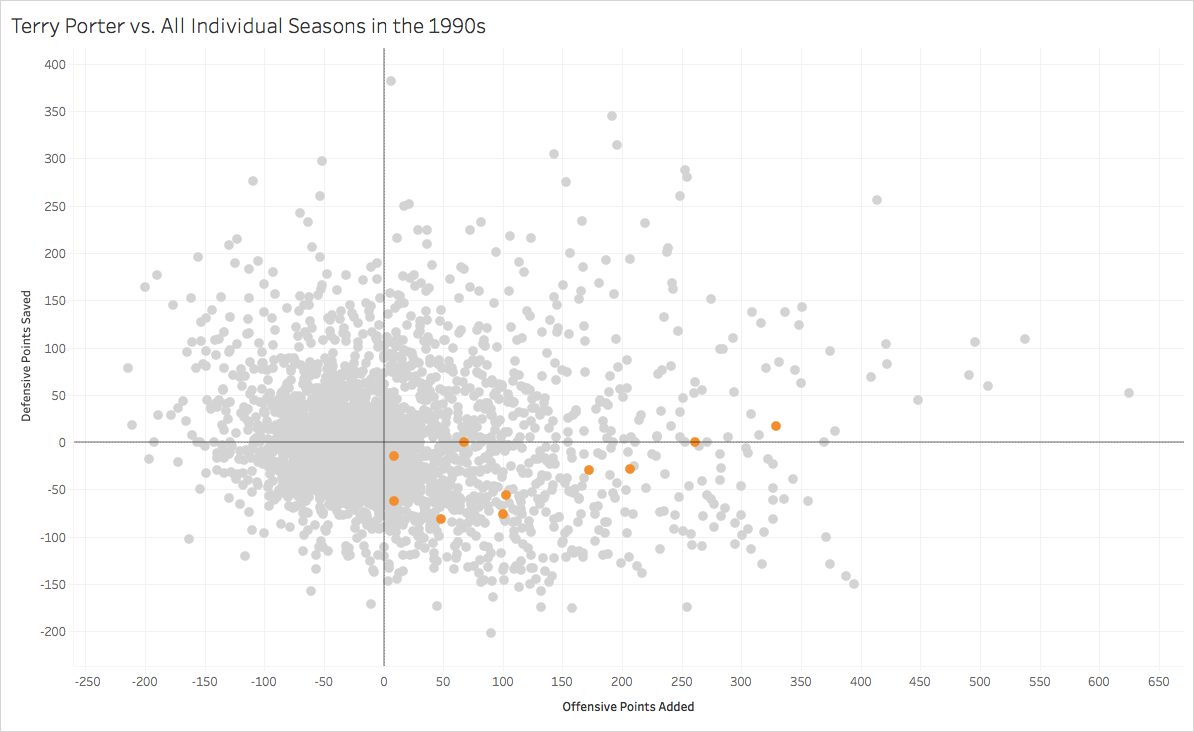 A steal machine in his prime and an eternal Portland Trail Blazers legend, Terry Porter's play in the early 1990s was about as good as it got for the position.
Not only did he enjoy individual success in that time frame (between 1989-90 and 1992-93), including two All-Star berths, but his nightly performances made Portland a beast of the Western Conference. The Blazers, behind Porter and Hall-of-Famer Clyde Drexler, eventually reached the mountaintop: the NBA Finals in 1991-92. But, like McMillan, they suffered the miserable fate of facing Jordan that year. You may remember the following clip from that series, which is about all you need to know:
Nevertheless, Porter's aforementioned peak was as impressive as anyone's: 17.7 points, 3.5 rebounds, 7.0 assists and 1.7 steals per game over a four-season span to open the '90s.
The 6'3″ point guard was also efficient in his scoring, with 47.2/40.2/85.6 percent shooting splits in that time frame. His style and numbers would have adapted beautifully in today's game.
8. Kevin Johnson: 1043.66 TPA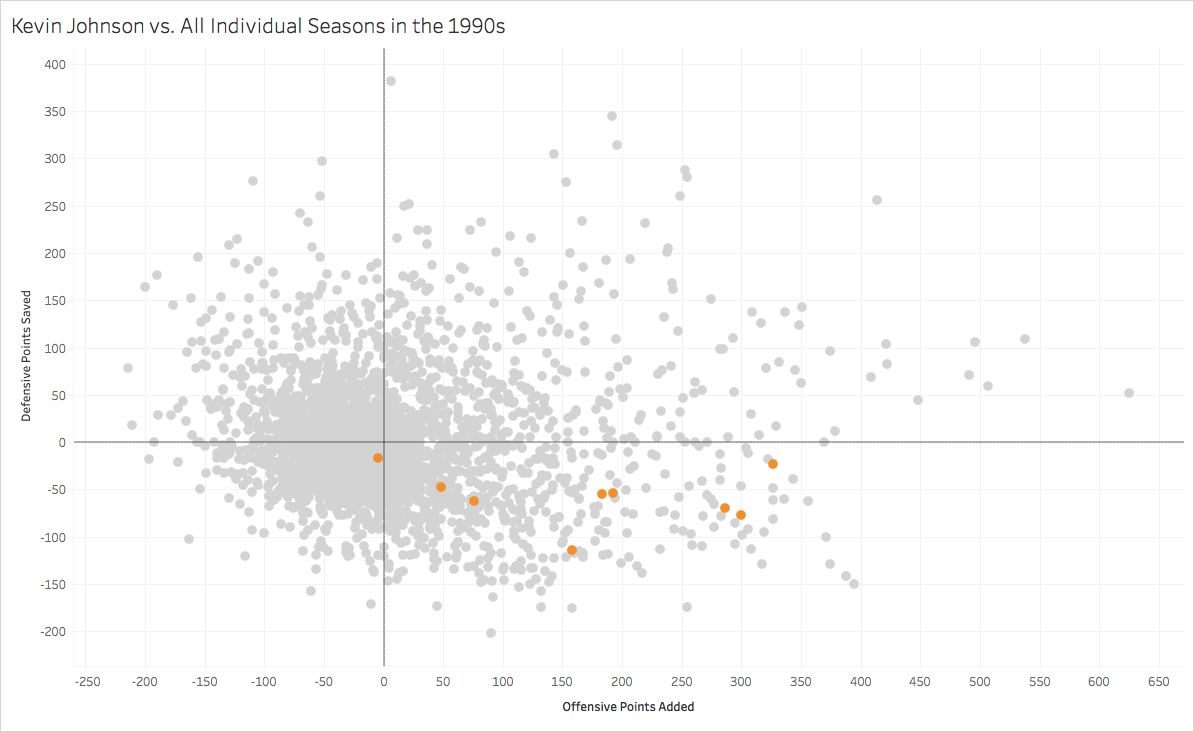 The first true legend of the '90s on our list, Kevin Johnson was a force of nature during the scope of our study.
For the span of the decade, the man known as K.J. dropped 18.7 points per night, while also chipping in 3.3 rebounds, 9.2 assists and 1.5 steals. He never developed a three-pointer (career 30.5 percent from deep) but it didn't matter—he was so deadly from inside the arc that he was still nearly impossible to stop in his prime.
Despite standing at a diminutive 6'1″, the Phoenix Suns legend was both fearless and relentless when attacking the basket. Don't believe me? Just ask Olajuwon about him.
It was Johnson's explosiveness that opened up the rest of his game and allowed him to flourish as an elite distributor. Had he cut down on the turnovers (3.1 per game in the relevant decade) or learned to shoot the basketball, there's no doubt he would have placed even higher in this ranking.
Nevertheless, the No. 8 peak in a 10-year period this stacked at point guard is nothing to scoff at, either.
(Oh, and another tidbit worth mentioning: He and his Suns also lost to Jordan in the Finals. We're starting to sense a trend here.)
7. Magic Johnson: 1101.89 TPA
One of the most heartbreaking moments in NBA history, Magic Johnson's 1992 HIV announcement shook the basketball world. And though the focus should remain on the trauma he suffered as an individual (thank goodness for his continued health to this day, during which he serves as president of basketball operations for his beloved Los Angeles Lakers), his illness unfairly robbed us of one of the greatest players the sport has ever seen.
Despite the fact Johnson only played three seasons throughout the 1990s, suiting up in just 190 games during that period, the freakishly talented lead guard still accumulated 1,101.89 TPA—an unfathomable fact to even consider, much less believe.
But it's true and, much like the rest of his career, incredible.
The postseason preceding his diagnosis (1990-91), Johnson averaged 21.8 points, 8.1 rebounds and 12.6 assists over a 19-game span, leading his Lakers to the NBA Finals where, of course, he lost to Jordan. As anyone else on this list would attest to, though, there's no shame in that.
(By the way, if we modestly add merely another 150 games to the Hall of Famer's total from the '90s, assuming he maintained the same pace, Johnson would have totaled 1,971.80 TPA for the decade—a score good enough to rank No. 2 on this list. Just bonkers.)
6. Anfernee Hardaway: 1160.3 TPA
Another supersized point guard, Anfernee "Penny" Hardaway's early career resembled a shooting star: It was eye-catching, mesmerizing and ultimately destroyed by atmospheric press—err, I mean, by a lack of health. (Technically, can't we say all injuries are, in a way, caused by atmospheric pressure? But I digress.)
For the first four seasons of Hardaway's playing days, the 6'7″ floor general averaged 19.7 points, 4.6 rebounds, 6.7 assists, 1.9 steals and 0.5 blocks per contest. He could score (though maybe not that efficiently), defend, distribute and do just about anything else you could ask for.
Behind his superb play in 1995-96, along with the contributions of Shaquille O'Neal, the Orlando Magic made it all the way to the NBA Finals, before succumbing to Michael Jo—wait no, to Olajuwon's Houston Rockets in a four-game sweep. (Sorry, it's a reflex at this point to assume all of these men lost to Jordan in the Finals.)
Unfortunately, it wasn't long after that before the injury troubles began. Once Y2K passed, Hardaway would only go on to average double-digit points just twice over his final seven seasons.
It's one of the biggest what-if's in league history: What if O'Neal had stayed in Orlando, alleviated Hardaway's responsibilities and helped keep the man known as Penny healthy? Oh, well.
5. Rod Strickland: 1267.93 TPA

One of the NBA's underrated floor generals of the '90s, Rod Strickland was also around for Portland's trek to the 1992 NBA Finals as a member of the Blazers, and as Porter's running partner.
Aside from that memorable season, though, the Depaul product had a solid decade overall, with averages of 15.7 points, 4.4 boards, 8.5 dimes and 1.7 takeaways per game.
He never made an All-Star team throughout his career, but his slept-on abilities on both ends of the floor, as well as his longevity (Strickland took part in nearly 700 regular-season contests during the decade) helped him earn his ridiculous 1,267.93 TPA.
His peak wasn't as brilliant as anyone else's on this list, but an important trait for any athlete is availability, and Strickland just didn't miss many games in his prime.
4. Tim Hardaway: 1428.3 TPA
The second Hardaway in our countdown, Tim was one of the league's most exciting players during his prime, which coincided perfectly with the scope of our study. The "UTEP Two-Step" exploded onto the scene in 1990-91, and he didn't stop until the turn of the millennium.
During that nine-season span (it should be 10, but Hardaway missed 1993-94 due to a torn ACL), the diminutive point guard (6'0″) dropped 19.4 points per night to go with 3.6 rebounds, 9.0 assists and 1.9 steals. He also fully embraced the art of the three-point shot, chucking up 4.8 per contest, though he only connected on 1.7 nightly (or 35.3 percent).
It was his brash shot-taking prowess and absurd crossover that made him beloved by not just Miami Heat and Golden State Warriors fans (the two teams he played for), but observers league-wide.
Oh, and speaking of that crossover, it may be the most explosive the NBA has ever seen.
But I'm sure Allen Iverson would have something to say about that.
3. Mookie Blaylock: 1740.42 TPA
As reinforced when checking out McMillan's career numbers a little while ago, points per game aren't everything. Thus, a player like Mookie Blaylock can outpace the likes of both Hardaways and both Johnsons for TPA during the '90s.
Blaylock was an extremely inefficient scorer (41.3/33.7/74.1 percent shooting split during the relevant decade) who averaged a meager 14.4 points per contest. Nevertheless, his work in other areas, such as rebounding (4.3 per game) and assisting (6.9) helped him shine as a player. Even more impressive than that, however, was his sturdiness on the less glamorous side of the ball. He led the league in steals twice (2.7 nightly in 1996-97 and 2.6 in the following season), averaging 2.4 takeaways per game for the decade.
His abilities on that end earned him the nickname "The Thief", along with six All-Defensive berths (two on the first team, four on the second).
Underrated to this day, Blaylock taught viewers one important lesson—one that we try to hammer here at NBA Math.
There's more to basketball than scoring.
2. Gary Payton: 1804.34 TPA
Only further exemplifying how stacked this list is, Blaylock isn't even the best defender on our countdown. That honor would belong to Hall-of-Famer Gary Payton.
The Oregon State product's contributions during the '90s are almost absurd: five All-Star appearances, one All-NBA First Team, four All-NBA Second Teams, one All-NBA Third Team, six All-Defensive First Teams and a Defensive Player of the Year award, to boot. During the 10 years of our analysis, Payton averaged 16.3 points, 3.8 rebounds, 6.8 assists and 2.3 steals per game. He was an absolute bulldog on both ends, able to bully opponents whether or not he even had the ball in his hands.
Not to mention, he was the best player on a Sonics team that made it all the way to the NBA Finals (I'll give you one guess as to who they lost to) and won a whole lot of games as a member of the northwestern franchise.
If not for the next guy on our list, Payton would easily wear the crown of top floor general of the '90s. Regardless, this next player's pretty good, too.
1. John Stockton: 2165.67 TPA
Despite a negative defense points saved score almost every year of the decade (which probably undersells his talent in that department), John Stockton still easily checks in at the top spot of our countdown with 2,165.67 TPA. That's because his abilities on the offensive end were downright otherworldly. Throughout the '90s, Stockton averaged 14.9 points, 2.9 boards, 11.9 dimes and 2.3 takeaways per contest.
In that same time frame, the Gonzaga legend led the league in assists seven times, in steals once and in effective field-goal percentage once, and he suited up for all 82 games during five separate seasons. He and Karl Malone formed one of the most dominant duos in NBA history, winning two Western Conference titles—one in 1996-97 and another in 1997-98.
We all know who they lost to on both occasions (the same guy to whom basically everyone else did), but that doesn't change how incredible they were.
Stockton, especially, was an unrivaled point guard, both in the decade we're studying and in the history of the game; to this day, he owns the record for most assists ever with 15,806. The guy in second place, Jason Kidd, has 3,715 fewer helpers than that.
Absurd.
Boasting the power of longevity and an insane peak—both in efficiency and raw averages—Stockton gave us a career unlike anything else we'll ever see.
Honorable Mentions: Mark Price (750.72 TPA), Jason Kidd (739.03 TPA), Terrell Brandon (586.66 TPA)
Follow Frank on Twitter @frankurbina_.
Follow NBA Math on Twitter @NBA_Math and on Facebook.
Unless otherwise indicated, all stats are from NBA Math, Basketball Reference or NBA.com.