Ranking the Point Guards of the '80s by NBA Math's Total Points Added

The NBA in the late 1970s and early '80s hit a bit of a rough patch.
A lack of attendance and all-around viewership plagued the league, which also suffered from far darker problems, including one story we'll cover in just a bit. As late as 1986, playoff games were being shown on tape delay—an unfathomable fact to consider, especially with how popular the game is today.
However, that all changed thanks to the almost-mythical abilities of a few players. Unforgettable athletes like Larry Bird, Magic Johnson, Bernard King, Kareem Abdul-Jabbar and Michael Jordan turned the NBA into must-watch television and allowed the game to become one of America's most popular sports.
One fun way to commemorate those men for saving the league we love so very much is to talk about them more often. So, we're starting a new series: ranking the top players at every position for every decade after the 1970s. We won't use potentially biased eye tests or depend on other site's rankings. Rather, we'll list every player by the cumulative sum of NBA Math's total points added (TPA) metric earned in each decade.
Today, we begin with the top point guards of the '80s (1979-80 through 1988-89).
Let's jump right in.
10. John Stockton: 486.71 TPA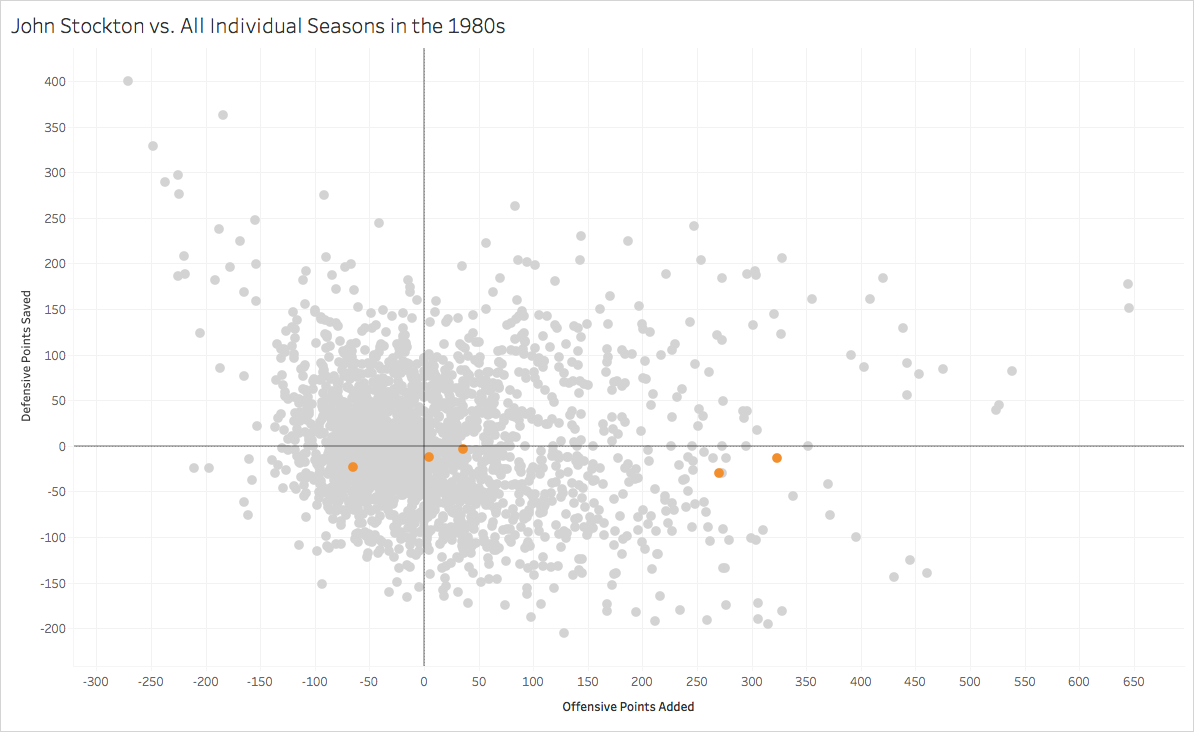 Usually considered a stud of the '90s, John Stockton starts off our list thanks to his production from the decade prior.
The legendary floor general entered the league after the Utah Jazz selected him with the No. 16 pick in the 1984 NBA Draft. And although he only started in 45 games over his first three seasons as a professional, it didn't take that long for him to find his niche. After becoming Utah's full-time starter at lead guard in 1987-88, the future Hall of Famer immediately upped his production across the board: Over the next two seasons (the cut-off for our purposes), Stockton averaged 15.9 points, 3.0 rebounds, 13.7 assists and an astonishing 3.1 steals per contest.
He also shot 55.5 percent from the floor and 85.3 percent from the charity stripe (on a healthy 4.7 attempts per game) while turning it over only 3.5 times nightly. Though the giveaways may seem high, we should cut him some slack. His usage rate over the two relevant campaigns was a robust 18.2 percent, and he led the league in assist rate at 54.5 percent during that time frame.
In all, Stockton's absurd efficiency as a scorer and distributor, as well as his underrated abilities on the less glamorous side of the ball, helped him crack our list. And the scariest part is he spent the entire next decade dominating at even higher level.
9. Gus Williams: 683.49 TPA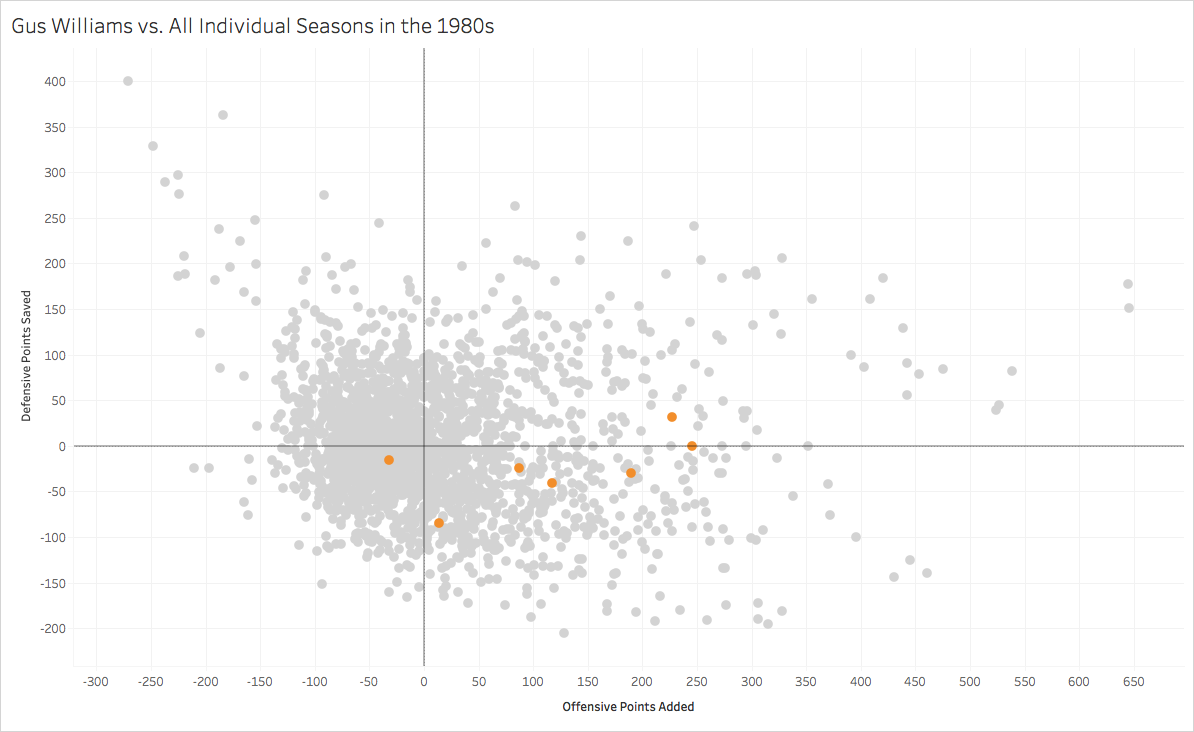 Despite only playing seven seasons from 1979-80 through 1988-89 and not resonating with today's casual fans, Gus Williams' play in the '80s vaulted him into our countdown. The explosive 6'2″ floor general missed the 1980-81 campaign due to an ugly contract holdout, and though he scored 20 points per game in 1984-85, he saw his athleticism fade quickly as he approached his mid-30s and was out of the league by 1987-88.
Nevertheless, his seven years of service throughout that decade were brilliant enough to earn his 683.49 TPA score—and thus, his spot in this ranking. Williams even averaged 18.7 points, 2.6 rebounds, 6.8 assists and 2.0 steals.
He never developed much of an outside shot (career 23.8 percent from three). But even still, his prowess getting to the basket and in transition made him an awfully tough cover for the defenders of yesteryears.
For a glimpse of how good the man known as "The Wizard" was, just check out his highlights from Game 1 of the 1980 Western Conference Finals against the Los Angeles Lakers, who were led by a legendary point guard of their own:
In addition, though it didn't fall within the parameters of our current rankings, it shouldn't be forgotten that Williams hoisted a Larry O'Brien Trophy as a member of the Seattle SuperSonics in 1979. Playing next to eventual Finals MVP Dennis Johnson, Williams made a great case to earn the distinction himself by averaging 29.0 points, 3.6 boards and 3.6 dimes in Seattle's five-game victory over the Washington Bullets.
Yes, he really was drop-nearly-30-per-night-in-an-NBA-Finals good. He deserves more pub.
8. Ray Williams: 703.05 TPA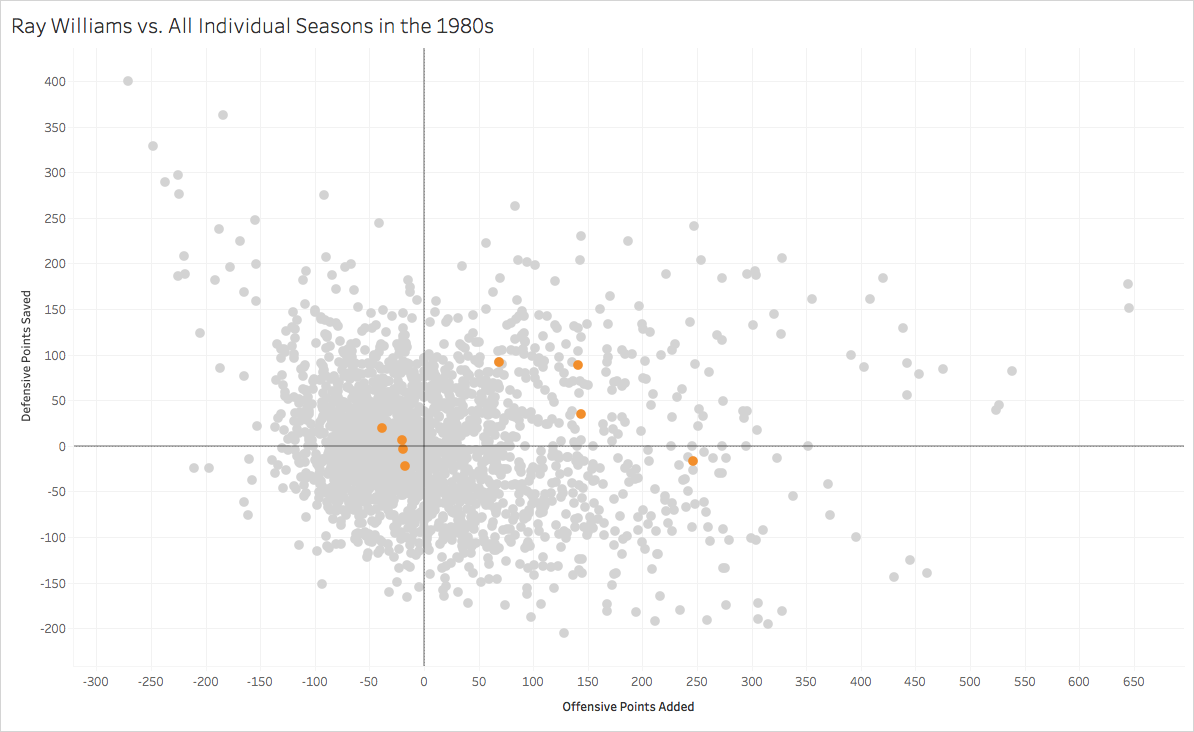 Throughout his 10-season career, Ray Williams never made an All-Star or All-NBA team. He never won a title, either. Oh, and he also averaged fewer than 10 points per contest in four of his years of service.
So how exactly did this somewhat forgettable career still earn an impressive 703.05 TPA for its production in the 1980s? One word: longevity.
From 1979-80 until the final season of his career in 1986-87, Williams scored 16.2 points, grabbed 3.8 rebounds and dished out 5.9 assists per game. Even more important for our purposes, however, was the fact that he suited up in 493 games during that time span and saw an astonishing 14,542 minutes of regular-season action. It was his ability to stay on the floor for long stretches—he averaged nearly 32 minutes per game between 1980 and 1984—that made Williams one of the league's truly dependable point guards in his heyday.
Don't get me wrong, though. The guy could play, too.
7. Derek Harper: 721.18 TPA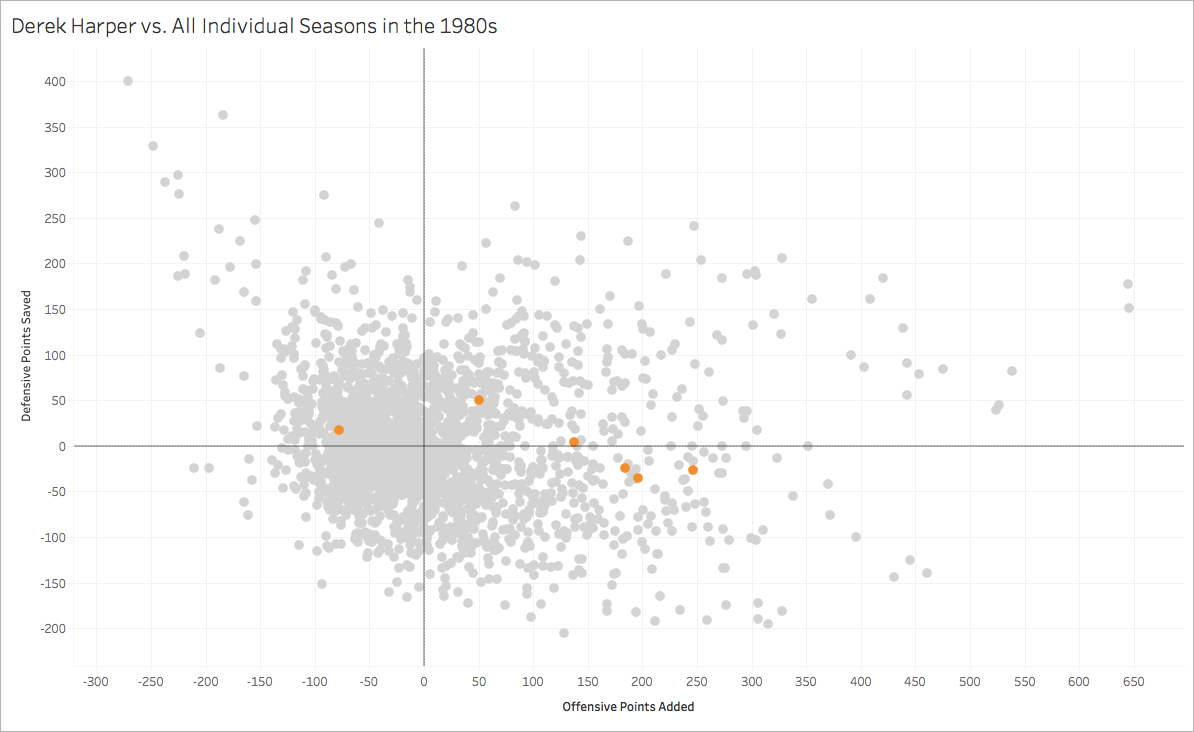 Another player with a relatively quiet-yet-solid career, Derek Harper checks in at No. 7 on our list.
Harper reached the top level of basketball after the 1983 NBA draft, when the Dallas Mavericks made him the No. 11 overall pick. Between then and 1988-89, the 6'4″ floor general averaged 12.9 points, 2.6 rebounds and 5.9 assists per game—mundane numbers, if we're being totally honesty.
Nevertheless, Harper's subtle brilliance shone in two other key areas: his ability to take care of the basketball on the offensive end and to take it away from the opposition when playing defense. In those facets of the game, he was downright special.
Over the six-year stretch pertinent to our study, Illinois' finest turned the ball over merely 1.9 times per night while taking it back for his team….wait for it…1.9 times per contest.
Also helping Harper's cause was, similar to Ray Williams, his borderline freakish capacity for staying healthy. He missed just nine total games from 1984-1989. That's right: nine missed games in six seasons.
Crazy.
6. Doc Rivers: 1084.83 TPA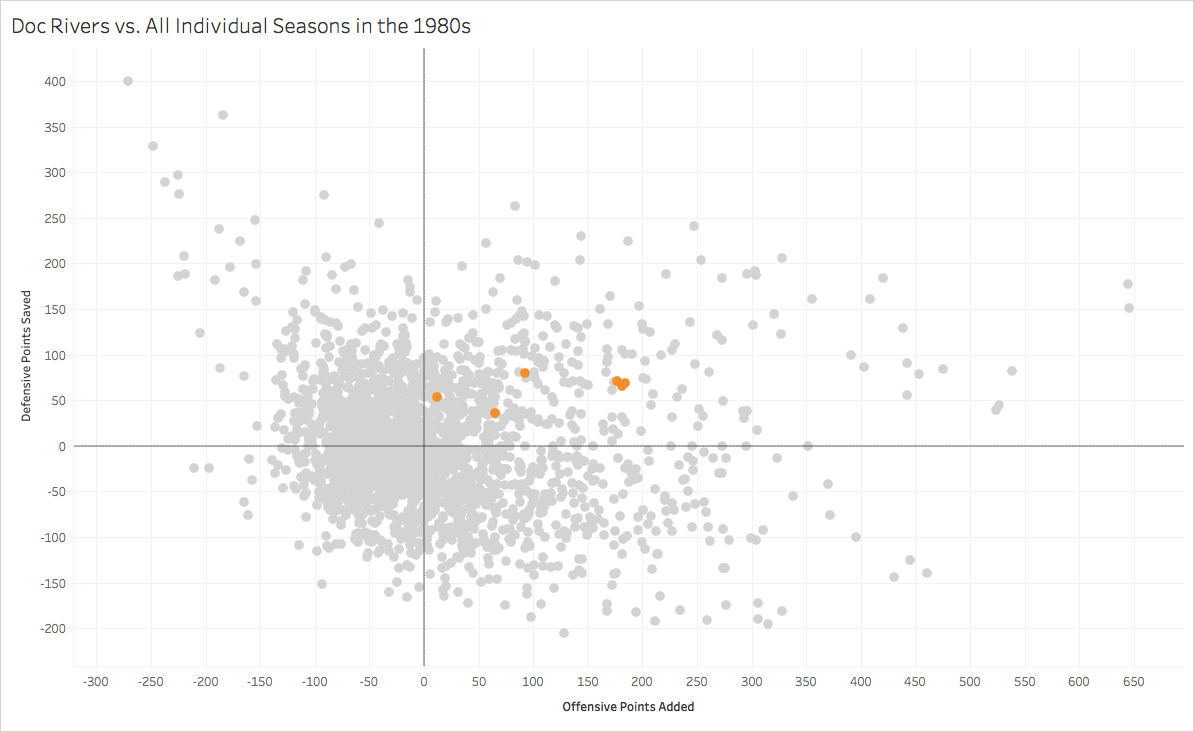 A name that will be more familiar to younger basketball aficionados, though maybe not for his contributions as a player, is No. 6 Doc Rivers.
The current Los Angeles Clippers head coach was actually quite the serviceable lead guard back in the day. As a member of the Atlanta Hawks in the 1980s, playing next to one of the greatest scorers in league history (Dominique Wilkins), Rivers averaged 12.6 points, 3.5 rebounds, 7.4 assists, 2.0 steals and 0.5 blocks over 441 regular-season contests.
His superb distribution skills even earned him an All-Star nod in 1988—the sole appearance of Rivers' 13-year career.
It should also be mentioned that during the postseason that very year, the Hawks fell to the Boston Celtics in the second round of the playoffs after a now-legendary seven-game bout. That series is mostly known for what happened in Game 7 when Wilkins dropped 47 in a two-point defeat while Bird and Kevin McHale combined for 67, but Rivers' play warrants remembrance, as well. The former Indiana Hoosier averaged 17.6 points, 4.7 rebounds and 10.0 assists in the showdown against Boston, shooting 51.1 percent from the floor and 88.9 percent from the charity stripe.
Rivers was never a superstar, but his sturdy play running the point, especially in 1987-88, deserves more recognition.
5. Maurice Cheeks: 1338.51 TPA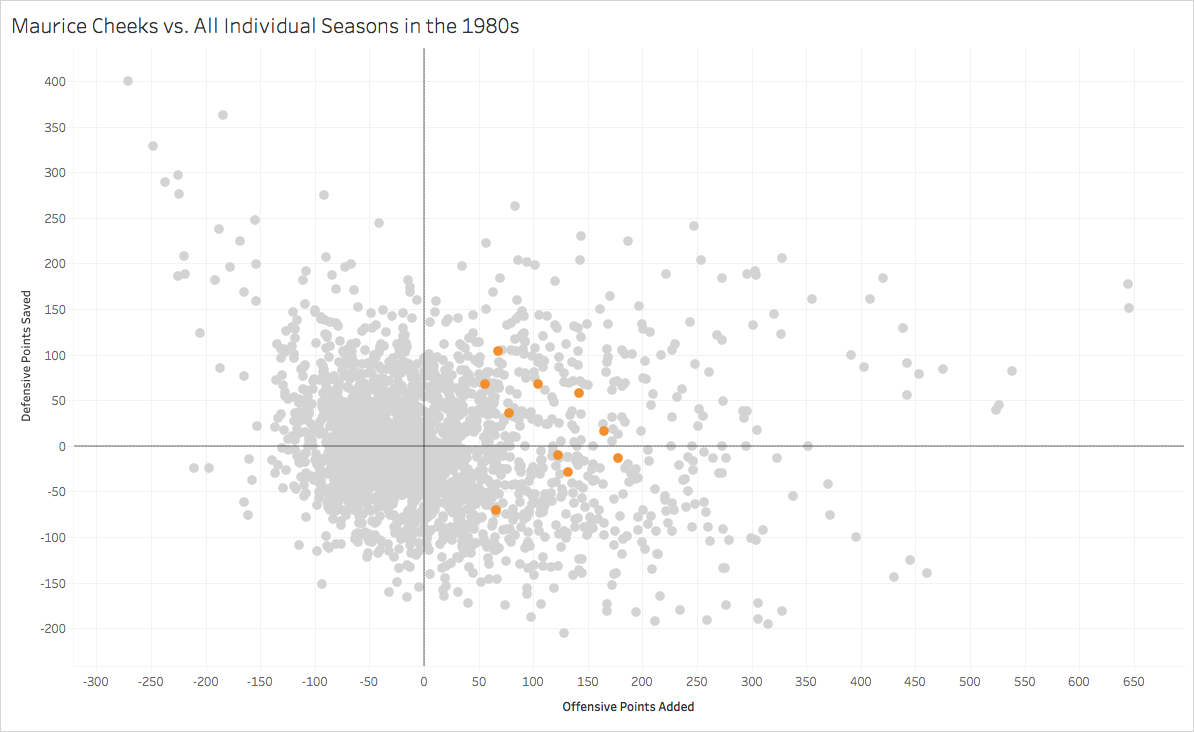 Similar to Rivers, many now know of Maurice Cheeks for his recent stints as the head coach of the Portland Trail Blazers, Philadelphia 76ers and Detroit Pistons. And also similar to Rivers, Cheeks' play in the '80s deserves more respect. In fact, the sneaky truth is that the Sixers legend (as a player, definitely not as a coach) was even better than Rivers.
Between 1980 and 1989, Cheeks received four All-Star nods, made four All-NBA Defensive First Teams (and one Second Team) and won a championship in 1983. It's unsurprising, as his actual numbers during that time frame were extremely impressive: 12.6 points, 3.0 boards, 7.5 assists and 2.3 steals,with just 2.3 turnovers nightly. Cheeks was an absolute menace at lead guard.
Defense wins championships, and Philadelphia doesn't take the Larry O'Brien trophy home in 1983 without its point-stopping, dime-dishing monster running the show.
4. Micheal Ray Richardson: 1412.62 TPA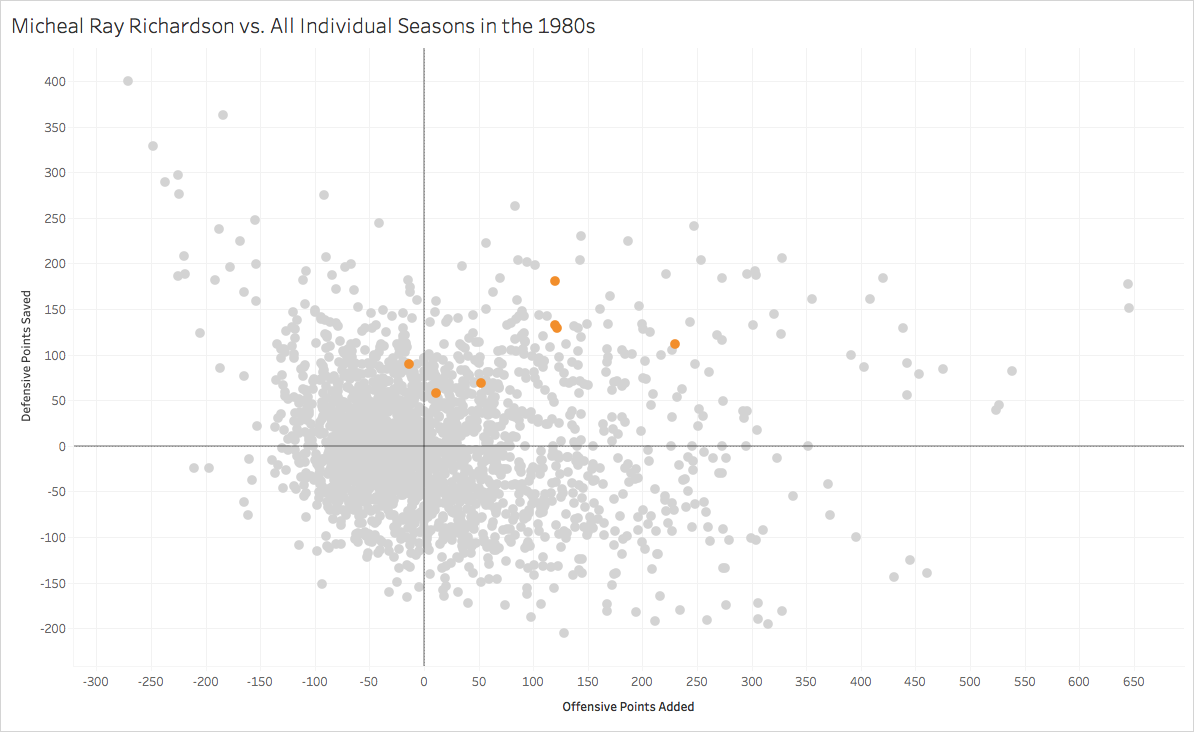 One of the league's truly tragic stories, and a microcosm of a much bigger problem not just in the NBA, but also America throughout the '80s, Micheal Ray Richardson still managed to rank No. 4 in TPA for his contributions in that decade, which stopped all too soon in 1985-86.
Despite suiting up for just seven seasons during the relevant time frame, Richardson excelled, to the tune of dropping 16.1 points, 5.8 rebounds and 7.6 dimes per game. He led the league in assists once (10.1 per contest in 1979-80) and in steals three times (in 1979-80, '82-83 and '84-85), which helped garner him four All-Star appearances.
But in 1986, then-league commissioner David Stern hit him with a lifetime ban for drug abuse, and Richardson didn't set foot on another NBA court for the rest of his career.
It's a shame for so many reasons, least of all the fact he was still just 30 years old and went on to play another 16 years in the Continental Basketball Association and in Europe. Who knows what else he had left in the tank?
(Thankfully, Richardson is totally clean now—a tale told beautifully by Slam Magazine's Jake Carapella in this 2015 piece.)
3. Isiah Thomas: 1440.28 TPA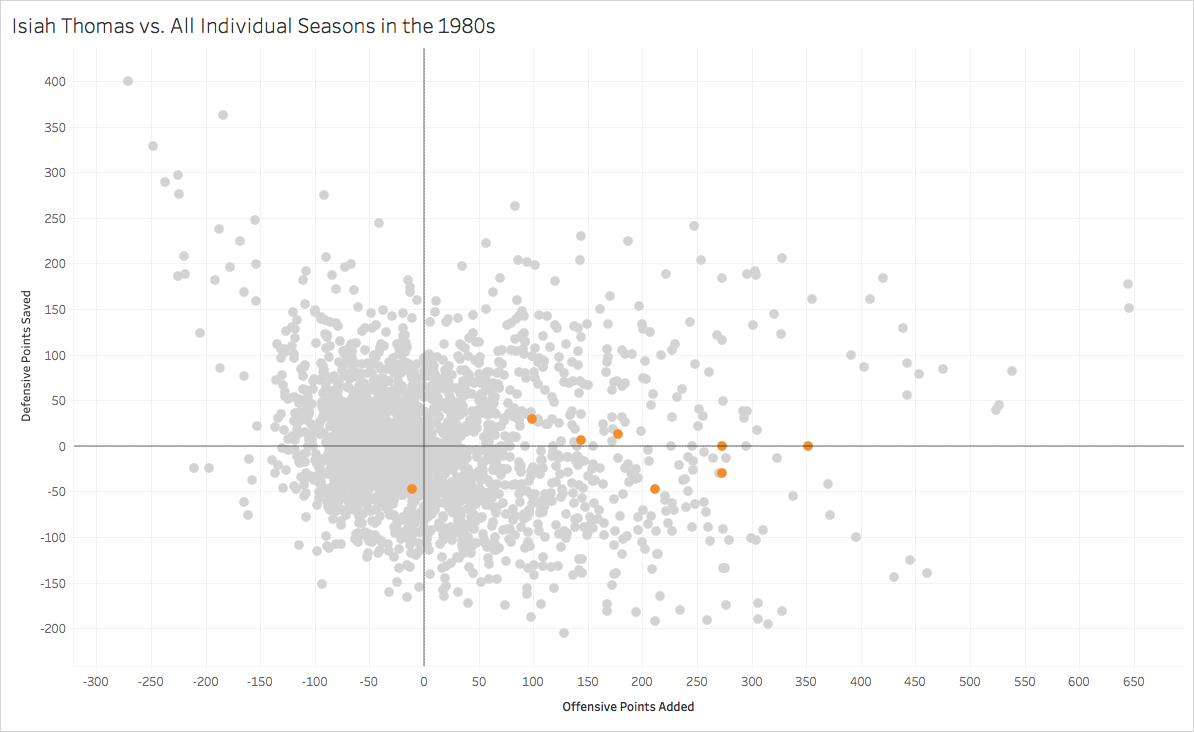 The first truly transcendent player in our countdown, Isiah Thomas actually finds himself in a surprising place: No. 3. Most would have expected the legendary floor general to place second in these rankings, behind only his old arch-rival from the Los Angeles Lakers. But that honor instead goes to someone we'll be covering shortly.
Even so, 1980s Thomas was about as good as it gets for the position.
The former Hoosier averaged 20.3 points, 3.7 rebounds, 9.8 assists and 2.1 steals from 1982 through the end of the decade, making the All-Star team every year in that span (eight in total), as well as three All-NBA First Teams and two All-NBA Second Teams.
In addition to all that, the diminutive lead guard won an NBA title to close the decade (as well as another in 1990) and is remembered to this day as an absolute pest—that's meant as a compliment, I promise—thanks to his play on both ends.
Love him or hate him, Thomas was one of the greatest point guards—and competitors—the league has ever seen.
2. Fat Lever: 1501.91 TPA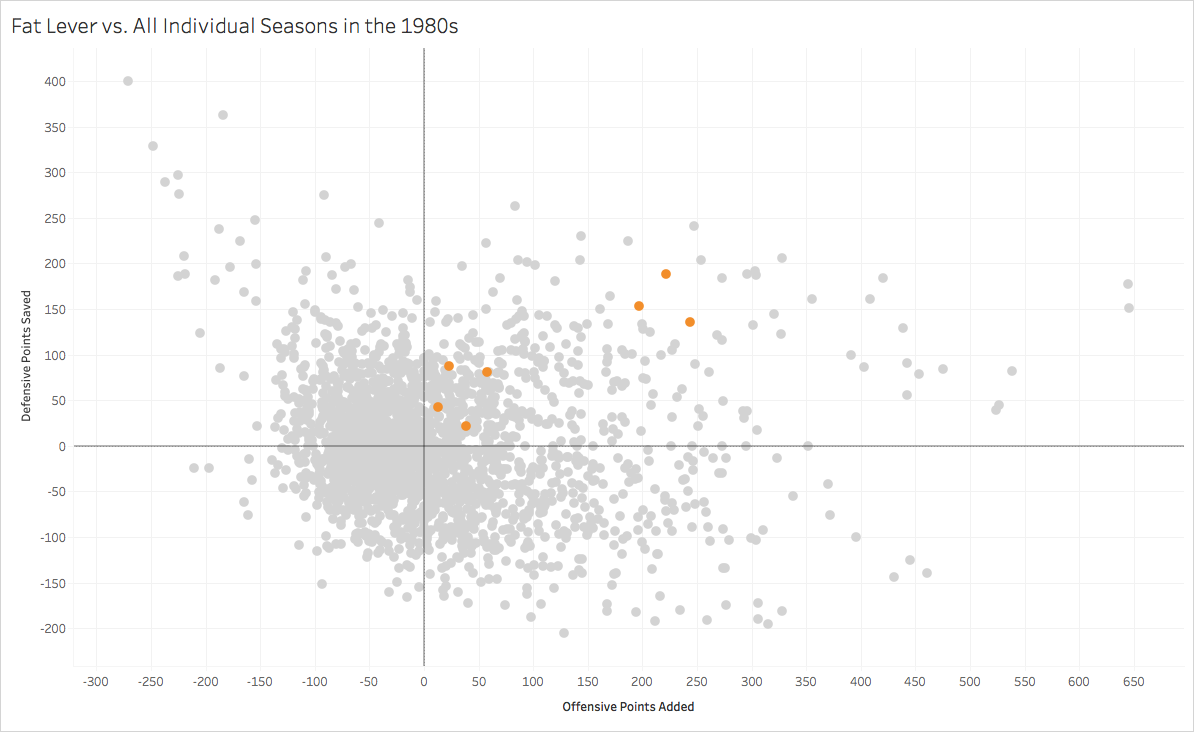 NBA Math's TPA favors guys who can fill the stat sheet, which is how a player like Fat Lever can outpace a legend like Thomas despite playing one fewer season in the decade of our scope.
Lever wasn't exactly a superstar, but it's not like he was without ability, either. From 1982-83 through 1988-89, the Arizona State product dropped "just" 14.5 points per night, but he did chip in with 6.0 rebounds, 6.9 assists and 2.3 steals, as well. He was a triple-double machine, long before they were popularized.
His well-rounded, two-way game helped land him an All-Star appearance in 1988, as well as an All-NBA Second Team berth in 1987 and an All-Defensive Second Team in 1988.
If there's one word we can use to define Lever's career, it would be this: underrated.
To this day, the man with the memorable nickname ranks No. 1 in steals (1,167) for the Denver Nuggets franchise, as well as No. 2 in assists (3,566), No. 7 in points (8,081) and No. 8 in rebounds (3,621).
1. Earvin "Magic" Johnson: 3937.33 TPA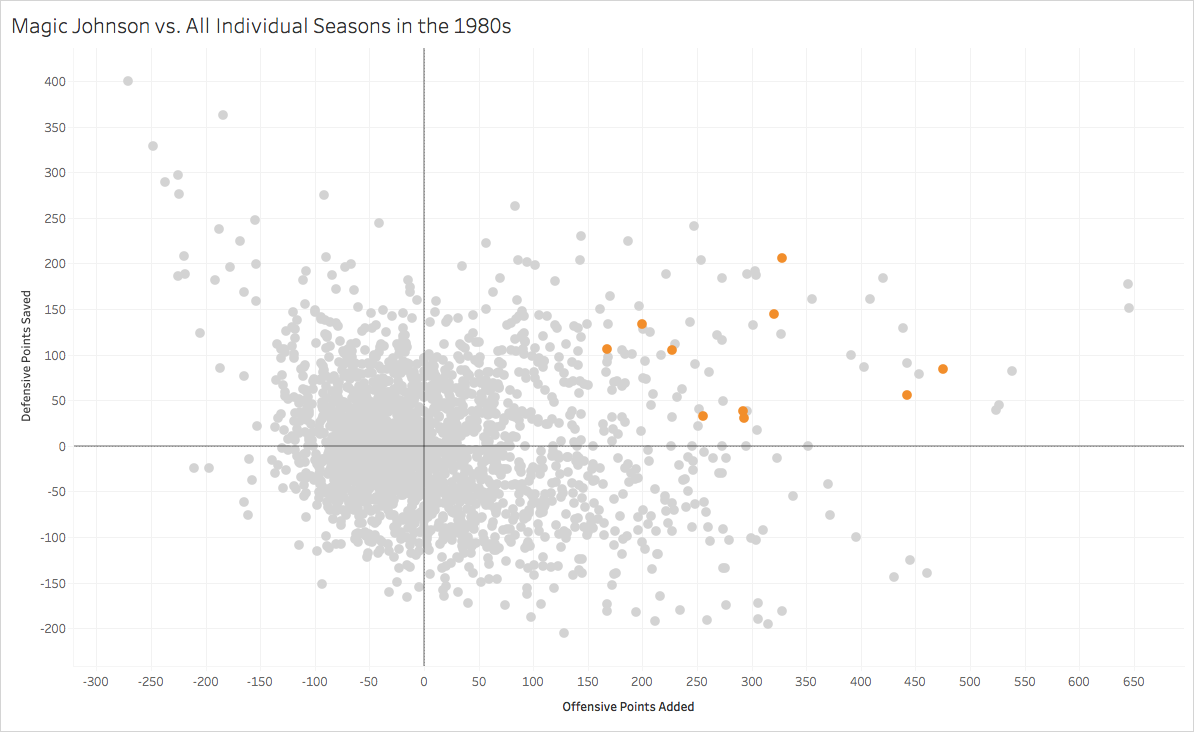 The best point guard of the 1980s, and one of the two greatest players of the decade, Magic Johnson tops our list with a ridiculous score of 3,937.33 TPA.
Unique for the position due to his massive stature (I mean, a 6'9″ 1-guard is nearly unheard of, even in today's freakazoid era), Johnson also dominated with unrivaled court vision and passing chops. Not only did he foresee looks that most others wouldn't dare attempt, but his passes were almost always right on the money.
Throughout the '80s, the Michigan State legend won an astounding five titles, took home three Finals MVP trophies and an additional three league MVP trophies.
Simply put, he enjoyed a ridiculous career—one that not many others in the NBA's entire rich history can come close to rivaling.
It fact, it's shocking Johnson doesn't get more love in GOAT-type discussions, especially with how often the "ringzzzz" argument gets tossed around. For what it's worth, in Bill Simmons' basketball epic, The Book of Basketball, the super-sized point guard finished ranked as the fourth best player of all time, ahead of his arch-nemesis Bird. (If you know Simmons' history—and his Celtics homerism—you understand why that bit is worth mentioning.)
Johnson was absurdly talented, had a will to win, sank numerous unforgettable shots and changed the NBA's outlook by making the league a must-watch product in the 1980s. And if he manages to have some semblance of similar success as the Lakers' president of basketball operations (his current role), the once-proud franchise will be back to contention before too long.
Honorable Mentions: Johnny Moore (396.38), Vern Fleming (391.68), Mark Jackson (358.89)
Follow Frank on Twitter @frankurbina_.
Follow NBA Math on Twitter @NBA_Math and on Facebook.
Unless otherwise indicated, all stats are from NBA Math, Basketball Reference or NBA.com.