How Valuable is Kyrie Irving?

You may know him best as Uncle Drew or for his incredible handles and anklebreakers. Maybe you know him from one of the biggest shots in NBA history—the dagger during Game 7 of the 2016 NBA Finals. Regardless, Kyrie Irving has ascended near the top of the NBA ranks through his dazzling play and success in recent seasons with the Cleveland Cavaliers.
However, drastic changes may be coming very shortly for Irving and the Cavaliers if his trade request is fulfilled.
Kyrie Irving asked the Cavs to trade him in a meeting last week, sources told ESPN. Story posting on https://t.co/b8H6X39PKb shortly

— Brian Windhorst (@WindhorstESPN) July 21, 2017
Based on the teams to which he requested a trade, per ESPN.com's Chris Haynes, this could mean joining a new squad either as its leader and best player (New York Knicks or Miami Heat) or, once again, as a secondary piece (San Antonio Spurs or Minnesota Timberwolves).
These developments bring up an important question: Is Irving good enough to be the best player for a winning organization? It's an inquiry that, in all reality, is impossible to answer until the situation presents itself.
However, plenty of indicators from his first six seasons point to him needing a partner in crime of at least the same level to be truly successful. Of course, in recent seasons he has been playing alongside LeBron James, one of the best players in NBA history—some partner in crime for those Cleveland days.
Before James returned to the Cavaliers, Irving was stuck attempting to lead and win with a bunch of role players for his first three years in the league. Unsurprisingly, that didn't happen, as the Cavs went a combined 78-152. Then James showed up, Cleveland traded for Kevin Love, and the rest is history.
But in those three years without the four-time MVP (and subsequent games played without him since he returned), Irving and the Cavs have struggled. In games without his running mate, the point guard's plus/minus is -609. With James playing alongside him, it jumps up to 993. Now of course, LeBron freakin' James would help any player's plus/minus. After all, the Cavs teams before James returned were collections of misfits and mediocre players, while the current iteration is built around his play style (and rightly so).
And that leads into the first concerning aspect of Irving's game: his lack of playmaking/creating for others. In the three seasons before James returned, the 1-guard averaged 5.4, 5.9 and 6.1 assists, respectively. It's easy to argue his assists were low because his teammates couldn't finish shots off of his passes, but in the 2013-14 season (in which he averaged 6.1 assists per game), he was 24th in the league in passes made per game and 23rd in potential assists per game.
Irving is a natural scorer, which is an incredible skill to have, especially in the playoffs where he has taken over games in the past three seasons. However, it can be crippling to an offense for the team's point guard to be a below-average creator. For his career, Irving's offensive rating with James is 115.4, but it drops to 108.7 without him. Offensive rating isn't the best way to evaluate a player on the scoring end, but it does shed light on Kyrie's ability to run the show.
The other concerning aspect of his game is defense. If he's going to be the best player on a winning team, it will need to surround him with capable defenders at other positions (think the Boston Celtics surrounding Isaiah Thomas with players such as Avery Bradley, Marcus Smart, and Jae Crowder last year). For his career, he owns a defensive box plus-minus of minus-1.5 (which jumped to a career-low minus-2.3 this past season). Also, he ranked 440th (out of 468 players) in defensive real plus-minus at minus-2.3.
Teams can build around his defensive limitations and be successful, but that will require having elite perimeter defenders on the roster and/or a good rim-protector. The Houston Rockets and Oklahoma City Thunder are other perfect examples of squads mitigating the impact of below-average defenders at the point and finding success last season.
It can be done.
On the other end of the spectrum, Irving's elite scoring is something all teams would love to have, especially come postseason time. He is one of the most enjoyable and explosive players to watch throughout the league, and having him on your team instantly elevates them to become a must-watch League Pass outfit.
Irving is coming off one of his most efficient seasons, shooting a career-high 47.3 percent from the field and posting a 53.5 effective field-goal percentage as he averaged 25.2 points (another career high). Also, he was 14th in offensive real plus-minus, highlighting how valuable he can be to a team's offense.
Irving is one of the best scorers in the league mainly because he is deadly from nearly all parts of the floor. He can kill you from beyond the arc or by using his handles to get to the rim: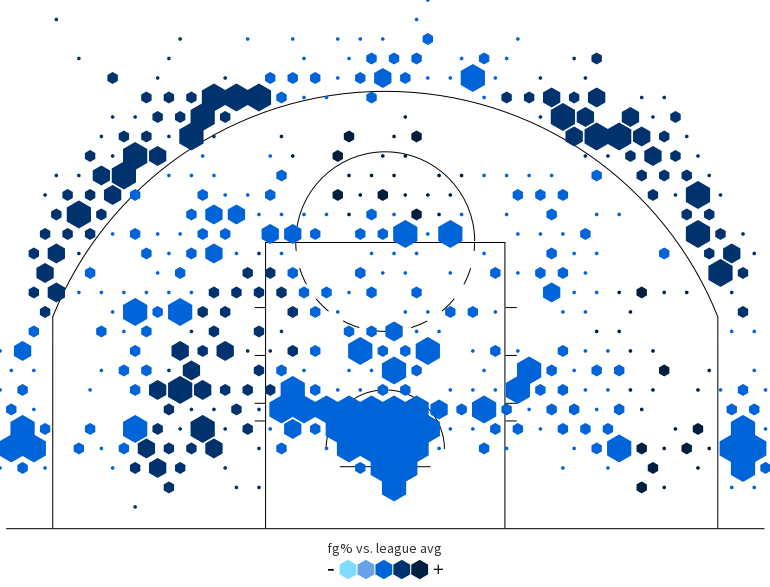 Despite the jaw-dropping, physics-defying layups he hits out of nowhere on a seemingly regular basis, Irving (54.5 percent) was below average (57 percent) on shots at the rim last season. But more importantly, he does a good job diversifying his offensive game to keep defenses guessing. Overplay his shot, and he'll dribble around you to get an open mid-range look or layup. Give him too much space, and he'll bury one right in your face.
Simply put, he is one of the best natural scorers in all of basketball.
However, do his scoring abilities outweigh his lack of playmaking and the defensive shortcomings? We will most likely find out in the coming months and seasons if he is indeed traded to a team where he's asked to serve as the leading man.
A franchise building around Irving must properly surround him with good defenders, shooters and a secondary ball-handler to create for others at times. Doubt surrounding his ability to lead a winning bunch persists, but maybe after six seasons of experience (including three next to one of the all-time greats), he's ready to lead his troops to sustained success.
He just has to be on the right team.
Follow Eric on Twitter @ericspyros.
Follow NBA Math on Twitter @NBA_Math and on Facebook.
Unless otherwise indicated, all stats are from NBA Math, Basketball Reference or NBA.com. Shot chart provided by StatMuse.com.