The NBA's Best Passing Big Men from 2017 Free Agency

Try talking to a friend who hasn't watched the NBA in the past five years about how the game has changed. Seemingly any discussion points must start and stop with the ever-changing role of centers and big men in the league. Dwight Howard was a former superstar on both sides of the ball; now he's dumped to the Charlotte Hornets with a high-value draft pick. Roy Hibbert was once the poster-child for rim-protecting big men, and he was recently dropped by those same Hornets for a bag of chips and a pickle. Back-to-the-basket big men, particularly those who score on the blocks, are a dying breed.
That shift, driven by spaced-out offenses and an emphasis on defensive versatility as well as rim protection, has shifted the way we evaluate free agents and draft prospects alike. Fit within a system and how a coach will employ them on both ends of the court is as much of an indicator of success as their overall talent level. Whether it's as a scorer, a defender, a three-point shooter or any other piece, frontcourt players must be placed in situations where their strengths will be utilized and weaknesses covered.
This year's free agent class has a wide array of big men who fit the modern bill—they can operate in space or away from the basket. But strangely, only a select few of them do so as catch-and-shoot threats; most are more accustomed to working with the ball in their hands or making plays happen for others. That final trend from today's NBA—ball-movement-heavy offenses like that of the Golden State Warriors or San Antonio Spurs—encapsulates this need for playmaking big men as the wave of the future. It just so happens there are some pretty swell-passing tall dudes available for hire this summer.
Tier One: The Focal Points
Each year, some big kahunas emerge from the depths of the free-agent market, and they're the ones best served to become focal points of an offense wherever they end up. Whether it's their scoring ability on the interior or evolving perimeter play, these guys have an added dimension that is often overlooked. They are electric passers of the ball who can blend right into an offense that values ball movement and trusts its new acquisitions with the rock frequently.
Blake Griffin, Los Angeles Clippers
Both raw and advanced stats revolving around Griffin's passing need to be highlighted more than they are. He's turned himself into an outstanding passer, with three straight seasons of five assists per game and an assist rate of 25 percent, per Basketball-Reference. He's also improved his assist rates without an increase in turnovers or turnover rate—a rarity for high-usage big men such as himself. The revelation in Griffin's game was touted a great deal when he began his passing splurge a few seasons ago, but since the Los Angeles Clippers and his star have faded, his accomplishments as a passer often go unnoticed.
We all know about Griffin's dominant scoring ability near the basket, and using him in isolations helped get the matchups necessary to shred a defense with one move and an quick anger-management session with the rim. The power forward is an outstanding passer out of these scenarios; according to NBA.com's player tracking data, for all players to with at least three post touches a game, he was No. 6 in assist rate from the post at 6.1 percent. That number is so high because of the accuracy of his passes, which find cutting shooters on the move with the ball delivered directly into their shot pocket and their waiting hands.
If you thought the low-post passing was Griffin's biggest strength, think again.
Synergy and NBA.com's tracking data trumpet Griffin as one of the premier passers at the elbow. Of all those who had at least five touches per game, his assist rate trailed only Greg Monroe and Nikola Jokic. The more he adds to his outside shot, the more deadly his passing from the high post and the top of the key becomes. Over the last three seasons combined he's shot a crisp 34.6 percent from deep, and that number continues to rise with his increased volume. This year, he attempted 113 treys, a clip of nearly two per game. He'd never attempted more than 45 in a season prior to 2017. If this continues to improve, his assist metrics could vault even higher.
Another standout facet of Griffin's game in his ball-handling on the break. Few athletes inspire as much terror in the open court, so it comes as no surprise that defenders will gravitate towards him. He's made the appropriate step in elevating his game, moving the ball in transition and turning defense into offense for his teammates.
The role Griffin has played with the Clippers is so different due to Chris Paul's presence on the team for the past six seasons, and it's a vehicle for a great debate about usage versus ability. There's not much doubt the Clippers were best served using Paul in a ball-dominant role and having Griffin be an auxiliary facilitator. But without Paul, does that mean Griffin is capable of having a greater role as an offensive creator and passer?
Perhaps it will, but the point is this: We have proof that he's able to complete almost any type of pass a big man is asked to make, so giving him a more active role next season is beyond well-deserved. I'd love to see him engage in more dribble handoffs and then run into a vicious sprint to the rim, or as a passer after a pick-and-roll with the floor spaced by a shooting center. Can the Clippers further maximize his value in the coming years?
Paul Millsap, Denver Nuggets
Millsap has a fairly different usage than Griffin, but the results are the same. Both are commonly seen in the top rankings for assist rates and passing metrics among big men in the NBA. Millsap's raw assist numbers aren't as impressive as Griffin's, but he is fourth in the league in assist rate from the elbows, with a slightly better field-goal clip.
Yet Millsap is on a different trajectory. After shooting 35 percent from deep in his first two years with Atlanta, his last two campaigns have dipped to 31 percent—a low rate to stretch out defenses. Passing lanes are created for big men away from the basket by having their defender close to them; the more the defender sags, the harder it is to create a basket for a teammate directly off a pass. But Millsap has been able to have the best passing seasons of his career the last two years despite this negative trend.
The spread pick-and-roll has been kind to him. He creates great scoring opportunities for his comrades out of what we call short rolls—the situation after setting a ball screen where instead of popping to the perimeter or cutting hard to the rim, the screener sits himself one or two steps below the pick and looks to make a quick decision with the ball. Openings for teammates were created because Millsap was such an effective scorer out of the PnR, tallying the fifth-most points per game as a roll man in the NBA last season. The symbiotic relationship between being a scoring threat and having open teammates is evident here. Give Millsap the ball on a short roll, with plenty of space to operate in, and few are better at carving up an opponent.
Standing only 6'8″, Millsap may be too small to be a full-time center in the NBA, despite the success he had there for the Atlanta Hawks this past season. But he has proved adept at playing with another big man and sharing the interior. He's crafty enough to run a big-to-big pick-and-roll as the ball-handler and deliver a strike to a rolling teammate.
Tier Two: The Face-Up Guys
Obviously Griffin and Millsap are unique talents who served as two of the most sought-after free agents. But what about the other guys on the free-agent market who might be more of role player than bonafide starter or go-to option?
Mason Plumlee, Restricted Free Agent
Quickly established as an analytics darling, Plumlee had a special season as a passer for both the Portland Trail Blazers and Denver Nuggets in 2016-17. The highlights of his passing are prevalent, and the way Plumlee distributes the ball will, in all likelihood, net him an eight-figure contract. He finished the past season in the top 10 among all centers in assist rate, assist-to-turnover ratio, assist ratio and overall offensive rating. He isn't a traditional low post center, though. He prefers to operate at the elbows and near the top of the key.
An easy way to judge big men who pass from here is looking at how they perform distributing the ball while driving to the basket, and last season, Plumlee had the fourth-most assists per game in such scenarios.
While playing for the Nuggets allots him fewer opportunities to be the primary creator, being used in the same way as the beloved Jokic provides the best avenue to maximize his skill set. Denver is a strong favorite to retain his services as the backup (or even a frontcourt mate in super-passing lineups), but Plumlee has earned his rank among the best playmaking centers in the league.
Kelly Olynyk, Restricted Free Agent
Olynyk may be the biggest surprise on this list, but his appearance is well-earned. After a season averaging 3.5 assists per 36 minutes, the restricted free agent from the Boston Celtics could carve out an important role on teams looking for big men who operate at the top of the key. While Plumlee was fourth in the league in assists off drives for centers, Olynyk was actually ahead of him at No. 3. Only the most famed passing bigs Al Horford and DeMarcus Cousins topped Kelly-O.
A lot of that number comes from the high usage head coach Brad Stevens' offense places upon big men to handle the ball at the top of the key. Olynyk has proved his value by thriving within it, though his turnover rate is among the highest of frequently used bigs. Still, he has a knack for making difficult passes look easy, and his outside shooting prowess (a career 37 percent three-point sniper) opens the lane for his teammates to be found by the former Gonzaga Bulldog in prime scoring territory.
David West, Golden State Warriors
My love for David West knows no bounds, as he's moved from one of the most underrated players in the league to an unheralded role player on a championship team. West, who played barely 12 minutes per night with the Warriors, averaged 2.2 assists per game. He had more assists per 36 minutes than Jokic, Isaiah Thomas and Damian Lillard. Only two frontcourt players had higher numbers: Draymond Green and LeBron James.
Within the Golden State Warriors' super-paced offense that has cutters and shooters swirling every which way, West was a constant source of easy buckets. He especially excelled with the give-and-go, basketball's oldest play, by threading the needle with perfect passes in some of the tightest windows imaginable.
How amazing is Golden State's offense? Of all forwards in the NBA, three of the top five in assist-to-pass ratio belonged to the Warriors (Green, Kevin Durant and West). West averaged an assist on more than one out of every ten passes he made!
Expect much of the same from him next season as he continues to be used more and more at center.
Tier Three: Passing out of the Post
Who says the post-up is dead? Playing out of the blocks and the isolation zones with ones back to the basket isn't dying in itself; its value is simply changing. Players cannot be solely positioned out of those spots. They need versatility to play on the perimeter when the situation dictates, as well as the ability to work a mismatch down low. So long as there's a block, there will be a niche for guys that can score on it.
David West, Golden State Warriors
The love affair continues. West has long been a bully on the blocks for a power forward. Remaining a consistent scoring threat who attracts the ire of defenses opens passing lanes for big men down low. But they need to be proactive passers. Capability and willingness must meet each other in a sweet spot for a team's offense to click. The Warriors have a different sweet spot than most, opting to use the low post as a passing zone instead of a scoring one. No team in the NBA had a higher assist rate out of the post last year.
West was perfect in Golden State's concoction of movement away from the ball. While the Warriors would run split cuts above the ball or dribble handoffs in the post curling around it, West was always able to find cutters in prime position to score. He has now logged five consecutive seasons with an assist rate above 15 percent. Per Basketball-Reference, the only other active players to claim the same while shooting above 47 percent from the field: Griffin, Pau Gasol and Boris Diaw.
Zach Randolph, Unrestricted Free Agent
Randolph is a surprisingly good passer out of the high post, but his bread-and-butter still comes from the low block. The Memphis Grizzlies experimented with letting him shoot threes this year, and the slow-motion release ultimately dropped his three-point percentage to a shade over 22 percent on the season.
But a tiger doesn't change his stripes this late in his career. Randolph had the third-highest usage in the NBA last season out of post-up sets. The more time he spends inside, the better. Just look at his heat map, courtesy of NBAsavant.com.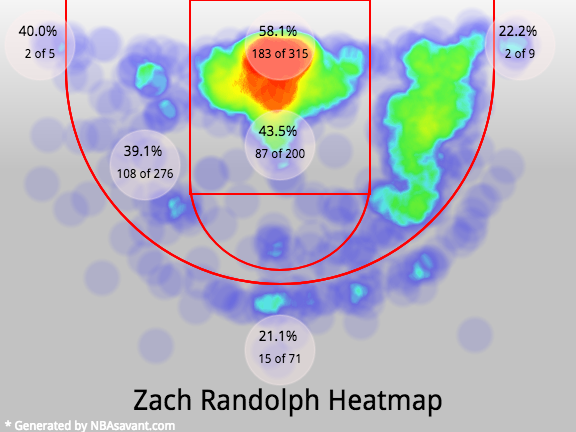 A scorer this dominant in the paint commands double-teams, a great sign of respect from defenses. Coaches and fans alike know the simplicity (in theory) of how to attack a double: Two guys are on the ball, so one player must be open. Definitely easier said than done. And Randolph is one of the very best at hitting strikes out of these double-teams. He has become so good at recognizing when the second defender is coming and getting rid of the ball before he can feel any pressure from an added set of arms.
Most impressive for Randolph: His ability to isolate, drive and kick in a crowded area. He hasn't had the pleasure of an incredibly well-spaced offense around him, yet he still manages to dish out more than three assists per 100 possessions and had the highest assist rate and lowest turnover rate of his career in 2016-17. Possessions like the one below, where no Grizzly stands outside the three-point line as he makes his move, only underscore the talent he has in a broken system.
Randolph could return to Memphis and continue to thrive. But his ability to make passes on the move, command double-teams and hit teammates cutting around him would make him the perfect fit in any modern NBA offense off the bench.
Follow Adam on Twitter @Spinella14.
Follow NBA Math on Twitter @NBA_Math and on Facebook.
Unless otherwise indicated, all stats are from NBA Math, Basketball Reference or NBA.com.