The Incredible Scoring Legacy of Dallas Mavericks Superstar Dirk Nowitzki
On March 7, 2017, Dirk Nowitzki became just the sixth player in NBA history to reach 30,000 career points. For close to two decades, he has served as the face of Dallas Mavericks basketball, leading them to their only championship in 2011 and helping make Mark Cuban a household name. Nowitzki is not only the personification of consistency and longevity, but he also represents a bridge from an NBA that is almost unrecognizable to today's game.
Take a look at the five legends above him.
With the exception of Kobe Bryant and, to a lesser extent, Michael Jordan, none of the players above Nowitzki were too threatening from three-point territory.
At the top of the list is Kareem Abdul-Jabbar, who hardly left the post even while playing with the Showtime Lakers. Wilt Chamberlain bullied his opponents in the key, while Karl Malone was fed from a pick-and-roll. When he still had Steve Nash on his team, Nowitzki was also the beneficiary of the pick-and-roll, but his jumper has always served as his true finishing move.
While Nowitzki never quite shot the three-ball as much as Stephen Curry or Klay Thompson (he never had more than 200 three-pointers in a season, whereas Curry set the single-season record in 2015-16 with 402), he was a pioneer in the late 1990s, launching jumpers beyond the arc in spite of his seven-foot frame.
Up until Nowitzki's arrival, basketball had featured big men establishing themselves down in the post, where they'd receive passes and collapse defenses around them to open up space for shooters. The game favored slowness, and even had to instill the five-second rule to prevent players like Charles Barkley or Mark Jackson from posting up for too long and slowing down the game.
Nowitzki's career has had its share of post-ups, usually topped off with his famous fadeaway. What makes him such a nightmare to defend is his ability to use his jumper in any situation. If defended by a smaller player, he can elevate and shoot over him. If a larger player guards him, he stands far enough outside the key to open lanes for cutters.
Not only was Nowitzki the first 7-footer to compete in a three-point contest, but he was also just the second player to record at least 100 three-pointers and 100 blocks in a single season. Robert Horry was the first, and players such as Kevin Durant and Shawn Marion have since joined them:
His tall, lanky frame wouldn't stand a chance against more muscular bodies down low, so Nowitzki has instead used his size to his advantage, shooting just under 40 percent from beyond the arc for his career. His style of play has paved the way for other tall jump-shooters like Durant, Kevin Love and fellow European Kristaps Porzingis. As one of the final warriors from the late-'90s, Nowitzki's legacy is etched in what has become known as the stretch-4 position.
Basketball's global identity has grown due to its ability to stay relevant. The game is
faster now than it has ever been, due to evolutions like that position that didn't exist when Dirk was drafted.
While sports like baseball try to remain relevant with a younger audience, organic changes like the popularity of the three-pointer, which has undergone an especially quick renaissance, keep basketball interesting. This season, the Houston Rockets lead the league in attempts per game with 40.4, while the Chicago Bulls attempt the fewest (20.8) Just 10 years ago, the Golden State Warriors paced the NBA with just 26.6 game.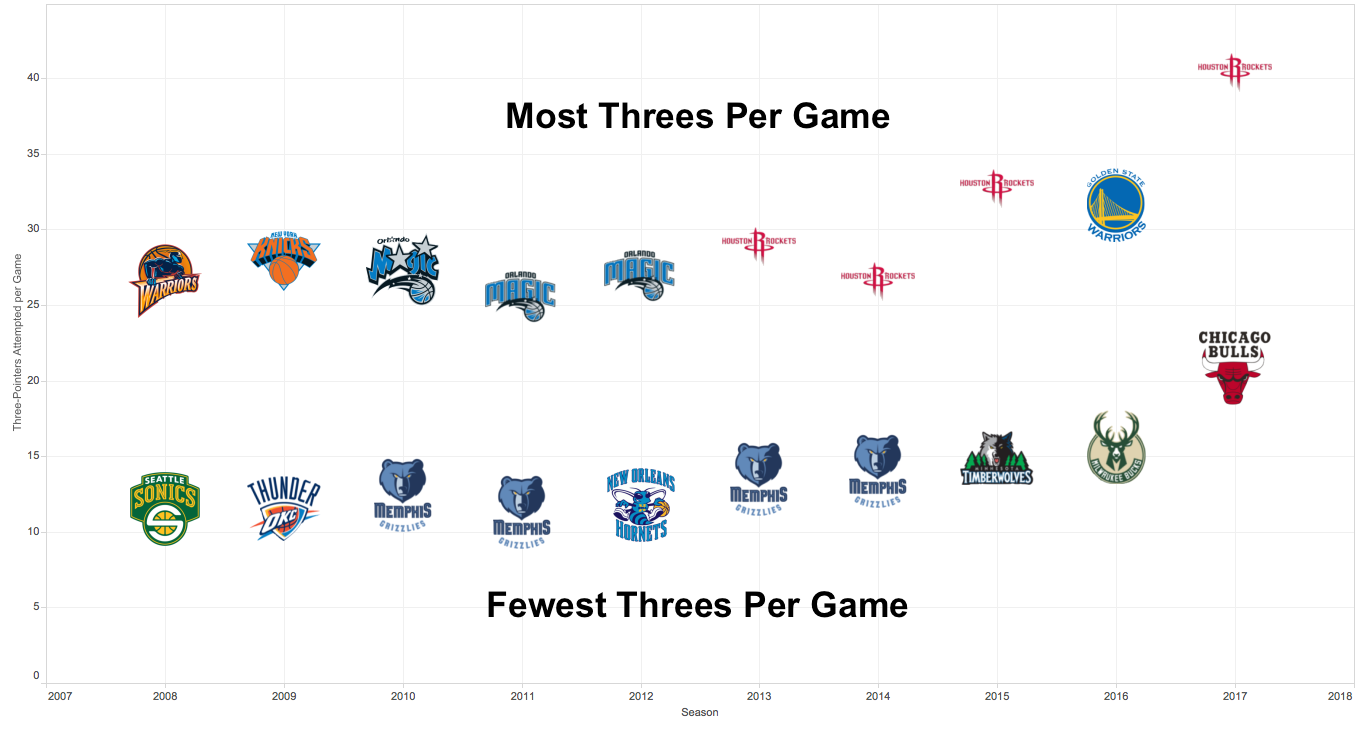 With 44 percent of their total points coming from beyond the arc, Houston has relied on the three-pointer for much of its success this year. And it's paid off, as the Rockets are currently third in the Western Conference. In fact, the next three teams close to utilizing the three-ball as much as Houston are also expected to go deep into this year's playoffs: the Cleveland Cavaliers (39.5 percent), Boston Celtics (36.4 percent) and Warriors (36.4 percent).
Trends like these can be traced back to their roots with the late-'90s Mavericks and the opening salvo of Nowitzki's career. Like superstars of old, the big man has remained on the same franchise for his entire career (despite being drafted by Milwaukee), and his ability to change the game without changing his uniform has helped him consistently trend up the scoring leaderboards.
Nowitzki said in early March that he plans on playing 20 seasons, per ESPN.com, giving him one more full year to catch up to Wilt Chamberlain and the rest of the all-time scoring leaders.
Averaging 13.9 points per game while still shooting 42.5 percent from the field and 37.2 percent from downtown, he should manage around 250-275 points during his final 19 games of 2016-17. But with Chamberlain sitting at 31,419 career points, Nowitzki would need around an additional 1,200 points in his final season.
Fortunately, Nowitzki's late-30s have been relatively healthy, with the exception of this season. His Achilles tendon—the same body part that took down an aging Kobe Bryant—gave him trouble early this year.
However, if he manages to stay healthy and puts up even 15 points per game, he could surpass Chamberlain during his final 2017-18 appearances. Averaging exactly 15 points would require 95 more outings, and he'll have 101 more chances to play when including both the end of this season and all of the next.
Of course, if he played anything like he did on March 7, scoring 18 of his 25 in a single quarter, his ascension into the top five may take place even sooner.
Follow Jon on Twitter @officialJHaines.
Follow NBA Math on Twitter @NBA_Math and on Facebook.
Unless otherwise indicated, all stats are from NBA Math or NBA.com and are accurate heading into games on March 9.