The Highest Peaks Reached by NBA Power Forwards in the Modern Era

Power forwards didn't always have to space the floor. Believe it or not, back-to-the-basket moves once reigned supreme.
Just over a decade ago, while Dirk Nowitzki was coming into his own, beasts such as Elton Brand and a young Kevin Garnett ruled the hardwood. Before that, Karl Malone and Shawn Kemp claimed positional supremacy. Earlier still, the NBA was Kevin McHale's show.
Though the rules of the position have evolved over the years, the 4 has always boasted game-changing players.
But how do they all stack up against their positional counterparts throughout the modern era? Since the beginning of the 1973-74 season, when the NBA began tracking more stats and allowed for the retroactive calculation of many advanced analytics such as total points added (TPA), the league has played witness to plenty of high-quality power forwards.
Plenty of basketball analysts have looked at their careers as a whole. The best single seasons tend to take center stage when the Maurice Podoloff Trophy is greeting a new MVP. But here, we're concerned only with lengthier peaks.
Having a one-off campaign can be special. Maintaining that success for a three-year stretch, however, is far more impressive and meaningful.
Journey with us as we travel through the best three-year stretches from modern-era power forwards (as defined by Basketball Reference and based on number of seasons listed at each position) by adding together their TPA scores in each of the three relevant consecutive campaigns. One stellar season can counteract more lackluster contributions surrounding it, but playing at a high level for the entirety of a three-year period is the best way to vault up the rankings.
20. Paul Millsap, 2014-16: 631.82 TPA
Paul Millsap has become something of a Swiss Army Knife for the Atlanta Hawks—and soon, the Denver Nuggets. Utilizing a devastating pump fake and a veritable arsenal of weapons on both ends of the floor, he's become a prototypical power forward in the modern NBA. Maybe he's not the greatest post-up threat or three-point shooter, but his ability to contribute in every way imaginable gives him incredible two-way value.
As NBA Math's Ryan Jarvis explained, Millsap  "is a queen on the chess board because of his versatile offensive influence."
It also doesn't hurt that he's so skilled at preventing points. Just two seasons ago, he finished fifth in the 2015-16 voting for Defensive Player of the Year.
19. Anthony Davis, 2015-17: 637.17 TPA
Is Anthony Davis just getting started?
It may seem that way, given that his three-year peak currently spans each of the last three seasons. But the big man's best season came in 2014-15, before injuries kept knocking him out of the New Orleans Pelicans' lineup for prolonged stretches. To improve upon his peak score, he'll need to surpass that upper-right orange dot, which is a rather hefty undertaking as he attempts to coexist with DeMarcus Cousins, Jrue Holiday and Rajon Rondo.
Of course, it's possible. Davis' skill set makes him a generational talent, so long as he's able to avoid the various maladies that have kept him out of the lineup on so many occasions over the last few campaigns.
18. Dan Roundfield, 1979-81: 648.62
Dan Roundfield might go down in history as one of the sport's most nondescript All-Stars. The Atlanta Hawks power forward made three consecutive All-Star appearances from 1980 through 1982 (his true peak began one year prior to the start of that particular run), but he still averaged just 17.4 points, 10.7 rebounds and 2.5 assists during that stretch. Perhaps the modern-day crowd has overlooked him not just due to the lack of glamorous numbers, but also because of his inability to carry Atlanta through the first round of the playoffs.
Still, the 6'8″ Central Michigan product deserves some love. A lot of love, in fact, and not just because of what happened on the court.
He established himself as a defensive force throughout his prime, able to both swat away shots and jump into passing lanes with startling frequency. Averaging at least a block and a steal is no easy feat, and he managed the feat for six consecutive years while making five All-Defensive squads.
But no matter how frequently he was willing to fill less glamorous roles for his teammates, his ultimate sacrifice came later. It cost him his life to do so, but he successfully saved his wife from drowning in Aruba, which should go down in the annals as his truly heroic endeavor.
17. Anthony Mason, 1996-98: 655.29 TPA
TPA is aided by volume, so it's no wonder that Anthony Mason fares slightly better than expected. He was a bona fide workhorse during the late-1990s, leading the league in minutes per game during both the 1995-96 and 1996-97 campaigns (42.2 and 43.1, respectively). He dropped to "only" 38.9 minutes per contest during the final season of his three-year peak and finished the stretch with a total of just 10 missed games.
Again, that's a total. It's not an average.
Mason wasn't a particularly special force on the offensive end, topping out at just 16.2 points per game midway through his peak years. But he was one of the best passing bigs of his generation and more than held his own on defense, though he was only rewarded with a single All-Defensive selection in 1996-97.
16. Blake Griffin, 2013-15: 690.38 TPA
Injuries, injuries, injuries.
Blake Griffin has missed so many games over the past two years that his three-season peak still includes a 67-contest campaign in 2014-15. He just hasn't been able to stay on the floor for the Los Angeles Clippers, which is an enduring shame when he's been capable of making such monumental impacts when he does play. Few power forwards have ever been this adept at facilitating for their teammates, and Griffin has earned so much trust from head coach Doc Rivers that he's even been allowed to run the point for brief spurts.
Early in his career, mid-range shooting and post-up moves served as the primary areas of weakness for this uber-athletic power forward. But he's developed into so much more than a powerful dunker, even if his moves from the blocks are rather unorthodox and not too visually appealing.
15. Kevin Love, 2014-16: 691.3 TPA
Kevin Love's first two seasons with the Cleveland Cavaliers factor into his peak, but they weren't inordinately special. Though he proved himself a tremendous fit alongside LeBron James and Kyrie Irving by spacing the floor with aplomb and throwing the occasional touchdown pass after corralling a rebound, his limited role prevented him from posting the monstrous numbers we'd come to expect from his time with the Minnesota Timberwolves.
Of course, his final season in the Land of 10,000 Lakes didn't fall into that more limited category.
Back in 2013-14, just before he was traded for a package that centered around Andrew Wiggins, Love averaged 26.1 points, 12.5 rebounds and 4.4 assists. Though he still wasn't an impact defender, he was an unstoppable force on the glass who could throw up a double-double with one arm tied behind his back. Frankly, that may not even be hyperbolic. Take it literally, if you so desire.
14. Shawn Kemp, 1994-96: 705.49 TPA
Though thunderous jams and high-flying exploits became synonymous with Shawn Kemp's name during his time with the Seattle SuperSonics, he was actually better on defense than the scoring end. And the 1993-94 season was particularly special.
During that go-round, Kemp made his second All-Star squad while averaging a whopping 18.1 points, 10.8 rebounds, 2.6 assists, 1.8 steals and 2.1 blocks. It wasn't the magnitude of any one statistical contribution that stood out, so much as the well-rounded product that saw him impact the proceedings via a plethora of avenues. Whether he was helping space the floor with mid-range jumpers, blocking shots by the boatload or deterring players from throwing entry passes by poking away at the rock, he was just making Seattle that much better.
And it didn't hurt that he won over so many fans in the process, all thanks to his ultra-entertaining style of play.
13. Kevin McHale, 1986-88: 765.52 TPA
If Kevin McHale got you on his back, fuhgettaboutit.
Few (if any) players have possessed a deadlier set of post moves than the legendary Boston Celtics big man, who tortured countless opponents from the block. He had a counter for every possible defensive style, and he even knew the counters to use when the men guarding him expected the initial counter. Whether he was drop-stepping by a foe, ambidextrously hitting a jump-hook or putting his matchup into the spin cycle, he created countless easy buckets alongside Larry Bird and Robert Parish.
Well, they seemed easy because of his skill. In reality, they were anything but simple.
12. Larry Nance: 1983-85: 803.84 TPA
What made Larry Nance special wasn't his ability to father a son who'd go on to play in the NBA (the Los Angeles Lakers' Larry Nance Jr.) or his peak years, but rather his ability to thrive for such a long period of time. His first All-Star appearance came in 1984-85 with the Phoenix Suns and served as the tail end of his TPA-based peak, and he wouldn't participate in the midseason festivities again until he was suiting up for the Cleveland Cavaliers in 1988-89. Another four years later and still with Cleveland, he made his third and final appearance.
Even though athleticism and dunking prowess might spring to mind when reminiscing about the original Nance's career, his game was set up to last. He was a strong defender, a great rebounder and a solid distributor for his size, and he rarely required lengthy dribbling adventures before putting the ball through the nylon. Instead, his game fit into the flow of his team's offense, which prevented him from overtaxing himself and shortening his true athletic prime.
Nearly a decade after the listed years, Nance had a three-season stretch from 1990-91 through 1991-93 in which he accumulated 790.29 TPA, which would've kept him in this very same spot on the positional hierarchy. That, in a nutshell, is sustained production.
11. George McGinnis, 1976-78: 819.97 TPA
In some ways, it's a shame we can't consider George McGinnis' exploits with the ABA's Indianapolis Olympians.
His represented peak came during his first three NBA campaigns, all of which featured him suiting up for the Philadelphia 76ers, but he was even better against the more limited competition offered by basketball's lesser league. Still an abject terror on the defensive end, McGinnis was more efficient offensively and took advantage of the newly implemented three-point arc while throwing up eye-popping numbers. During his final go-round with the Olympians, he averaged 29.8 points, 14.3 rebounds and 6.3 assists while shooting 45.1 percent from the field.
Had we been able to replace his 1977-78 efforts with his work from that season, his three-year score would've skyrocketed to 1099.62, allowing him to jump past the next six power forwards in this countdown.
Ah, the glory days of the ABA.
10. Horace Grant, 1992-94: 862.05 TPA
Michael Jordan and Scottie Pippen weren't the only stars on the Chicago Bulls' first three-peat squads.
Horace Grant may not have been on the same level, but he was no slouch. In today's game, he'd have been considered a legitimate part of a Big Three, thanks to his ability to contribute on both ends of the floor. Grant's per-game numbers may not have looked particularly glamorous; he just rarely made mistakes while shooting 53.6 percent during his peak years, turning the ball over 1.4 times per contest and consistently playing fundamentally sound defense.
Plus, the big man just seemed to get better during the postseason—a trait that can't ever be overlooked.
9. Draymond Green, 2015-17: 869.97 TPA
Draymond Green may well be the worst offensive power forward featured in these rankings. And that's despite his excellence as a passer in the Golden State Warriors' system, as well as his sporadic three-point contributions. Perhaps he would look better with an organization that didn't boast so much firepower and was able to feature him more, but his relatively minor role in the championship-winning offensive schemes hold him back here.
The same can't be said about his defense.
Green is the rare big man who's best when he's allowed to guard no one. Operating like a free safety, he can drift between assignments and wreak constant havoc all over the half-court set. With one Defensive Player of the Year award under his belt (and legitimate arguments he should boast one more trophy), he's already established himself as one of the greatest point-preventing forces the position has ever seen. Complain all you want about his flailing limbs, but his style is quite effective.
8. Chris Webber, 2000-02: 886.13 TPA
We're not the first to identify 2000-02 as Chris Webber's true prime. Here's what Zach Lowe wrote for the non-defunct Grantland.com:
For a two-season window from 2000 to 2002 — as Webber entered his prime, and before Garnett and Nowitzki hit theirs — Webber had a real claim to the "Best Power Forward Alive" throne. Webber in those years nudged his Player Efficiency Rating into the 23-25 range, almost mandatory for a big man Hall of Fame candidate, and racked up enough counting numbers to put himself in historically elite territory. Here is the total list of players who piled up at least 17,000 points and 8,000 rebounds, while averaging at least four assists per game with a career PER above 20: Wilt Chamberlain, Elgin Baylor, Bird, and Webber. There's some unfair cherry-picking there, since Webber barely exceeds all those thresholds. But cutting the criteria still produces a ridiculously elite list of just 11 guys, all current or future Hall of Famers — plus Webber.
The defense rests.
7. Elton Brand, 2005-07: 897.64 TPA
No one was safe from Elton Brand's wrath during the heart of his prime.
Throughout his 2005-06 season with the Los Angeles Clippers, he proved capable of contributing in every way imaginable. He could capably defend either power forwards or centers. He could finish around the basket. He could stretch out the floor and keep defenders off balance with his passing chops. He could serve as a leader for a young Clippers squad trying to come into its own. He could even knock down 41.6 percent of his two-point jumpers from at least 16 feet—no easy feat for guards, let alone 6'8″ bigs.
Perhaps because so much of his career was spent floundering away for lackluster squads, Brand doesn't seem to get the recognition he deserves. But the numbers, as they say, don't lie.
6. Bobby Jones, 1977-79: 907.41 TPA
When he wasn't busy knocking in birdie punts and winning golf tournaments*, Bobby Jones was dominating for the Philadelphia 76ers.
Though he stood only 6'8″, the power forward was a force on the interior.
He finished at incredibly high rates around the basket and thrived as one of the era's best pound-for-pound rebounders, all while involving his teammates and conserving enough energy to become a generational talent on the defensive end. Jones paced the Association in defensive box plus/minus (DBPM) during his delayed rookie season (1976-77), and his TPA peak would've been even higher if we'd been able to count the two seasons just prior. During each one, he led the ABA in DBPM while playing for the Denver Nuggets.
*Important note: That was a different Bobby Jones.
5. Dirk Nowitzki, 2005-07: 1006.75 TPA
Dirk Nowitzki was never a defensive stalwart, but he didn't need to be. The Dallas Mavericks were presumably content with his offensive exploits, which helped carry the organization to its only two Finals appearances and led to the franchise's lone title.
The future Hall of Famer was never better than in 2005-06, even if he won MVP one year later. He averaged a scorching 26.6 points and 2.8 assists while shooting 48.0 percent from the field, 40.6 percent from downtown and 90.1 percent from the field, and while it may not have been his 50/40/90 season—that came during the MVP-winning campaign—the added volume and refusal to turn the rock over did the trick.
To this day, few have figured out how to slow down the one-legged flamingo fadeaway. It was unstoppable then, and it would probably be nearly indefensible for many decades yet to come. Only Nowitzki's decision to retire—if such a choice ever comes—can contain that signature move.
4. Tim Duncan, 2002-04: 1270.74 TPA
Tim Duncan will make the Hall of Fame as soon as he's eligible. He's unquestionably one of the 10 greatest players in NBA history and can very well be considered among the top five. He's an ultimate example of a winner, boasted one of the most unstoppable shots in basketball (his elbow jumper) and played such great defense that it's a travesty he was never named Defensive Player of the Year.
How in the world can he trail three players at his own position? Well, that's because longevity boosted his stock more than an astronomical peak. Take a gander at every season of his career: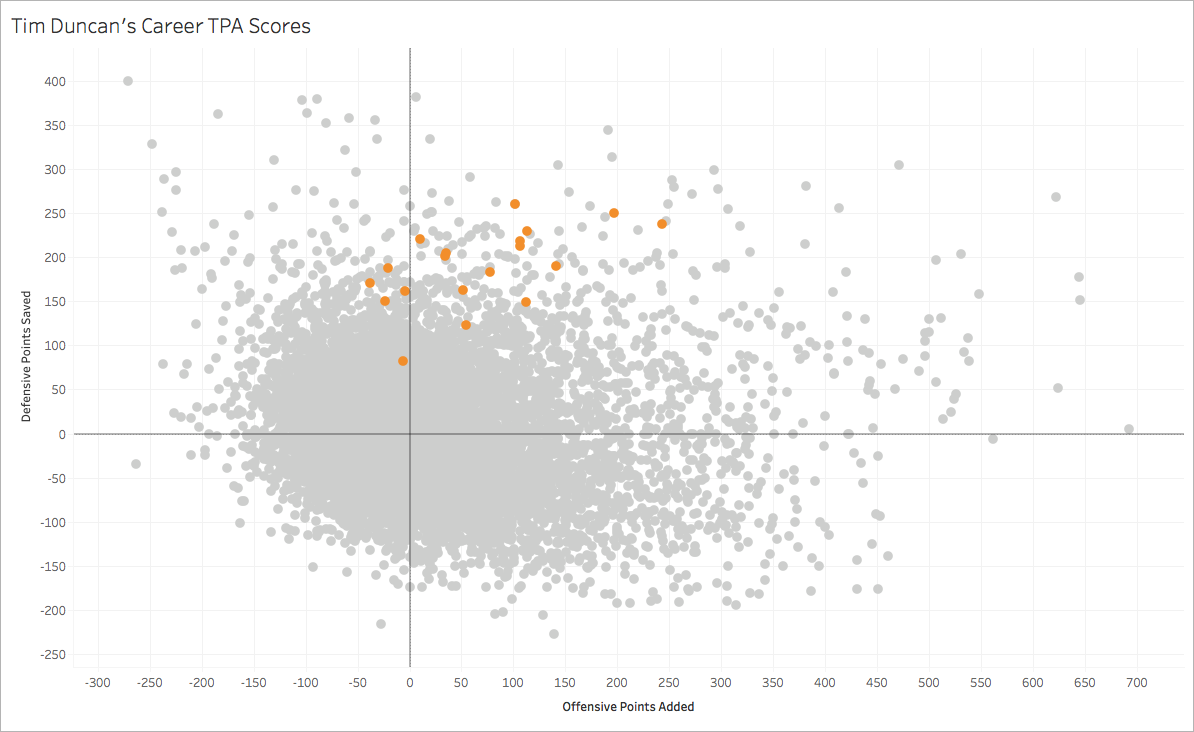 Duncan had four different three-year sets hit four figures in cumulative TPA. A dozen different stretches would've earned a top-20 spot in these rankings.
Any way you look at it, this power forward—and yes, he was a center later in his career—is a legend.
3. Karl Malone, 1996-98: 1298.06 TPA
Indefatigable play defined Karl Malone's NBA tenure, despite his ringless status. It's not his fault he ran into the Michael Jordan buzzsaw time and time again, especially since he formed a pairing alongside John Stockton that propelled the Utah Jazz to Western Conference prominence for so long.
Malone could thrive in a number of different areas, and his career lasted forever—he debuted as a 22-year-old in 1985-86 and didn't retire until the end of his age-40 campaign with the Los Angeles Lakers. But his legacy will always revolve around the pick-and-roll, which he ran to perfection with Stockton. Remembering this now is difficult, given that set's prominence in the present-day NBA, but it was the Jazz duo who helped popularize PnR action. And its success was just as much about Malone's finishing ability as it was the point guard's knack for feeding him the rock in the perfect spot.
This big man benefited from Stockton and head coach Jerry Sloan's system. That much is irrefutable. But on the flip side, it's not like he was anything less than an integral part of Utah's unabashed excellence throughout the 1990s and late-'80s.
2. Kevin Garnett, 2003-05: 1708.18 TPA
Kevin Garnett was incredible during his early years with the Minnesota Timberwolves. He thrived as part of the Boston Celtics' Big Three, even contributing to one of the greatest teams in NBA history when he teamed up with Paul Pierce and Ray Allen for the 2007-08 season. And though he didn't do much with the Brooklyn Nets or after returning to finish his career in Minnesota, he'll still be a first-ballot Hall of Famer.
But he was never better than from 2002-03 through 2004-05, when he won the only MVP award of his career while submitting one of the most statistically remarkable seasons the hardwood has ever witnessed. In 2004-05, "The Big Ticket" averaged a jaw-dropping 22.2 points, 13.5 rebounds, 5.7 assists, 1.5 steals and 1.4 blocks while shooting 50.2 percent from the field and rarely turning the rock over. It wasn't enough to carry the 'Wolves into the postseason, but can you really blame him when his next-best teammates were Wally Szczerbiak, a 35-year-old version of Sam Cassell and a 34-year-old Latrell Sprewell?
Garnett was just a monster, capable of doing everything imaginable on the basketball court and still finding time to prevent post-whistle shots from going through the rim and giving unneeded confidence to the opposition.
1. Charles Barkley, 1988-90: 1793.22 TPA
Charles Barkley may not like analytics, but they sure love him.
Though he was still a dominant force for the Phoenix Suns, the power forward's true prime came with the Philadelphia 76ers. He didn't do much on defense, but his offensive numbers and work on the glass were nothing short of amazing. During the relevant three-year stretch, he averaged 26.4 points, 12.0 rebounds and 3.7 assists while shooting 58.9 percent from the field.
Throughout all of NBA history, only 11 individual seasons have seen someone average at least 20 points with a true shooting percentage north of 65. Amar'e Stoudemire, Stephen Curry and Kevin Durant have each down so once, while Kevin McHale and Adrian Dantley joined the club twice.
Barkley met the qualifications on four separate occasions, which just about says it all.
Honorable Mentions: Josh Smith (628.95 TPA from 2010-12), Bo Outlaw (612.79 TPA from 1998-00), Derrick Coleman (599.19 TPA from 1992-94), Dennis Rodman (584.34 TPA from 1990-92), Danny Manning (562.99 TPA from 1991-93)
If you'd like to run through all these graphics in quick succession or see the players at other positions who surround these top-notch power forwards, you can do so by playing around here:
Adam Fromal is the founder and Editor in Chief of NBA Math. Follow him on Twitter @fromal09. 
Follow NBA Math on Twitter @NBA_Math and on Facebook.
Unless otherwise indicated, all stats are from NBA Math or NBA.com.