The 100 Highest Peaks Reached by NBA Players in the Modern Era

Comparing point guards to point guards and power forwards to power forwards is fun, but that's not how the NBA landscape ultimately works.
Since the start of the modern Association, plenty of legends have lined up on the hardwood. The 1970s and '80s produced myriad Hall of Famers, but their legacies are now under assault by the current crop of standouts. Stephen Curry, Russell Westbrook, LeBron James, James Harden, Rudy Gobert, and countless others are posting jaw-dropping campaigns that push them higher in the historical hierarchy. In fact, 24 of the 100 featured players in these rankings are active for the 2017-18 campaign.
But how do they all stack up? Since the beginning of the 1973-74 season, when the NBA began tracking more stats and allowed for the retroactive calculation of many advanced analytics such as total points added (TPA), the league has never experienced a dearth of quality players.
Plenty of basketball analysts have looked at their careers as a whole. The best single seasons tend to take center stage when the Maurice Podoloff Trophy is greeting a new MVP. But here, we're concerned only with lengthier peaks.
Having a one-off campaign can be special. Maintaining that success for a three-year stretch, however, is far more impressive and meaningful.
Journey with us as we travel through the best three-year stretches from modern-era contributors by adding together their TPA scores in each of the three relevant consecutive campaigns. One stellar season can counteract more lackluster contributions surrounding it, but playing at a high level for the entirety of a three-year period is the best way to vault up the rankings.
100. Robert Parish, C, 1981-83: 658.05 TPA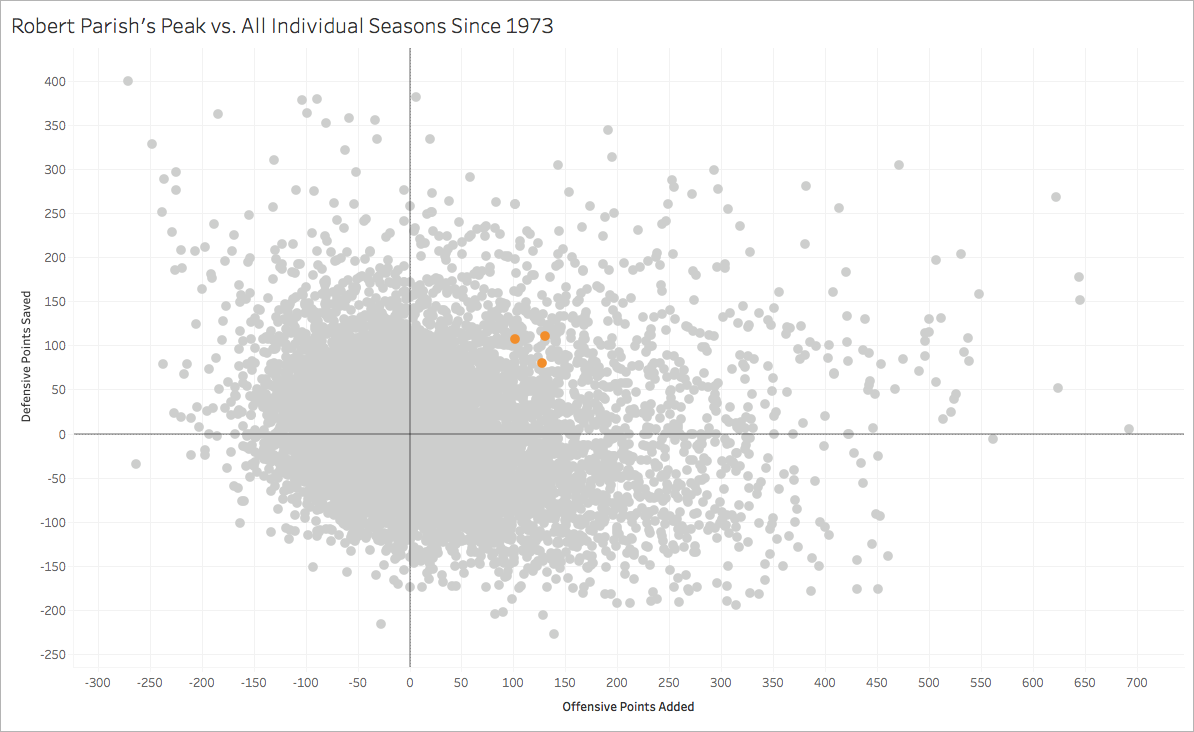 How's that for consistency?
Robert Parish simply was who he was. The big man thrived during his first few years with the Golden State Warriors, but he broke out as part of the Big Three with the Boston Celtics, teaming up with Larry Bird and Kevin McHale to begin a decade of prolonged dominance. His arrival in Beantown marked the start of his three-year peak, during which he averaged 19.4 points and 10.8 rebounds while shooting 54.5 percent from the field.
The Centenary College product rarely took shots he couldn't make. He loved hunkering down on defense. And, perhaps most importantly, he had enough self-awareness to maximize his two-way talents without overextending himself and taking too many touches away from the Celtics' other stars.
99. Paul George, SF, 2012-14: 665.6 TPA

Even though Paul George is a great fit next to Russell Westbrook, he probably won't top this peak while he wears an Oklahoma City Thunder uniform. He's only 27 years old and has many excellent seasons left, but his brutal leg fracture cut his prime a bit short and made it harder for him to produce three consecutive All-NBA seasons.
To put that in perspective: George would need 259.89 TPA in 2017-18 to match his three-year peak from 2011-12 through 2013-14. In other words, he'd need to replicate his efforts from either of the latter two campaigns in that true peak (262.5 TPA in both), which will be rather difficult as he adjusts to his new environs and cedes touches to a dynamic point guard.
It is doable, largely because his 2011-12 efforts were cut short by the NBA lockout. But it's safer to bet against him doing so, if only because few superstars post career-best seasons during Year 1 in a new location when sharing the rock with the most ball-dominant teammate of their careers.
98. Brad Daugherty, C, 1991-93: 666.36 TPA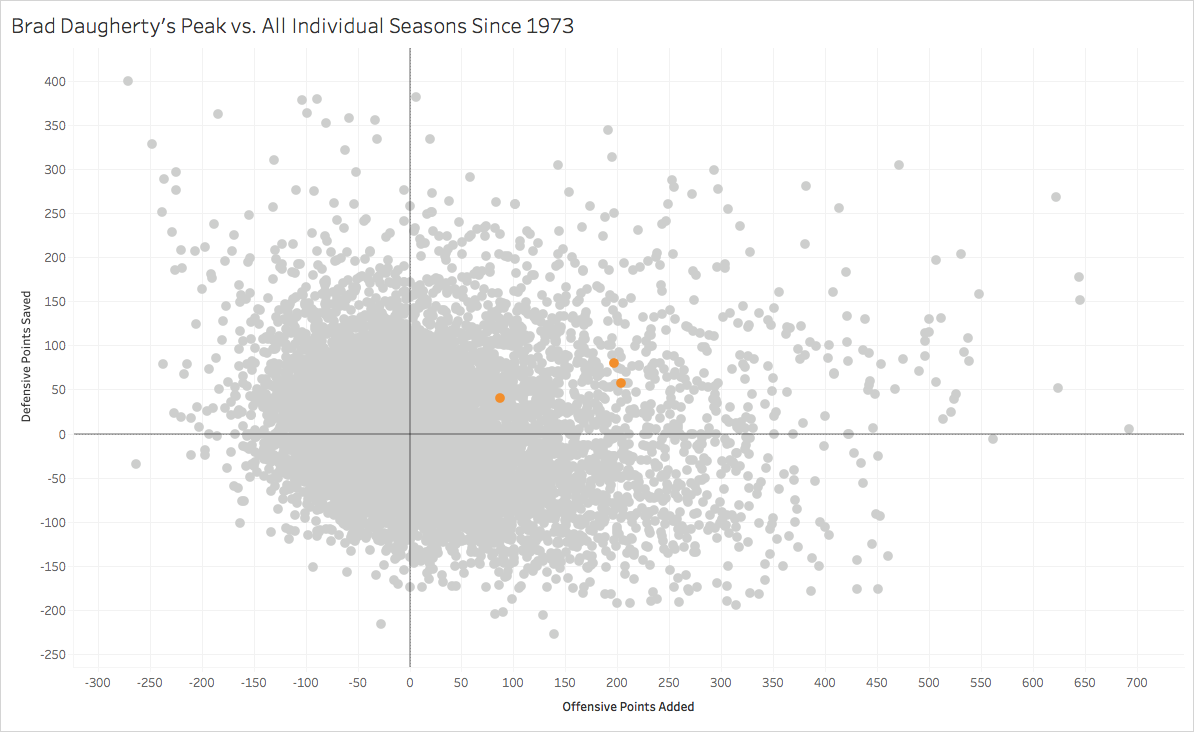 If Brad Daugherty had stayed healthy, there's no telling how much higher his peak could've risen.
Recurring back troubles ended his career prematurely, forcing him into retirement just one season after he finished accumulating this three-year score. He played only 50 games for the Cleveland Cavaliers during the 1993-94 campaign, and that was it.
The big man's offensive production declined drastically while he was staving off constant injury issues, but the drop-off doesn't seem like an organic one. 1993-94 was his age-28 season, after all, and that's far too soon for a center this skilled to suddenly stop playing at such a high level.
97. Marc Gasol, C, 2013-15: 668.3 TPA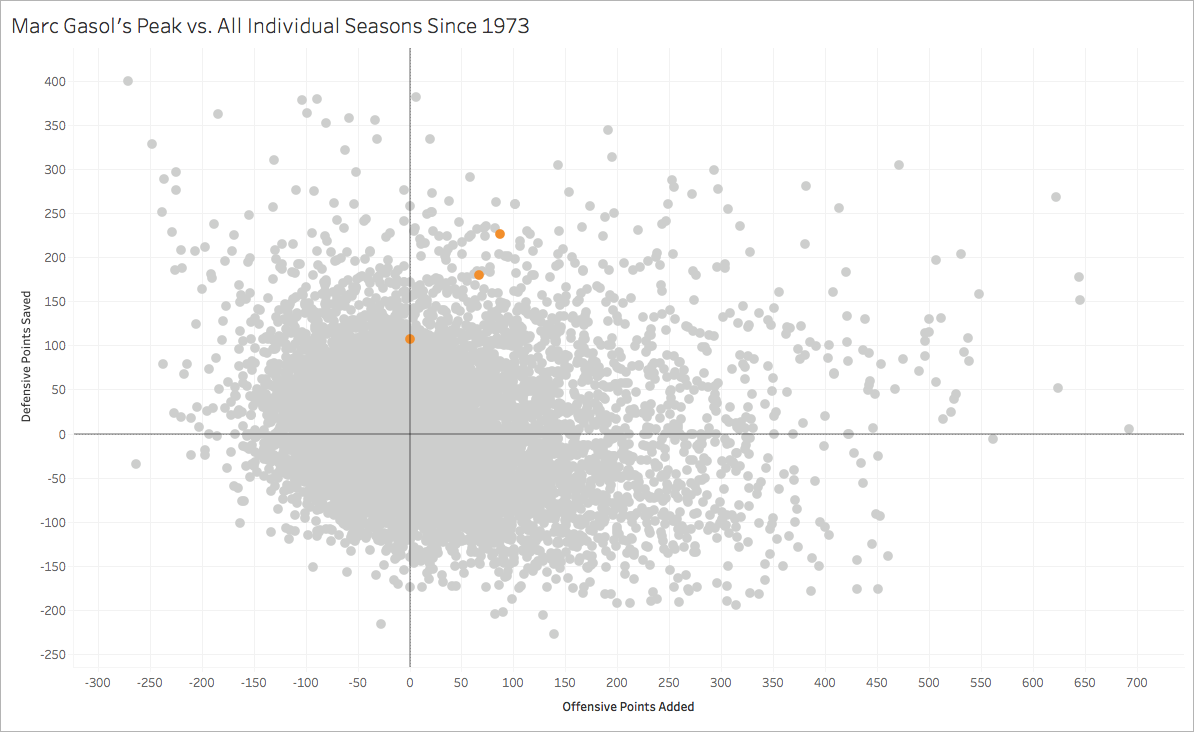 It's an enduring shame Marc Gasol was only able to play in 59 games during the 2013-14 season (the dot on the y-axis). Had he suited up in 80 contests while maintaining his same level of effectiveness, his three-year peak would've risen to 706.38 and bumped him to No. 83 in this countdown.
But even without that boost, Gasol should stand out.
His fundamental excellence has been the driving force behind the Memphis Grizzlies' sustained success in recent years. He's capable of dishing the ball to teammates in fancy fashion, torturing opponents with mid-range jumpers (and some newfound three-point range) and playing defense as well as nearly any center. Gasol might not have extreme hops, but he understands positional nuance so well that he's often in the right spot a split second before anyone else even realizes the zone to which they should be heading.
96. Marcus Camby, C, 2006-08: 672.62 TPA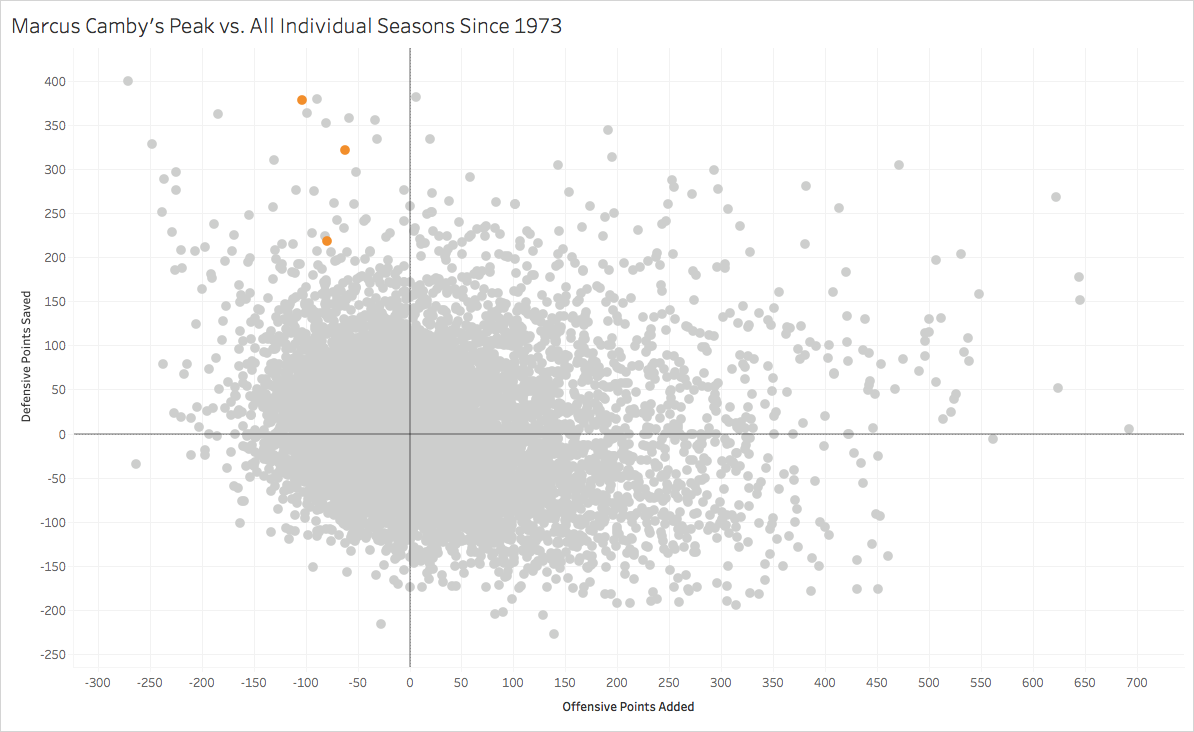 Unless you're looking at block totals or some advanced metrics, little about Marcus Camby's stat sheet truly pops out, as Colin McGowan eloquently explained for Sports on Earth in 2013:
When you look at Camby's Basketball Reference page, it yawns: just one long, unbroken line of double-double-ish numbers that illuminate what might be one of the least context-dependent players of his generation. He was what he was, wherever he went. And because he never stuck in one place for too long, all our memories of Camby are truncated in one way or another. Chances are you think of him as a hodge-podge of jerseys and performances, and perhaps a name that pops up on a lot of rap tracks because it sounds cool and more or less rhymes with a lot of things.
But Camby was a defensive menace, a player who should still out as one of the greatest stoppers of all time. It wasn't just his work as a rejection artist that makes him deserving of such praise, but his willingness to do all the little things that don't necessarily show up in a box score. That was especially true early in his career, when his springiness made him one of the most opposing foes on any team's calendar.
95. Vlade Divac, C, 1995-97: 674.56 TPA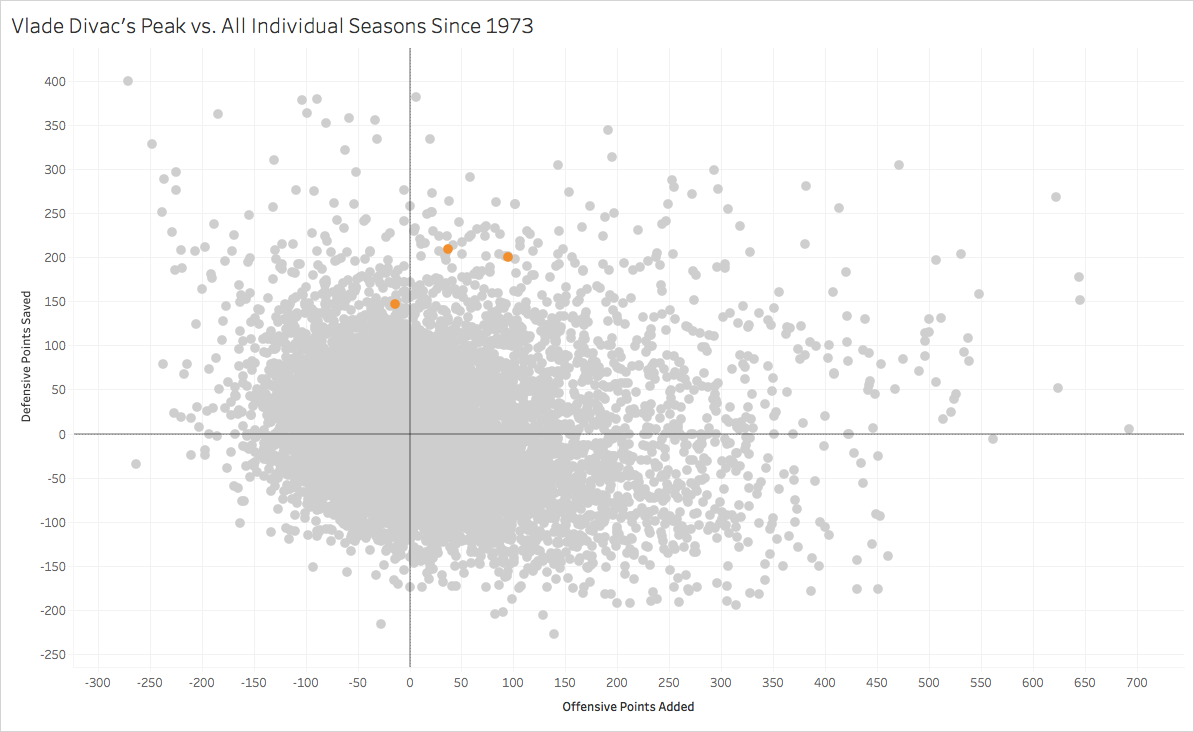 Vlade Divac's offensive scores might be lower than expected, but that's largely because he negated so much of his facilitating excellence with inexplicable shot selection. This was before mid-range jumpers became anathema to the NBA, so it was a bit troublesome that the big man relied so heavily on those two-point jumpers and was never quite able to add a three-point stroke to his arsenal.
Fortunately, he made up for those decisions with his work on the boards and the defensive end.
A 7'1″ center, Divac was an imposing force. He never thrived as a pure rim-protector, but he took charges, specialized in pulling the chair out from under post-up attempts and had the mobility necessary to guard pick-and-roll action with aplomb. Those peak scores aren't truly elite on the point-preventing end, but they're not far from that status.
94. Jack Sikma, C, 1982-84: 679.18 TPA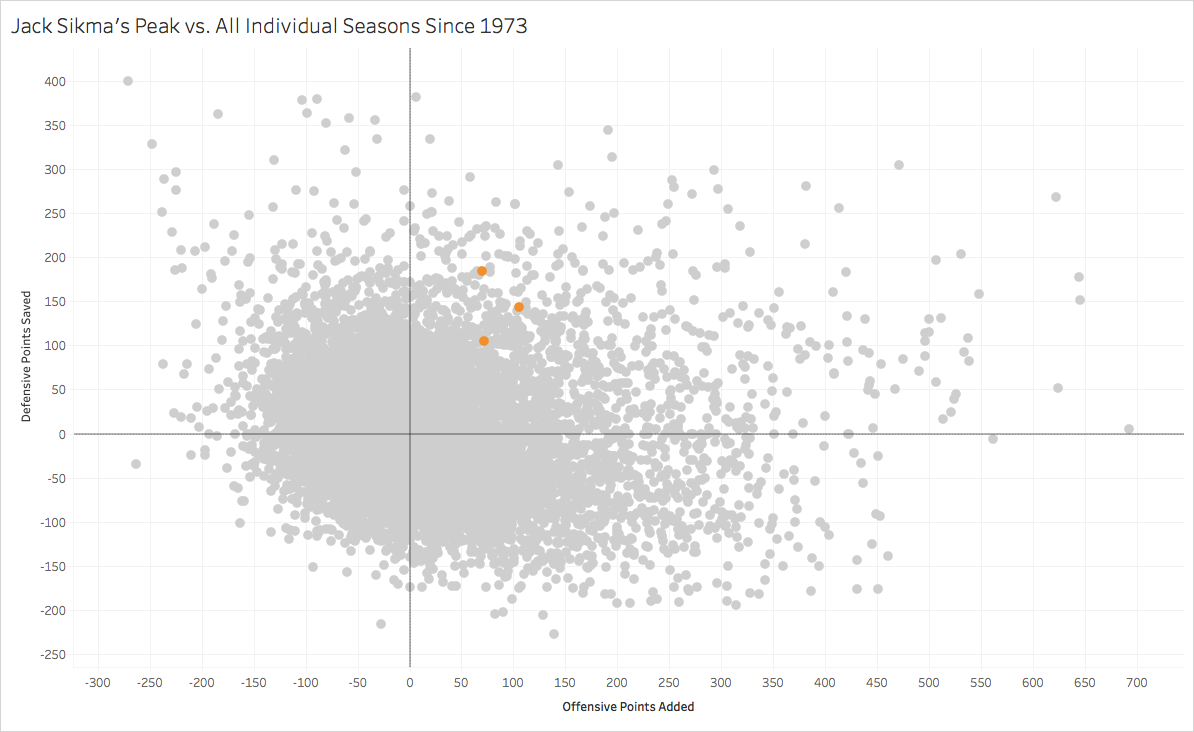 Skill was the name of the game for Jack Sikma, who remains one of the best players in NBA history without a Hall of Fame induction. It wasn't until later in his career that he developed a three-point shot, but he still thrived in so many different facets for the Seattle SuperSonics, whether he was striping in shots from the free-throw line, spacing out the floor with a potent mid-range jumper or dropping dimes with aplomb.
During his three-year peak, the 6'11" center averaged 19.0 points, 11.7 rebounds, 3.5 assists, 1.2 steals and 1.1 blocks. He may not have stood out in any one area, even after adding his 48.1 percent shooting from the field and 84.9 percent clip at the charity stripe into the equation, but the well-rounded nature of his game allowed him to become a two-way contributor and a mainstay on the Western Conference All-Star squad.
93. Reggie Miller, SG, 1996-98: 680.06 TPA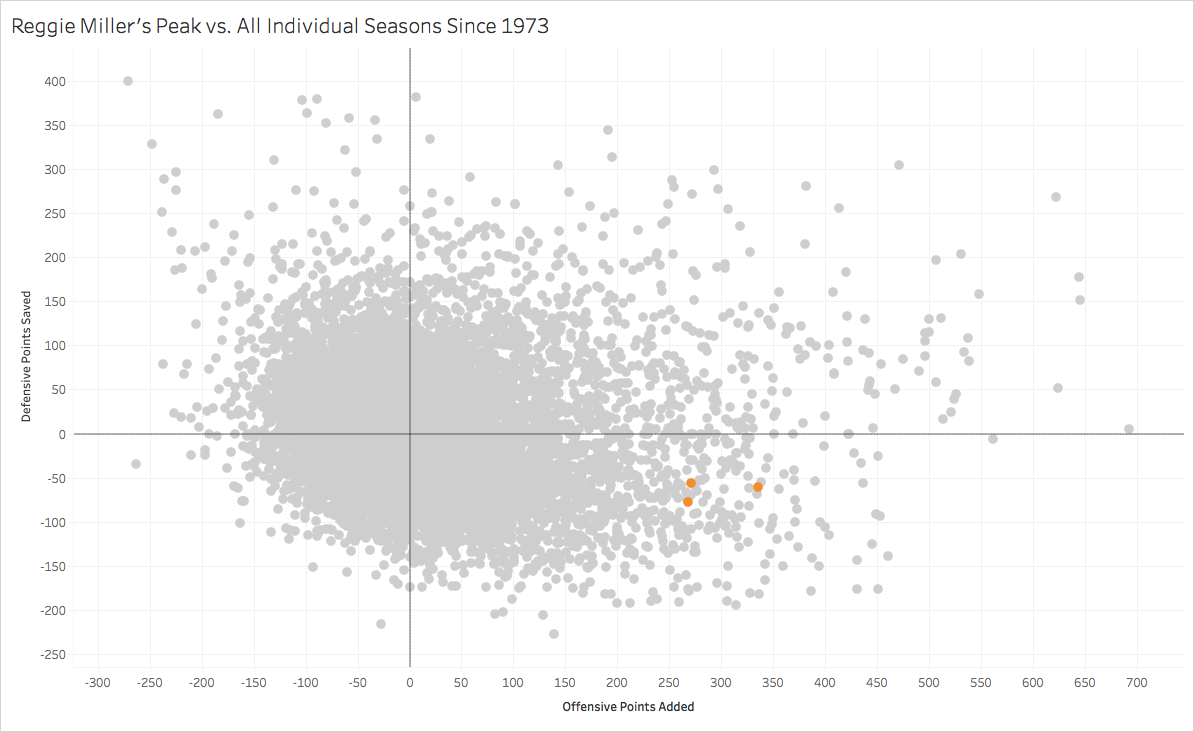 One of the greatest shooters in NBA history, Reggie Miller never had a true peak.
He has a score here, but that's only out of necessity. In reality, the three-year stretch from 1995-96 through 1997-98 just barely outpaced what he did at nearly any other stage of his career. Just take a peek at his entire tenure with the Indiana Pacers, and note how difficult it is to pinpoint the three proper dots: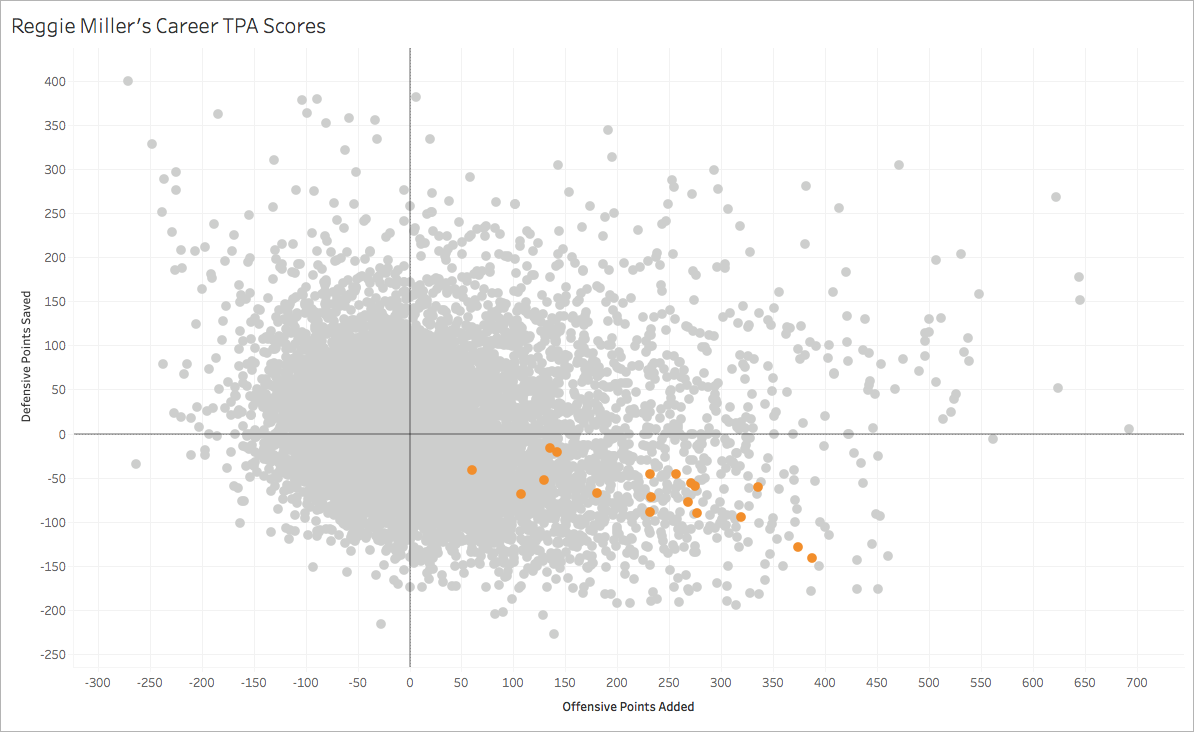 What made those three take the cake?
Not only did Miller stay remarkably healthy, missing just seven games during the three-year stretch, but he was also as involved as ever. He shot 42.2 percent from downtown while taking an ahead-of-his-time 5.6 attempts per game, and he still found the opportunities to average 3.1 rebounds and 2.9 assists without serving as an always-featured ball-handler.
92. Rudy Gobert, C, 2015-17: 680.19 TPA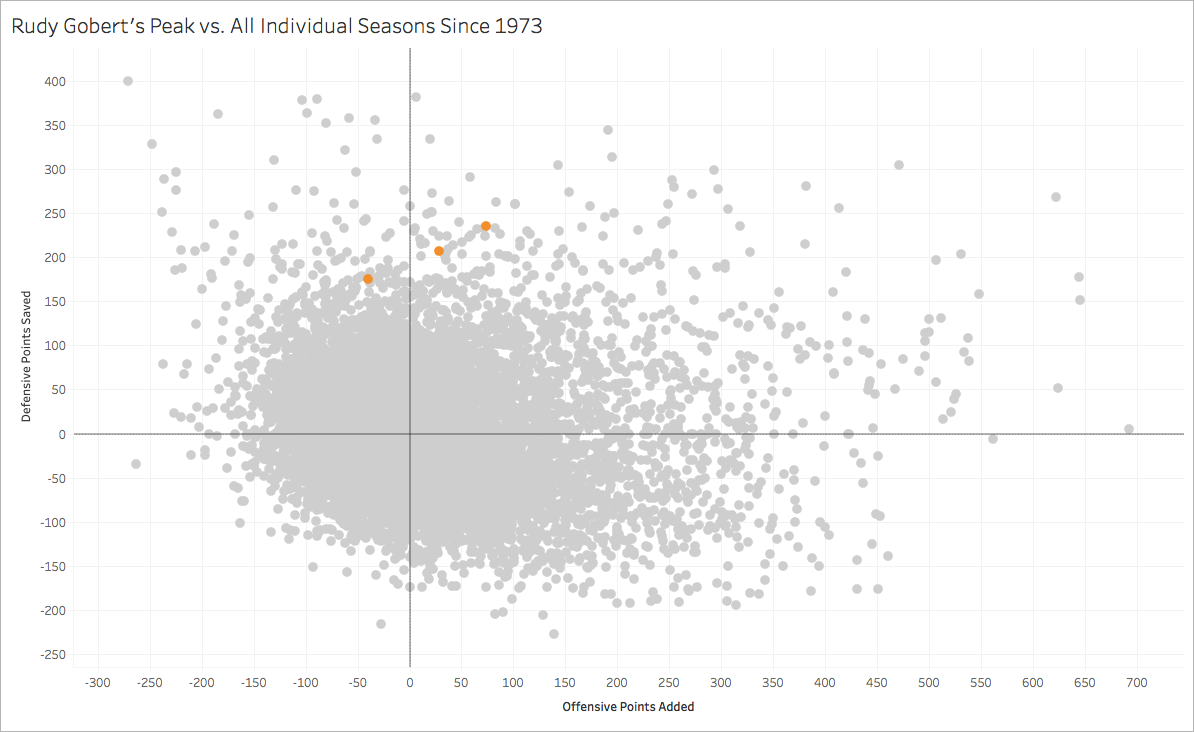 Only recently has Rudy Gobert become an offensive force. He displayed improved touch throughout his 2016-17 campaign for the Utah Jazz, showing off patience after receiving feeds around the rim and then deftly dropping in close-range attempts. The French center may not boast much range and rarely even thinks about taking shots from outside the painted area, but he's such a devastatingly effective roll man that he's now posted positive offensive scores in two of his past three go-rounds.
Of course, defense remains his forte.
With Pterodactyl arms and tremendous instincts, "The Stifle Tower" routinely shuts down all traffic in the restricted area. Driving foes are forced to respect his mere presence, to the point that they defer to their teammates and refuse to force up shots in his immediate vicinity. That's not changing anytime soon, and merely replicating his 2016-17 efforts for two more years while serving as Utah's unquestioned leader in the wake of Gordon Hayward's departure would push him to No. 39 in this countdown.
Yes, he was that good last year.
91. Dan Majerle, SG, 1991-93: 685.88 TPA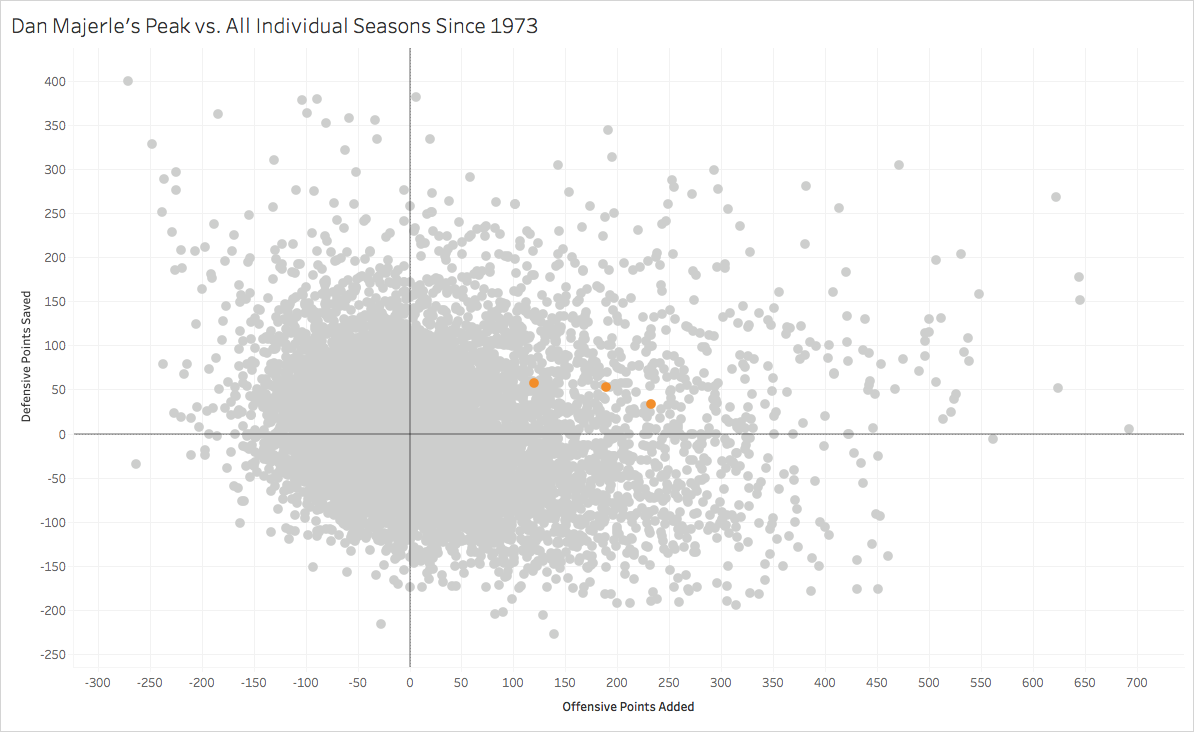 Dan Majerle's role belied what we've come to expect from modern-day shooting guards. He only topped a 20 usage rate once during his 14-season career (20.3 percent in 1992-93 with the Phoenix Suns), and he instead focused on making the most of his touches.
Even during his peak years with the Phoenix Suns, Majerle wasn't a high-scoring guard. He topped out at 17.3 points per game.
But that didn't stop him from producing like a true star, nor did it keep him from dazzling crowds with his thunderous dunks and twine-tearing shots from beyond the arc. A fan favorite who overcame draft-night boos when the Suns selected him at No. 14 out of Central Michigan, Majerle knew how to contribute across the board and consistently leveraged his athleticism into above-average defensive play.
90. Blake Griffin, PF, 2013-15: 690.38 TPA

Injuries, injuries, injuries.
Blake Griffin has missed so many games over the past two years that his three-season peak still includes a 67-contest campaign in 2014-15. He just hasn't been able to stay on the floor for the Los Angeles Clippers, which is an enduring shame when he's been capable of making such monumental impacts when he does play. Few power forwards have ever been this adept at facilitating for their teammates, and Griffin has earned so much trust from head coach Doc Rivers that he's even been allowed to run the point for brief spurts.
Early in his career, mid-range shooting and post-up moves served as the primary areas of weakness for this uber-athletic power forward. But he's developed into so much more than a powerful dunker, even if his moves from the blocks are rather unorthodox and not too visually appealing.
89. Kevin Love, PF, 2014-16: 691.3 TPA

Kevin Love's first two seasons with the Cleveland Cavaliers factor into his peak, but they weren't inordinately special. Though he proved himself a tremendous fit alongside LeBron James and Kyrie Irving by spacing the floor with aplomb and throwing the occasional touchdown pass after corralling a rebound, his limited role prevented him from posting the monstrous numbers we'd come to expect from his time with the Minnesota Timberwolves.
Of course, his final season in the Land of 10,000 Lakes didn't fall into that more limited category.
Back in 2013-14, just before he was traded for a package that centered around Andrew Wiggins, Love averaged 26.1 points, 12.5 rebounds and 4.4 assists. Though he still wasn't an impact defender, he was an unstoppable force on the glass who could throw up a double-double with one arm tied behind his back. Frankly, that may not even be hyperbolic. Take it literally, if you so desire.
88. Andre Iguodala, SF, 2007-09: 692.49 TPA

Andre Iguodala wasn't always a role player for the Golden State Warriors. He's been tremendous while filling that niche as the leader of the second unit and a vital ingredient in the small-ball death lineups, but he was once a bona fide star for the Philadelphia 76ers.
During the relevant three-year stretch, the small forward averaged 18.6 points, 5.9 rebounds and 5.3 assists while shooting 45.7 percent from the field, 31.6 percent from downtown and 72.5 percent from the stripe. His shooting stroke was his game's only weak spot, and he counteracted it by throwing down devastating Iguodunkas in transition, locking up perimeter opponents on the defensive end and making everyone around him better.
Of course, it also helped that he played so damn much.
From 2007-08 through 2009-10, Iguodala never missed a game and averaged 39.4 minutes per contest—only Joe Johnson topped his per-outing playing time, and the Atlanta Hawks 2-guard suited up nine fewer times.
87. Dominique Wilkins, SF, 1986-88: 695.61 TPA

Did Dominique Wilkins provide much defense for the Atlanta Hawks? Not really.
But the man was nicknamed "The Human Highlight Film" for a reason. When he wasn't peppering the opposition with mid-range jumpers and isolation finishes around the hoop, he was throwing down ridiculous dunks that showcased the full extent of his eye-popping athleticism.
Wilkins was a remarkably consistent offensive force throughout the late-1980s and early-'90s. But he earns this peak because he paired that point production with adequate work as a stopper before Father Time started to sap some of his stamina and forced him into becoming even more of a one-way commodity.
86. Gus Williams, PG, 1979-82: 699.1 TPA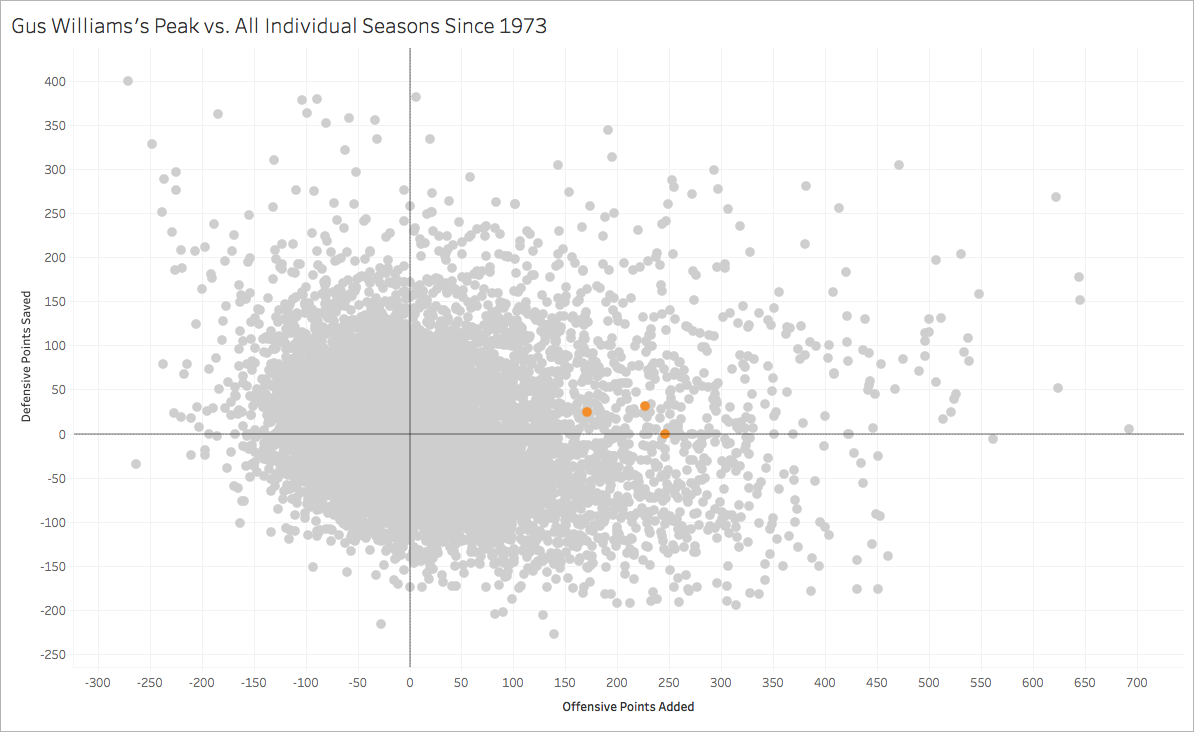 Wait, 1979-82? Isn't that a four-season span?
It is for most players, but not Gus Williams. He engaged in a contract holdout with the Seattle SuperSonics that kept him out of action for an entire year, so his three-year peak technically spans four years—but only three seasons, which is more important for our purposes. Plus, he was still pretty darn good for all of them, thanks to his explosive athleticism and superiority in transition.
Flash defined Williams' game, whether he was hitting his targets with behind-the-back feeds or contorting his body to finish acrobatically around the basket. "The Wizard" was an accurate moniker for him, even if he played for Washington—after this peak, of course—when its nicknamed remained the Bullets.
85. Sam Lacey, C, 1974-76: 702.87 TPA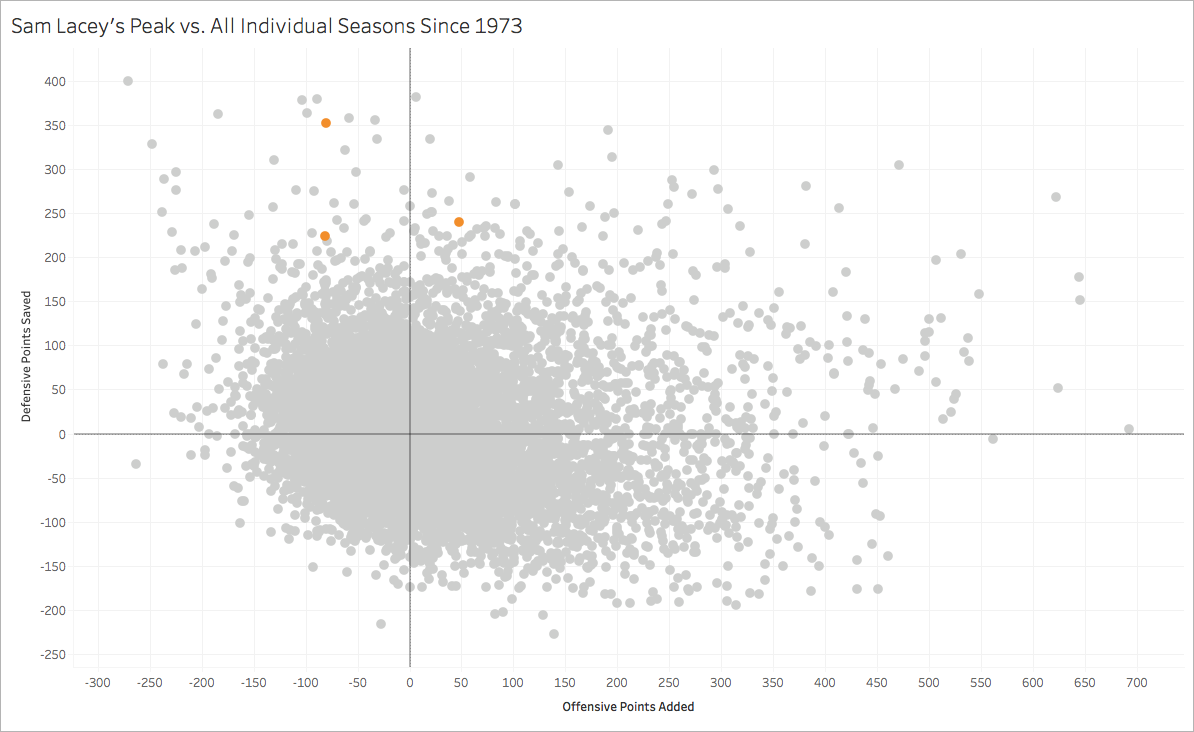 Even though Sam Lacey's career began before the advent of the TPA era, he's not disadvantaged by our restrictive years. His breakout season came in the 1973-74 season for the Kansas City-Omaha Kings, as he averaged a sterling 14.2 points, 13.4 rebounds, 3.8 assists, 1.6 steals and 2.3 blocks. But even then, while he averaged a career high as a scorer, he was more impactful for his shot-swatting skills and rebounding dominance.
Lacey never displayed too much touch on the offensive end, though his surprising passing chops allowed him to retain some value. It was on the stopping end where he made his mark by shutting down the interior and then ensuring no one received any easy second-chance opportunities.
The Mississippi native wasn't a glamorous player. But he didn't need to be in order to boost his squad's chances at victory.
84. George Gervin, SG, 1977-79: 705.03 TPA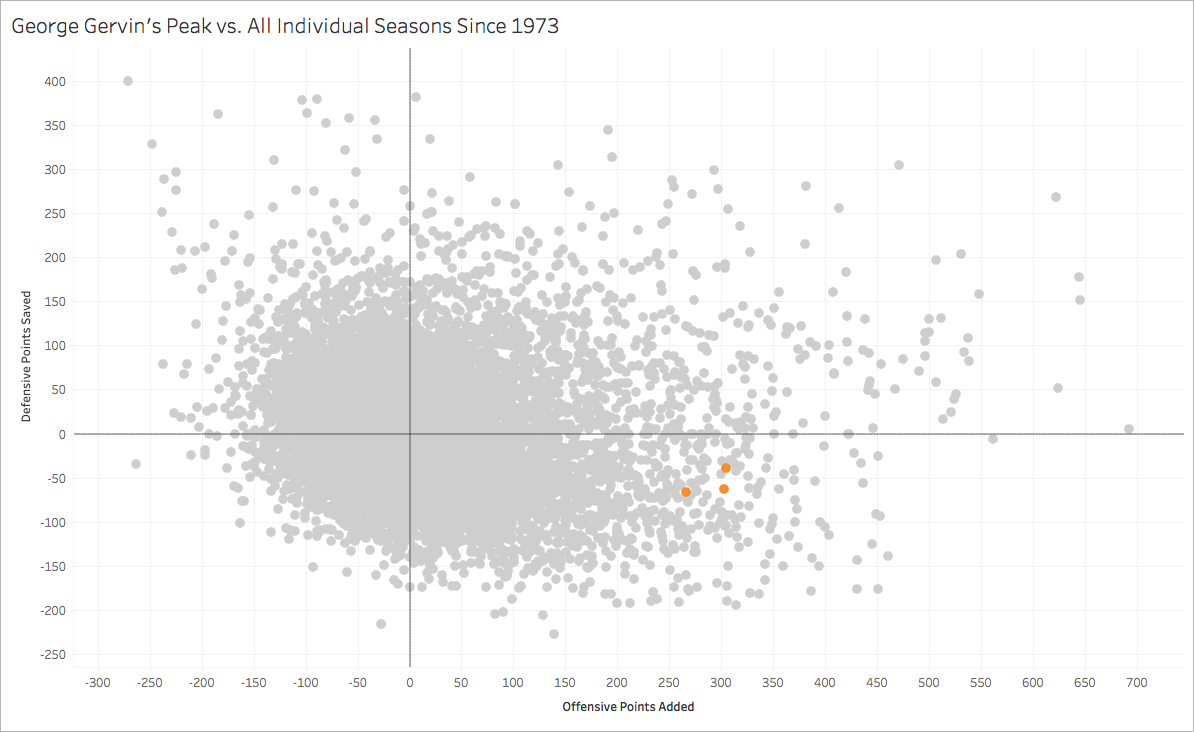 It's all about the finger-rolls.
Keeping George Gervin away from the basket was a foolhardy endeavor during the late-'70s. The San Antonio Spurs legend had a near-perfect understanding of angles, used a quick first step and his lanky strides to get by defenders and possessed remarkable touch around the hoop. As a result, he became one of the deadliest scorers the NBA has seen.
Was he a lackluster defender? Yep. Did he contribute much in other areas? Not really.
But during this three-year stretch, he won two of his four career scoring titles while shooting 54 percent from the field and 83 percent from the charity stripe. And if his defense hadn't fallen off a cliff while he three-peated as the scoring champion in 1979-80, his peak score could've been even more impressive.
83. Shawn Kemp, PF, 1994-96: 705.49 TPA

Though thunderous jams and high-flying exploits became synonymous with Shawn Kemp's name during his time with the Seattle SuperSonics, he was actually better on defense than the scoring end. And the 1993-94 season was particularly special.
During that go-round, Kemp made his second All-Star squad while averaging a whopping 18.1 points, 10.8 rebounds, 2.6 assists, 1.8 steals and 2.1 blocks. It wasn't the magnitude of any one statistical contribution that stood out, so much as the well-rounded product that saw him impact the proceedings via a plethora of avenues. Whether he was helping space the floor with mid-range jumpers, blocking shots by the boatload or deterring players from throwing entry passes by poking away at the rock, he was just making Seattle that much better.
And it didn't hurt that he won over so many fans in the process, all thanks to his ultra-entertaining style of play.
82. Eddie Jones, SG, 2000-02: 710.46 TPA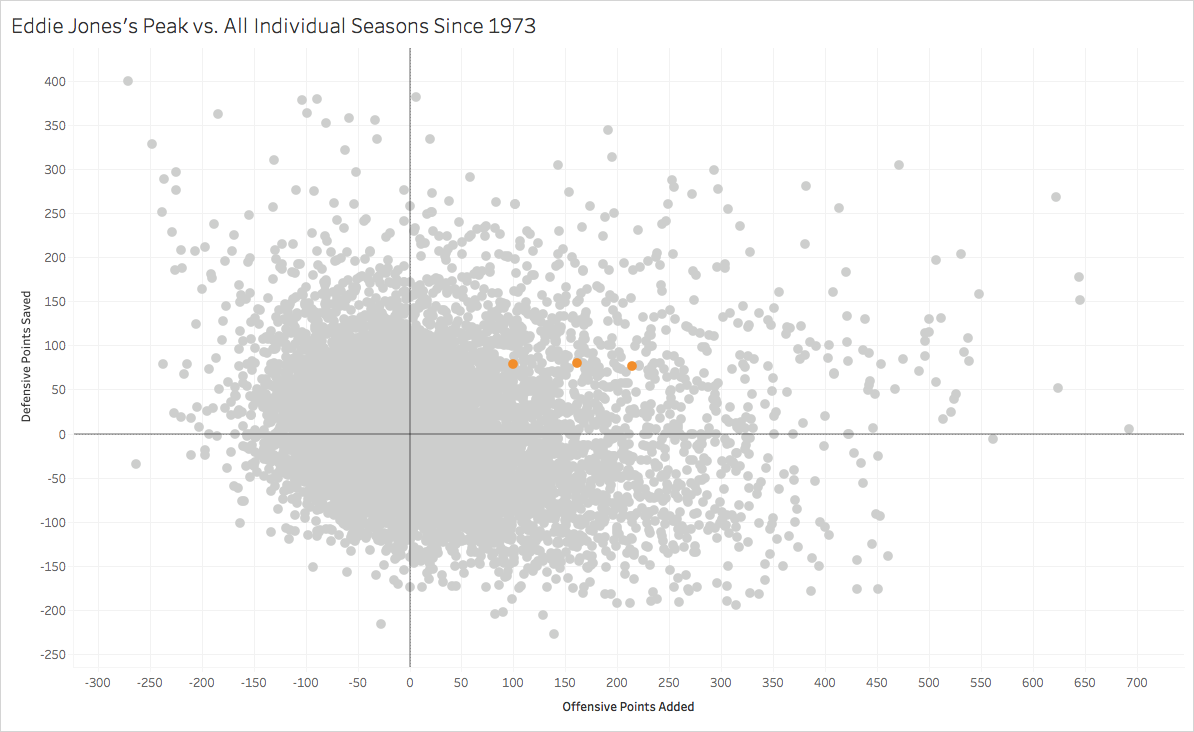 The Los Angeles Lakers can't regret trading away Eddie Jones, because doing so allowed them to open up more minutes for a young Kobe Bryant. But they still can't be too pleased that he submitted such a fantastic three-year peak just after he departed Hollywood.
Jones was dealt to the Charlotte Hornets midway through the 1998-99 campaign, and he'd begin the best part of his career shortly thereafter. An All-Star during his only full season wearing teal, he continued to thrive as a two-way ace even after Charlotte subsequently shipped him to the Miami Heat (along with Ricky Davis, Dale Ellis and Anthony Mason) for P.J. Brown, Rodney Buford, Tim James, Jamal Mashburn and Otis Thorpe.
It's a lot of movement, but Jones' game stayed fairly consistent. The worst season in the graphic above was only recorded because injuries held him to just 63 appearances.
81. Damian Lillard, PG, 2015-17: 723.83 TPA

Despite his defensive woes, Damian Lillard has used his three-point shooting to become one of the most potent scoring threats the position has seen. Were it not for Stephen Curry's exploits from beyond the arc, he'd be setting records and turning heads with his remarkable pull-up proficiency. Instead, his ability to fire away deep threes off the bounce often gets overlooked.
Lillard probably won't improve upon this score. His defense during the 2014-15 campaign was strong enough that it remains the best season of his young career, and more high-scoring exploits in 2017-18 wouldn't be enough to shift his three-season peak—unless he improves on the preventing end, of course.
But don't hold that against him.
This Rip City standout has still put himself on a Hall of Fame trajectory, and he's not going to experience a decline anytime soon. Even if he defers more touches to C.J. McCollum, he'll be able to tap into the leftover energy in other areas, thereby keeping Portland as competitive as its been throughout the last few years.
80. Paul Pressey, SG, 1985-87: 723.9 TPA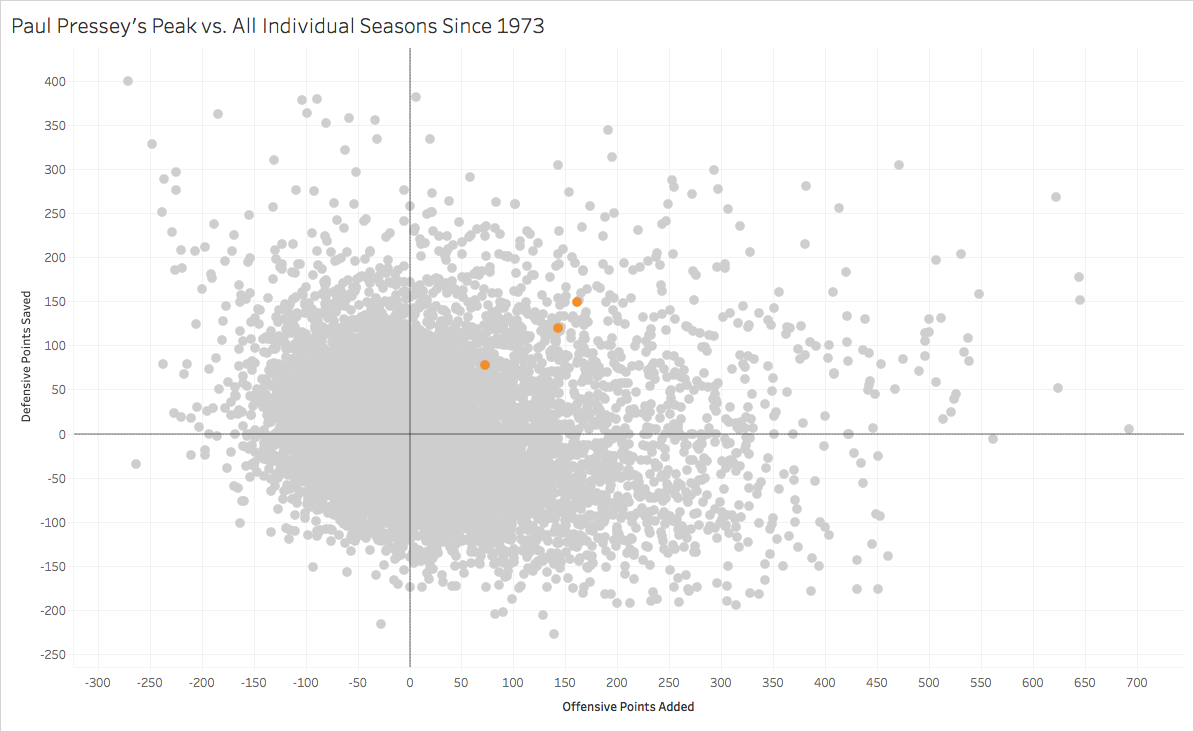 Paul Pressey was never a traditional shooting guard.
He didn't score many points—his career high came in 1984-85 (16.1)—and he had immense trouble shooting the ball from well outside the paint. He never spaced the court for the Milwaukee Bucks, San Antonio Spurs or Golden State Warriors.
And yet, he still provided serious offensive value while doing plenty of damage on the defensive end. It goes without saying that Pressey was a devastating defender; he didn't submit a negative score on the preventing side until the final season of his career. But his offensive production may be surprising, if only because he was such an unorthodox player.
How many 6'5″ swingmen have averaged 6.8 assists for their career? During this three-year peak, that number even rose to an even seven.
79. Chauncey Billups, PG, 2006-08: 735.71 TPA

Chauncey Billups helped the Detroit Pistons win a title in 2004, but it wasn't until he'd played another two seasons that he would truly hit his stride. He began his run of five consecutive All-Star appearances by averaging 18.5 points, 3.1 rebounds and 8.6 assists in 2005-06, and that was also the start of his true peak.
No campaign was better, though, than his work in 2007-08. He wasn't quite as potent on the offensive end, though he managed to offset a declining three-point percentage with even more impressive finishing ability around the hoop. But he was more locked in than ever on defense, constantly pestering opposing ball-handlers and doing his best to contest every opportunity.
"Mr. Big Shot" was always more of an offensive stud than a two-way contributor, but he could hold his own as a one-on-one perimeter defender in the right situations. Never was that more true than during the end of this three-year peak, and his efforts helped lead the Pistons to a 59-23 record and an eventual clash with the star-studded Boston Celtics, coached by the No. 77 player in this countdown, in the Eastern Conference Finals.
78. Ray Allen, SG, 2001-03: 739.57 TPA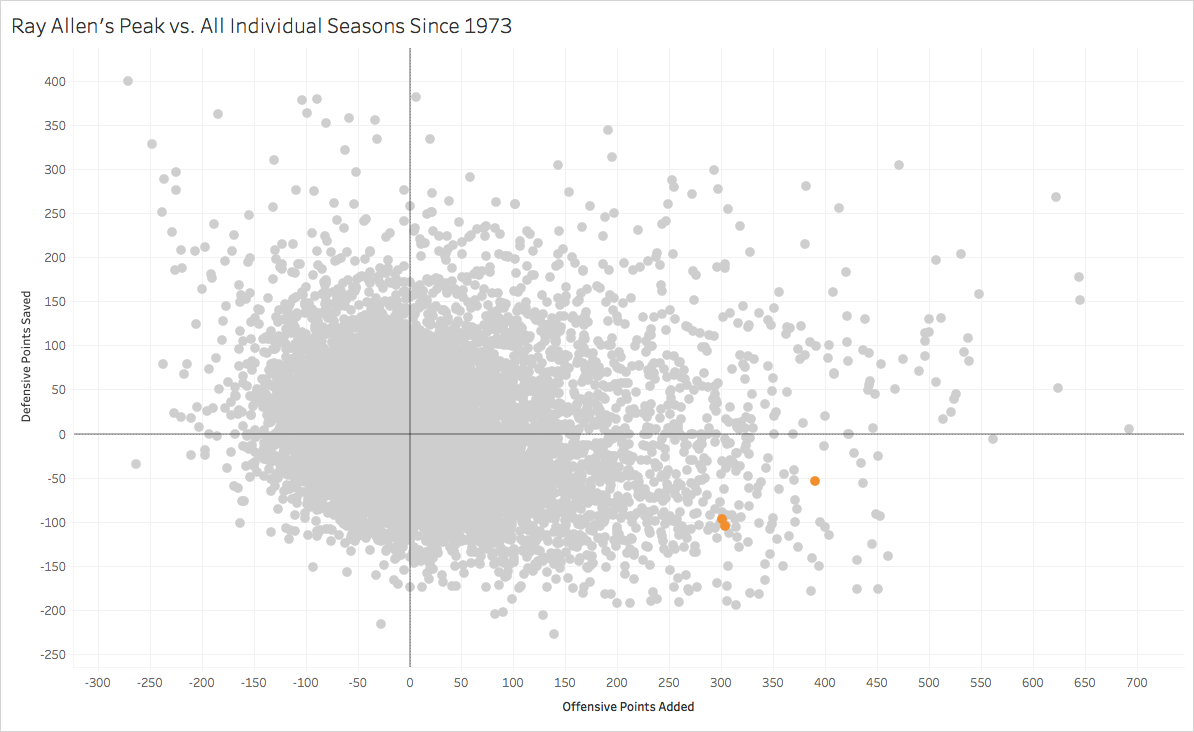 Just as was the case with Reggie Miller, we're doing Ray Allen a disservice by looking only at the best three-year run of his Hall of Fame career.
You don't become the all-time leader in made triples by having a short spurt of excellence surrounded by many years of mediocrity. Allen was a dominant presence throughout his career, from the time he entered the league as an uber-athletic 2 with the Milwaukee Bucks to his role-playing days for the Miami Heat: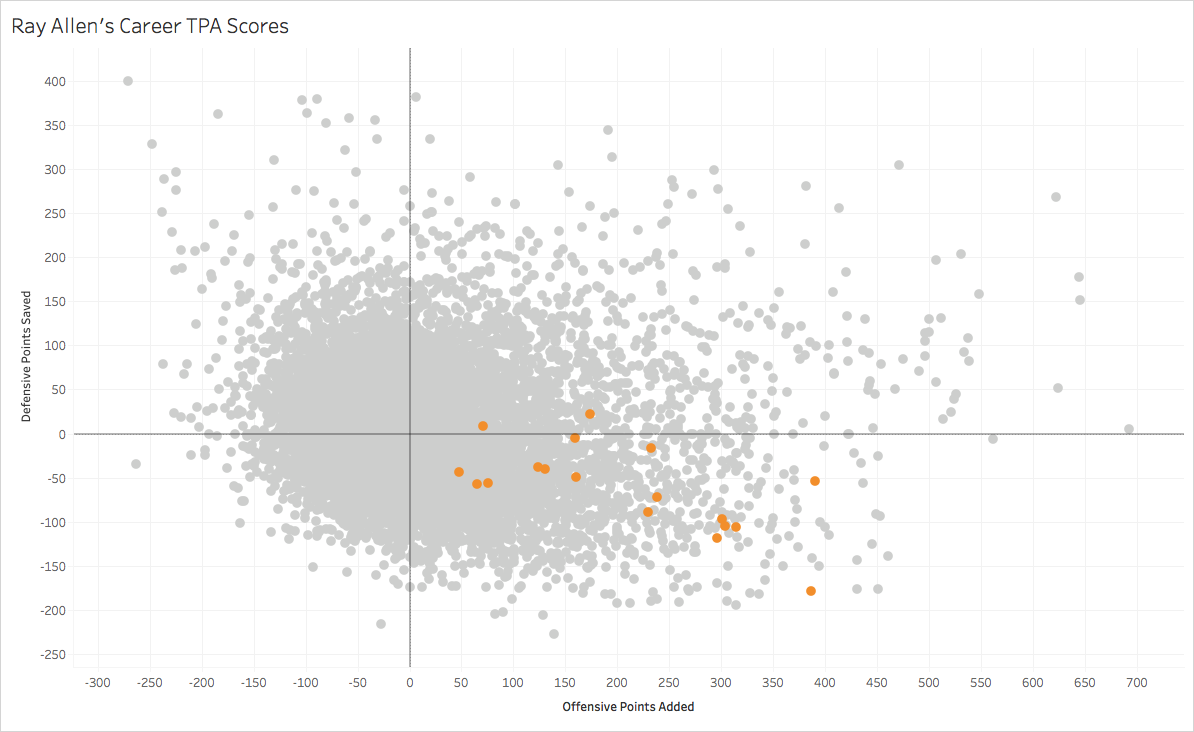 A lack of impact on the defensive glass prevents Allen from looking like a defensive stalwart, so it's worth noting he was a bit better on the preventing end than these sub-par scores might indicate.
The offensive production, however, remains overwhelming.
77. Doc Rivers, PG, 1987-89: 745.58 TPA

How's that for consistency?
The rest of Doc Rivers' playing career never quite measured up to those three seasons, but he was a two-way terror for the Atlanta Hawks throughout his prime. He wasn't the league's best offensive point guard, and the same was true on the defensive end. Instead, he just managed to fill any role Atlanta needed on a nightly basis.
It's an enduring shame that the current head coach of the Los Angeles Clippers was only awarded a single All-Star berth, earned during the 1987-88 campaign as he upped his scoring average and led the Hawks to a 50-win season. He just didn't produce enough points to gain league-wide appreciation, though the advent of advanced metrics have now made it easier to retroactively appreciate what he brought to the table.
When you're constantly challenging for double-doubles without racking up turnovers, playing tenacious perimeter defense, contributing on the glass and scoring efficiently around the hoop, your value may well exceed the reputation produced by your per-game scoring average.
76. Paul Pierce, SF, 2001-03: 750.64 TPA

Let's not forget how ridiculously good Paul Pierce was during the earliest stages of his NBA career.
Only a few years removed from thriving at the University of Kansas, this small forward took the league by storm. He averaged over 25 points during each season of this three-year peak, thrived as a secondary facilitator for the Boston Celtics and still found time to hold his own defensively. He could do everything, and it didn't hurt that he caught fire from downtown for two straight seasons before regressing significantly in 2002-03.
If images of Pierce in a Brooklyn Nets, Washington Wizards or Los Angeles Clippers uniform are dancing through your head, do yourself a favor. Spend a few hours on YouTube—after you finish reading this, of course—and watch how dominant he used to be.
75. Alvan Adams, C, 1976-78: 759.8 TPA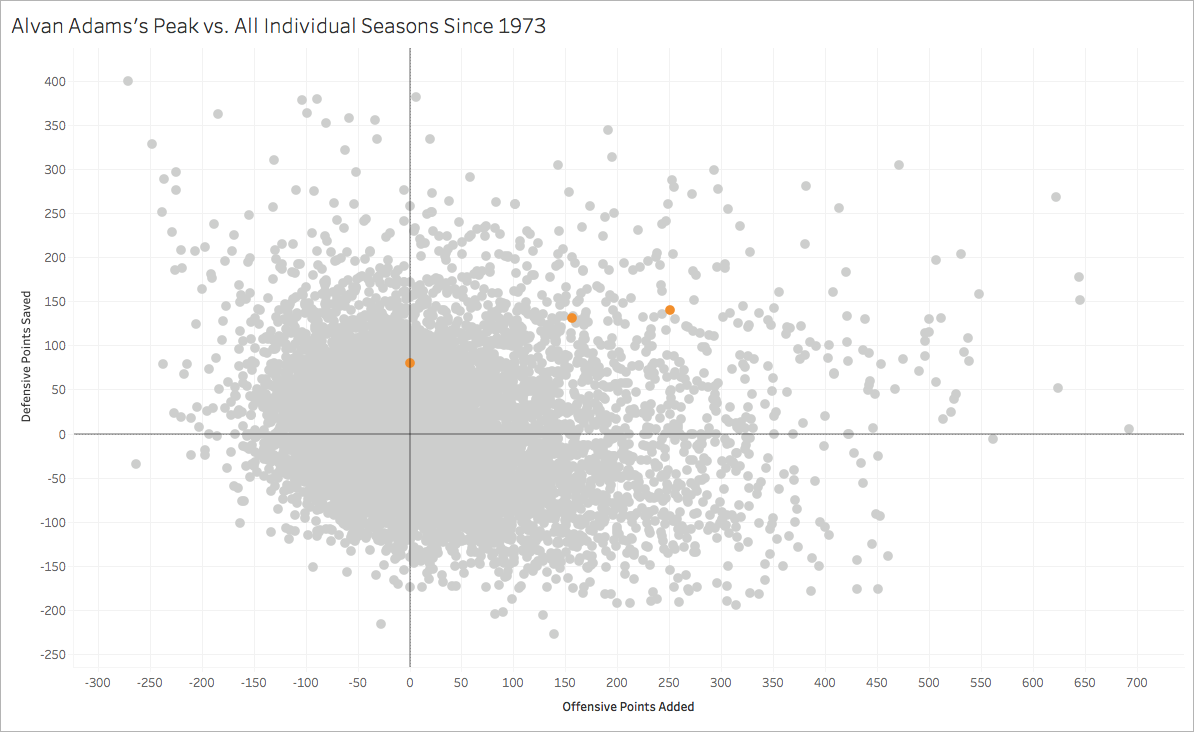 It didn't take long for Alvan Adams to make an impression.
A fresh-faced rookie out of Oklahoma, he torched the league throughout his rookie season with the Phoenix Suns, making the All-Star squad and helping carry his troops all the way to the NBA Finals, where they'd lose in six games to the Boston Celtics. The No. 4 selection of the 1975 NBA draft, Adams found immediate comfort operating out of the high post and serving as a dual threat who could either score or pass, which led to—rather easily—the best TPA score of his career.
Then came his second-best in 1976-77, which marked the start of a rapid decline. Adams just didn't have that magic feeling anymore as he began ceding more and more touches to his teammates.
"I never felt that rookie season was an albatross that I carried around my whole career, but I remember thinking there very likely will never be anything like this again, with this much excitement," he told the Associated Press (via the New York Times) after announcing his retirement in 1988.
74. Moses Malone, C, 1981-83: 759.83 TPA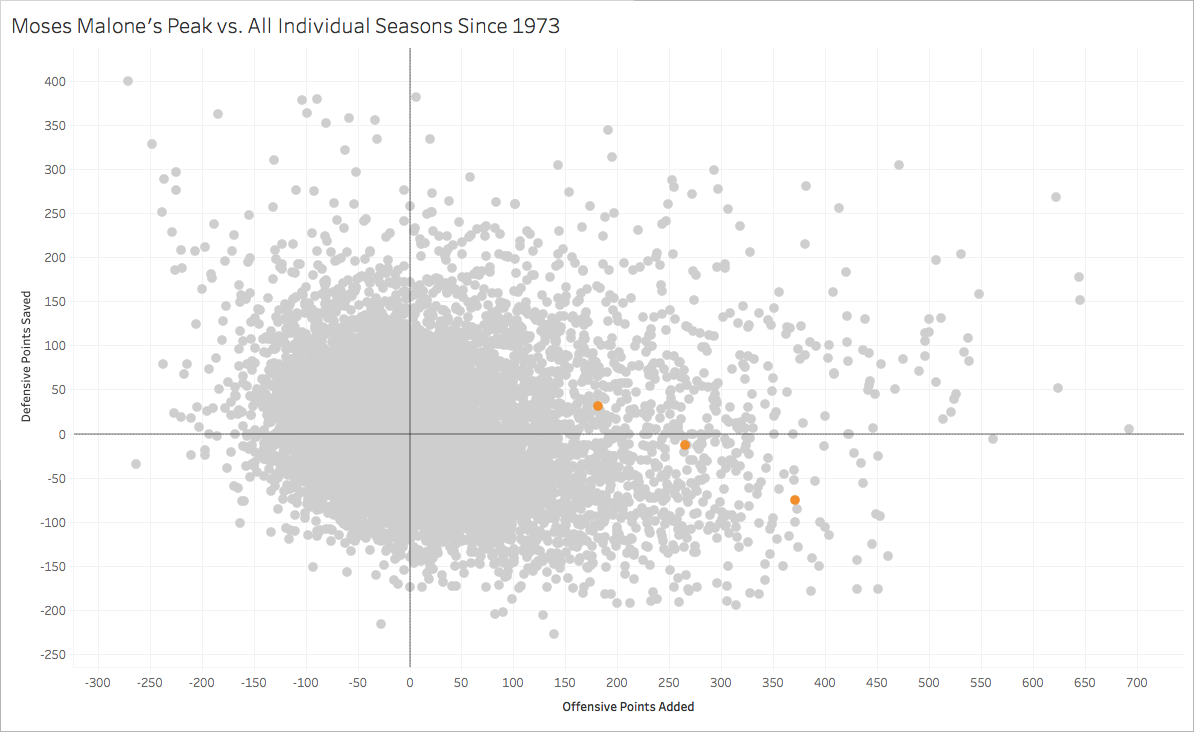 Though Moses Malone remains one of the greatest rebounders in NBA history and led the league in offensive rebounding percentageduring two seasons of his three-year peak (once with the Houston Rockets, and again with the Philadelphia 76ers), his remarkable scoring acumen took him to that proverbial next level.
And he was never better than in 1981-82, just before he signed a complicated offer sheet that eventually forced the Rockets into trading him to the City of Brotherly Love.
During that campaign, which resulted in the second MVP trophy of Malone's illustrious campaign, he averaged a career-best 31.1 points and 1.8 assists while shooting 51.9 percent from the field and 76.2 percent from the stripe. He was an unstoppable physical presence on the interior, capable of overpowering defenders on the first attempt and then cleaning up around the hoop if he or one of his Houston teammates happened to miss.
73. Kevin McHale, PF, 1986-88: 765.52 TPA

If Kevin McHale got you on his back, fuhgettaboutit.
Few (if any) players have possessed a deadlier set of post moves than the legendary Boston Celtics big man, who tortured countless opponents from the block. He had a counter for every possible defensive style, and he even knew the counters to use when the men guarding him expected the initial counter. Whether he was drop-stepping by a foe, ambidextrously hitting a jump-hook or putting his matchup into the spin cycle, he created countless easy buckets alongside Larry Bird and Robert Parish.
Well, they seemed easy because of his skill. In reality, they were anything but simple.
72. Kevin Johnson, PG, 1989-91: 768.41 TPA

It didn't take Kevin Johnson long to blossom once he left the University of California and joined the ranks of professionals. He got off to a slow start during his rookie season and was even traded from the Cleveland Cavaliers to the Phoenix Suns. But he broke out as a sophomore, averaging 20.4 points and 12.2 assists during his first full season in the desert.
And he kept getting better.
During the modern era (1973-74 through the present), only 10 different qualified players have topped 20 points and 10 dimes for an entire campaign. Just five men have done so multiple times: Kevin Johnson, Isiah Thomas, Magic Johnson, Chris Paul and Russell Westbrook. But only the two Johnsons and Thomas have achieved the feat in three consecutive seasons, as the Phoenix floor general did in the peak you can see represented above.
71. Bill Walton, C, 1976-78: 782.22 TPA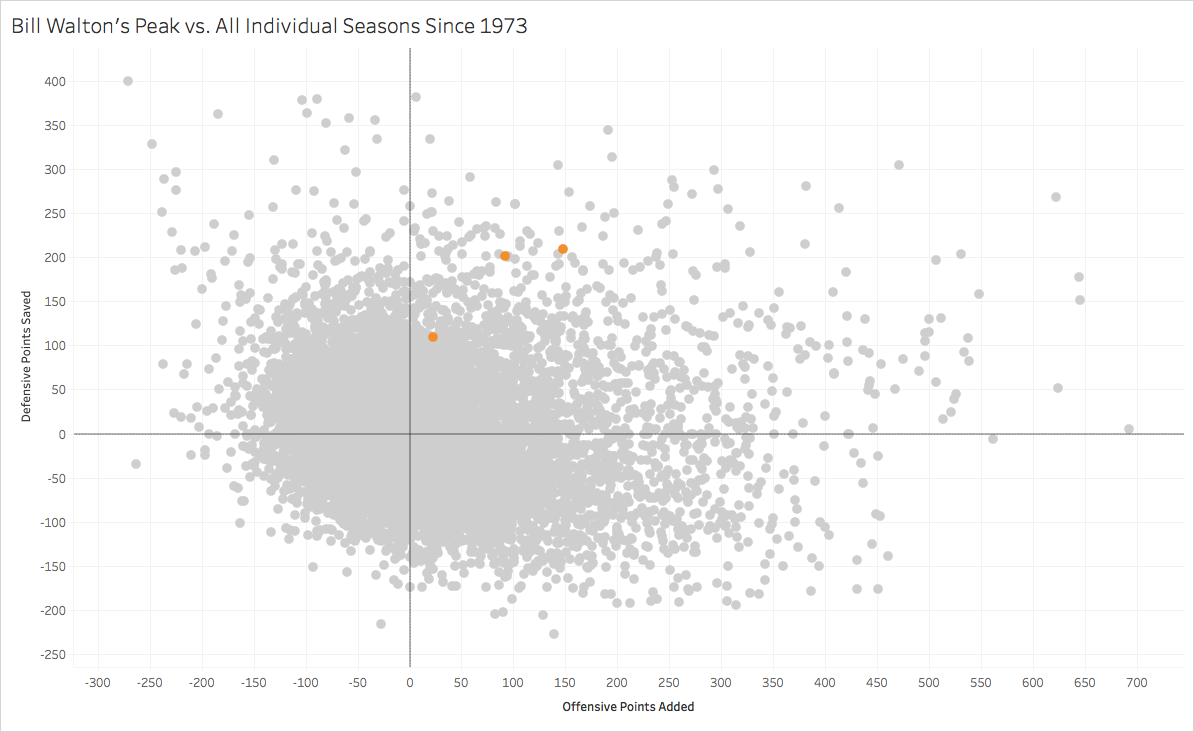 Even during his three-year peak, Bill Walton wasn't completely healthy:
1975-76: 51 games played
1976-77: 65 games played
1977-78: 58 games played
And yet, this still has to be the choice. Early-career Walton was the best Walton (unless we're counting his broadcasting days), and he'd miss the entire 1978-79 campaign while recovering from the first of many foot injuries. After he came back with the San Diego Clippers, he was never the same.
But just imagine: Had Walton played even 70 games during each of those seasons while maintaining the same statistical paces, his three-year score would sit at 919.6 and bump him up to No. 41 in this countdown.
70. Terry Porter, PG, 1990-92: 784.75 TPA

Nowadays, point guards can emerge from smaller Division I schools and find success in the Association. But Terry Porter entered the league out of University of Wisconsin-Stevens Point—then a Division II school, though it's since shifted to the WIAC in Division III—and was still the No. 25 pick of the 1985 NBA draft.
It took him a while to get his bearings at the sport's highest level, but he eventually settled in rather nicely for the Portland Trail Blazers. He'd become one of the league's greatest shooting point guards, even if he played in an era that didn't prioritize three-point prowess to nearly the same extent as today's league.
From 1989-90 through 1991-92, Porter took 3.6 attempts per game and connected at a 39.7 percent clip—numbers matched or exceeded by exactly zero players during the same three-year span. He'd actually get even better in 1992-93 (4.3 and 41.4 percent), but his defense wasn't up to the same standard he'd established during the first go-round of this peak.
69. Jeff Hornacek, SG, 1990-92: 786.37 TPA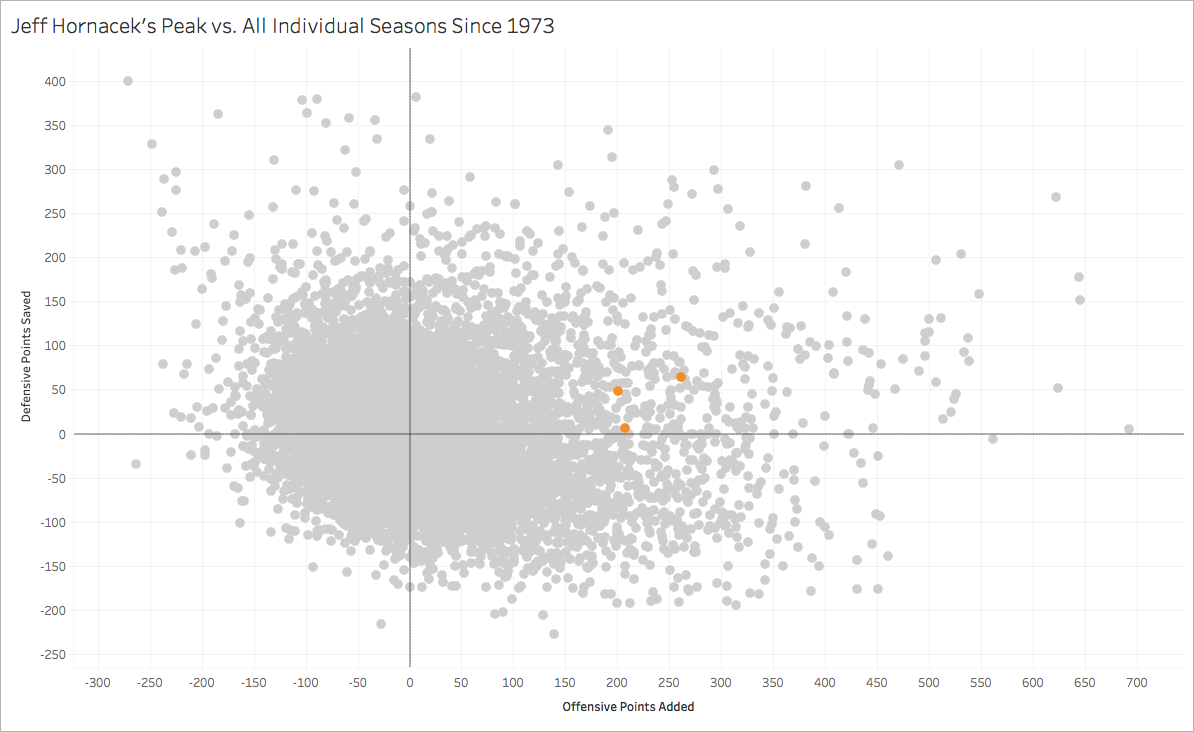 It's an enduring shame Jeff Hornacek was only granted a single All-Star appearance during his illustrious career. It came at the tail end of this three-year peak, rewarding him for his 1991-92 efforts with the Phoenix Suns, which saw him average 20.1 points, 5.0 rebounds and 5.1 assists.
Hornacek just missed his window by a couple decades.
Shooting efficiency wasn't nearly as prized during the early-'90s as it is today. Had that been different, he might have been given more credit for averaging 18.3 points over a three-season stretch while shooting 52.1 percent from the field, 42.5 percent from downtown and 88.1 percent from the free-throw line.
Hornacek isn't frequently mentioned as one of the NBA's best all-around shooters. During his prime years, though, he functioned as exactly that.
68. Joakim Noah, C, 2012-14: 793.79 TPA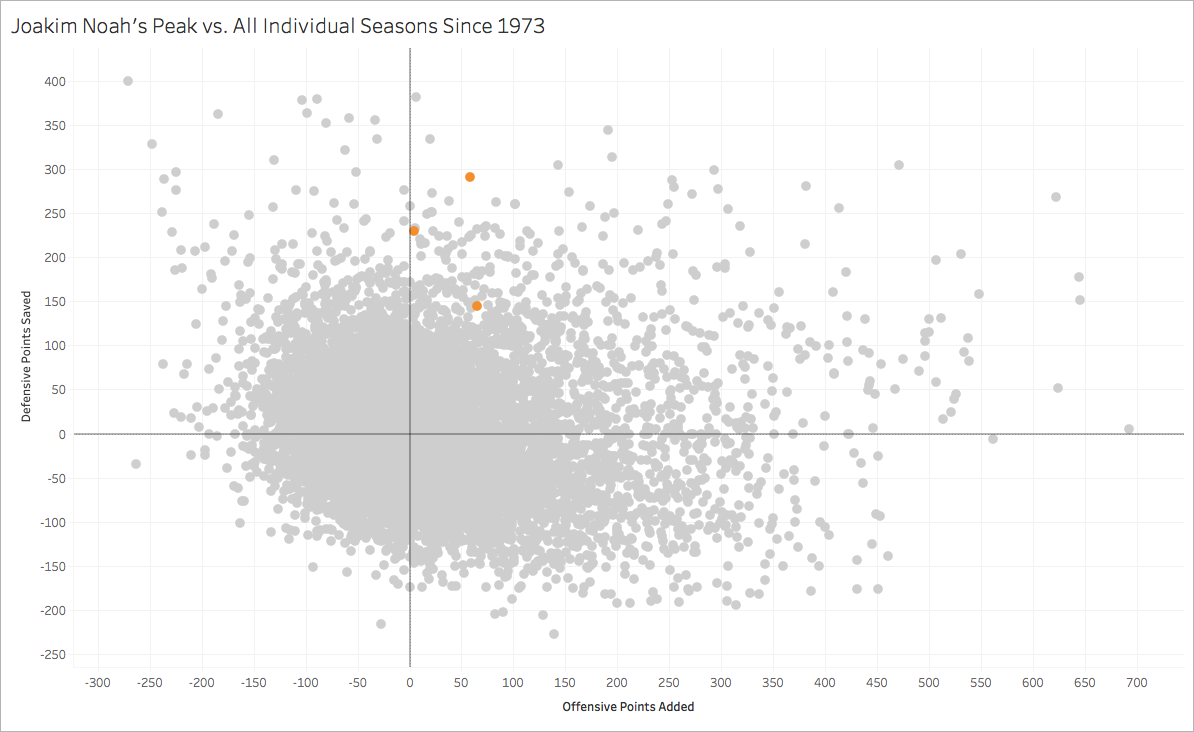 Joakim Noah, even when healthy, was never much of a scorer. His sidewinding push-jumper made for awkward attempts from the free-throw line and a hideous mid-range stroke, and he rarely received close-range opportunities. It was only his phenomenal passing, which allowed him to hit cutters in the half-court set or push the pace in transition, that made him a plus on the offensive end.
But complaining about Noah's defense is impossible.
Even winning Defensive Player of the Year at the tail end of his true peak, Noah was an impenetrable force on the interior who made head coach Tom Thibodeau's schemes work. The signal-caller believed in packing the paint and daring referees to blow the whistle for three-second violations—a strategy that worked because Noah's timing was so exquisite and his presence around the rim allowed his Chicago Bulls teammates to drift all around him.
67. Dwight Howard, C, 2009-11: 800.65 TPA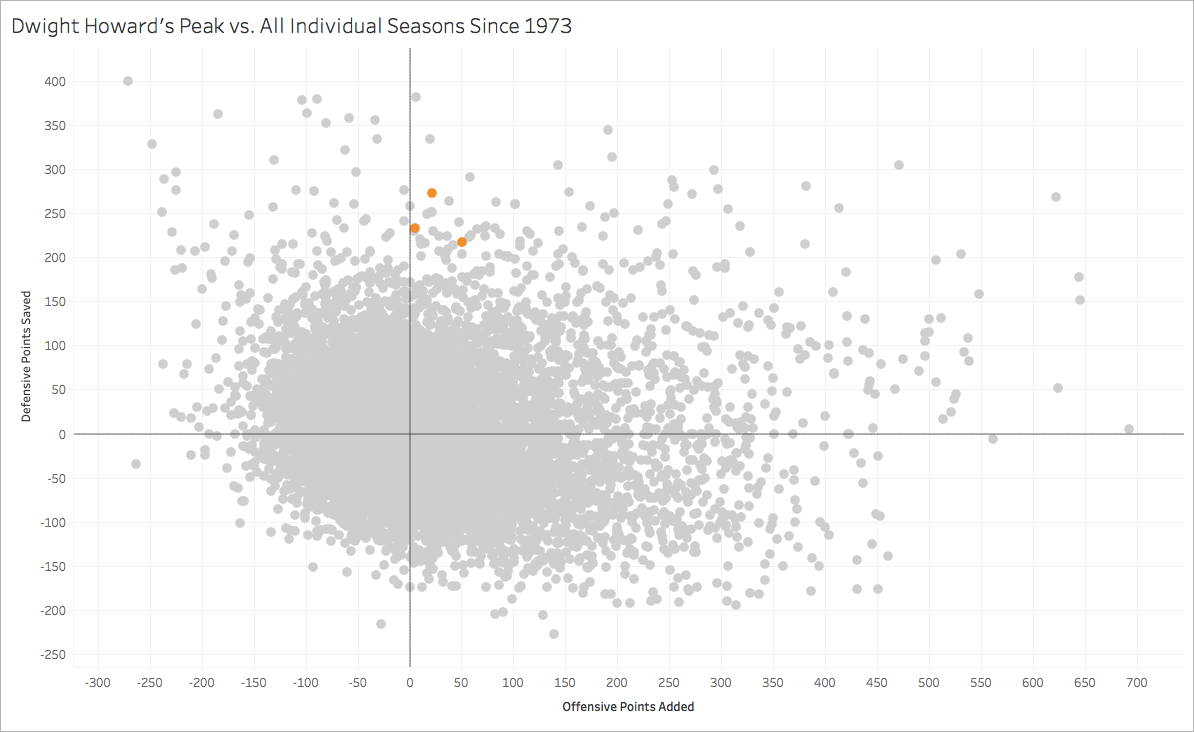 In some ways, Dwight Howard's career has been disappointing.
He's never learned how to shoot free throws. His post-up game remains atrocious, even though he's spent offseasons training with legendsand working to shore up that vital part of his game. Ever since forcing his way out of the Orlando Magic organization, with which he spent the entirety of his three-year peak, he's upset teammates, displayed his immaturity and failed to find a permanent home.
But let's not sell Howard too short.
Despite all his flaws, he was a Hall-of-Fame talent who emerged as one of the Association's most impactful defenders. He made head coach Stan Van Gundy's four-out, one-in system work so well that he led Orlando all the way to the 2009 NBA Finals, and his overwhelming athletic superiority still allowed him to pair his jaw-dropping defense with some rather gaudy offensive numbers.
66. Larry Nance, PF, 1983-85: 803.84 TPA

What made Larry Nance special wasn't his ability to father a son who'd go on to play in the NBA (the Los Angeles Lakers' Larry Nance Jr.) or his peak years, but rather his ability to thrive for such a long period of time. His first All-Star appearance came in 1984-85 with the Phoenix Suns and served as the tail end of his TPA-based peak, and he wouldn't participate in the midseason festivities again until he was suiting up for the Cleveland Cavaliers in 1988-89. Another four years later and still with Cleveland, he made his third and final appearance.
Even though athleticism and dunking prowess might spring to mind when reminiscing about the original Nance's career, his game was set up to last. He was a strong defender, a great rebounder and a solid distributor for his size, and he rarely required lengthy dribbling adventures before putting the ball through the nylon. Instead, his game fit into the flow of his team's offense, which prevented him from overtaxing himself and shortening his true athletic prime.
Nearly a decade after the listed years, Nance had a three-season stretch from 1990-91 through 1991-93 in which he accumulated 790.29 TPA, which would've kept him in this very same spot on the positional hierarchy and dropped him behind only two other players in the overall rankings. That, in a nutshell, is sustained production.
65. Micheal Ray Richardson, PG, 1980-82: 804.24 TPA

Micheal Ray Richardson, who we have as a point guard because he's listed as such by Basketball Reference in six of his eight NBA seasons, is the first 1-guard featured in this countdown who actually added more value on defense (441.9 defensive points saved) than offense (362.4 offensive points added) during his three-year peak.
He was a stalwart stopper throughout his playing career, often serving as the backcourt member who would take on the toughest assignment each and every night. And no matter who he was checking, he was always aggressive with his hands, allowing him to rack up steal tallies that consistently challenged for the league lead. Of course, he was also one of the NBA's most gifted distributors, as well as a scoring threat who always seemed capable of getting to the hoop.
Given the well-rounded nature of his game, Richardson should be remembered more fondly. But he doomed himself by testing positive for cocaine three times and becoming the first player to receive a lifetime ban, which made his 1985-86 campaign with the New Jersey Nets the last he'd play.
64. Jimmy Butler, SG, 2015-17: 810.47 TPA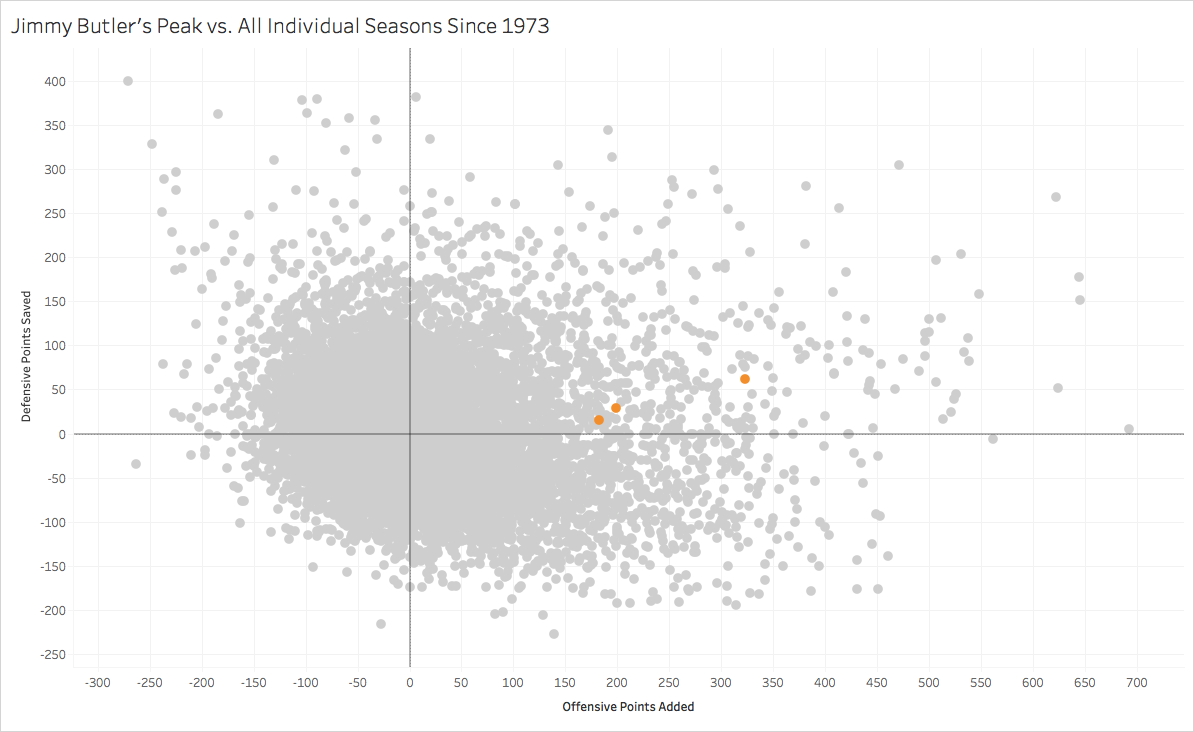 Jimmy Butler was great during both the 2014-15 and 2015-16 campaigns. But he was downright legendary in 2016-17, almost single-handedly overcoming the Chicago Bulls' dearth of perimeter shooting to carry his team into the Eastern Conference playoffs.
The swingman remains a defensive stud, but his offense truly blossomed when he was allowed to serve as the unquestioned alpha dog. Now, he's more comfortable than ever in the featured-scorer role, which gives him the ability to simultaneously resume serving as a defensive ace.
If Butler is able to keep up the pace with the Minnesota Timberwolves, he'll just keep ascending. Replicating his 2016-17 numbers would shift his three-year score to 967.1 (No. 36 in these rankings). Doing so for two more seasons would push him all the way to 1154.7 (No. 24).
That's how great he was during his final go-round with the Bulls.
63. Manu Ginobili, SG, 2006-08: 818.31 TPA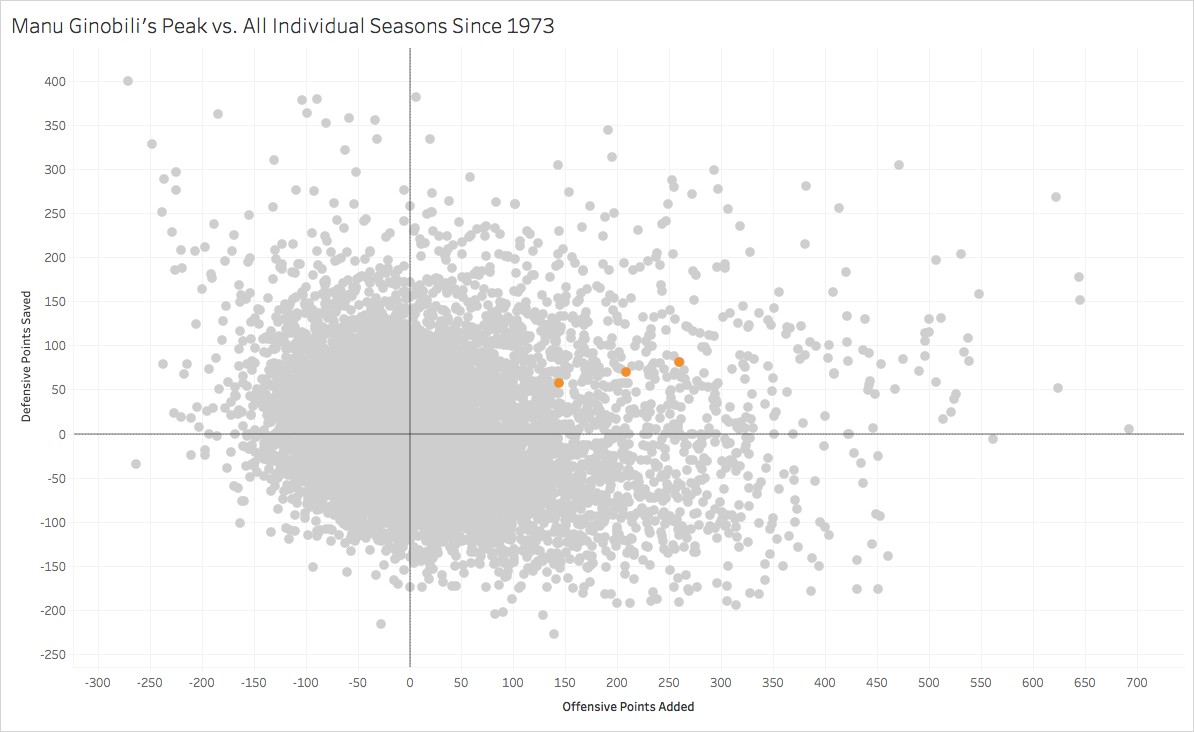 Dear NBA players,
You don't have to start in order to produce eye-popping value.
Love,
Manu Ginobili.
62. George McGinnis, PF, 1976-78: 819.97 TPA

In some ways, it's a shame we can't consider George McGinnis' exploits with the ABA's Indianapolis Olympians.
His represented peak came during his first three NBA campaigns, all of which featured him suiting up for the Philadelphia 76ers, but he was even better against the more limited competition offered by basketball's lesser league. Still an abject terror on the defensive end, McGinnis was more efficient offensively and took advantage of the newly implemented three-point arc while throwing up eye-popping numbers. During his final go-round with the Olympians, he averaged 29.8 points, 14.3 rebounds and 6.3 assists while shooting 45.1 percent from the field.
Had we been able to replace his 1977-78 efforts with his work from that season, his three-year score would've skyrocketed to 1099.62, allowing him to skyrocket to No. 26 in this countdown.
Ah, the glory days of the ABA.
61. John Stockton, PG, 1989-91: 820.79 TPA

Talk about offensive consistency.
John Stockton knew his role for the Utah Jazz, and he filled it perfectly each and every season. One of the greatest passers in NBA history, he and Karl Malone helped popularize the pick-and-roll, constantly tormenting opposing defenses who couldn't figure out whether to hedge out and prevent him from hitting threes or sag back and cut off pocket passes to the rolling power forward. He led the league in assists during each season of his three-year peak—part of a longer run of nine consecutive dime-dropping crowns.
Sitting at No. 61 might seem low for this Hall of Fame floor general, and that's for two reasons. First, TPA undersells his defense, since he forced so many players to pass up shots and rarely recorded defensive rebounds. Second, his reputation was derived more from his long-standing excellence than the loftiness of his peak, as you can see by looking at every season of his career:
Don't think we're trying to sell this legend short. We're not.
60. Steve Francis, PG, 2001-03: 822.59 TPA

Sorry, New York Knicks fans. 
Steve Francis was supposed to help pull the Knicks out of the cycle of mediocrity into which they'd entered after the departure of Patrick Ewing, but he never lived up to "The Franchise" moniker. Instead, he lasted for just 68 games before he was shipped off to the Portland Trail Blazers and had his remaining contract bought out, clearing the way for his return to the Houston Rockets. 
But don't mistake the lackluster ending to his NBA career with a lack of production in his true prime.
With his aggressive driving instincts and yo-yo handles, he embarrassed plenty of defenders while becoming one of the modern era's greatest offensive threats—for a short while, at least. During his sophomore season, he even averaged 19.9 points, 6.9 rebounds and 6.5 assists while shooting 45.1/39.6/81.7. 
59. Patrick Ewing, C, 1989-91: 827.02 TPA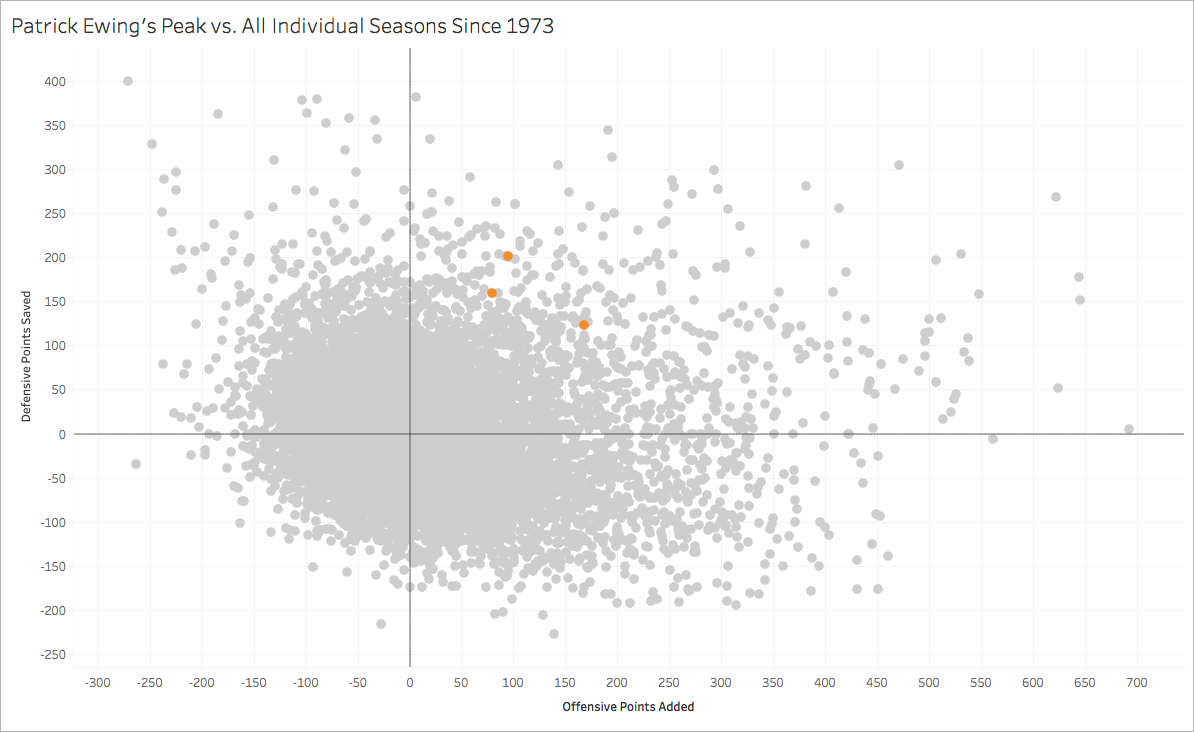 Wrapping your head around Patrick Ewing's career is a difficult task. For all his talent, the primary narrative always seemed to be that he wasn't quite good enough.
Sure, he was a legendary big man, but he was never the absolute best at his position. Sure, he carried the New York Knicks into the playoffs, but he missed big shots and couldn't ever get over the hump to win a ring. Sure, he was good in every area, but was he truly great in one of them?
We'll allow the "but"s to continue.
Ewing's three-year score is impressive, but it may be better still that another non-overlapping portion of his career produced similarly sterling stats. From 1991-92 through 1993-94, he accumulated another 632.86 TPA, which would have left him just shy of the honorable mentions.
58. Alex English, SF, 1982-84: 828.76 TPA

Here are your scoring leaders (total points) during the 1980s (1980-81 through 1989-90):
Alex English: 21,133
Moses Malone: 18,491
Larry Bird: 17,974
Adrian Dantley: 16,916
Dominique Wilkins: 16,695
And now, from 1981-82 through 1983-84:
Alex English: 6,575
George Gervin: 6,561
Kiki Vandeweghe: 6,241
Moses Malone: 6,037
Adrian Dantley: 5,551
So yeah. English's peak deserves some love.
57. Dave Cowens, C, 1974-76: 837.03 TPA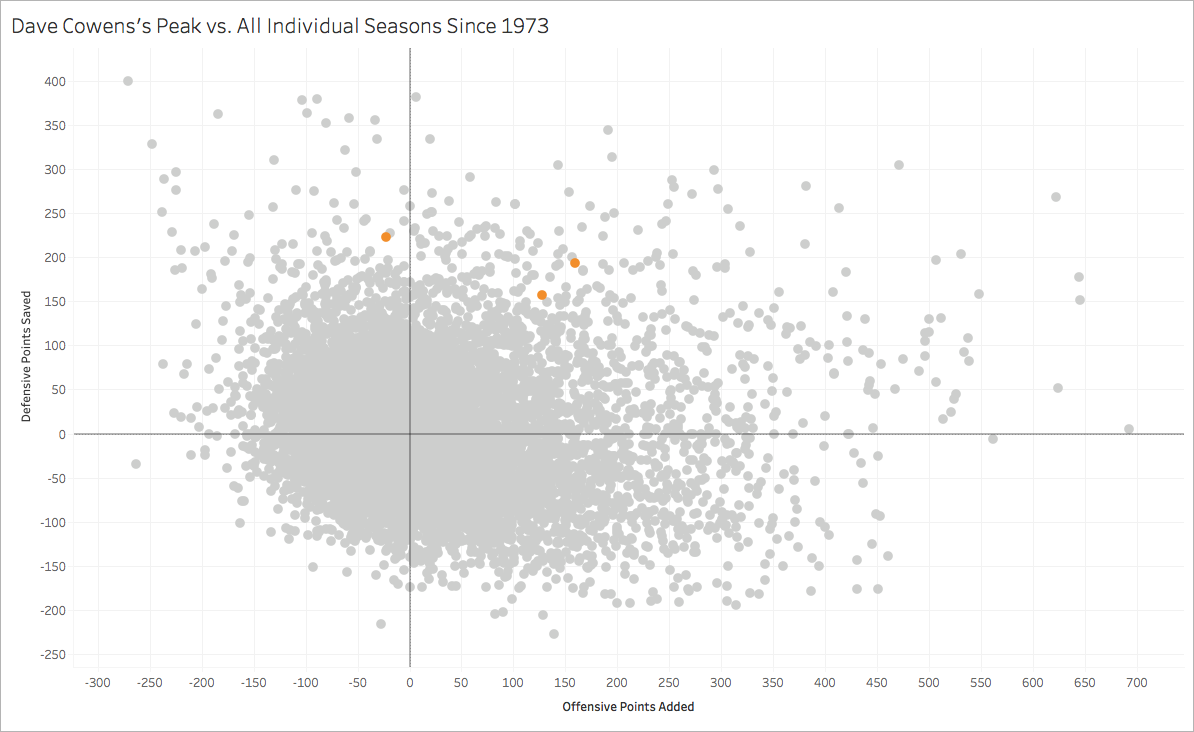 Hustle, hustle, hustle.
And then some more hustle.
During his three-year peak, Dave Cowens averaged 19.4 points, 15.5 rebounds, 4.4 assists, 1.2 steals, 1.1 blocks and 16.7 dives onto the floor after loose balls. He was constantly willing to sacrifice his body for the Boston Celtics, emerging as a true leader and a player who posted big numbers while still finding time to do all the little things. It's no wonder he won an MVP award, though that actually came in 1973, just before we're able to calculate his TPA score.
56. Anfernee Hardaway, SG, 1994-96: 837.67 TPA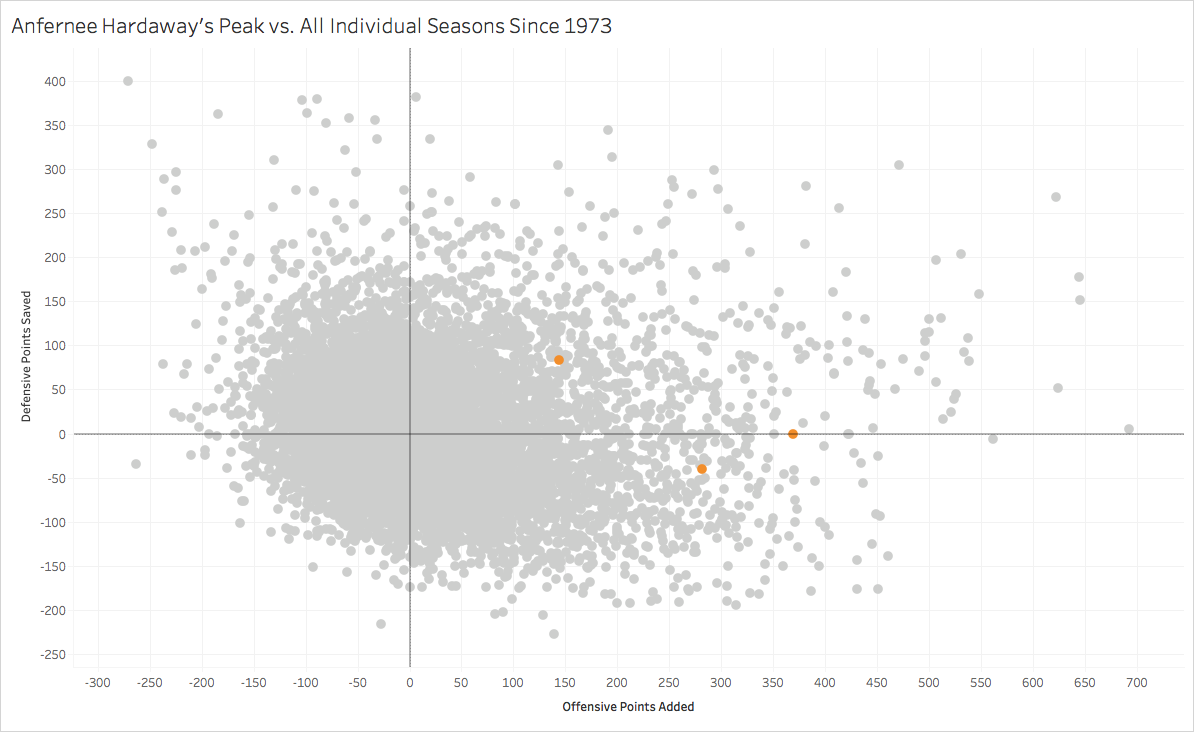 Though these three seasons might seem like they're haphazardly scattered across the plot, they actually represent an extreme version of a typical maturation process.
The year in which Anfernee "Penny" Hardaway served as a distinct two-way plus came during his rookie campaign with the Orlando Magic. He was young and full of energy, ready to contribute in every way imaginable as he teamed up with Shaquille O'Neal, Nick Anderson and Dennis Scott.
One season later, the Magic leaned far more heavily on Hardaway, upping his usage rate and asking him to spend even more time on the floor. As a result, he broke out on the scoring end, but his defense suffered dramatically. Then, he grew more comfortable in that lead role during the 1995-96 campaign, continuing to improve as a point-producer while also rediscovering some of his former excellence on defense.
55. Adrian Dantley, SF, 1980-82: 841.9 TPA

Forget about defense. Adrian Dantley usually did.
The lanky small forward was one of the most impressive scoring talents the game has seen since the ABA-NBA merger. Blocking his shot was nearly impossible, and he so rarely committed to looks that weren't directly within his wheelhouse. Most things were.
Dantley didn't just put up points in volume; he scored with remarkable efficiency, especially for a player who took only 41 three-point attempts throughout his entire career. He led the Associated in offensive box plus/minus during each of the three seasons contained in his peak, and he did so while spending quite a bit of time on the floor.
54. Pau Gasol, C, 2009-11: 843.91 TPA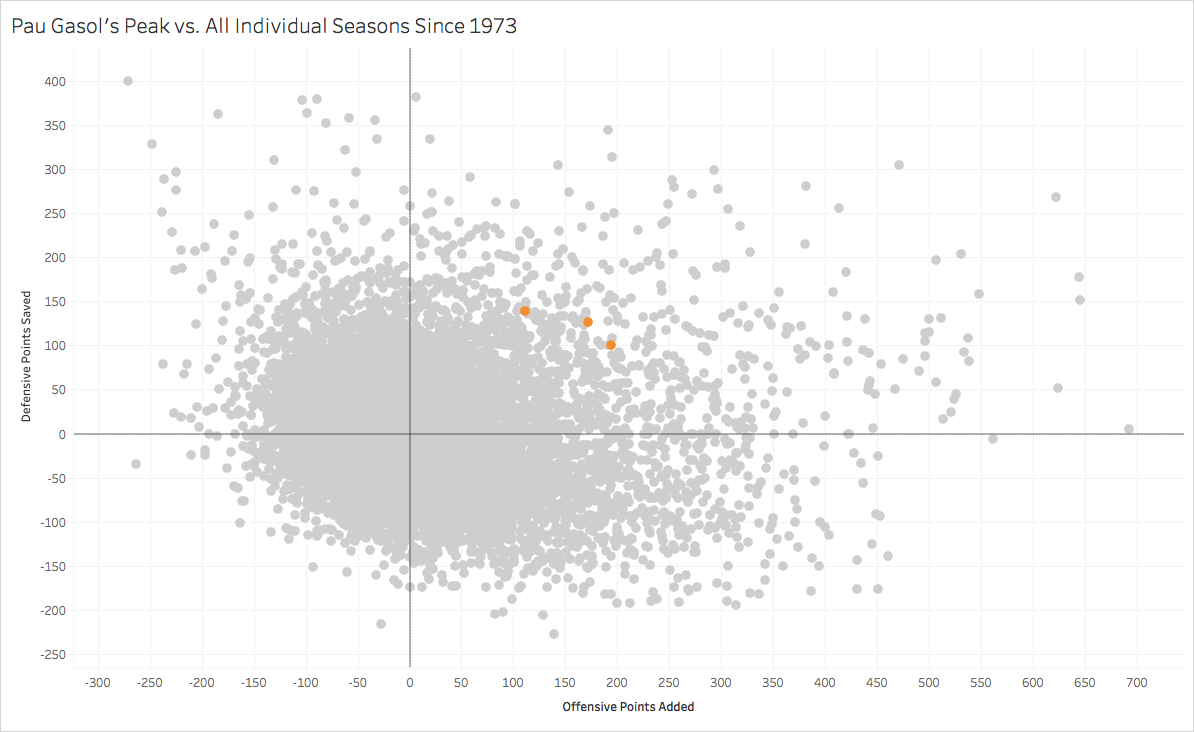 Yes, Kobe Bryant was a better basketball player than Pau Gasol. You may have noticed he has yet to appear in this countdown. But during the latter's three-year peak, which coincided with two championship runs by the Los Angeles Lakers, he was just as valuable to the cause.
The offensive numbers (especially in the scoring column) weren't quite as gaudy, but just take a look at where each placed on the TPA chart: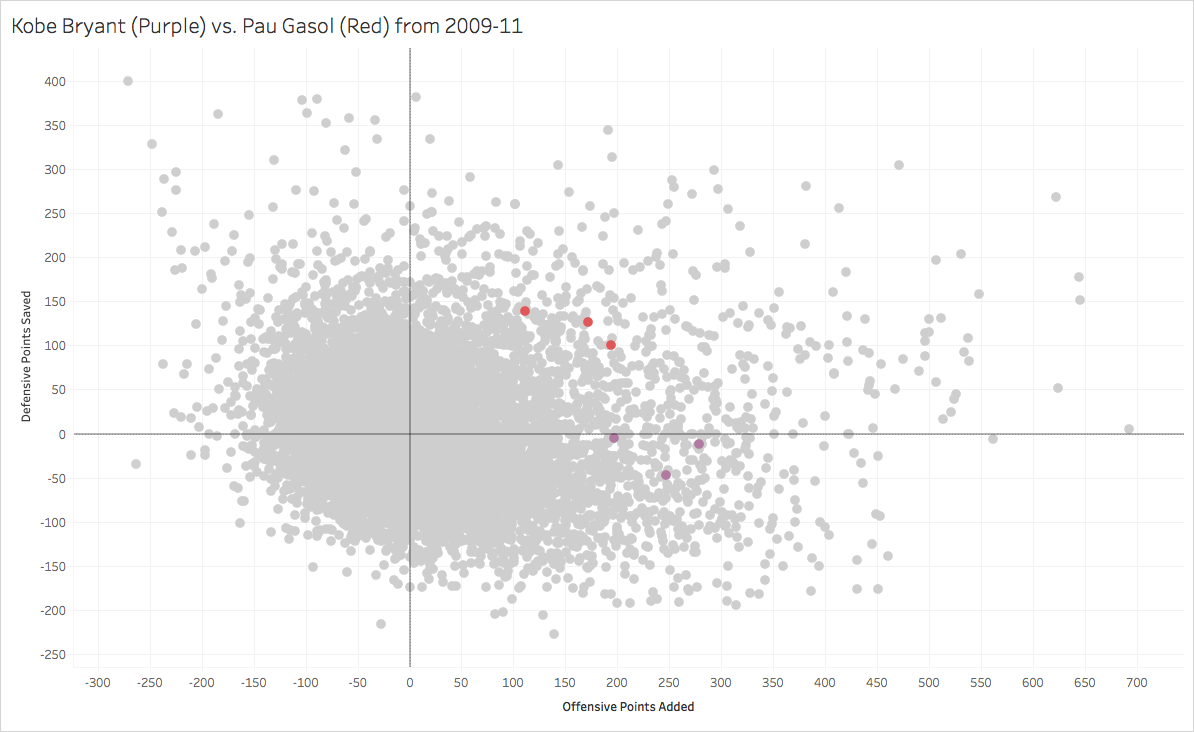 Bryant totaled 658.97.
Gasol, thanks to his well-rounded play and ability to contribute in every area, tallied 843.91 TPA.
53. Vince Carter, SG, 2000-02, 858.52 TPA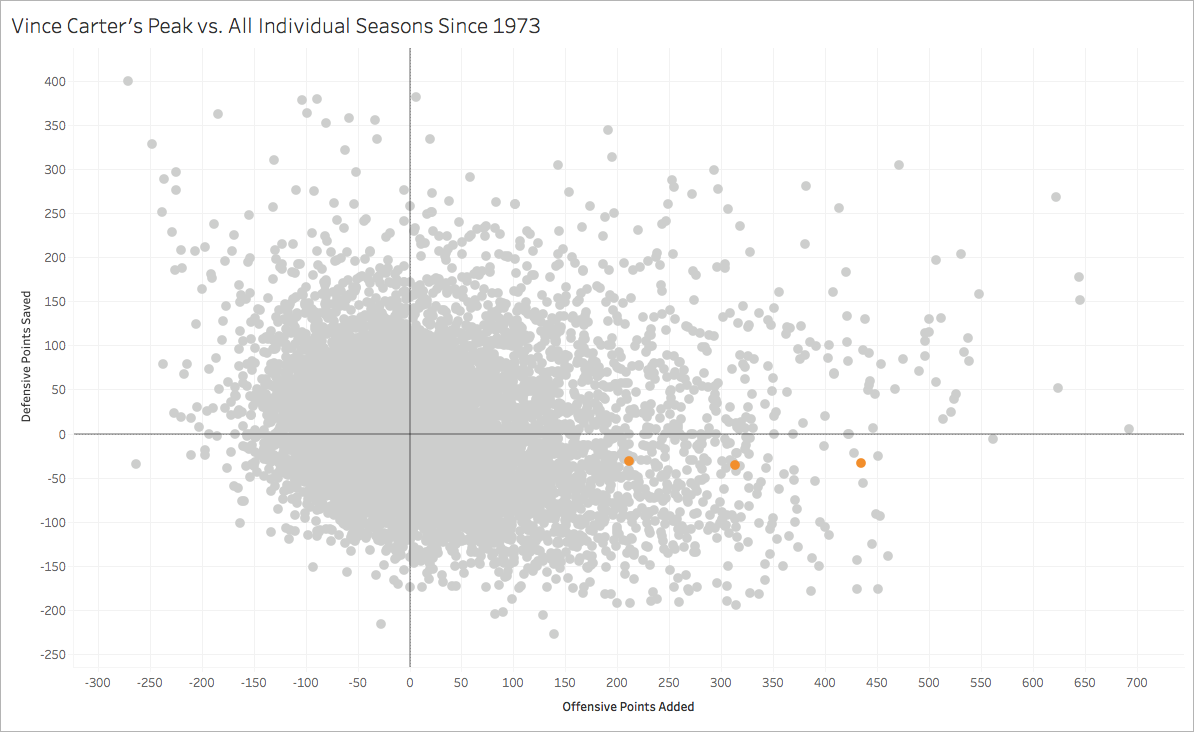 Vince Carter's 2000-01 campaign remains one of the greatest offensive seasons anyone has produced at any position.
Only three years removed from North Carolina, the legendary in-game dunker averaged 27.6 points, 5.5 rebounds and 3.9 assists for the Toronto Raptors. Better still, he shot 46.0 percent from the field, 40.8 percent from three-point territory and 76.5 percent on his freebies. And even better still, he did all this while turning the ball over just 2.2 times per contest and holding his own on defense—at least somewhat.
Injuries prevented Carter from making the most of his offensive potential, and the 2000-01 efforts stand alone as—rather easily—the best results from his lengthy career. But even without two more standout seasons quite on the same level to pair with that one-year peak, his three-year body of work can't be topped by more than eight 2-guards.
52. Horace Grant, PF, 1992-94: 862.05 TPA

Michael Jordan and Scottie Pippen weren't the only stars on the Chicago Bulls' first three-peat squads.
Horace Grant may not have been on the same level, but he was no slouch. In today's game, he'd have been considered a legitimate part of a Big Three, thanks to his ability to contribute on both ends of the floor. Grant's per-game numbers may not have looked particularly glamorous; he just rarely made mistakes while shooting 53.6 percent during his peak years, turning the ball over 1.4 times per contest and consistently playing fundamentally sound defense.
Plus, the big man just seemed to get better during the postseason—a trait that can't ever be overlooked.
51. Kyle Lowry, PG, 2014-16: 866.2 TPA

Fortunately for Kyle Lowry, we're not including postseason work in this analysis. Though that's fundamentally important to a legacy, even reaching the playoffs is dependent on having a strong team, which unnecessarily harms some great players and correspondingly adds to the legacy of lesser contributors who happened to play for title contenders. 
So much of the narrative about the point guard who's blossomed for the Toronto Raptors revolves around his shortcomings after Game 82, but that unfairly looks past just how good he's become during the regular season. Dropping in plenty of pull-up triples, taking charges and remaining physical on defense, always finding the open teammate and finishing plays around the hoop, Lowry has become a complete player since leaving the Houston Rockets for a fresh start.
And were it not for the surgery on his right wrist that limited him to just 60 appearances in 2016-17, his three-year peak might be even more impressive. Right now, it's superseded by the full-season efforts from 2013-14. But if he'd maintained his exact level of play and suited up in every game, he'd have upped his his peak score to 948.55 and jumped past the next 13 standouts in this countdown. 
50. Isiah Thomas, PG, 1984-86: 866.77 TPA

Despite his reputation as a fearsome defender, Isiah Thomas doesn't fare particularly well in the defensive portion of TPA. This isn't the product of his peak happening to feature better offensive seasons, either. He graded out as a slight positive for each of the five seasons after the relevant period, but his overall career score is still in the red. 
Still, the Hall of Famer was an offensive force for the Detroit Pistons. He wouldn't steer the Motor City to a pair of titles until later in his career, but he managed to do more than "just" average 20 points and 10 assists. During the 1984-85 campaign, he even posted 21.2 points and 13.9 dimes during his average appearance.
It's also possible that advanced metrics sell Thomas rather short. They can't account for his ability to make an attitude contagious, and the attention he paid to physical play on the preventing end pervaded the entire Pistons roster, even if it was often the frontcourt doing the heavier lifting.
49. Draymond Green, PF, 2015-17: 869.97 TPA

Draymond Green may well be the worst offensive power forward featured in these rankings. And that's despite his excellence as a passer in the Golden State Warriors' system, as well as his sporadic three-point contributions. Perhaps he would look better with an organization that didn't boast so much firepower and was able to feature him more, but his relatively minor role in the championship-winning offensive schemes hold him back here.
The same can't be said about his defense.
Green is the rare big man who's best when he's allowed to guard no one. Operating like a free safety, he can drift between assignments and wreak constant havoc all over the half-court set. With one Defensive Player of the Year award under his belt (and legitimate arguments he should boast one more trophy), he's already established himself as one of the greatest point-preventing forces the position has ever seen. Complain all you want about his flailing limbs, but his style is quite effective.
48. Chris Mullin, SF, 1989-91: 878.18 TPA

Even though Chris Mullin would eventually become one of the NBA's great flamethrowers during the tail end of his career, he had trouble making a substantial impact from beyond the arc while submitting his peak seasons. During the relevant campaigns, he took only 1.9 triples per contest and connected at a 32.1 percent clip—a far cry from the 3.1 and 46.5 he'd post in 1998-99 (his penultimate go-round with the Indiana Pacers).
Mullin just found other ways to thrive.
He was never much of a defender, but the opposition had no idea how to slow him down as he moved toward the basket. Mullin could knock down mid-range jumpers, even off the bounce. He was tremendous at drawing contact—ahead of his time, really—and made his foes pay by becoming one of the greatest free-throw shooters in league history. And if that wasn't enough, he knew how to keep his eyes up in search of the open man, who he could easily hit with an on-target feed to rack up yet another assist.
47. Ben Wallace, C, 2002-04: 878.51 TPA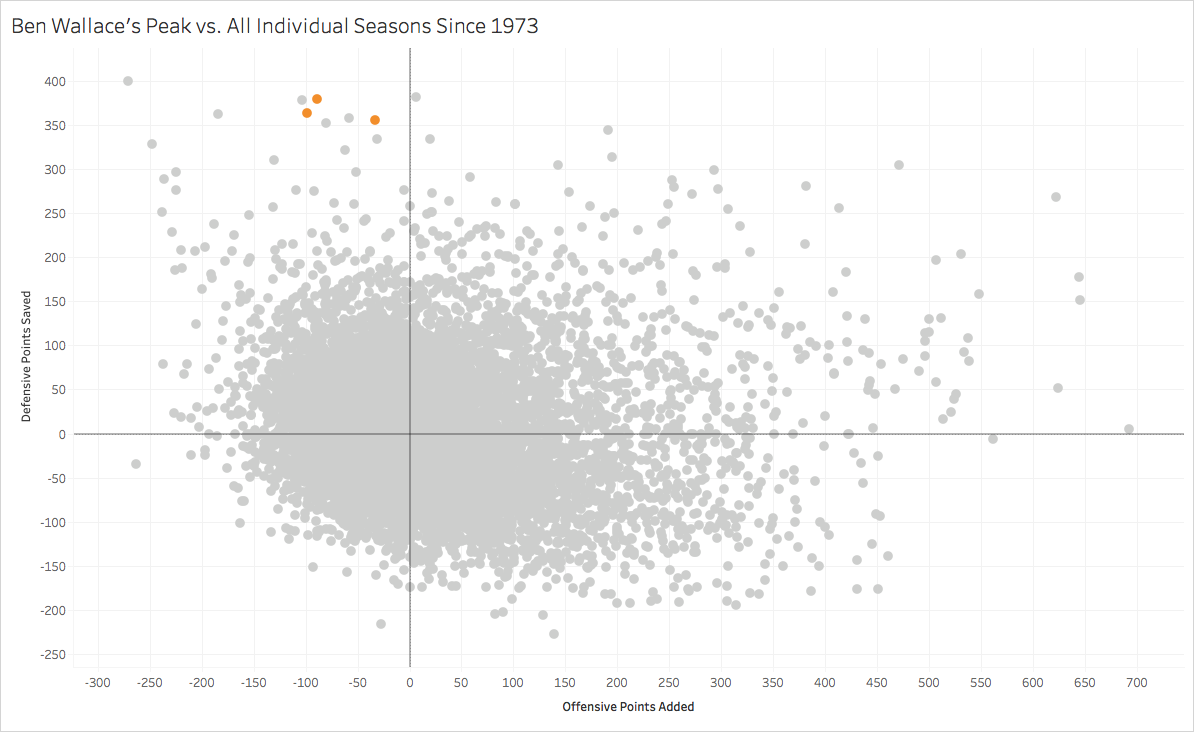 Cue Joe Dumars, then serving as the Detroit Pistons president of basketball operations, who said the following after Ben Wallace earned the fourth Defensive Player of the Year trophy of his career, per The Associated Press (h/t ESPN.com): "I didn't get to see [Bill] Russell or [Wilt] Chamberlain, but I can't remember a guy that wreaks so much havoc of the court like Ben does. [Hakeem] Olajuwon and [Dikembe] Mutombo were great defenders, but they only guarded centers. Ben can basically guard 1s through 5s, and the closest guy I saw do that was Dennis Rodman."
Per defensive points saved (DPS), Wallace even posted this three-year stretch, in which he earned three of the nine greatest scores since 1973.
The only ones he didn't account for? Mark Eaton had two such seasons, including the record-setting 1984-85 campaign. Marcus Camby, Sam Lacey and Hakeem Olajuwon each joined the group once. And that leaves one final go-round: Wallace himself in 2006-07, just for good measure.
46. Chris Webber, PF, 2000-02: 886.13 TPA

We're not the first to identify 2000-02 as Chris Webber's true prime. Here's what Zach Lowe wrote for the non-defunct Grantland.com:
For a two-season window from 2000 to 2002 — as Webber entered his prime, and before Garnett and Nowitzki hit theirs — Webber had a real claim to the "Best Power Forward Alive" throne. Webber in those years nudged his Player Efficiency Rating into the 23-25 range, almost mandatory for a big man Hall of Fame candidate, and racked up enough counting numbers to put himself in historically elite territory. Here is the total list of players who piled up at least 17,000 points and 8,000 rebounds, while averaging at least four assists per game with a career PER above 20: Wilt Chamberlain, Elgin Baylor, Bird, and Webber. There's some unfair cherry-picking there, since Webber barely exceeds all those thresholds. But cutting the criteria still produces a ridiculously elite list of just 11 guys, all current or future Hall of Famers — plus Webber.
The defense rests.
45. Cedric Maxwell, SF, 1979-81: 888.33 TPA

Why isn't Cedric Maxwell remembered more fondly?
Well, the double-double threat never put up too many glamorous numbers. He just rarely made mistakes and shot with inordinate levels of efficiency in his supporting role. During his three-year peak, he averaged 17.0 points, 8.4 rebounds and 2.7 assists while shooting 59.4 percent from the field and 79.2 percent at the stripe. Plus, he turned the ball over just 2.8 times per contest.
Maxwell wasn't great in any one area. He just did all the little things well for the Boston Celtics, even as he ceded the spotlight to the team's more well-known superstars.
44. Elton Brand, PF, 2005-07: 897.64 TPA

No one was safe from Elton Brand's wrath during the heart of his prime.
Throughout his 2005-06 season with the Los Angeles Clippers, he proved capable of contributing in every way imaginable. He could capably defend either power forwards or centers. He could finish around the basket. He could stretch out the floor and keep defenders off balance with his passing chops. He could serve as a leader for a young Clippers squad trying to come into its own. He could even knock down 41.6 percent of his two-point jumpers from at least 16 feet—no easy feat for guards, let alone 6'8″ bigs.
Perhaps because so much of his career was spent floundering away for lackluster squads, Brand doesn't seem to get the recognition he deserves. But the numbers, as they say, don't lie.
43. Gilbert Arenas, PG, 2005-07: 900.84 TPA

Just for fun, look at how Gilbert Arenas' peak years compared to what Isaiah Thomas did in 2016-17 (the best season of the Boston Celtics floor general's career). The two point guards filled rather similar roles for their respective teams by constantly gunning away and focusing all their energy on offense, often at the expense of playing even passable defense: 
Hopefully that helps put in perspective just how dominant prime Arenas was on the scoring end. 
Thomas doesn't yet have enough seasons as a superstar to challenge for one of these 100 spots. He actually sits at No. 172 and is only getting better. But he still put together one of the more dominant offensive seasons in recent memory, and Arenas—when at his absolute best—was a comparable point-producing threat while playing slightly better defense. 
42. Alvin Robertson, SG, 1986-88: 904.9 TPA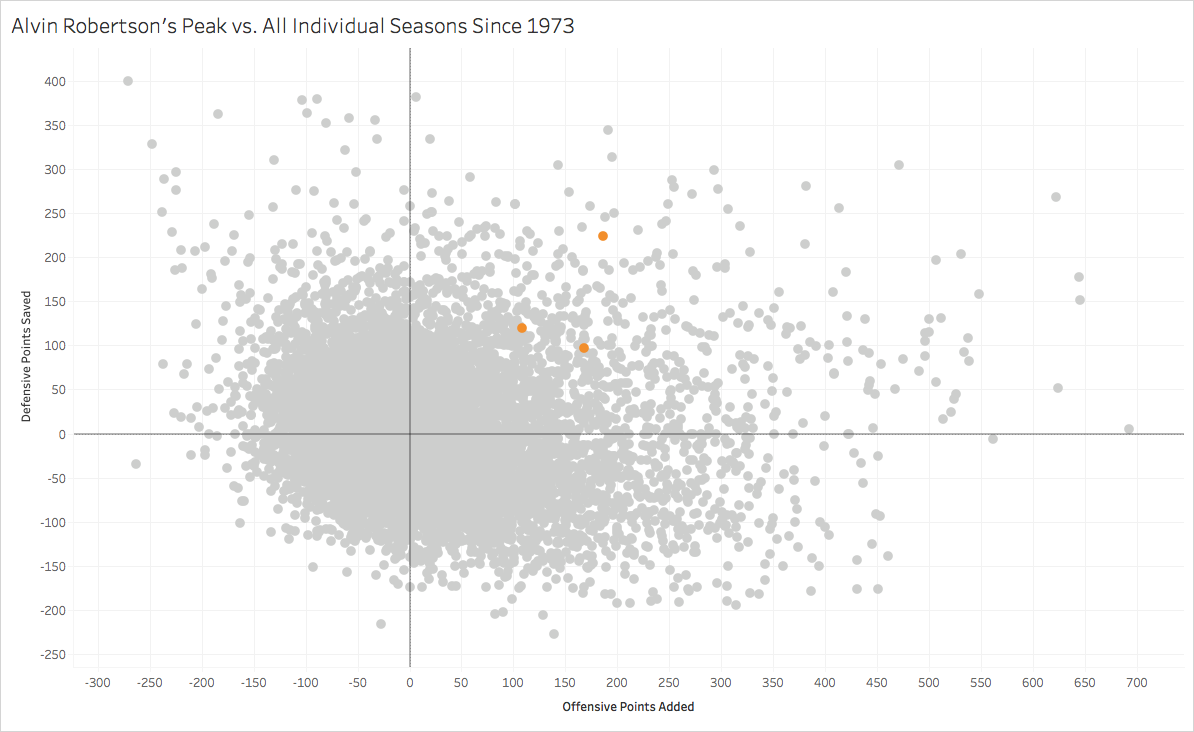 The defensive portion of TPA tends to favor bigger players. It rewards them for their work cleaning the defensive glass, and recording blocks never hurts.
That's why Alvin Robertson's efforts are even more impressive: Shooting guards just aren't supposed to occupy that portion of the chart. But while making six All-Defense squads and winning Defensive Player of the Year in 1985-86 (yes, that's the dot you think it is), he established himself as one of the greatest on-ball defenders in NBA history.
Robertson's quick hands allowed him to swipe the ball away from countless opponents. And he was just as dangerous contesting shots, which allowed him to lead the charge for some excellent Milwaukee Bucks outfits.
41. Bobby Jones, PF, 1977-79: 907.41 TPA

When he wasn't busy knocking in birdie punts and winning golf tournaments*, Bobby Jones was dominating for the Philadelphia 76ers.
Though he stood only 6'8″, the power forward was a force on the interior.
He finished at incredibly high rates around the basket and thrived as one of the era's best pound-for-pound rebounders, all while involving his teammates and conserving enough energy to become a generational talent on the defensive end. Jones paced the Association in defensive box plus/minus (DBPM) during his delayed rookie season (1976-77), and his TPA peak would've been even higher if we'd been able to count the two seasons just prior. During each one, he led the ABA in DBPM while playing for the Denver Nuggets.
*Important note: That was a different Bobby Jones.
40. Artis Gilmore, C, 1977-79: 920.97 TPA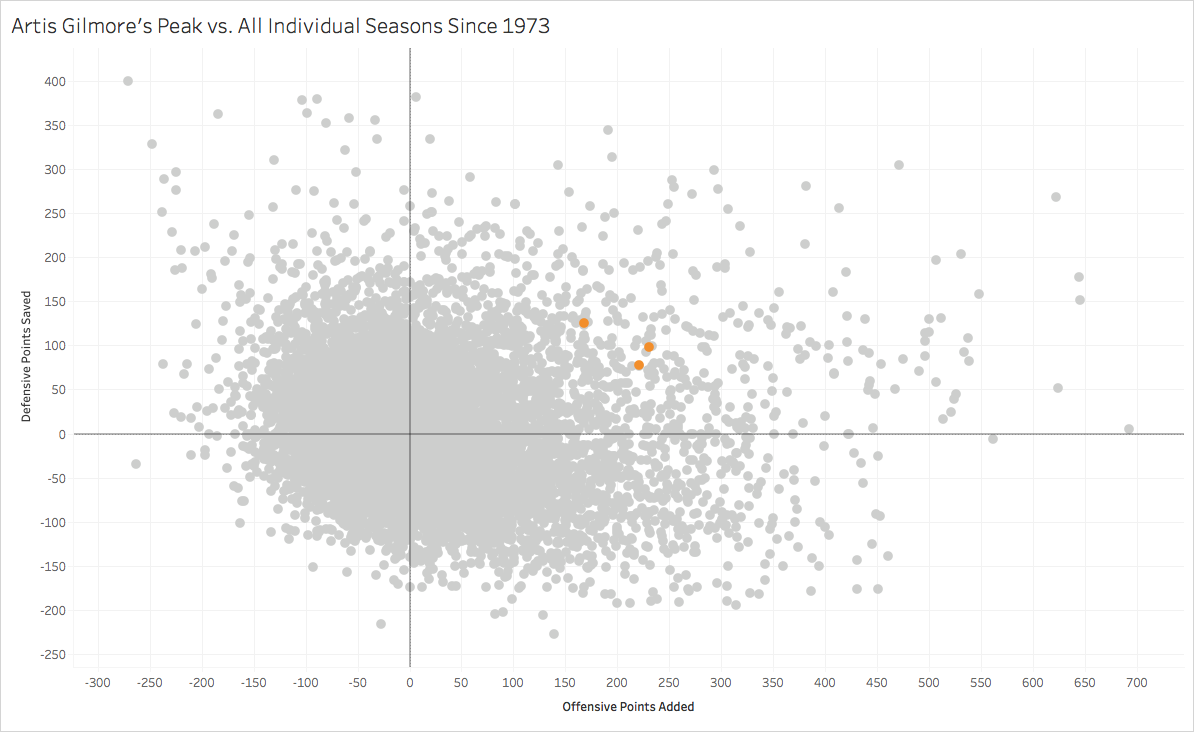 Thanks to his rebounding prowess and seeming inability to miss shots around the basket, Artis Gilmore dominated throughout his first three years in the NBA, all of which came while he was wearing a Chicago Bulls uniform.
But just imagine what his score might've been if we'd counted his work for the ABA's Kentucky Colonels.
During the three seasons directly preceding his represented peak, Gilmore piled up 1254.25 TPA with the Colonels, which would've placed him just outside the top five at the center position and at No. 22 overall. And somehow, he was even better during his first two seasons of professional basketball, though we can't quite calculate what his TPA score would've been. Basically, consider Gilmore a historic great whose talent is somehow still undersold during this countdown.
39. Wes Unseld, C, 1975-77: 923.17 TPA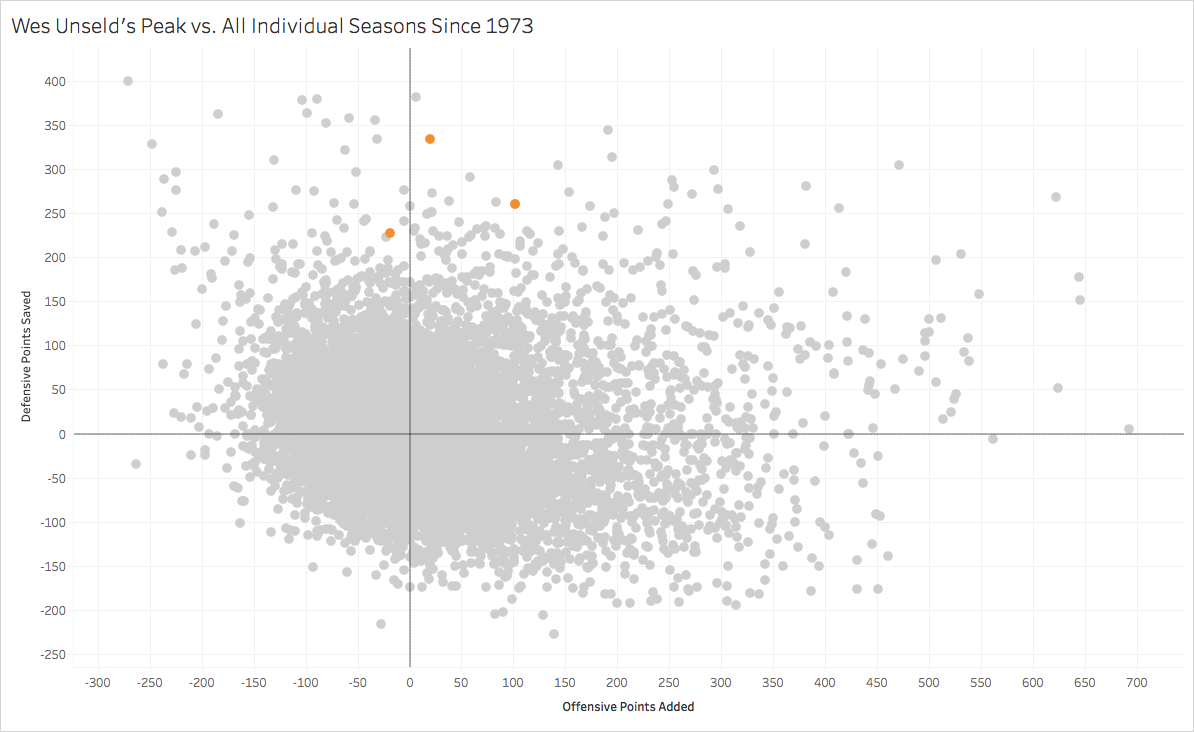 Wes Unseld was so good at collecting rebounds and throwing outlet passes that he managed to submit such a stellar three-year score while moving into his 30s. He's one of the players most disadvantaged by the unfortunate inability to do anything more than estimate TPA marks prior to 1974, though we'll turn to the Jerry West method once again here.
Though we have to factor in some margin of error, Unseld's approximate three-year score from 1968-69 through 1970-71 stands at 1169.4, which would move him past the next 15 players in these rankings. And that makes sense, considering his rookie campaign with the Baltimore Bullets was so dominant that he won both Rookie of the Year and MVP.
Unseld's modern-era peak was impressive enough, but he was even better than it would lead you to believe.
38. Marques Johnson, SF, 1979-81: 942.7 TPA

Were it not for a neck injury that shortened his career—holding him to 10 games in his age-30 season and then forcing him to sit out the entirety of the next two campaigns—Marques Johnson likely would've produced numbers that elevated his standing and allowed him to remain a household name a few decades later. Prior to that aforementioned 1986-87 disaster, the small forward had made five All-Star appearances in nine opportunities while averaging 20.4 points, 7.1 rebounds and 3.7 assists for his career.
Let's put those numbers in perspective by listing every single player who has posted at least 20 points, seven rebounds and three dimes for an entire career: Kareem Abdul-Jabbar, Charles Barkley, Elgin Baylor, Larry Bird, Wilt Chamberlain, DeMarcus Cousins, Billy Cunningham, Kevin Durant, Blake Griffin, LeBron James, Johnson, Bob Lanier, Karl Malone, Bob Pettit, Oscar Robertson and Chris Webber.
Johnson's late-career exploits ultimately made his peak easier to brush aside when evaluating NBA legends. But let's not harbor any delusions about this small forward: He was a legitimate stud who kept pace with plenty of first-ballot Hall of Famers.
37. Sidney Moncrief, SG, 1982-84: 961.24 TPA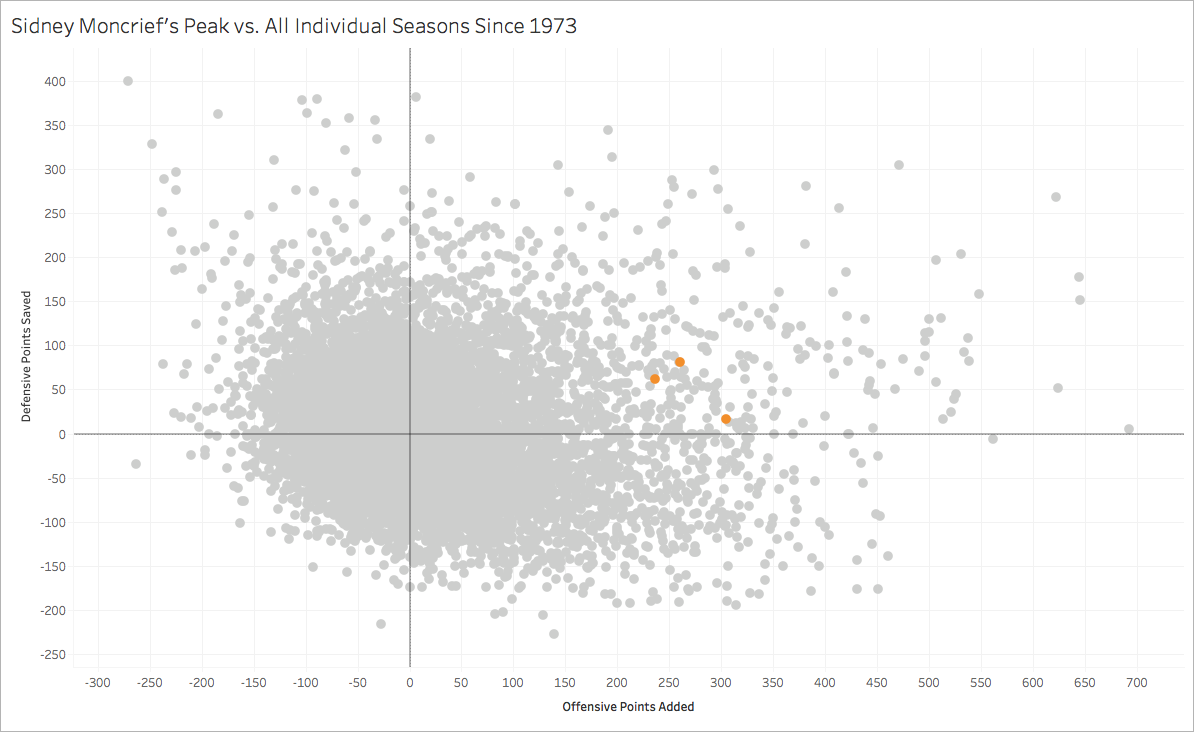 It stands to reason that Sidney Moncrief is remembered most for his defensive work. A two-time Defensive Player of the Year who checked one superstar after another, he established himself as one of the league's premier stoppers throughout the 1980s.
And yet, it's his offense that pops most in the TPA breakdown.
Moncrief was never a great outside shooter, but he rarely made poor decisions. Whether he was squeezing the ball into tight spaces or attacking around the basket, his choices benefitted the Milwaukee Bucks. And from 1981-82 through 1983-84, he averaged 21.1 points, 6.4 rebounds and 4.4 assists while shooting 51.5 percent from the field and 83.1 percent from the stripe.
The Arkansas product wasn't just one of the best defenders in modern NBA history; he was one of the best two-way studs.
36. Andrei Kirilenko, SF, 2004-06: 964.39 TPA

The impact of Andrei Kirilenko's defense can't be overstated. In fact, he has some of the most impressive scores in defensive points saved (DPS) of any small forward in the modern era. Take a gander at the only seven seasons at the position that have topped 200 in DPS:
2003-04 Andrei Kirilenko: 245.48
2005-06 Andrei Kirilenko: 233.39
1994-95 Scottie Pippen: 231.08
1996-97 Grant Hill: 204.98
1981-82 Larry Bird: 203.97
2008-09 LeBron James: 203.18
1993-94 Scottie Pippen: 200.72
During that 2003-04 campaign, Kirilenko averaged an audacious 1.9 steals and 2.8 blocks while locking down countless stars at multiple positions. And if that wasn't enough, he grabbed 8.1 rebounds per game and contributed an efficient 16.5 points per game.
Had he come around a decade later and played during the analytic era, he may well have emerged as a legitimate MVP candidate.
35. Jason Kidd, PG, 2001-03: 971.2 TPA

Jason Kidd's 2002-03 season for the New Jersey Nets was almost certainly an aberration, driven toward the top of the offensive charts by a skyrocketing true shooting percentage that stands out against the backdrop of everything else he did in his prime. All of a sudden, he found himself making constant trips to the charity stripe, connecting on more than 40 percent of his field-goal attempts and hitting from downtown at a 34.1 percent clip. 
And keep in mind, this was in Kidd's athletic prime, back when he was involved enough to average 18.7 points. He'd later become a spot-up sniper for the Dallas Mavericks, but converting so frequently while operating as a leading source of points was an entirely different role. 
Let's pretend the aberration had never happened. If Kidd's prime had continued as it had each of the two seasons prior and he'd posted another season of about 290 TPA, he'd still have a three-year peak of 867.7, which would leave him just inside the top 50. 
34. Shawn Marion, SF, 2005-07: 982.32 TPA

In 2004-05, Steve Nash won MVP for his exploits with the Phoenix Suns, while Amar'e Stoudemire and Shawn Marion joined him on the Western Conference's All-Star squad. And yet, it was Marion (307.97 TPA) who singlehandedly accumulated almost as much value as his two teammates did combined (345.13)
In 2005-06, Nash repeated as MVP, but Stoudemire was limited to just three appearances. Marion did make the journey to the All-Star contest, and he again led the Suns in TPA (338.63). Nash sat at a healthy 212.04, and Boris Diaw was third on the team (177.82).
In 2006-07, Nash couldn't go back-to-back-to-back, but he did make his third consecutive trip to the midseason festivities. A healthy Stoudemire rejoined him, and the same was true of Marion, who led the squad in TPA for the third time in three years (335.72). This time, Nash and Stoudemire combined for 288.68.
Need any further reasoning about why "The Matrix" remains one of the most underrated players in league history?
33. Kobe Bryant, SG, 2006-08: 990.69 TPA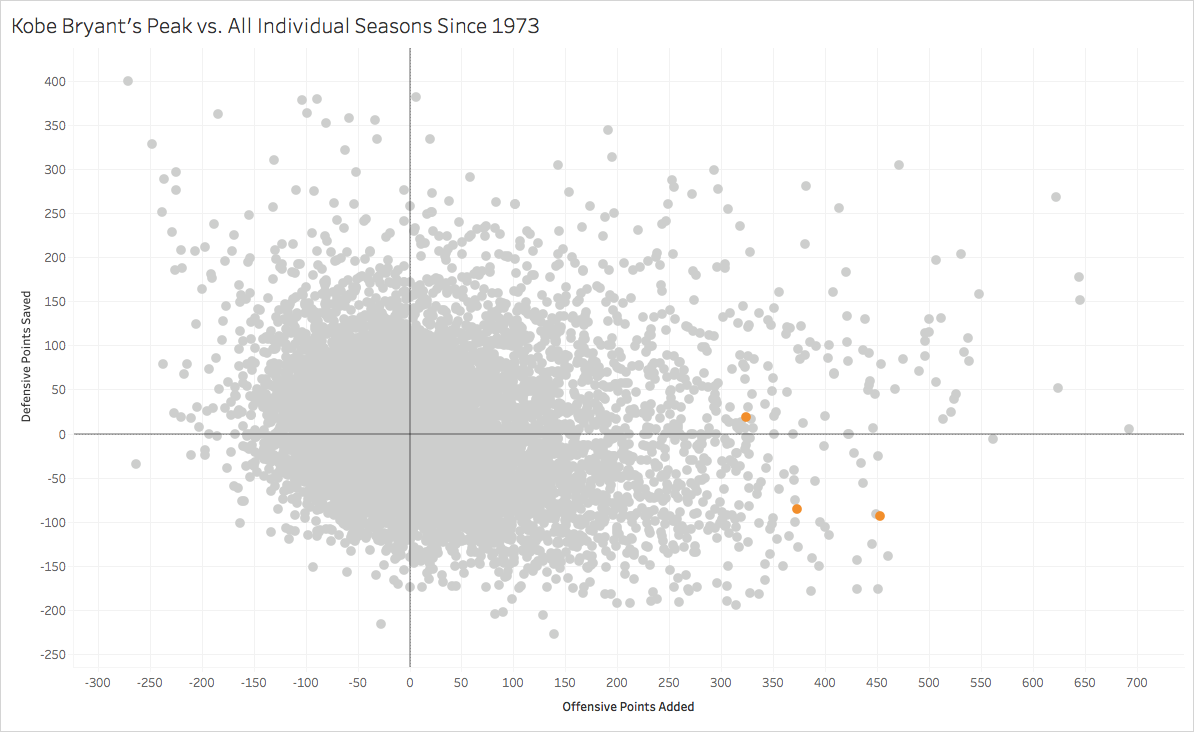 During Kobe Bryant's first three-peat with the Los Angeles Lakers (2000-02), he accumulated a total of 753.12 TPA, which would've been enough for him to rank No. 14 in this countdown. Nearly a decade later, he was even better.
At his core, Bryant was best when he was allowed to take over the offense. Pau Gasol let him do so more frequently than Shaquille O'Neal ever did, and his skyrocketing usage rate gave him the opportunities necessary to consistently—the operative word—put up some premier offensive scores.
To be clear, this three-year peak did not contain Bryant's best overall season. He was never better than in 2002-03, and his second-best TPA came three years later. But in terms of sustained excellence, this stretch just barely trumps his early-career work.
32. Gary Payton, PG, 2000-02: 1000.92 TPA

During the early portion of Gary Payton's career with the Seattle SuperSonics, "The Glove" was a legitimate defensive ace. He even posted one of the stingiest seasons from a point guard in 1995-96, when he won Defensive Player of the Year. But his best overall scores still come at the tail end of his time in the Pacific Northwest, and his contributions stemmed largely from his remarkable offense. 
Payton could simply do everything. 
Not only was he capable of scoring 25 points on any given night, but he challenged for the league lead in assists per game. He could drill triples (34.3 percent on 4.2 attempts per game during the three-year peak) and get to the charity stripe, all while avoiding those pesky little things called turnovers. 
It may be surprising that one of the greatest defensive floor generals in NBA history saw his peak come while he was a negative on the preventing end. But just view that as a testament to how great he became on the side that didn't help him earn his the most prominent portion of his reputation. 
31. Rick Barry, SF, 1974-76: 1001.62 TPA

Recording a cumulative TPA with four digits in a three-year span is rather difficult. Rick Barry is one of only 32 players to do so.
But oh, what could have been.
Barry was trucking along marvelously with his offensive dominance in both 1973-74 and 1974-75. Then his game dropped off during his age-31 season, as he stopped getting to the free-throw line so frequently and started ceding touches to Phil Smith and Jamaal Wilkes. He simply couldn't replicate his former exploits.
Of course, this is also a bit unfair to Barry. Truthfully, his peak would've been even higher had we been able to include the 1972-73 campaign or any that came even earlier. Unfortunately, those fall outside the range of TPA.
If we incorporate the estimation methodology I once used to evaluate Jerry West's career, though, we see that Barry's three-year peak might've risen as high as 1128.97 from 1972-73 through 1974-75 (and higher still if we include the ABA years that came prior to that stretch of unabated dominance).
30. Mookie Blaylock, PG, 1995-97: 1005.75 TPA

From 1995 through 1997, Mookie Blaylock made exactly zero All-Star games. He averaged just 16.7 points per game, and the combination of those two irrefutable facts didn't help push his reputation up toward the era's other elite point guards. 
But that didn't stop Blaylock. He just kept doing all the little things, and they added up. 
The 6'0″ floor general shot 36.5 percent from beyond the arc while taking 7.5 attempts per game. Despite his heavy involvement initiating offense for the Atlanta Hawks, he averaged just 2.6 cough-ups per contest and fouled even less frequently while constantly challenging for the league lead in steals. He even rebounded far better than you might expect from a player his size. 
Two-way contributions tend to play well, and that's what Blaylock provided year in and year out. 
29. Dirk Nowitzki, PF, 2005-07: 1006.75 TPA

Dirk Nowitzki was never a defensive stalwart, but he didn't need to be. The Dallas Mavericks were presumably content with his offensive exploits, which helped carry the organization to its only two Finals appearances and led to the franchise's lone title.
The future Hall of Famer was never better than in 2005-06, even if he won MVP one year later. He averaged a scorching 26.6 points and 2.8 assists while shooting 48.0 percent from the field, 40.6 percent from downtown and 90.1 percent from the field, and while it may not have been his 50/40/90 season—that came during the MVP-winning campaign—the added volume and refusal to turn the rock over did the trick.
To this day, few have figured out how to slow down the one-legged flamingo fadeaway. It was unstoppable then, and it would probably be nearly indefensible for many decades yet to come. Only Nowitzki's decision to retire—if such a choice ever comes—can contain that signature move.
28. Kawhi Leonard, SF, 2015-17: 1011.96 TPA

Yes, that's Kawhi Leonard's 2014-15 work serving as the upper-left orange dot. He wasn't quite the same offensive superstar he functions as today, and that held back his overall score.
Leonard already ranking seventh is impressive enough. But the 26-year-old is only getting better every year, and it's by no means a stretch to imagine him outpacing his best work in 2017-18. He's more comfortable than ever as a featured scoring option, which should allow his defense to rise closer to the heights it hit while he earned back-to-back Defensive Player of the Year trophies.
Just for fun, let's pretend Leonard replicates his 2016-17 score next year. In that scenario, he'd boast a three-year peak of 1153 TPA and rise to No. 24 in these rankings.
And assuming he can stay healthy, that might be his floor.
27. Walt Frazier, PG, 1974-76: 1019.47 TPA

Our definition of the modern era automatically disadvantages Walt Frazier. His best seasons came in the five years directly before 1973-74, but we can't include them here since TPA can't technically be calculated. And yet, he still places just outside the top 25. 
But just for fun, let's take the same methodology I used to project Jerry West's full career for NBA Math and see what an approximation of his true peak might look like. 
His top TPA in the three-year peak represented in these rankings came in 1974-75 (399.2). Using win shares per 48 minutes as the baseline for estimation, that would actually fall behind his efforts in 1968-69 (490.3), 1969-70 (593.6), 1970-71 (597.6), 1971-72 (541.6) and 1972-73 (470.2). And yes, you know what's coming next. 
If we were looking beyond 1973-74 and deep into the more distant past, Frazier's true three-year peak would grade out at 1732.8, thereby moving him past all but six members of the modern era. 
Breaking news: Frazier was quite good at this whole basketball thing. 
26. Grant Hill, SF, 1996-98: 1037.49 TPA

Grant Hill was rather unfortunate, and not just because injuries cut his prime far too short.
The small forward was on pace for a legendary career before his body betrayed him, but the NBA as a whole also held him back. Though his three-year peak began during his sophomore season and ended in 1997-98, he was actually even better one year later. Unfortunately, the lockout shortened the season to just 50 games, and Hill played in all of them. Had he done that during a full 82-game campaign while maintaining his exact level of play, his peak score would've shifted to 1061.45 TPA.
Would that have moved him up even a single slot? Nope.
But it's still a superior score, and there's no telling how much better he could've grown if he'd stayed healthy.
25. Bob McAdoo, C, 1974-76: 1111.71 TPA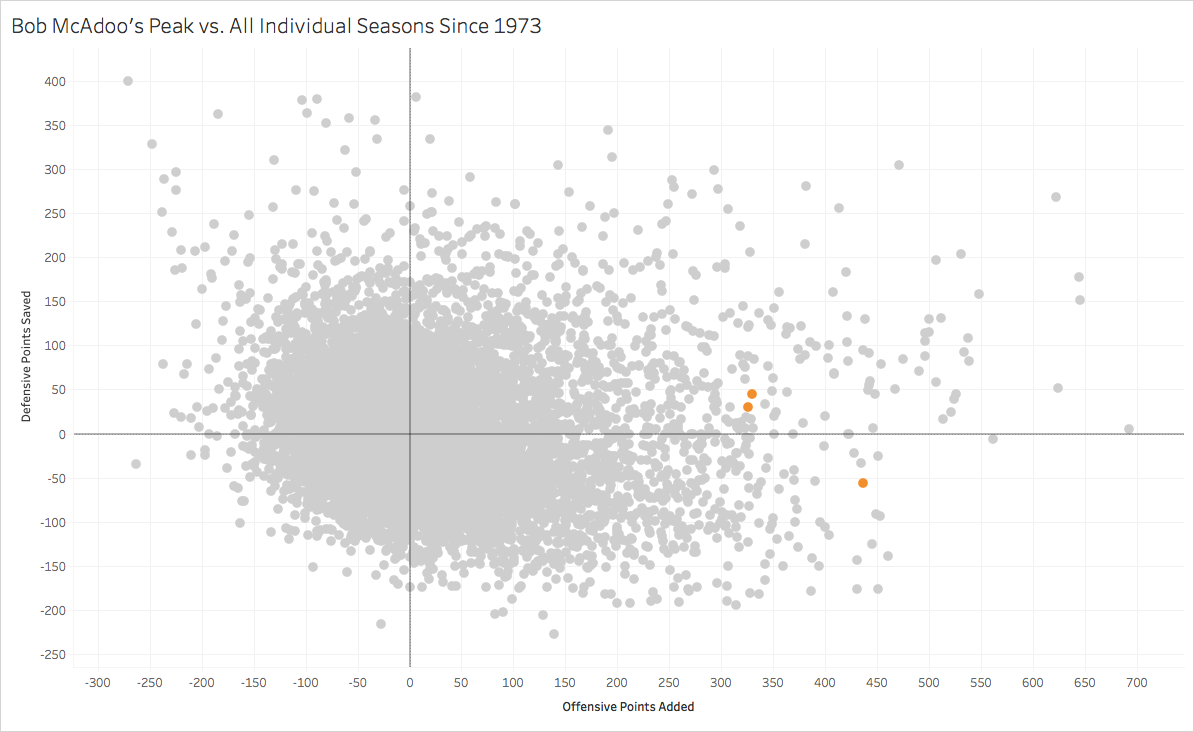 In 1973-74, Bob McAdoo led the NBA in points per game, averaging 30.6 while shooting a league-best 54.3 percent from the field and hitting 79.3 percent of his free-throw attempts.
In 1974-75, McAdoo led the NBA in points per game, averaging 34.5 while shooting 51.2 percent from the field and hitting 80.5 percent of his free-throw attempts.
In 1975-76, McAdoo led the NBA in points per game, averaging 31.1 while shooting 48.7 percent from the field and hitting 76.2 percent of his free-throw attempts.
Enough said.
24. Fat Lever, PG, 1987-89: 1139.23 TPA

Before triple-doubles were cool, Fat Lever disagreed.
Technically, Oscar Robertson came first. But then Lever started putting up big numbers for the Denver Nuggets a few decades later, showing off his athleticism as he finished plays at the hoop, excelled in the drive-and-kick game and established himself as one of the best rebounding guards ever. From 1986-87 through 1988-89, he posted a whopping 36 trip-dubs. 
Now, he's one of the most underrated players ever. The NBA didn't understand the value he brought with his non-traditional production, but it's now abundantly clear just how much he added to Denver's efforts on both ends of the floor. Of course, there were a few exceptions back in the day. 
"The only thing Lever can't do is shoot straight (.437 career. .459 this season), but then, no one on the Nuggets can," Jack McCallum wrote for Sports Illustrated in 1987 while calling Lever the Western Conference's most underrated point guard, based on a survey of players, coaches and broadcasters. "Instead they shoot often, and Lever is the guy who distributes the ball, both on the break, where he makes excellent open-court decisions, and in coach Doug Moe's half-court passing offense."
23. Tracy McGrady, SG, 2003-05: 1249.6 TPA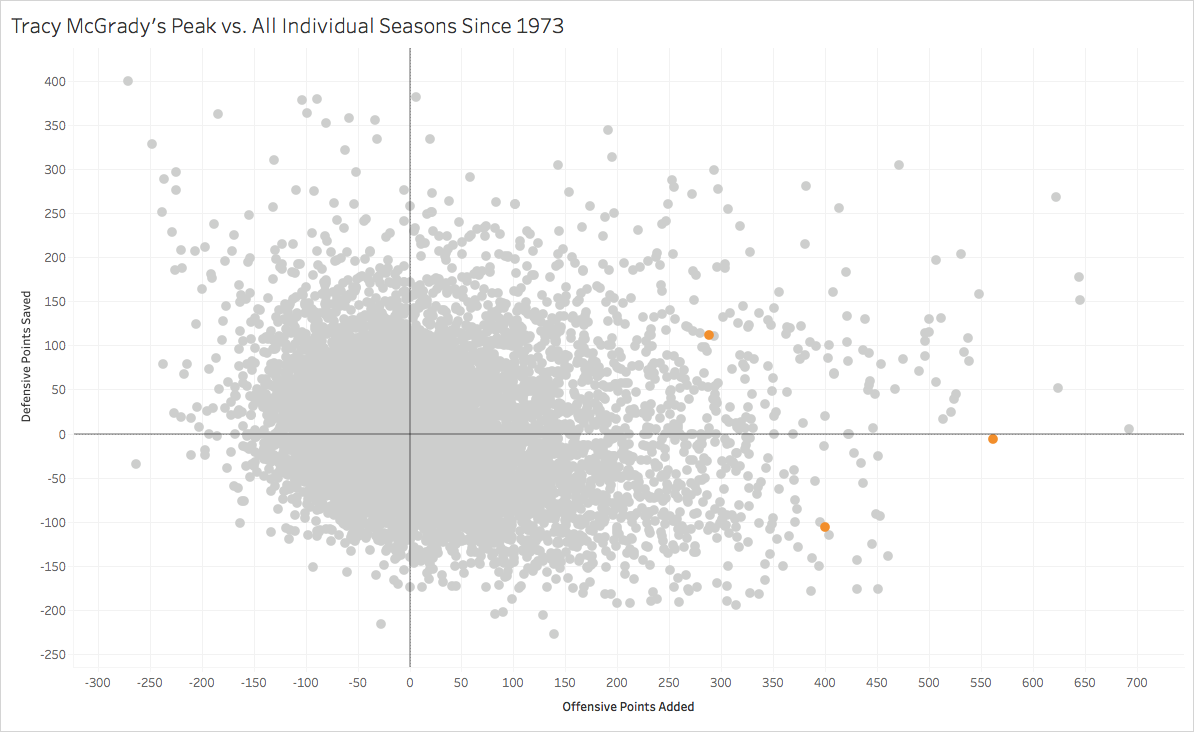 How hard is topping Tracy McGrady's 2002-03 campaign?
Just three men in the modern era have posted a higher score in offensive points added: Russell Westbrook (2016-17), Stephen Curry (2015-16) and Michael Jordan (1987-88, 1988-89 and 1989-90). That's it. LeBron James, Charles Barkley and James Harden are the only players to even come close to joining the club.
During his penultimate season with the Orlando Magic, McGrady paced the NBA in points per game (32.1) while also averaging 6.5 rebounds and 5.5 assists. As if that wasn't enough, he shot 45.7 percent from the field, 38.6 percent from deep and 79.3 percent on his free-throw attempts.
McGrady wasn't a particularly gifted long-range shooter throughout his career, but this campaign was a significant aberration—in a positive way, of course.
22. Scottie Pippen, SF, 1994-96: 1253.63 TPA

Scottie Pippen wasn't just a sidekick.
The small forward was a tremendous defensive presence alongside Michael Jordan (who, it should be noted, never won a title without Pippen sharing the court) and remains one of the most feared point-preventing presences in NBA history. But he was no slouch on offense, becoming a two-way standout who was capable of carrying the Chicago Bulls on his own.
Say it with me this time: Scottie Pippen wasn't just a sidekick.
21. Kevin Durant, SF, 2012-14: 1263.65 TPA

The full list of players with a higher OPA than Kevin Durant posted in 2013-14? Charles Barkley, Stephen Curry, James Harden, LeBron James, Michael Jordan, Tracy McGrady and Russell Westbrook. That's it.
Unfortunately, Durant had bad timing.
His efforts in that record-setting, MVP-winning campaign were incredible, but they were surrounded by the lockout-shortened campaign in 2011-12 and the 2014-15 season in which he played only 27 games while dealing with foot injuries. He just didn't have enough opportunities to mach the standouts listed ahead of him, though replacing the worst of his peak years with a duplication of his 2012-13 work would bump his three-year score up to 1467.6 and move him past the next nine players in this countdown.
And even though his actual mark might not show it, that hypothetical finish at No. 12 would be a more accurate summation of his ability and production.
20. Tim Duncan, PF, 2002-04: 1270.74 TPA

Tim Duncan will make the Hall of Fame as soon as he's eligible. He's unquestionably one of the 10 greatest players in NBA history and can very well be considered among the top five. He's an ultimate example of a winner, boasted one of the most unstoppable shots in basketball (his elbow jumper) and played such great defense that it's a travesty he was never named Defensive Player of the Year.
How in the world can he trail three players at his own position? Well, that's because longevity boosted his stock more than an astronomical peak. Take a gander at every season of his career: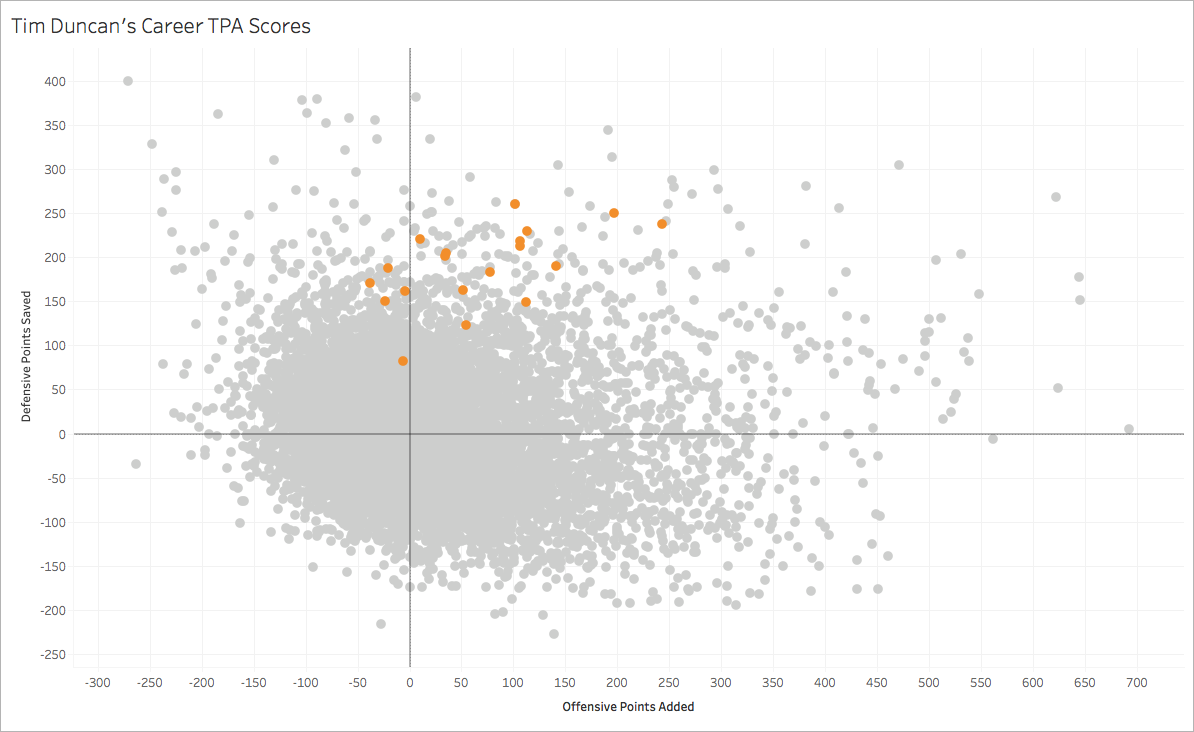 Duncan had four different three-year sets hit four figures in cumulative TPA. A dozen different stretches would've earned a top-20 spot among the power forwards in these rankings.
Any way you look at it, this man—and yes, he was a center later in his career—is a legend.
19. Julius Erving, SF, 1981-83: 1276.87 TPA

Julius Erving was never more dominant than during his ABA days, but those don't count for our purposes.
After he transitioned to the NBA with the Philadelphia 76ers, the Hall of Famer experienced a slight adjustment period. He was a superstar, but he wasn't throwing up the mind-numbing numbers he'd earned with the Virginia Squires or New York Nets. Then he figured everything out and became a two-way force, dunking on everyone and using his ridiculous athleticism to contribute in every area imaginable.
Erving's 1980-81 season, in which he averaged 24.6 points, 8.0 rebounds, 4.4 assists, 2.1 steals and 1.8 blocks while shooting 52.1 percent from the field, remains one of the greatest all-around performances the Association has ever witnessed.
18. Hakeem Olajuwon, C, 1993-95: 1279.86 TPA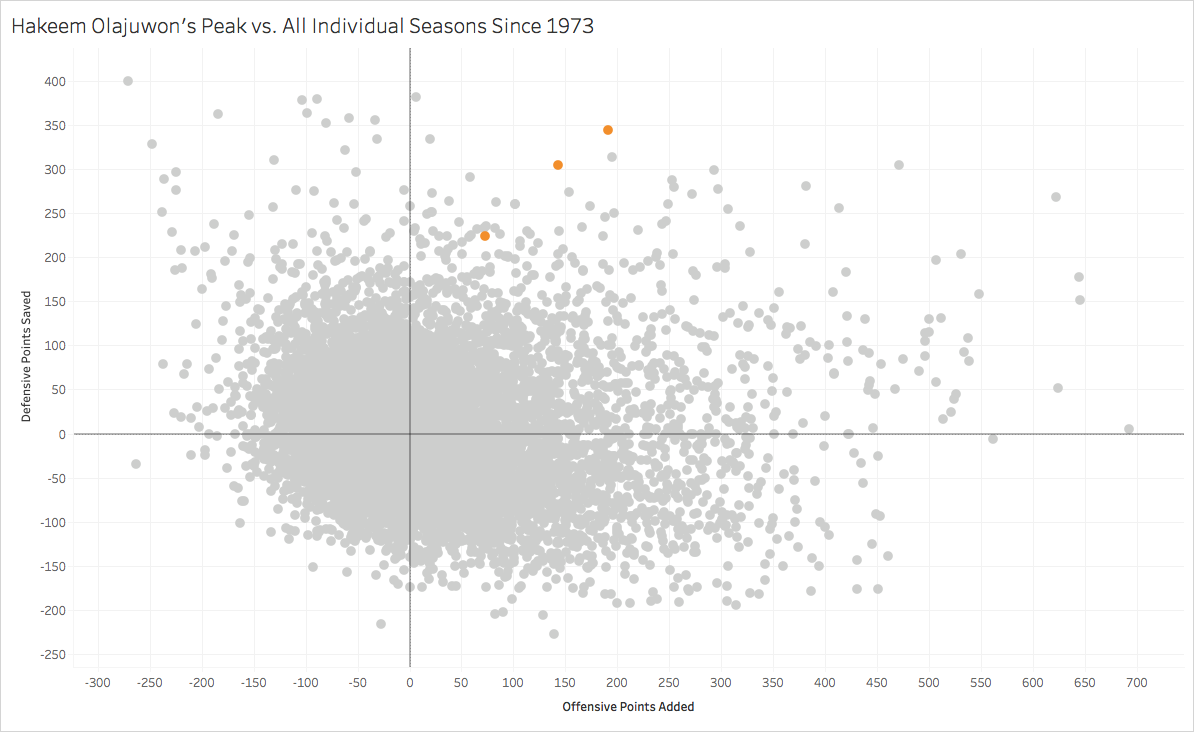 What couldn't Hakeem Olajuwon do?
One of the greatest all-around players in the history of the sport, "The Dream" was capable of filling up the stat sheet in myriad ways. He could reject shots left and right around the hoop, step into passing lanes and spark fast breaks for his Houston Rockets, take over a game with his mid-range shooting or torture opponents with the infamous Dream Shake. That last move became his signature selling-point, but reducing him to a series of unstoppable post moves would be akin to overly simplifying his diverse arsenal.
A back-to-the-basket-game alone didn't make him the league MVP in 1993-94.
17. Karl Malone, PF, 1996-98: 1298.06 TPA

Indefatigable play defined Karl Malone's NBA tenure, despite his ringless status. It's not his fault he ran into the Michael Jordan buzzsaw time and time again, especially since he formed a pairing alongside John Stockton that propelled the Utah Jazz to Western Conference prominence for so long.
Malone could thrive in a number of different areas, and his career lasted forever—he debuted as a 22-year-old in 1985-86 and didn't retire until the end of his age-40 campaign with the Los Angeles Lakers. But his legacy will always revolve around the pick-and-roll, which he ran to perfection with Stockton. Remembering this now is difficult, given that set's prominence in the present-day NBA, but it was the Jazz duo who helped popularize PnR action. And its success was just as much about Malone's finishing ability as it was the point guard's knack for feeding him the rock in the perfect spot.
This big man benefited from Stockton and head coach Jerry Sloan's system. That much is irrefutable. But on the flip side, it's not like he was anything less than an integral part of Utah's unabashed excellence throughout the 1990s and late-'80s.
16. Shaquille O'Neal, C, 2000-02: 1329.44 TPA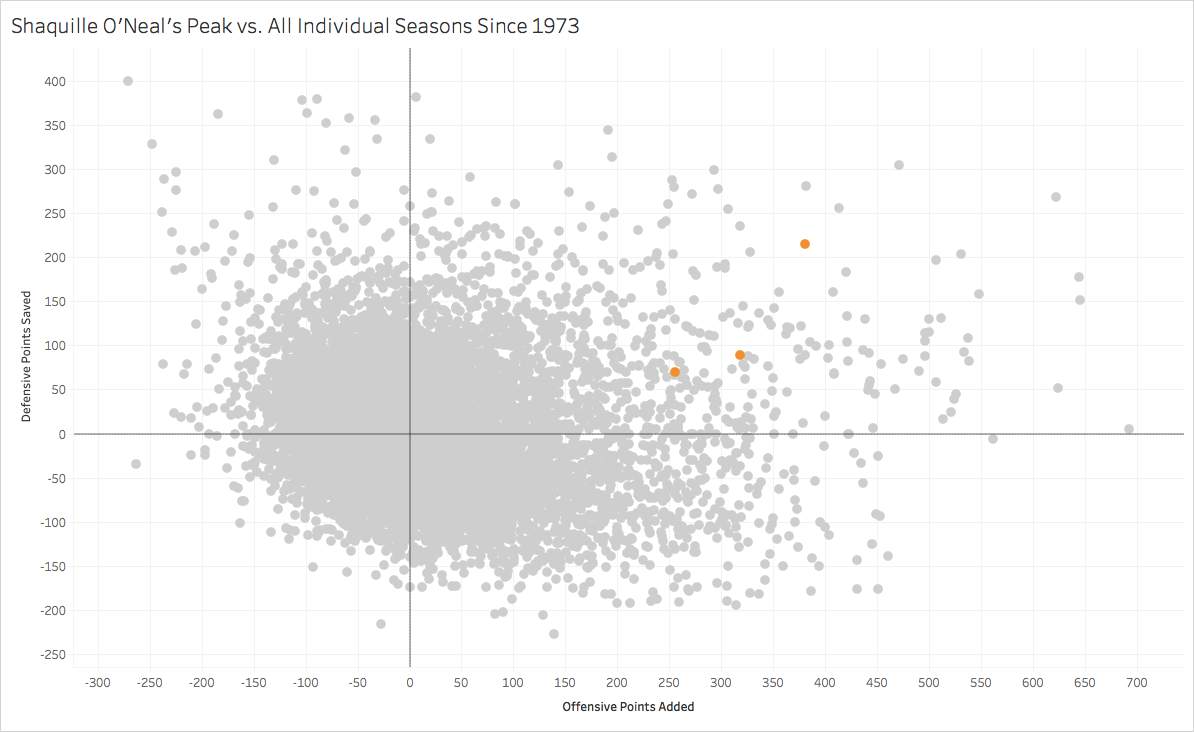 During his first three seasons with the Orlando Magic, the baby-faced Shaquille O'Neal, just coming off his dominant collegiate career at LSU, managed to post a total of 962.69 TPA. He was one of the Association's most impactful players from the get-go, and he'd only improve after joining the Los Angeles Lakers in free agency.
His 1999-00 campaign, in which he averaged a league-leading 29.7 points, 13.6 rebounds, 3.8 assists, 0.5 steals and 3.0 blocks while shooting 57.4 percent from the field, remains one of the greatest years in NBA history. Only two centers have ever posted a higher single-season TPA, and each of them have yet to show up in this countdown.
Just imagine what O'Neal could've done with a working free-throw stroke.
15. Chris Paul, PG, 2007-09: 1336.36 TPA

Among point guards, Chris Paul nearly sits in a tier of his own. 
His 2007-08 and 2008-09 campaigns were some of the finest seasons the NBA has ever seen from a point guard, and they elevate him well above Fat Lever and the other players at the position who have already populated this countdown. But the two choices to extend that two-year peak to the full required length were a bit more lackluster.
Paul played just 45 games in 2009-10 and struggled on defense while he was getting healthy, so that one's out. The other choice—and ultimately, the better one—comes from 2006-07, a year in which he was still gaining responsibility as a sophomore with the New Orleans/Oklahoma City Hornets. He wasn't yet tasked with nearly as many scoring responsibilities, averaging 17.3 points per game to sit behind both David West (18.3) and Peja Stojakovic (17.8). 
Without that stellar third season, Paul sits well behind each member of the top three point guards. But at his very best, even if that level wasn't sustained long enough for our purposes, he was every bit their equal. 
14. Bob Lanier, C, 1974-76: 1386.62 TPA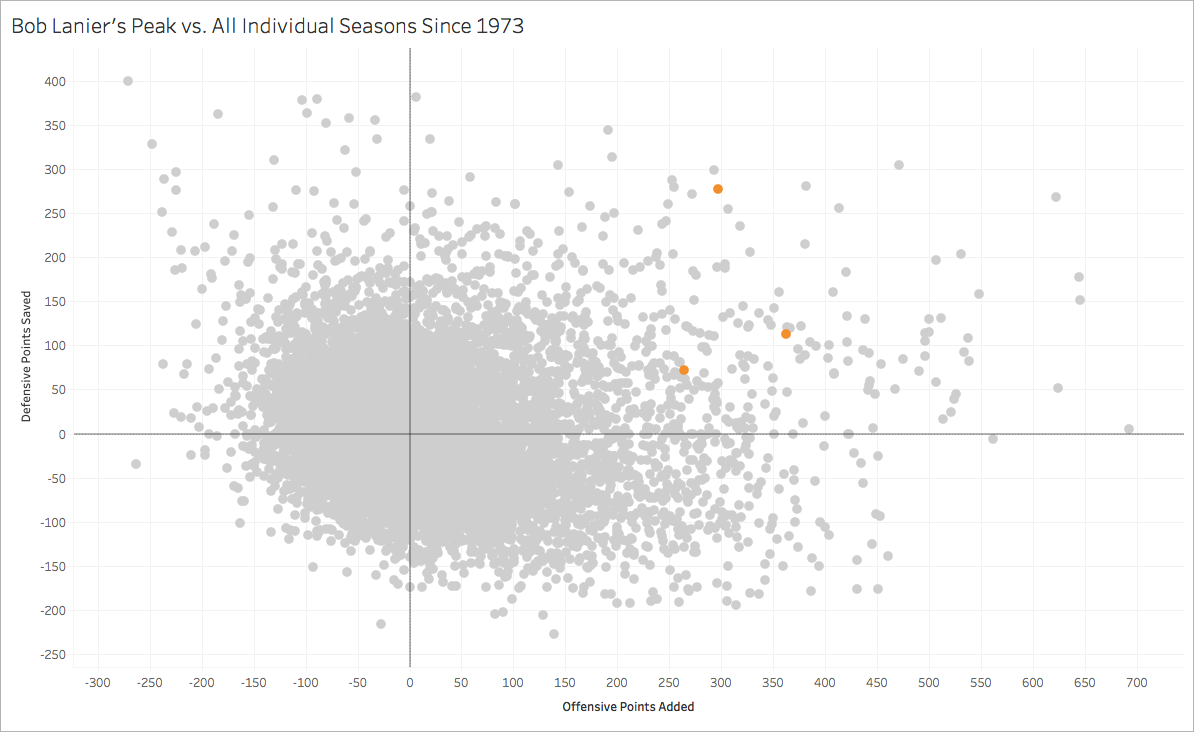 Seeing Bob Lanier rise so high might seem strange, but that's largely because he experienced a distinct lack of team-based success.
As an individual, this center was ridiculously dominant. He just happened to play on lackluster Detroit Pistons teams throughout his prime, surrounded by a supporting cast so underwhelming that he could barely make the playoffs and only twice advanced out of the first round. During his three-year peak, the best TPA scores posted by his teammates were Dave Bing's 97.03 in 1973-74, Eric Money's 79.5 in 1975-76, Bing's 67.46 in 1974-75, Chris Ford's 52.99 in 1975-76 and Ford's 50.24 in 1973-74.
Winning with that type of supporting cast is hard, especially in a condensed version of the NBA that only featured 18 teams. And without playoff success on his resume, Lanier has become more anonymous than he ever should've been allowed to become.
13. Dwyane Wade, SG, 2009-11: 1416.2 TPA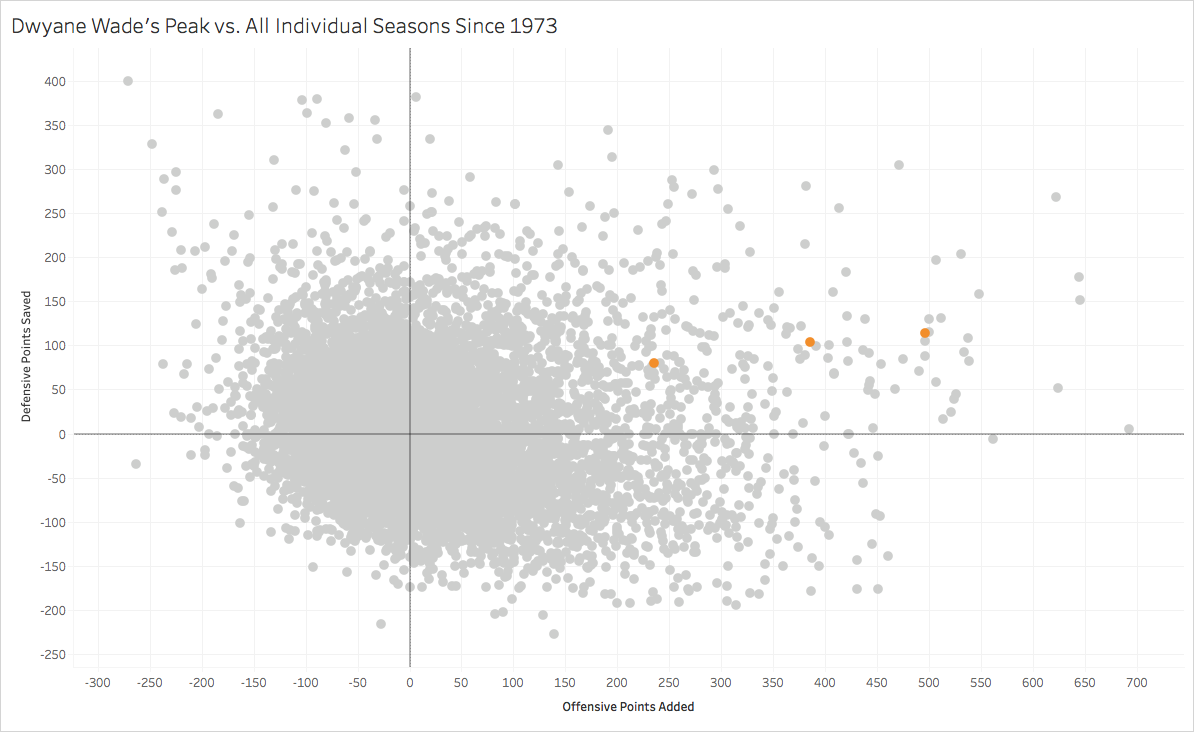 Dwyane Wade was never better than in 2008-09, when he finished third in the MVP voting, behind only LeBron James and Kobe Bryant. And while he was slightly superior before that one-year peak than after it, injuries prevented him from racking up enough minutes to make that earlier three-year stretch his entry in these rankings.
Then again, it's not like the future Hall of Famer struggled in the aftermath of his 2008-09 exploits.
He was an MVP candidate once again in 2009-10, and he posted incredible numbers despite ceding touches to LeBron James throughout the 2010-11 campaign. Just imagine if he'd remained the South Beach alpha dog for one season more, still handling the heavy lifting on the offensive end rather than trading off possessions and learning how to play with another superstar in his prime.
Wade's score is already incredible. And it could've been even better.
12. Clyde Drexler, SG, 1988-90: 1425.55 TPA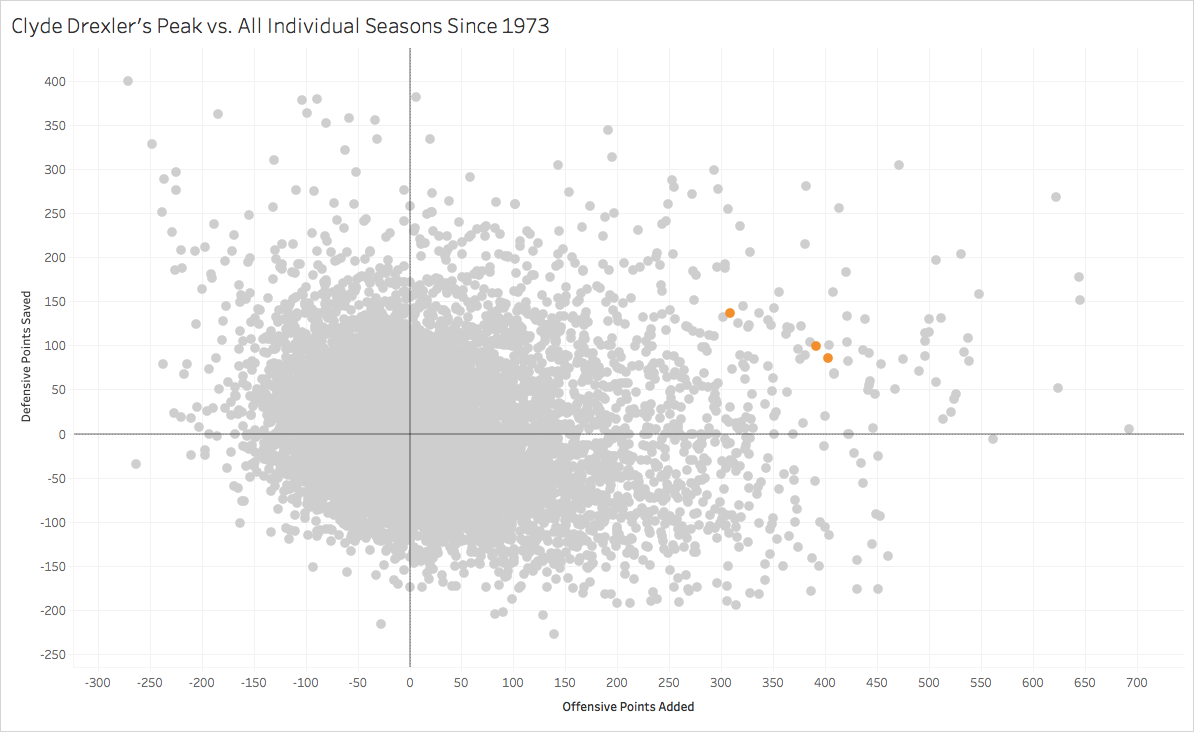 Fun fact: Only 10 players have accumulated more career TPA during the regular season than Clyde Drexler, and Michael Jordan is the lone man ahead who played the 2.
Drexler's name doesn't tend to come up in those type of G.O.A.T. discussions these days. His exploits have faded away a bit—perhaps because the only ring of his career came during his first season playing alongside Hakeem Olajuwon on the Houston Rockets.
But Drexler was incredible throughout his NBA tenure. These three years don't actually stand out by much: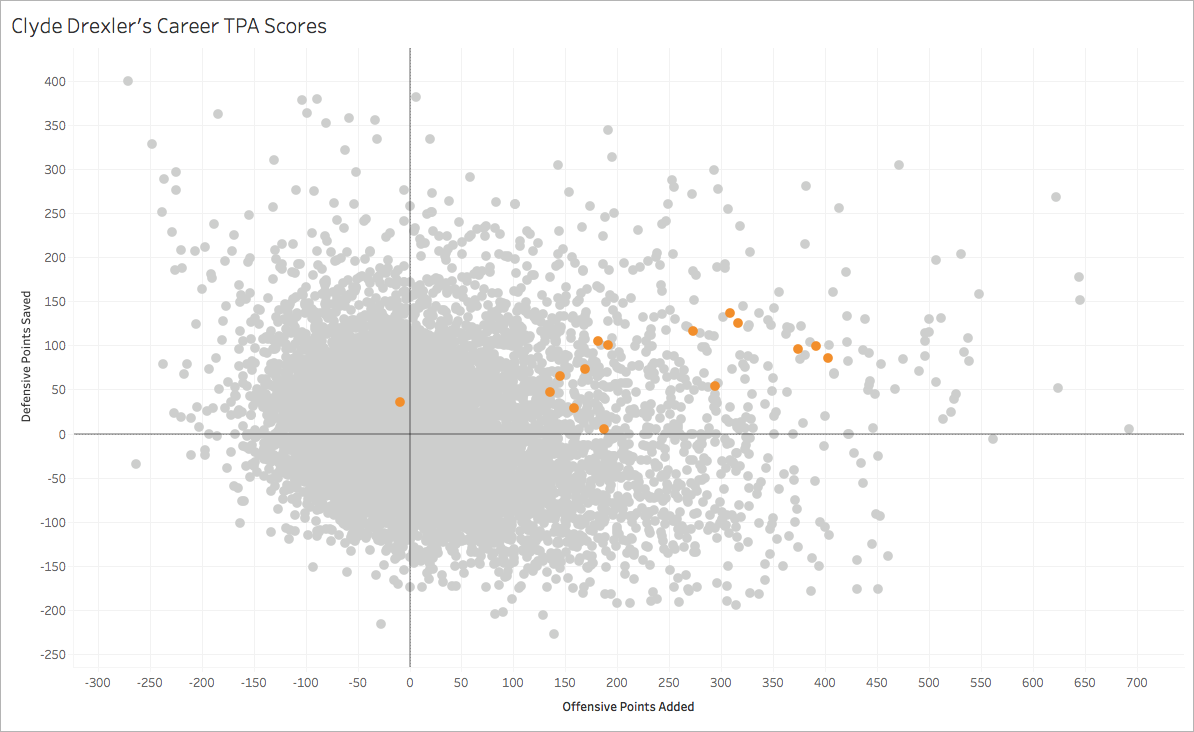 Now that's one helluva career.
11. James Harden, SG, 2015-17: 1555.35 TPA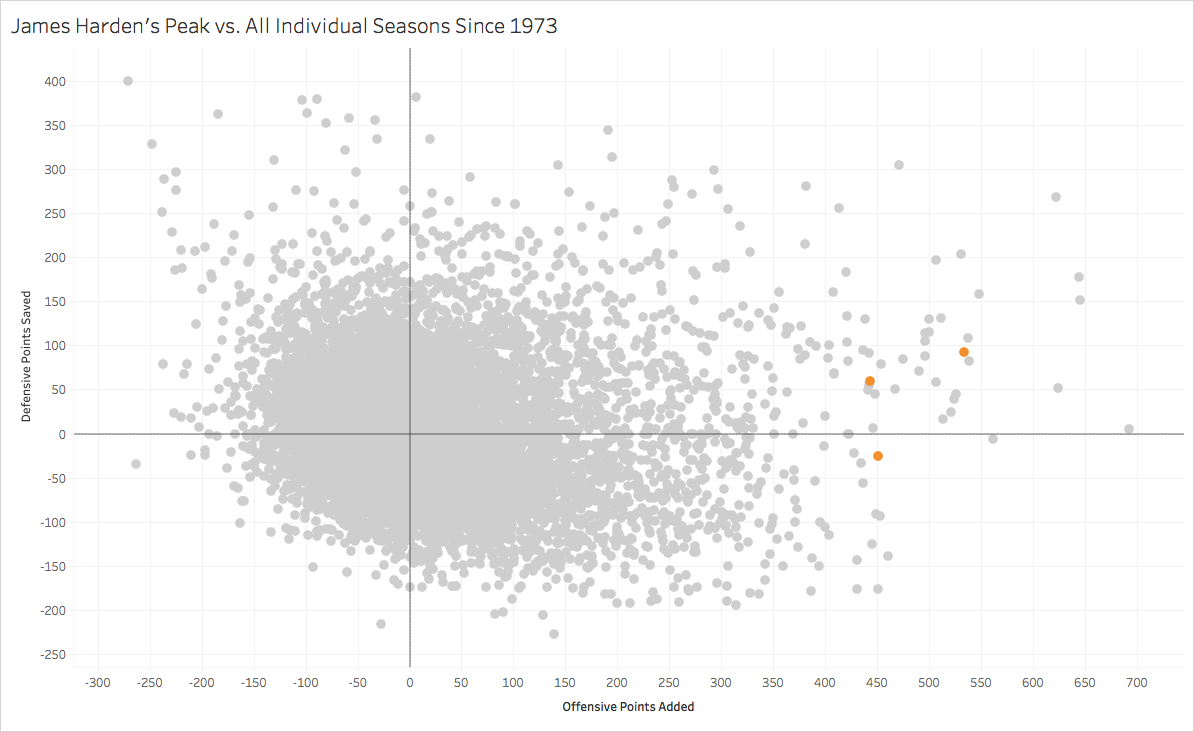 This might be as good as it gets for James Harden.
The bearded guard has plenty of prime years left, though he'll now be giving up touches to Chris Paul in the Houston Rockets backcourt. Without total control of the rock, it'll be tough for him to match his 2016-17 exploits, when he created a jaw-dropping percentage of Houston's total offensive production; Harden was responsible for scoring or assisting pretty much every bucket while finishing as the runner-up to Russell Westbrook in the MVP race.
And that's fine.
There's still a chance Harden could keep improving. At this point, ruling out such a trend would be foolish, since he's surpassed even the loftiest expectations throughout his career. But even if he can't ever top this three-year peak, he'll go down as one of the most dangerous backcourt members in NBA history.
10. Magic Johnson, PG, 1989-91: 1602.65 TPA

Let this serve as a reminder of how ridiculously dominant Magic Johnson was throughout his career. 
The Los Angeles Lakers 1-guard thrived from the moment he entered the league, but it wasn't until the tail end of his NBA tenure that he put up his statistical peak. Even as he moved into his 30s, he was able to use his awe-inspiring vision and passing chops to put the ball in the right places, running an up-tempo Showtime attack that never allowed the opposition to get comfortable. 
Unfortunately, Johnson's peak ended abruptly. His HIV diagnosis forced him into a four-year hiatus before he'd return for 32 games in 1995-96, and we'll never know whether he could've topped this three-year score during the early '90s. 
9. Stephen Curry, PG, 2014-16: 1650.1 TPA

No one in the modern era has had an offensive campaign quite like Stephen Curry's 2015-16.
Not only did he average 6.7 assists to go along with his league-leading 30.1 points per game, but he did so while shattering efficiency norms. The Golden State Warriors point guard and eventual back-to-back MVP connected on 50.4 percent of his field-goal attempts, 45.4 percent of his 11.2 three-point attempts per contest and 90.8 percent of his shots from the stripe. All together, he paced the league with a 66.9 true shooting percentage, which put him in a rather exclusive class.   
Throughout history, 66 individual seasons have seen someone average at least 30 points. Prior to Curry, 1983-84 Adrian Dantley had the top true shooting percentage during one such go-round (65.2). 
The baby-faced assassin was special in the seasons surrounding 2015-16, but his historic offensive exploits throughout his best year push him close to the top of these rankings. 
8. Kevin Garnett, PF, 2003-05: 1708.18 TPA

Kevin Garnett was incredible during his early years with the Minnesota Timberwolves. He thrived as part of the Boston Celtics' Big Three, even contributing to one of the greatest teams in NBA history when he teamed up with Paul Pierce and Ray Allen for the 2007-08 season. And though he didn't do much with the Brooklyn Nets or after returning to finish his career in Minnesota, he'll still be a first-ballot Hall of Famer.
But he was never better than from 2002-03 through 2004-05, when he won the only MVP award of his career while submitting one of the most statistically remarkable seasons the hardwood has ever witnessed. In 2004-05, "The Big Ticket" averaged a jaw-dropping 22.2 points, 13.5 rebounds, 5.7 assists, 1.5 steals and 1.4 blocks while shooting 50.2 percent from the field and rarely turning the rock over. It wasn't enough to carry the 'Wolves into the postseason, but can you really blame him when his next-best teammates were Wally Szczerbiak, a 35-year-old version of Sam Cassell and a 34-year-old Latrell Sprewell?
Garnett was just a monster, capable of doing everything imaginable on the basketball court and still finding time to prevent post-whistle shots from going through the rim and giving unneeded confidence to the opposition.
7. David Robinson, C, 1994-96: 1717.96 TPA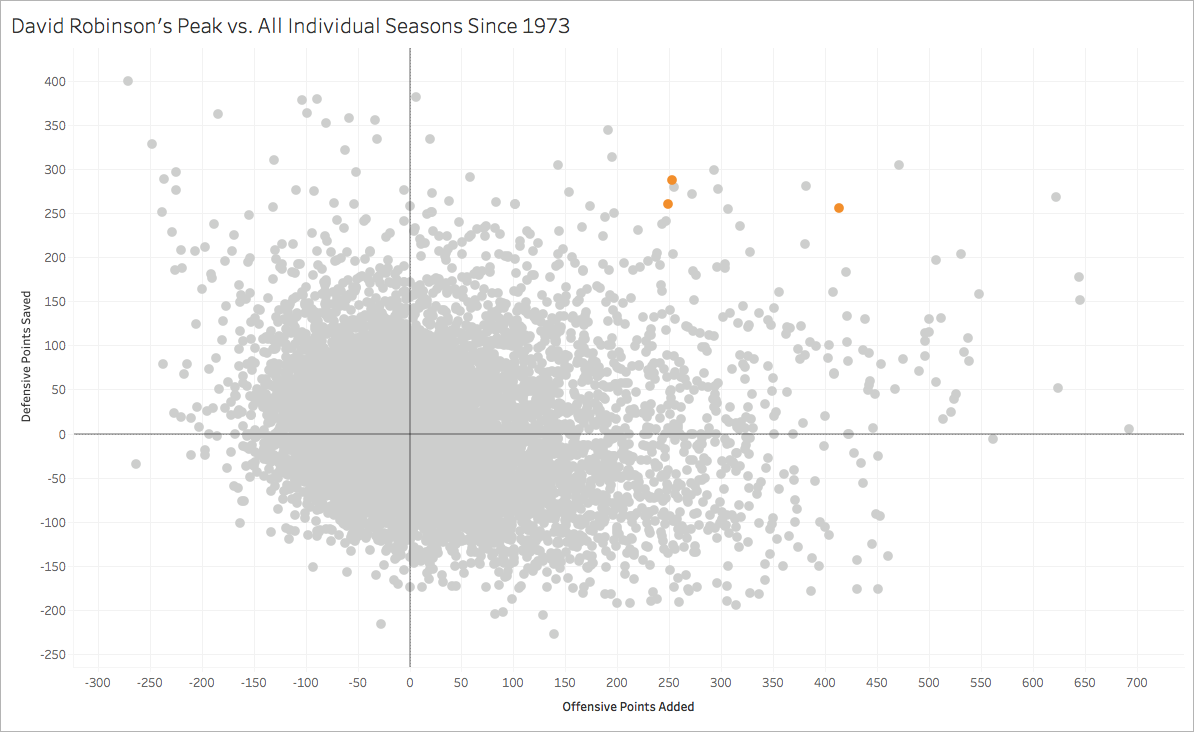 David Robinson could do everything.
Blessed with one of the most ridiculous physical frames in NBA history, "The Admiral" was another stat-sheet-stuffer who could contribute in virtually any area. Had he come around a decade later, he'd probably even have learned how to shoot from beyond the arc rather than finishing his career at a mediocre 25-of-100 from Curry-range. But he played in the '90s, when physicality and interior excellence still reigned supreme at the 5.
Robinson could jump out of the gym and finish with exquisite touch, which allowed him to do unfathomable things on the basketball court. He was phenomenal throughout his time with the San Antonio Spurs, but his 1993-94 efforts were so special that, at the position in question, they've only been topped by the No. 1 center in our countdown.
6. Larry Bird, SF, 1985-87: 1740.43 TPA

Larry Bird was just on a different level. The worst season of his three-year peak came in 1986-87 (567.91 TPA), and only one small forward has ever posted a better season: our No. 1 finisher at the position.
In fact, the distance between him and No. 3 small forward Julius Erving (463.56 TPA) is larger than the gap between Erving and No. 15 small forward Alex English (448.11).
That's just patently unfair.
5. Charles Barkley, PF, 1988-90: 1793.22 TPA

Charles Barkley may not like analytics, but they sure love him.
Though he was still a dominant force for the Phoenix Suns, the power forward's true prime came with the Philadelphia 76ers. He didn't do much on defense, but his offensive numbers and work on the glass were nothing short of amazing. During the relevant three-year stretch, he averaged 26.4 points, 12.0 rebounds and 3.7 assists while shooting 58.9 percent from the field.
Throughout all of NBA history, only 11 individual seasons have seen someone average at least 20 points with a true shooting percentage north of 65. Amar'e Stoudemire, Stephen Curry and Kevin Durant have each down so once, while Kevin McHale and Adrian Dantley joined the club twice.
Barkley met the qualifications on four separate occasions, which just about says it all.
4. Russell Westbrook, PG, 2015-17: 1949.32 TPA

Russell Westbrook's score is a bit misleading. 
He posted the best TPA since 1973-74, regardless of position, while averaging a triple-double in 2016-17. But that's at least partially because of some strange interaction effects, as ESPN.com's Kevin Pelton explained wonderfully toward the end of the campaign: 
Frankly, Westbrook's season has broken BPM, which is not quite as flattering to him as it sounds.

To improve the quality of the rating for most players, BPM uses interaction effects that multiply a player's assist percentage by his usage rate and his rebound percentage. As you might guess, Westbrook's season is off the charts historically by both measures…

Basically, Westbrook's season is way outside the sample on which BPM was trained to estimate player value, making its estimate of his value unreliable. BPM is treating Westbrook's versatility as exponentially better than anyone else's on record, and that's surely an exaggeration.

In short, Westbrook probably isn't having the greatest year in modern NBA history, just the one best designed to maximize BPM.
BPM is the basis for TPA, so the same analysis applies here. Westbrook's scores, especially on defense, are significantly inflated.
But let's pretend they weren't.
Westbrook was still objectively better in 2016-17 than he's ever been. Hs increased usage didn't correspond with a decline in per-minute production; he even matched 2015-16 to replicate the highest true shooting percentage of his career (55.4). So let's pretend he improved, but rather than by the monumental leap TPA shows, only by as much as the gap between his 2014-15 and 2015-16 seasons.
In that situation, he'd have emerged from the most recent expedition with 601.8 TPA. Correspondingly, his three-year peak would sit at 1661.4, still allowing him to hold down the fort with a top-10 peak. Interaction effects may have boosted him to the top of the single-season leaderboard for point guards, but they're not responsible for his ridiculous surge over the last few years.
3. Kareem Abdul-Jabbar, C, 1975-77: 1952.75 TPA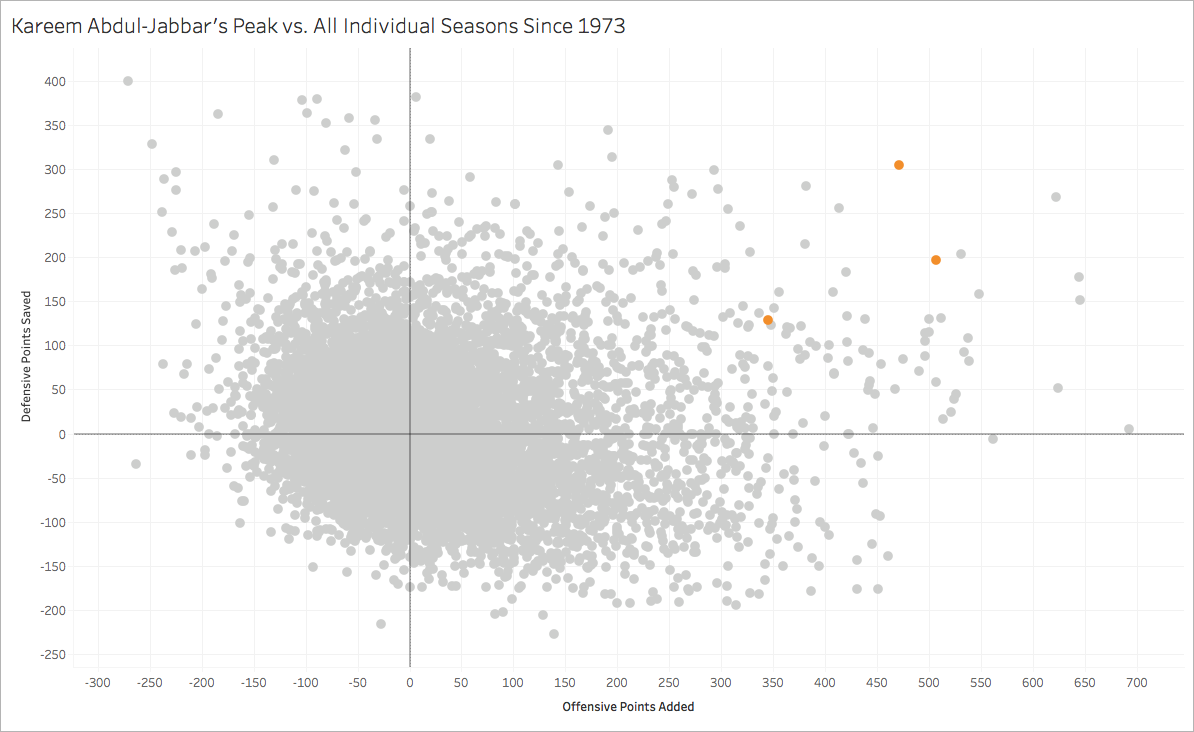 The above graph is ridiculously impressive, featuring two orange dots that outpace anything produced by another player at the center position. In fact, only LeBron James, Michael Jordan and Russell Westbrook (during the year in which his usage rates may have effectively broken the metric and unfairly elevated his mark) have produced single-season TPA scores that outpace Kareem Abdul-Jabbar's work in either 1975-76 or 1976-77.
Now, allow us to show you an even more impressive graph: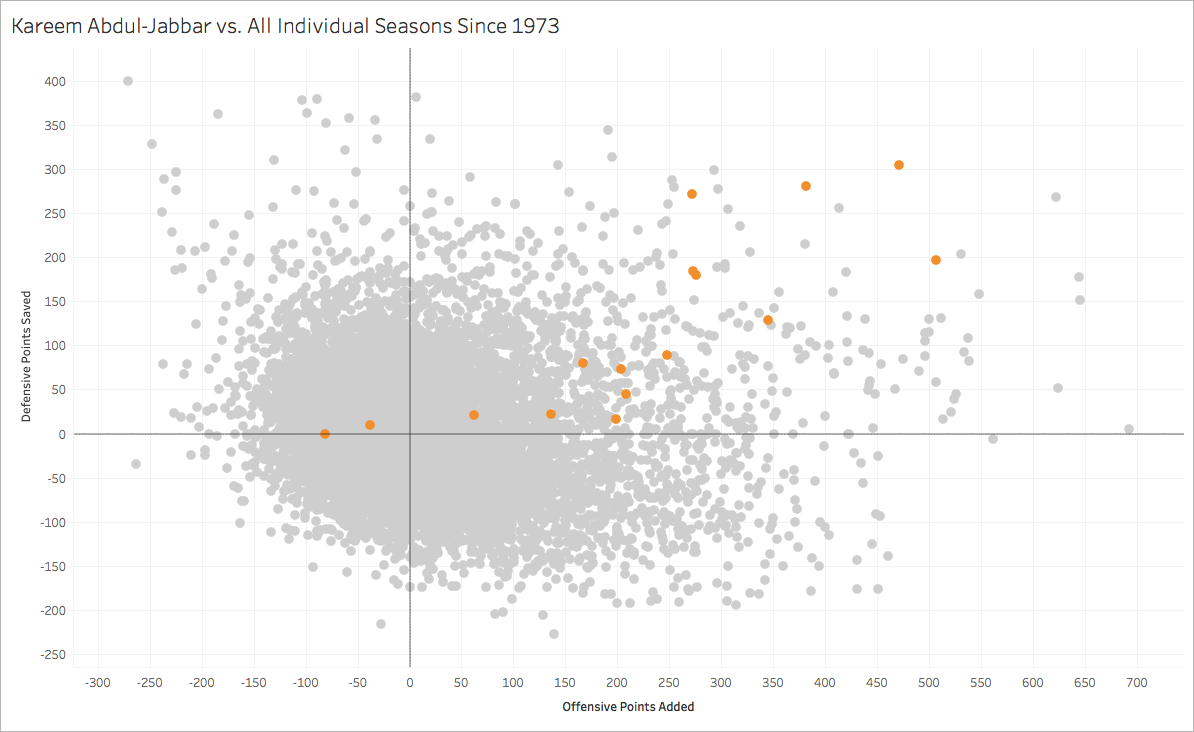 Almost his entire career was spent in praiseworthy territory. Oh, and this visual doesn't even include the first four seasons of his career, when he was fresh out of UCLA and arguably an even more destructive force. His legendary sky hook was still a relatively unknown move at the time, thereby elevating its unstoppable nature to an even greater degree.
From 1970-71 through 1972-73, Abdul-Jabbar's estimated TPA sum is a staggering 2624.33, including what would be a record-setting 959.55 for his 1971-72 efforts with the Milwaukee Bucks.
So, remind me: Why isn't he featured more prominently in the G.O.A.T. conversation?
2. LeBron James, SF, 2008-10: 2082.46 TPA

Unfortunately for Bird and the rest of the NBA's small forwards, LeBron James is on yet another level.
You've seen how all the other peaks stack up, but just take a look at what the future Hall of Famer and G.O.A.T. contender has done during every season of his NBA tenure: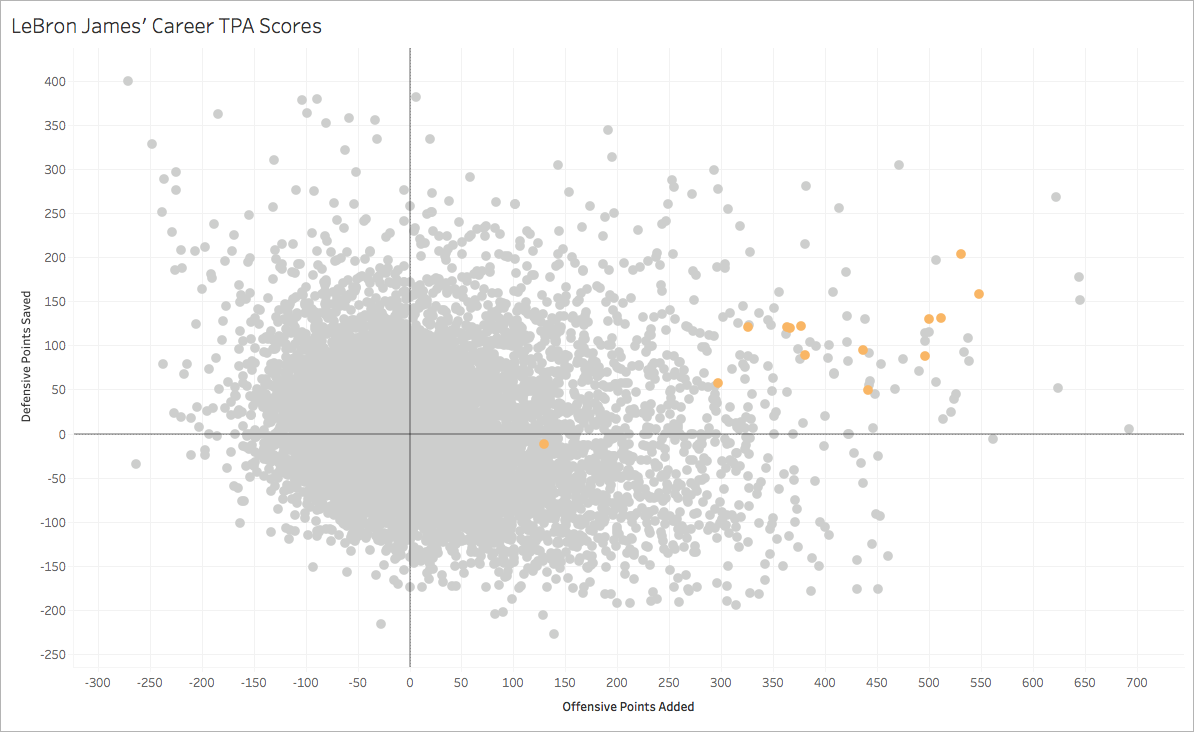 In the first three seasons of his career, he accumulated 1234.71 TPA, which would rank No. 24 in this countdown, regardless of position. He's produced three different three-year stretches that would surpass Larry Bird.
He's No. 1 at his position, and it's not even close. Then again, he does trail one more G.O.A.T. contender.
1. Michael Jordan, SG, 1988-90: 2295.7 TPA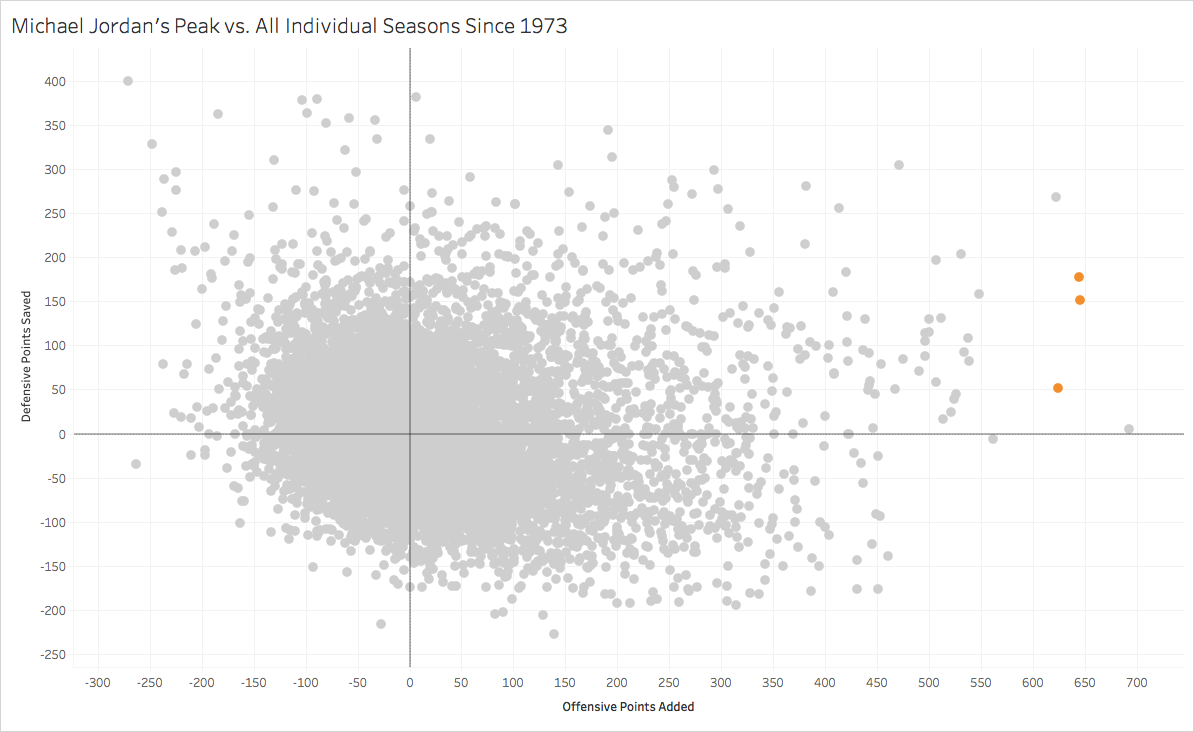 Putting Michael Jordan's unabashed dominance into perspective is a tough task, especially when we're not spending a lengthy amount of time on any one player.
You've read about him before. You know what the numbers look like. You've heard the stories.
So let's just focus on one simple fact: The difference in three-year peaks between Jordan and James Harden (No. 2 shooting guard) is larger than the gap between Harden and Manu Ginobili, and the San Antonio Spurs' sixth man supreme finished No. 11 among 2-guards in these rankings.
Enough said.
Honorable Mentions: Doug Christie (657.42 TPA from 2001-03), Tim Hardaway (656.76 TPA from 1996-98), Anthony Mason (655.29 TPA from 1996-98), Brandon Roy (653.57 TPA from 2008-10), Allen Iverson (650.72 TPA from 2001-03), Dan Roundfield (648.62 TPA from 1979-81), Baron Davis (639.63 TPA from 2002-04), DeAndre Jordan (639.52 TPA from 2014-16), Jeff Ruland (638.41 TPA from 1982-84), Anthony Davis (637.17 TPA from 2015-17), Ray Williams (636.88 TPA from 1980-82)
If you'd like to run through all these graphics in quick succession, you can do so by playing around here:
Adam Fromal is the founder and Editor in Chief of NBA Math. Follow him on Twitter @fromal09. 
Follow NBA Math on Twitter @NBA_Math and on Facebook.
Unless otherwise indicated, all stats are from NBA Math or NBA.com.