Ranking the Point Guards of the 2010s by NBA Math's Total Points Added

Despite the 2000s acting as a nadir for the NBA due to low-scoring games and iso-centric ugliness dominating most offenses, the 2010s have brought the game to a new plateau. Gone are the puny point totals of yesteryears, replaced by record-shattering offensive ratings and historically great individual campaigns.
Of course, the one position that has blown up in terms of efficiency and nightly domination is the 1-spot. This decade has been so stacked at point guard that a guy who won an MVP trophy couldn't even crack our list.
We've already discussed the top floor generals of the '80s, '90s and '00s. Today, we finally reach the present.
Here are the top lead guards of the 2010s, sorted by NBA Math's cumulative total points added (TPA) scores.
10. Kemba Walker: 652.42 TPA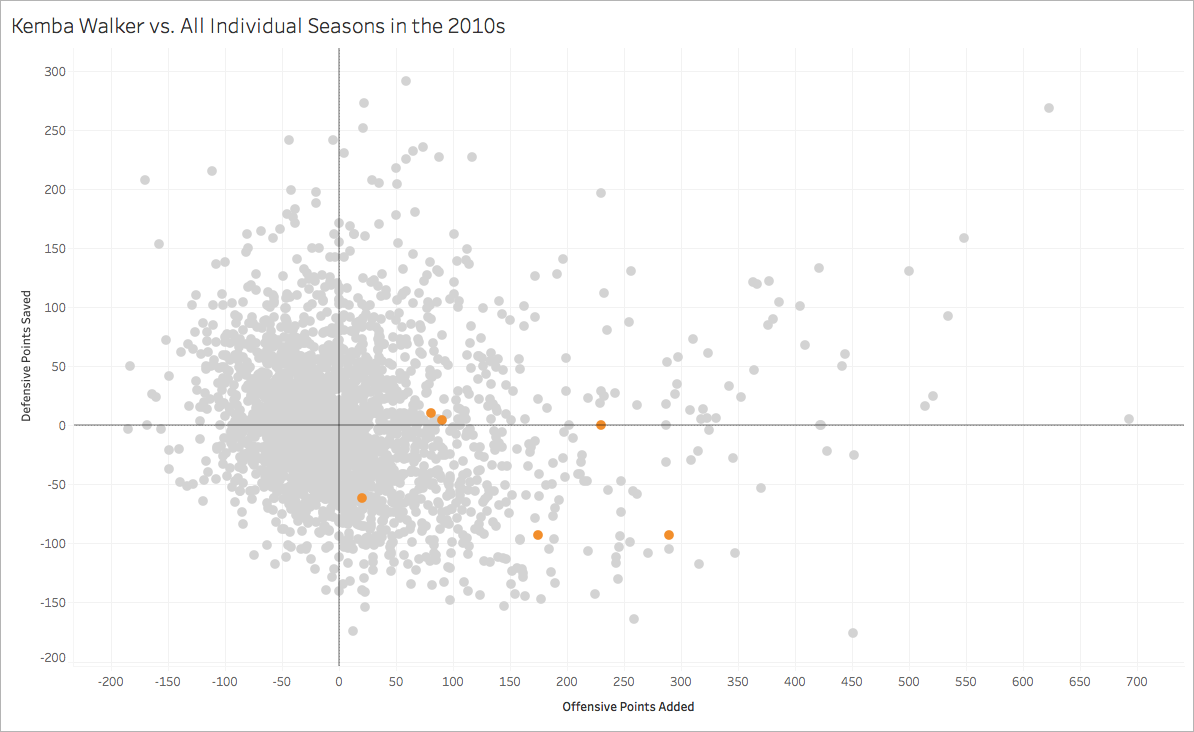 One of the underrated players in today's game, Kemba Walker is the engine that makes the Charlotte Hornets offense go.
Over the past two years, the Connecticut legend has turned himself into an elite three-point shooter—hitting 38.6 percent of his looks from deep—which, in turn, opened up the rest of his game. And it's thanks to his newfound prowess from beyond the arc that the diminutive floor general has become such a weapon on the offensive end.
The stud lead guard is also absolutely deadly as the pick-and-roll ball-handler, scoring 0.98 points per possession (PPP) when running that type of play—a mark healthy enough to place in the NBA's 86.1 percentile. Considering Charlotte ran plays for their PnR initiator 22.9 percent of the time (second-highest league-wide), it should come as no surprise that head coach Steve Clifford's offense was 9.2 points per 100 possessions worse when its starting point guard was on the bench.
Walker has been among the league's best at the position over the past two seasons, and he's still merely 27 years old. The best is yet to come for the man to whom most refer by only his first name.
9. Kyrie Irving: 731.29 TPA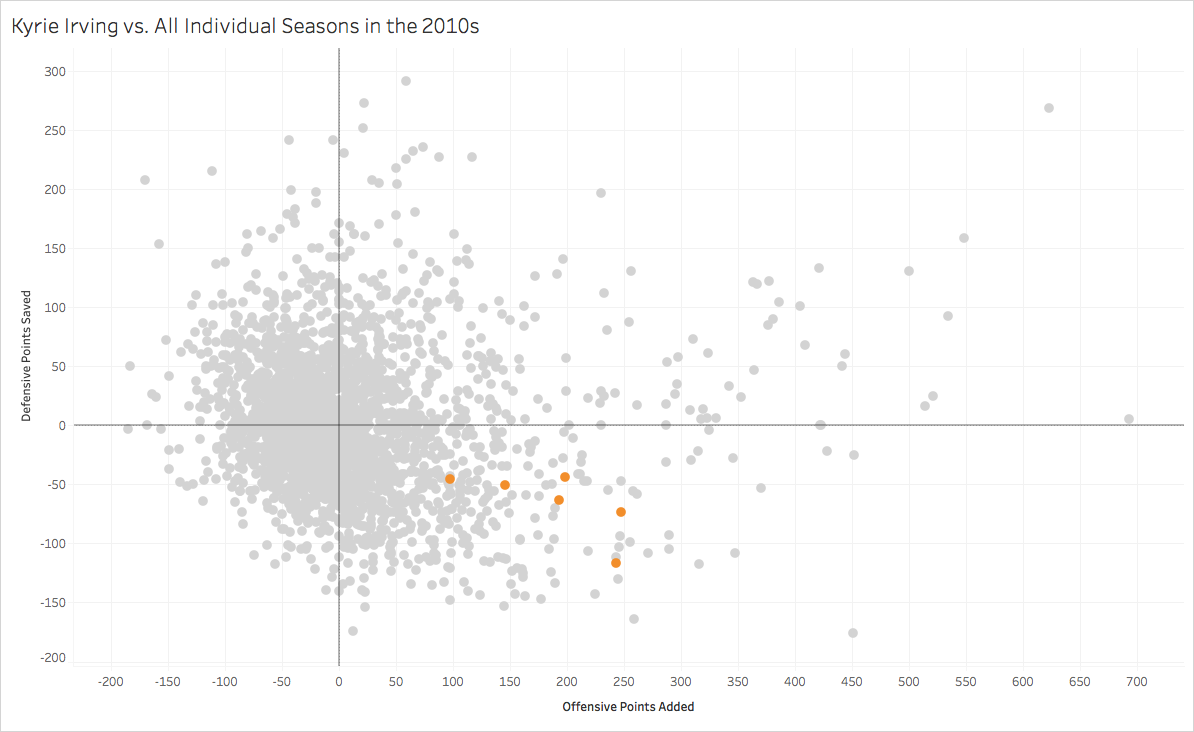 Another score-first type at the 1, Kyrie Irving reached legend status one night in June 2016. He did so by hitting a rather memorable, championship-sealing step-back jumper in the face of a certain winner of multiple MVP trophies:
Though he's somewhat maligned for his recent actions (like deciding he didn't want to play with LeBron freaking James anymore) and for his lack of impact on defense, Irving is still (easily) one of the decade's elite guards.
Since entering the NBA in 2011-12, the Duke product is averaging 21.6 points, 3.4 rebounds, 5.5 assists, 1.3 steals and 1.9 threes on healthy 45.7/38.3/87.3 percent shooting splits.
His tenacity as a ball-handler and ability to exploit the slightest crevice when attacking the basket is unmatched. And whoever lands him in a trade this summer (sorry for those holding out hope, but Irving may as well have gotten traded as soon as this happened) will acquire an elite scorer, who can defend when locked in. The key is getting him to do so on a more consistent basis.
But either way, he's a borderline freakish talent toting the rock.
8. George Hill: 752.19 TPA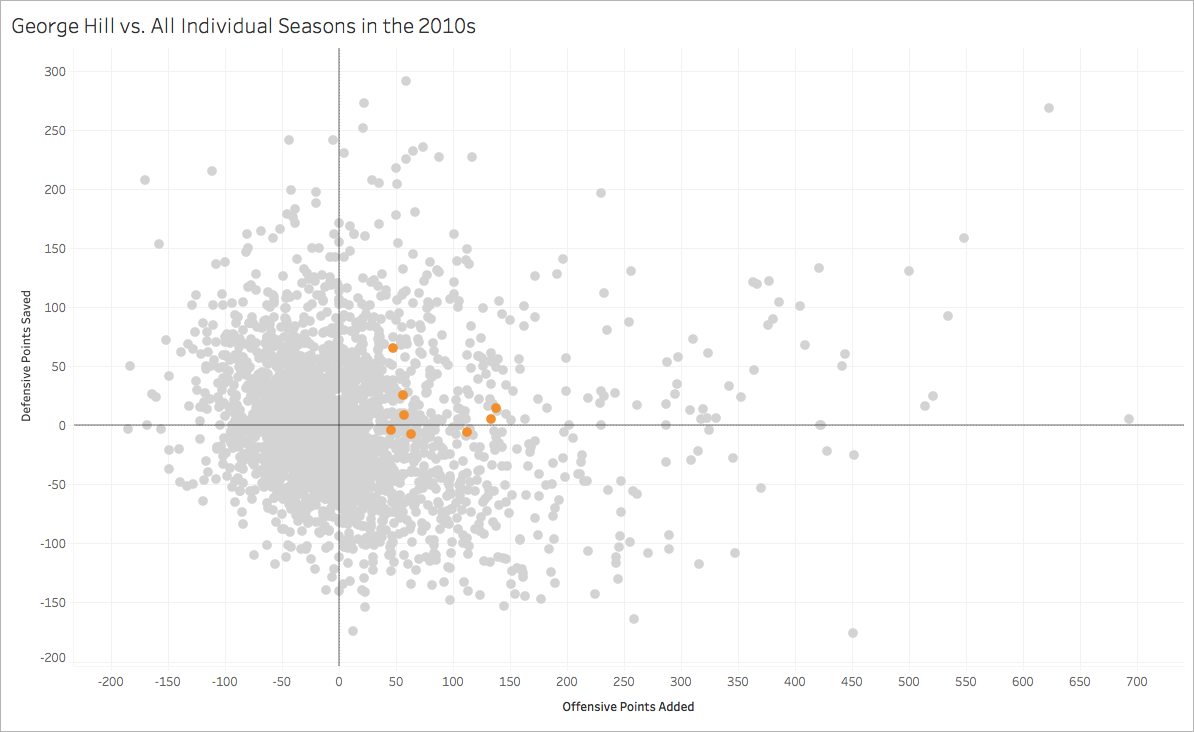 One of the position's most adept defenders, George Hill has enjoyed a solid, if not spectacular, career thus far.
Since the turn of the decade (the scope of our study), the IUPUI lead guard is scoring a quiet 12.6 points per game while chipping in 3.4 rebounds, 3.6 assists, 1.0 steal and 1.4 threes nightly.
All in all, they're mundane numbers, to be sure. But his low usage, coupled with his capacity for taking care of the ball (1.4 turnovers per contest, which is rather low for a point guard) and propensity to lock down opposing ball-handlers, helps him stand out at what has become a stacked position. If he were just able to stay healthy (Hill has missed a full 82 games over his past three campaigns), his outlook as an unrestricted free agent in the summer of 2017 would have been far rosier. Perhaps a postseason contender in need of a point guard—like the Minnesota Timberwolves—would have been more interested in his services.
Instead, Hill will find himself running the show for the Sacramento Kings in 2017-18, playing the role of mentor for lottery pick De'Aaron Fox.
He should fit that role nicely, sure, as he has a plethora of big-game experience. But at the same time, it's hard not to wonder about the damage he would have done on a better team.
7. John Wall: 890.55 TPA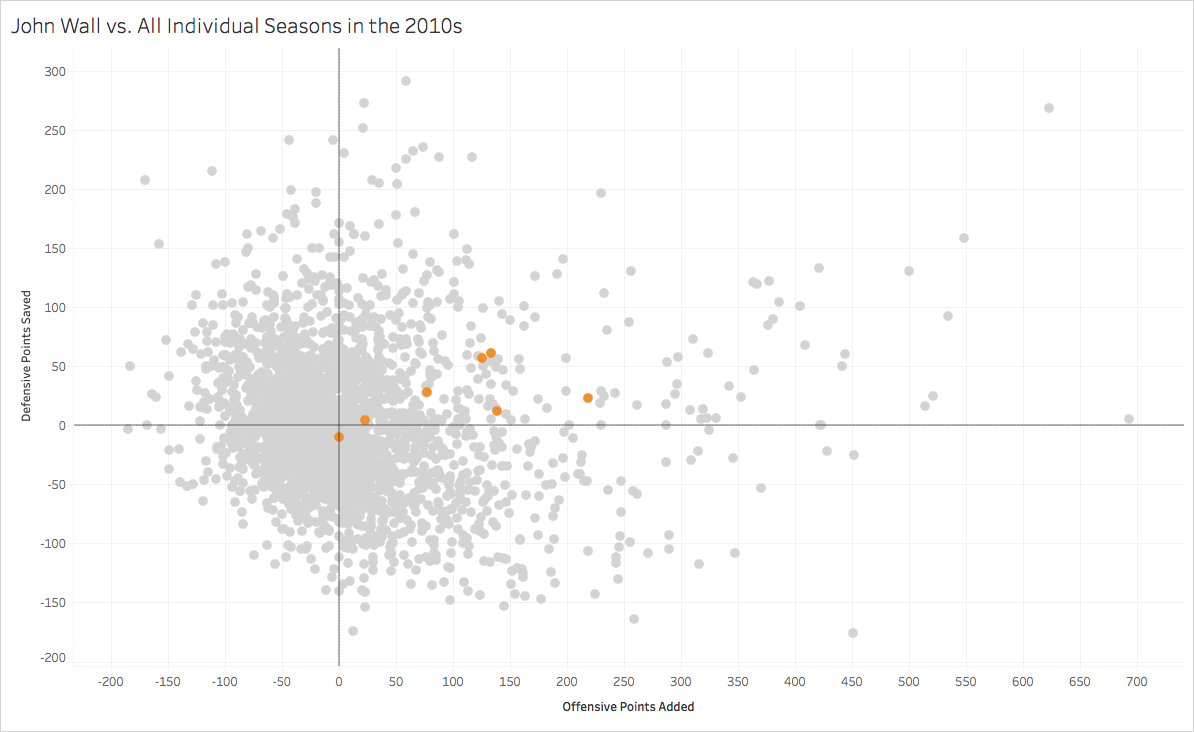 Like Hill, the uber-athletic John Wall is a point-stopping beast. However, he's got just a bit more kick on the offensive end, as well.
Wall is coming off the best year of his career—one that saw him average 23.1 points, 4.2 rebounds, 10.7 assists and 2.0 steals per contest. His TPA is slightly hurt by his high turnover rate and inefficient shooting marks, but nevertheless, he's a monster.
His ridiculous 2016-17 campaign ended up earning Wall a super-max extension from the Washington Wizards worth $207 million(!), and it will keep the Kentucky product in the nation's capital through 2023. With his extension, along with the expensive re-signing of elite three-and-D wing Otto Porter Jr., the Wiz have lost flexibility to make major additions to the roster going forward, barring an unexpected trade.
Even so, if the shot-swatting, assist-dishing Wall continues on his current trajectory (he's about to turn 27, so there's still a chance for even further improvement), Washington won't feel the need to make other acquisitions anyway.
6. Damian Lillard: 898.71 TPA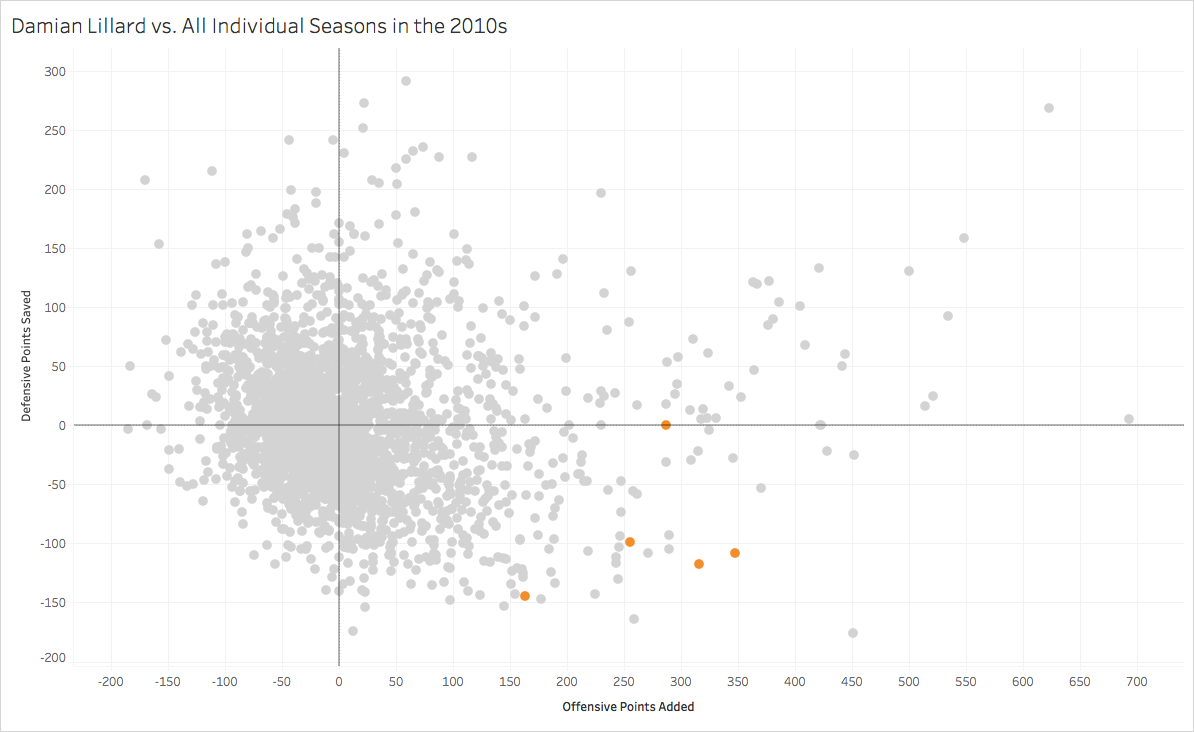 The man with the least experience thus far on our countdown, Damian Lillard hit the ground running upon entering the league in 2012-13.
As a rookie, Lillard scored 19 points per night, and that number has only gone up since then. Over the past two seasons, the Weber State standout has averaged 26.0 points, 4.5 boards, 6.3 assists and an absurd 3.0 three-pointers per game. His ability to get buckets on anyone more than makes up for his deficiencies on the less glamorous side of the ball.
Lillard still has work to do (he can't remain such a negative on defense forever), and his fit next to a similar talent in C.J. McCollum remains a bit awkward. But at the very least, fans of the Portland Trail Blazers should feel excited about the duo in 2017-18.
Actually, make that a trio.
Portland had a quiet offseason, but that's perfectly fine. It made its move by trading for big man Jusuf Nurkic during the 2017 trade deadline. Now, it's about getting the three studs to figure it out together.
For what it's worth, I'd bet on them doing just that.
5. Mike Conley: 915.9 TPA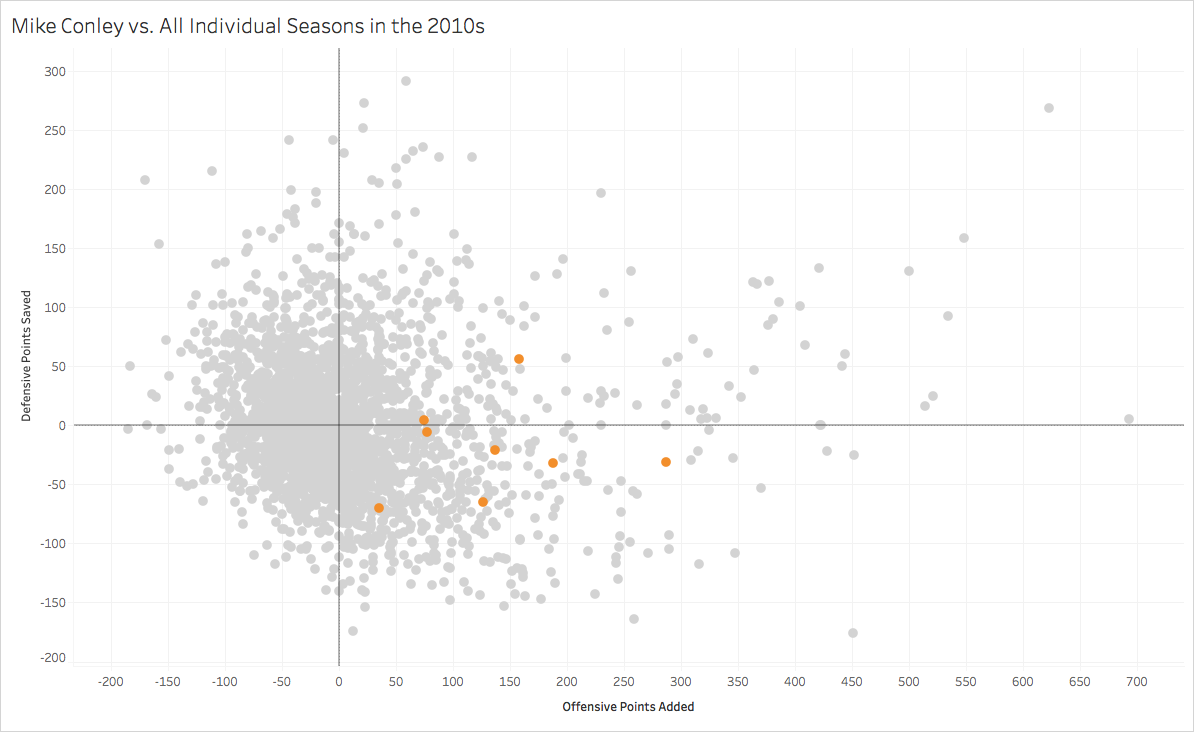 For those who somehow still don't know, Mike Conley can do everything on offense. For tangible proof, just check out his offensive value added across the board, presented by NBA Math's play-type profiles:
According to @NBA_Maths's play-type profiles, we can see Conley adds offensive value just about, uh, everywhere. https://t.co/sSMl5MUz80 pic.twitter.com/KIPY7Jb2i4

— Frank Urbina (@frankurbina_) August 1, 2017
Conley can shoot.
As spot-up shooter:

-1.19 PPP
-90.4 percentile
-No. 19 among guys w/ >150 attempts
-Ranked higher than Beal, Klay & Ryan Anderson pic.twitter.com/bUA0HO65ZO

— Frank Urbina (@frankurbina_) August 1, 2017
Like from anywhere.
More impressively, range doesn't matter to Conley.

Among guys w/>200 FGA between 25' and 29' away, Conley ranked No. 1 overall at 43.2%. pic.twitter.com/nNWieOUjYz

— Frank Urbina (@frankurbina_) August 1, 2017
He can get buckets in one-on-one situations.
Doesn't "need" help to score, either. In isolation:

-1.00 PPP
-82.6 percentile
-No. 12 among guys w/>125 isos
-Ahead of 'Melo & Russ pic.twitter.com/KONVsijoMa

— Frank Urbina (@frankurbina_) August 1, 2017
And finish near the rim.
Quick + crafty near the rim. From w/in 5-ft of basket:

-59.8% accuracy
-No. 11 among guards w/>225 attempts
-Finished above Wall & Kyrie pic.twitter.com/Rt0hkRIWbX

— Frank Urbina (@frankurbina_) August 1, 2017
Forming a deadly one-two punch with Marc Gasol, Conley has made the Memphis Grizzlies yearly postseason participants. And though they had a rough offseason, that shouldn't change anytime soon.
The 29-year-old is probably still underappreciated by the casual fan, but he shouldn't be. He's worth every penny of that $152 million contract.
4. Kyle Lowry: 1595.27 TPA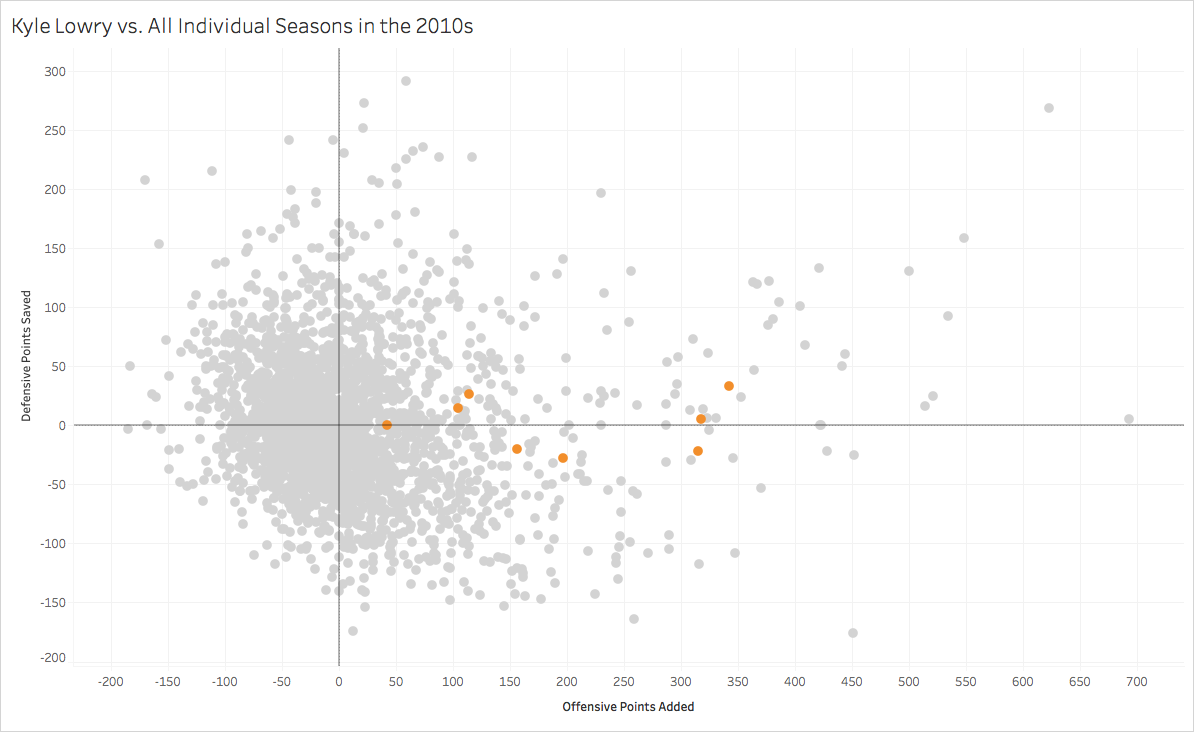 Although Kyle Lowry started this decade as a super sub for the Houston Rockets, the bulldog of a point guard exploded once he became the full-time starter for the Toronto Raptors in 2013-14. From then on, Lowry's numbers all across the board have been pristine: 19.7 points, 4.7 boards, 6.9 dimes, 1.7 steals and 2.5 threes per contest.
He makes up for his minor lack of efficiency from the field by being a knockdown free-throw shooter (81.3 percent over his past four campaigns) and by hovering around the league average in defensive points saved.
Lowry's consistent struggles in the playoffs can't just be overlooked. But by the same token, we can't ignore Toronto playing the best basketball in franchise history with the Villanova product running the show.
3. Stephen Curry: 2581.03 TPA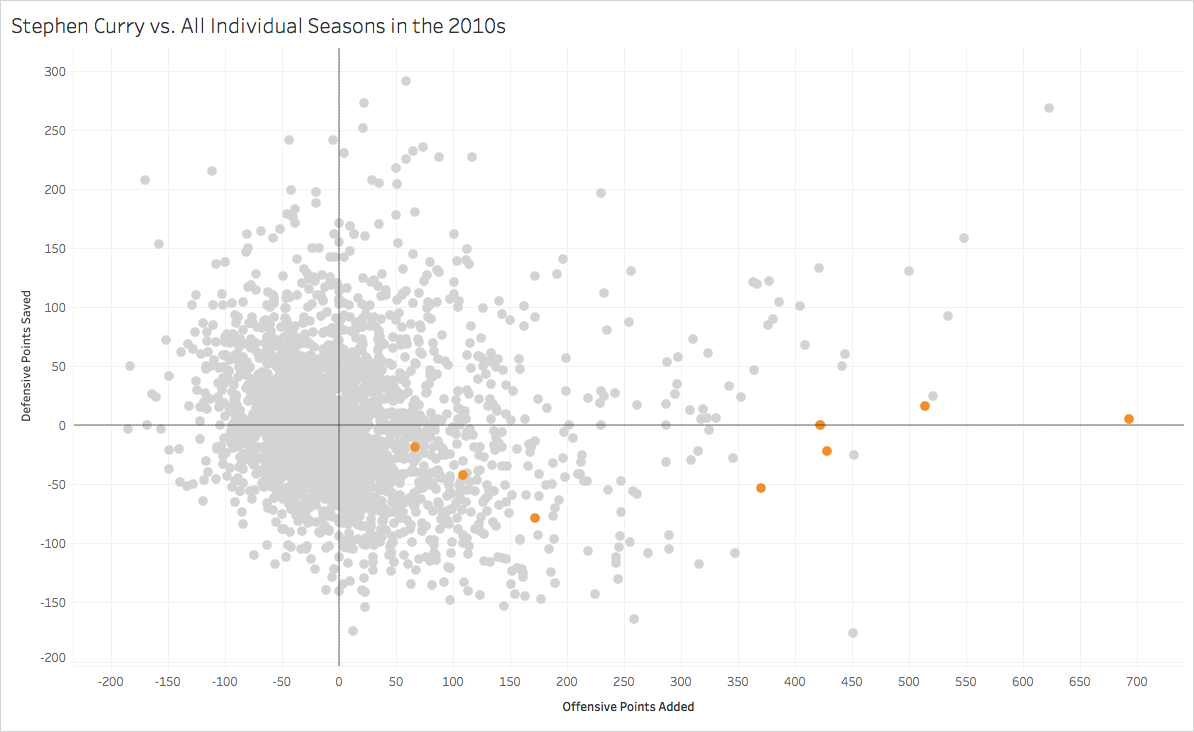 Two MVP seasons, including one unanimous selection. Multiple three-point shooting records shattered. What is there to say about Stephen Curry that already hasn't been said?
The Davidson legend is simply one of the greatest offensive talents the NBA has ever seen.
In 2015-16, the year the Golden State Warriors famously went 73-9 before shockingly succumbing to the Cavs in the NBA Finals, Curry led the league in scoring with 30.1 points per night, paced the NBA in steals with 2.1 per game and topped everyone else in free-throw accuracy at an obscene clip of 90.8 percent. Oh, and that's while dropping 5.4 rebounds, 6.7 assists and 5.1 three-pointers(!!!) per contest, shooting 50.4 percent from the floor and 45.4 percent from beyond the arc.
Just to reiterate: Curry led the league in scoring while posting a 50-45-90 season. Holy moly.
Considering the makeup of this Golden State squad, we should continue to see historic campaigns from the flame-throwing Curry for the foreseeable future. But we'll likely never see another season like his 2015-16, when his shooting accuracy was downright Drogon-esque.
2. Chris Paul: 2602.96 TPA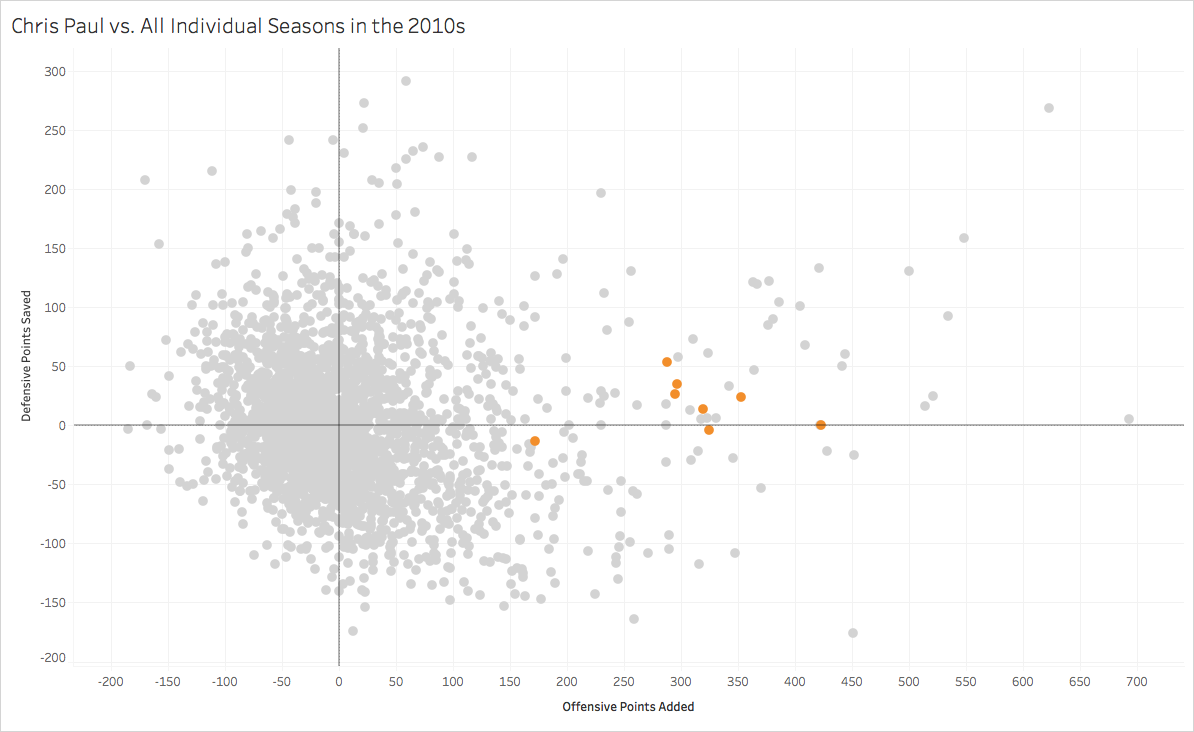 Despite playing merely four seasons in the 2000s, Chris Paul still ranked No. 2 among point guards for his TPA contributions, outpacing the likes of Steve Nash, Baron Davis and Chauncey Billups.
So it shouldn't come as a surprise that the Point God finished this countdown at No. 2 once again.
During the relevant scope of our study, Paul has averaged 18.3 points, 4.2 rebounds, 9.9 assists and 2.2 steals on healthy shooting splits of 47.5/38.1/87.8. He's led the league in steals four times and in assists twice. Like Lowry, the Wake Forest legend has experienced his fair share of troubles during postseason play, failing to reach the Western Conference Finals even once. But poor injury luck (not just his own, but his teammates' issues as well) can be partly blamed for that hole in his resume.
Now, as the newest member of the Houston Rockets, suiting up alongside backcourt partner James Harden, chances are good that his poor luck in the playoffs will change sooner rather than later.
1. Russell Westbrook: 2929.98 TPA

Russell Westbrook's high usage rate in 2016-17, coupled with his lack of efficiency drop-offs, effectively broke TPA. Because TPA is based on box plus/minus (BPM), we'll allow ESPN.com's Kevin Pelton to explain the issue:
Frankly, Westbrook's season has broken BPM, which is not quite as flattering to him as it sounds.

To improve the quality of the rating for most players, BPM uses interaction effects that multiply a player's assist percentage by his usage rate and his rebound percentage. As you might guess, Westbrook's season is off the charts historically by both measures…

Basically, Westbrook's season is way outside the sample on which BPM was trained to estimate player value, making its estimate of his value unreliable. BPM is treating Westbrook's versatility as exponentially better than anyone else's on record, and that's surely an exaggeration.

In short, Westbrook probably isn't having the greatest year in modern NBA history, just the one best designed to maximize BPM.
What's more, if we remove the 2016-17 season from consideration for all of our floor generals, the TPA rankings would look different. Here are the leaders from 2009-10 through 2015-16:
Chris Paul, 2,272.21 TPA
Stephen Curry, 2,175.15
Russell Westbrook, 2,039.36
Kyle Lowry, 1,303.08
Even so, we can't fault Westbrook for essentially breaking multiple advanced metrics. If anything, we should commend him for it.
A 6'3″ point guard leading the league in scoring (31.6 points per game) while also chipping in with 10.7 rebounds and 10.4 assists is absolutely unfathomable. He shot the ball a metric ton, sure. He did pad his stats by attacking the glass with reckless abandon. But Westbrook still shot nearly 43 percent from the floor, making any talk about his lack of efficiency just a bit overblown.
Sometimes, it's best we don't nitpick and just enjoy something for what it is. Westbrook's MVP campaign was magical.
Honorable Mentions: Isaiah Thomas (650.04 TPA), Jason Kidd (628.97 TPA), Deron Williams (546.69 TPA)
Follow Frank on Twitter @frankurbina_
Follow NBA Math on Twitter @NBA_Math and on Facebook.
Unless otherwise indicated, all stats are from NBA Math, Basketball Reference or NBA.com.