Ranking the Point Guards of the 2000s by NBA Math's Total Points Added

While the 1990s were a sort of zenith for the NBA—both in terms of popularity and on-court product—the 2000s couldn't keep the good times rolling.
Struggling to find a face of the league post Michael Jordan, the NBA became even more hyper-focused on iso-ball. And with that focus came constant low-point-total outings. (I mean, the average score of the 2003 Finals was 85.5-83.8. Gross.)
Nevertheless, the point guard play during the decade was still solid overall, with a few revolutionaries among the ranks.
Using NBA Math's cumulative total points added (TPA), we've already ranked the 10 best floor generals of the 1980s and 1990s. Today, we delve past Y2K and check out the elite point guards of the 2000s.
10. Andre Miller: 899.61 TPA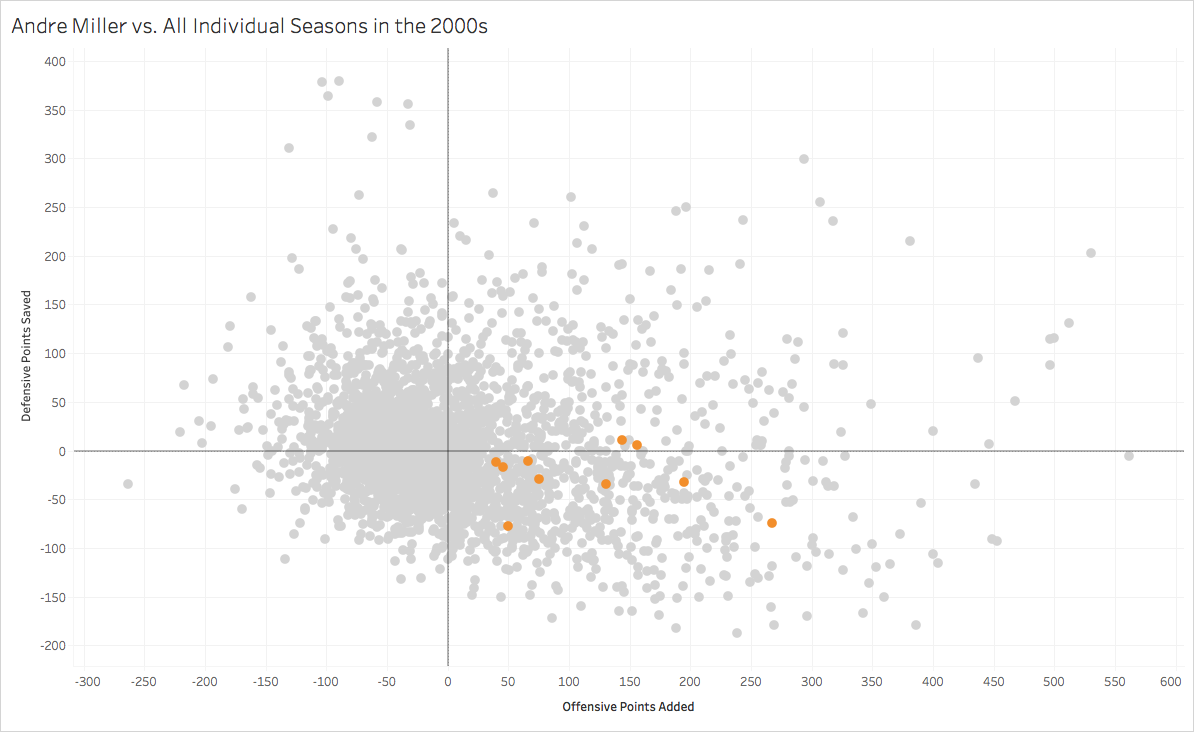 The incomparably zany Andre Miller enjoyed a long 17-year career—one that saw little change in his style of play from beginning to end.
Miller, also known as "The Professor," was always slow of foot, with little vertical prowess when attacking the basket. Even so, he was still a superb basket-getter with a flair for distribution.
Throughout the scope of our study (from 1999-00 through 2008-09), the Ute legend averaged 14.6 points, 4.2 rebounds, 7.4 assists and 1.4 steals per game. He never developed any semblance of a three-point shot (career 21.7 percent from deep), but his ability to score in the paint and his elite free-throw shooting (80.7 percent during his 17 years of service) helped make him an efficient scorer all the same.
For a brief look at the damage Miller could do in his prime, just enjoy this 14-point, 22-assist, nine-steal performance he had back in 2001 against Allen Iverson and the Philadelphia 76ers.
You could say that on that night, The Professor really took 'em to school. (I'm sorry.)
9. Steve Nash: 1002.91 TPA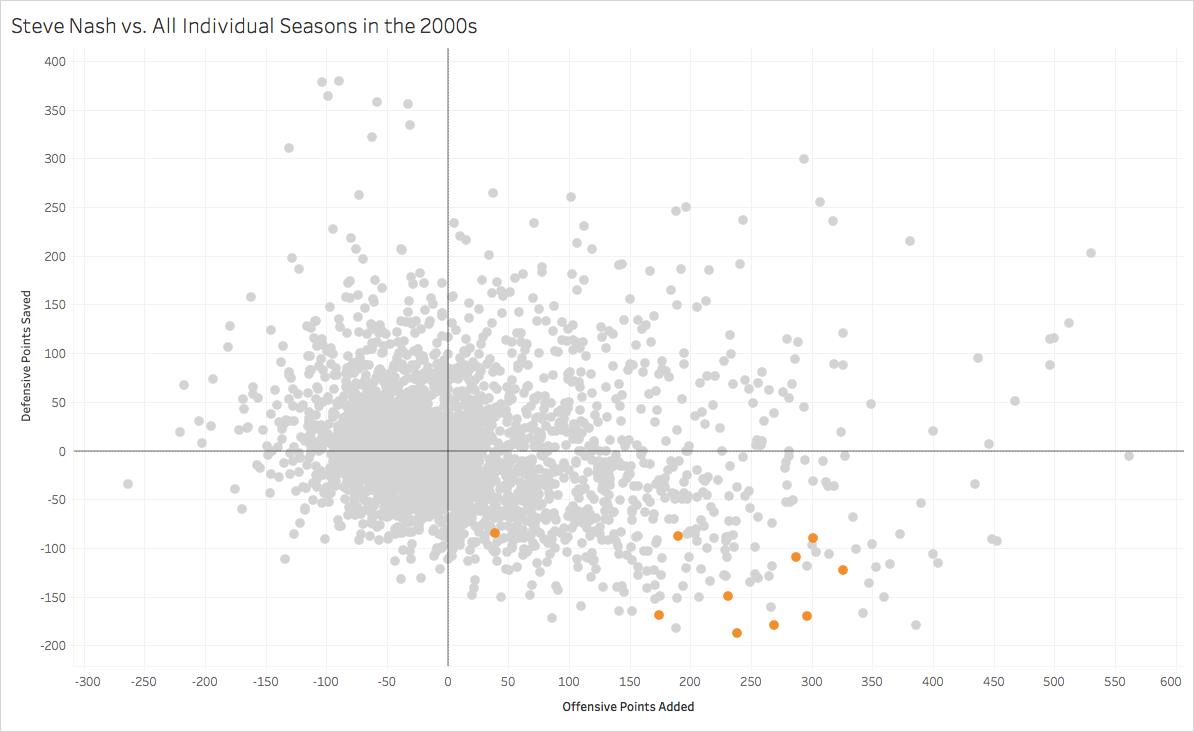 Canadian legend Steve Nash, along with his Phoenix Suns head coach Mike D'Antoni, changed the NBA during the mid-to-late 2000s. At least on the more popular side of the ball.
D'Antoni's seven-seconds-or-less offense with Nash at the helm more closely resembled the modern game than anything else we saw in that iso-centric era. They outpaced their opponents, shot a ton of threes and moved the ball around efficiently. Those Suns would have fit right into 2017.
Just how impressive were those Nash-led Phoenix squads?
Nothing too special.

Nash only ran the show for 6 of the top 13 adjusted offensive ratings in NBA history. https://t.co/p8wrXo62zi https://t.co/nXJAsQ0GTj

— NBA Math (@NBA_Math) August 4, 2017
Not half bad.
In all, for the span of 1999-00 to 2008-09, Nash averaged 16.2 points, 3.2 boards and 9.1 dimes per night on obscene shooting splits of 49.4/43.6/90.5. He won two MVPs and took the Suns as far as the Western Conference Finals in both 2005 and 2006.
The only reason he doesn't rank higher in this countdown is his near complete lack of impact on the less glamorous side of the ball, though that may not be totally his fault. D'Antoni didn't exactly enlighten his teams with advanced defensive principles back then.
8. Jason Terry: 1066.71 TPA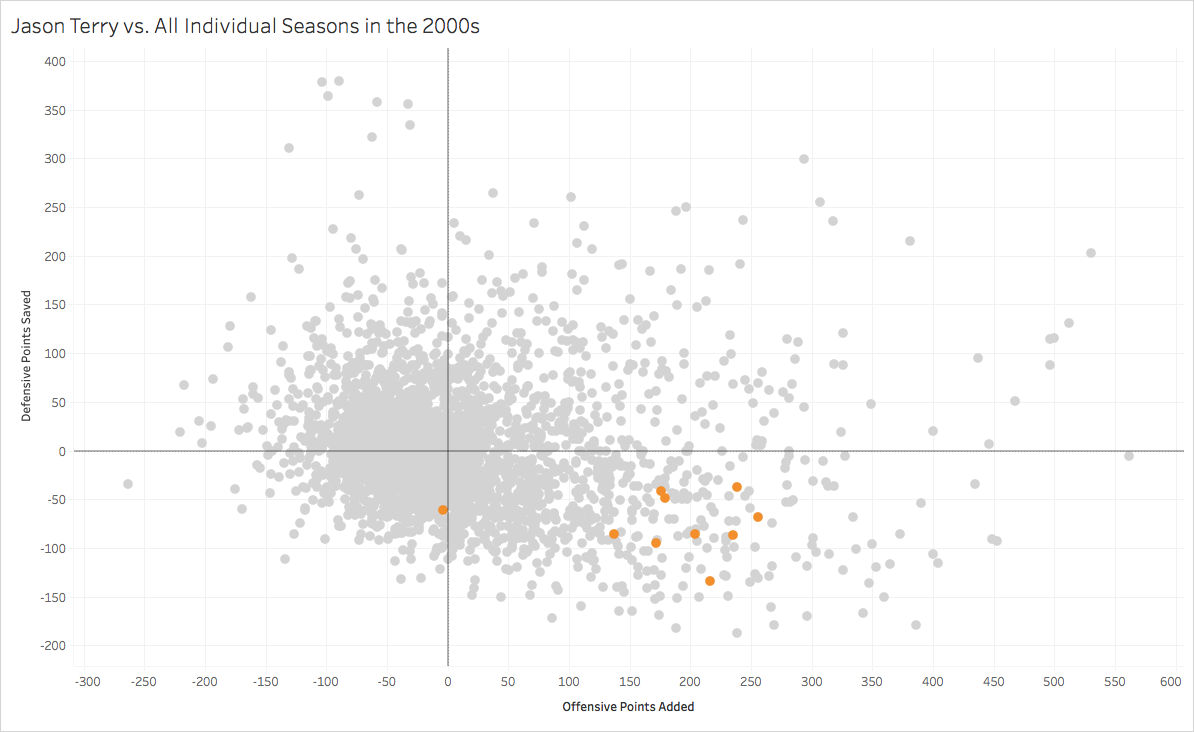 An elite scorer and underrated playmaker, Jason Terry spent the majority of the 2000s playing the role of starting guard for the Atlanta Hawks and Dallas Mavericks, and the last bit dominating off the bench for the latter franchise.
In a macro sense, the Arizona product spent the decade scoring 16.2 points nightly, while also chipping in 2.9 rebounds, 4.9 assists, 1.3 steals and 1.7 three-pointers. He also brought home the 2009 Sixth Man of the Year trophy in the process.
And though it doesn't fall within the scope of our study, it should also be noted that Terry helped the Mavs capture an elusive Larry O'Brien Trophy in 2011 against the Miami Heat. Dirk Nowitzki dominated the series, sure, but we shouldn't sell the reserve guard's contributions short. For the championship showdown, Terry averaged 18.0 points, 2.0 rebounds, 3.2 assists and 1.3 steals while knocking down 11 of his 28 attempts from beyond the arc. Without him, it's tough to surmise where Dallas would have found the offense to combat Miami's elite defense.
Thankfully for Mavs fans, Terry's already excellent play had a tendency to reach an even higher plateau as the contests got more meaningful. And even more importantly, he was never afraid of the big shot.
7. Gilbert Arenas: 1100.84 TPA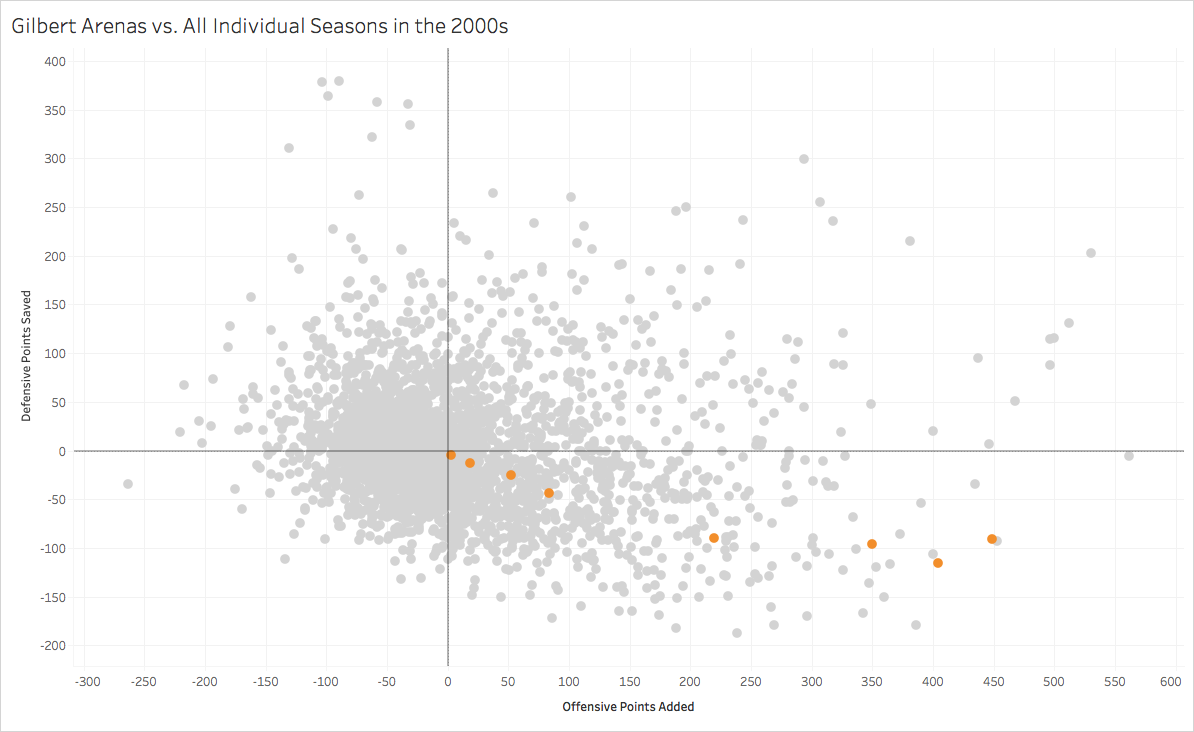 Our second former Arizona Wildcat in a row, Gilbert Arenas had one of the most explosive careers in recent NBA history.
From second-round pick to earning three consecutive All-NBA honors between 2004-05 and 2006-07 (two Second Teams and one Third Team), Arenas captured the imaginations of basketball fans during that three-year stretch. And for how quickly and unexpectedly his absurd peak occurred, it all went away just as rapidly. Poor injury luck was to blame for Arenas essentially falling off the map by the end of the decade, but there were other factors at play, too.
Regardless, we're not here to harp on the negative. Our focus remains on the court, and the 6'3″ combo guard was one of the league's best players during his three-year pinnacle—a period that saw him average 27.7 points(!), 4.3 rebounds, 5.7 assists, 2.6 three-pointers and 1.9 steals per contest.
He partook in brilliant postseason duels with LeBron James, nailed a plethora of deep game-winners in his prime and even dropped 60 in a game once.
It's just a shame it all went away so quickly.
6. Gary Payton: 1182.77 TPA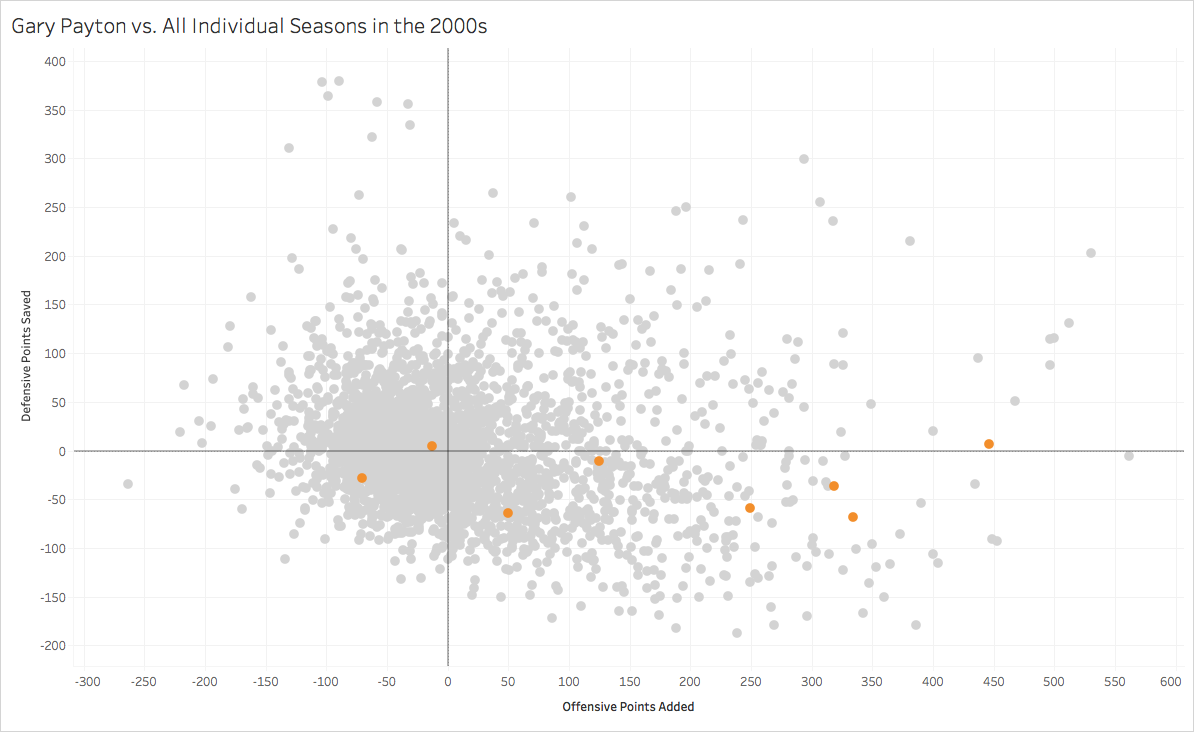 Although Gary Payton is considered a star of the 1990s, he still finds himself on our list thanks to his contributions from the decade following. It's a bit of a surprise that he ranks this highly, sure, but when we take a look at his numbers over the 10-year stretch, it shouldn't be.
From 1999-00 through 2006-07 (the final campaign of Payton's illustrious career), the tenacious floor general averaged 16.3 points, 4.1 rebounds, 6.6 assists and 1.3 steals. It also didn't hurt that he missed just 25 outings over the final seven seasons of his playing days, which speaks to what an iron man he truly was.
Payton made four All-Star teams to open the decade, and he even won an NBA title with the Heat in his penultimate year. Though he played a mostly complementary role in that championship bout against the Mavs, he did hit a dagger in the pivotal, tide-shifting Game 3.
The Glove was simply a legend, through and through.
5. Steve Francis: 1288.65 TPA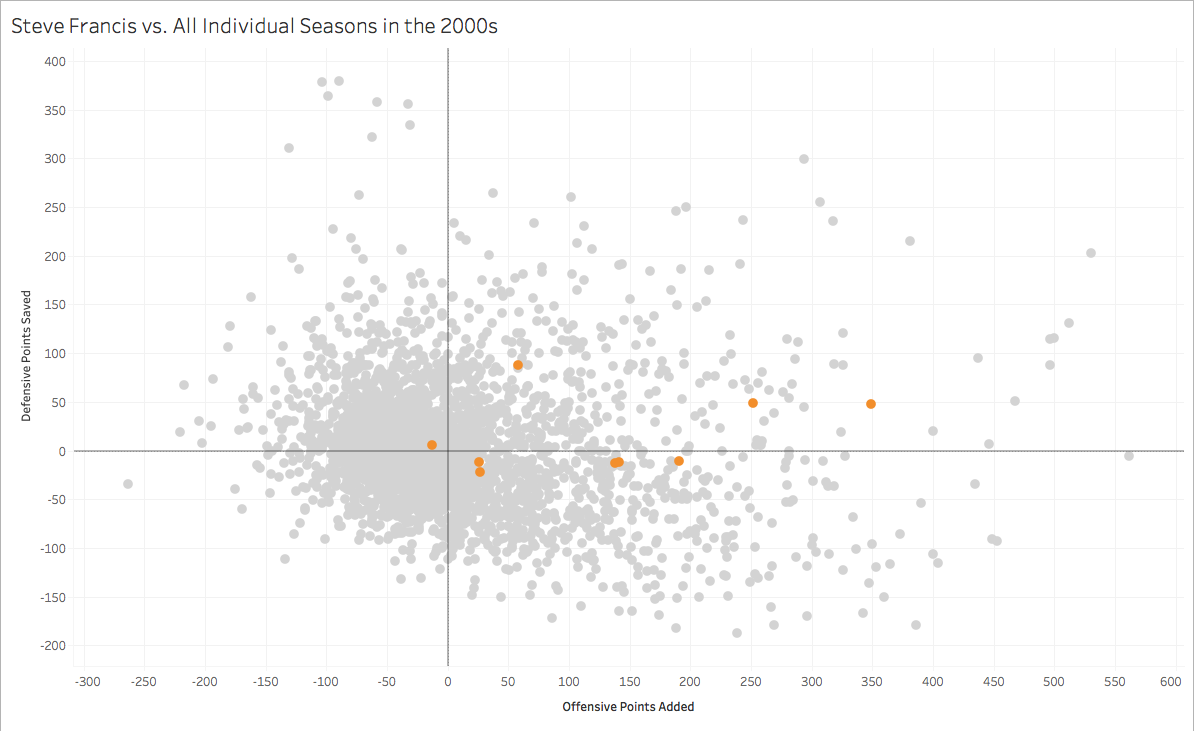 Another player who saw a drastic drop-off, one that came seemingly out of nowhere, Steve Francis was still one of the decade's truly elite lead guards.
The man known as "Stevie Franchise" scored 19.7 points per game from 1999-00 through 2004-05, along with chipping in 6.1 boards, 6.5 helpers and 1.6 steals nightly. Despite his relatively thin frame, the 6'3″ floor general was an absolute bulldog on both ends who didn't mind going up against far more stout men when attacking the rim or helping out on the glass.
However, like Arenas, his demise came all too soon.
Francis played in just 144 games over his final three seasons (between 2005-06 and 2007-08), averaging a meager 12.6 points on 42.2 percent shooting. Some stars are just too bright for this world to handle, and it appears two of the last three guards discussed fall into that category.
4. Chauncey Billups: 1421.76 TPA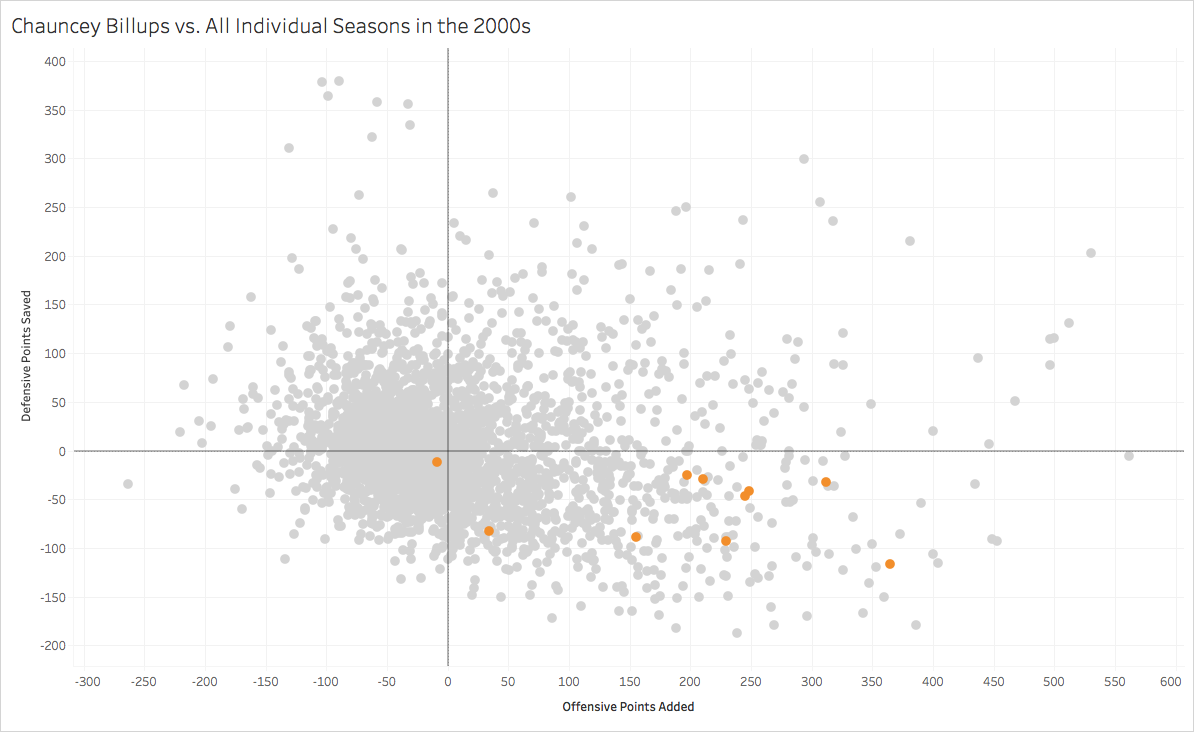 Chauncey Billups was the most important player on a title-winning, behemoth-vanquishing 2003-04 Detroit Pistons squad that downed the Los Angeles Lakers by a score of four games to one in that year's championship series.
Don't believe me on Billups' worth to that team? Just ask Phil Jackson about him.
From Jackson's 2004 autobiography, The Last Season:
"So what happened, anyway? How did we fail in our quest? Sifting through some preliminary thoughts in a Detroit hotel room, before the appropriate distance offers a chance for deeper reflection, the injury to [Lakers power forward] Karl Malone was certainly one factor….If Karl could have given us one more game, one more half, say, the second half in Game 4, things might have been different.

I wonder, too, about Kobe [Bryant]….Entering the series there didn't seem to be anyone on the Pistons who would be able to stop him, but Prince did. Or maybe the Pistons were simply the superior team. Somewhere along the way, I finally realized the key was Chauncey Billups. I started Kobe on him in Game 5 and then switched back to Gary [Payton]. Billups only made three field goals, but went to the line eight times.

We never stopped him."
In the 2004 NBA Finals, Billups, who won Finals MVP for his contributions, averaged 21.0 points, 3.2 rebounds, 5.2 assists, 1.2 steals and 1.6 threes per contest. He shot 50.9 percent from the floor, 47.1 percent from beyond the arc and 92.9 percent from the charity stripe—from which he shot an astounding 8.4 times per game.
Oh, and what's more, Detroit outscored Los Angeles by 45 points with their legendary lead guard on the floor.
We're going to side with Jackson on this one: The Lakers never came close to stopping Billups. Far from it, in fact.
3. Baron Davis: 1445.6 TPA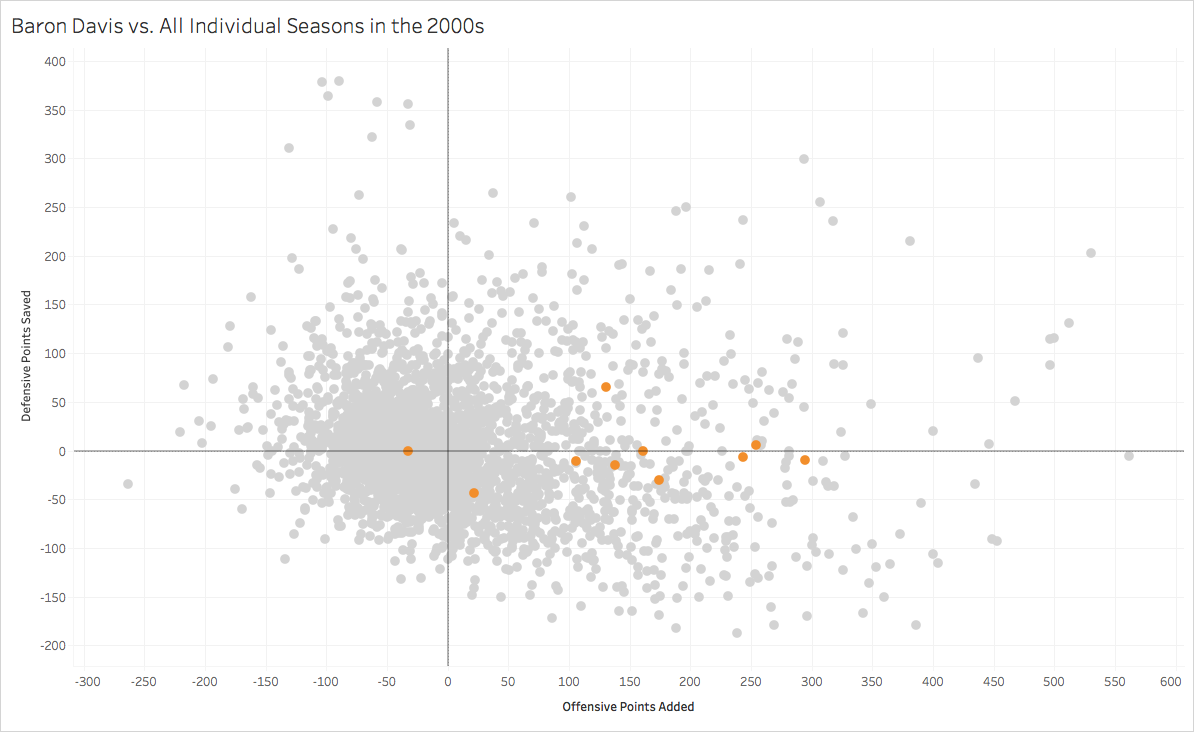 One of the most exciting floor generals of the '00s, a player who had a sadistic amount of flair in everything he did on the hardwood (the guy just wanted to humiliate his opposition), Baron Davis made up for his lack of efficiency by doing a bit of everything well.
For the span of our study, the UCLA legend averaged 16.9 points, 4.0 rebounds, 7.3 assists and 1.9 takeaways per night as a member of the Charlotte (and New Orleans) Hornets, Golden State Warriors and Los Angeles Clippers. He led the league in steals twice in that time frame (2003-04 and 2006-07), as well as in games played once.
Davis was durable, stymied opposing guards on the defensive end and could get buckets with the best of them. Furthermore, he was the best player in Golden State's historic defeat of the No. 1 seeded Dallas Mavericks in the 2007 postseason. Most expected Dallas, led by league MVP Dirk Nowitzki, to roll over the "We Believe" Warriors in the first round of the playoffs.
Well, that didn't end up coming to fruition.
Led by Davis, as well as Jason Richardson, Stephen Jackson and Al Harrington, Golden State shocked the Mavs—taking the series four games to two.
For the span of the six-game bout, the Warriors point guard dropped 25.0 points, 6.2 boards, 5.7 dimes and 1.8 steals. He also made 45.5 percent of his 5.5 three-point attempts per contest.
And though he followed that performance by bowing out valiantly against a superior Utah Jazz team in the second round, he did give opposing forward Andrei Kirilenko something to remember him by in the process:
Davis was both fearless and unforgettable.
2. Chris Paul: 1653.99 TPA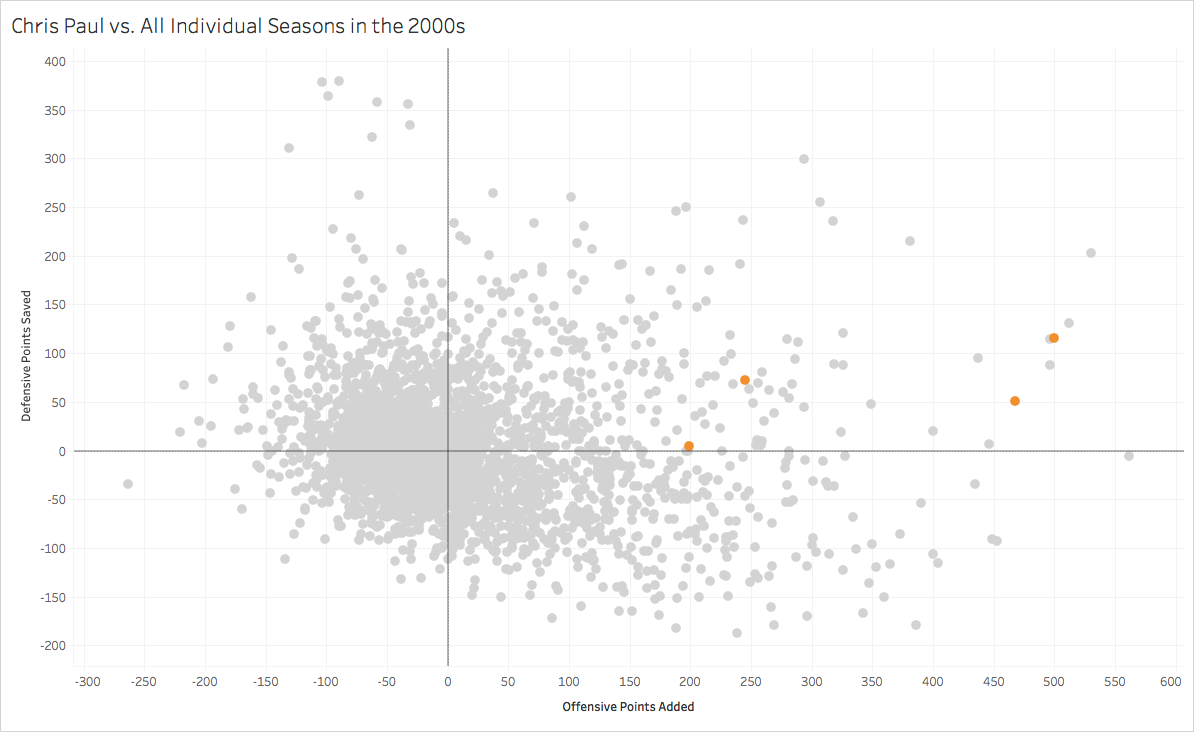 In terms of efficiency and two-way ability, few point guards in league history can rival Chris Paul.
That's precisely how—despite the Point God merely playing in four seasons of our 10-year study—he still totaled 1,653.99 TPA.
Paul was drafted No. 4 overall in the 2005 NBA draft and immediately became the New Orleans Hornets' starter at the 1. Over the next four years (the only relevant ones for our purposes), he averaged 19.4 points, 4.8 rebounds, 9.9 assists and 2.4 steals on respectable 47.0/34.4/84.9 percent shooting splits.
The diminutive (and demanding) floor general turned New Orleans into a perennial playoff participant by his third year, and he received All-Star honors twice in the decade to go with two All-NBA berths (First Team in 2008, Second Team in 2009). For Paul to do that much damage so quickly, and make that much of an impact, is astounding—especially considering his vertical (both as a leaper and in stature) limitations.
And even more astounding?
His play hit an even higher peak in the decade following; we'll talk about that in detail some other time, though.
1. Jason Kidd: 2636.93 TPA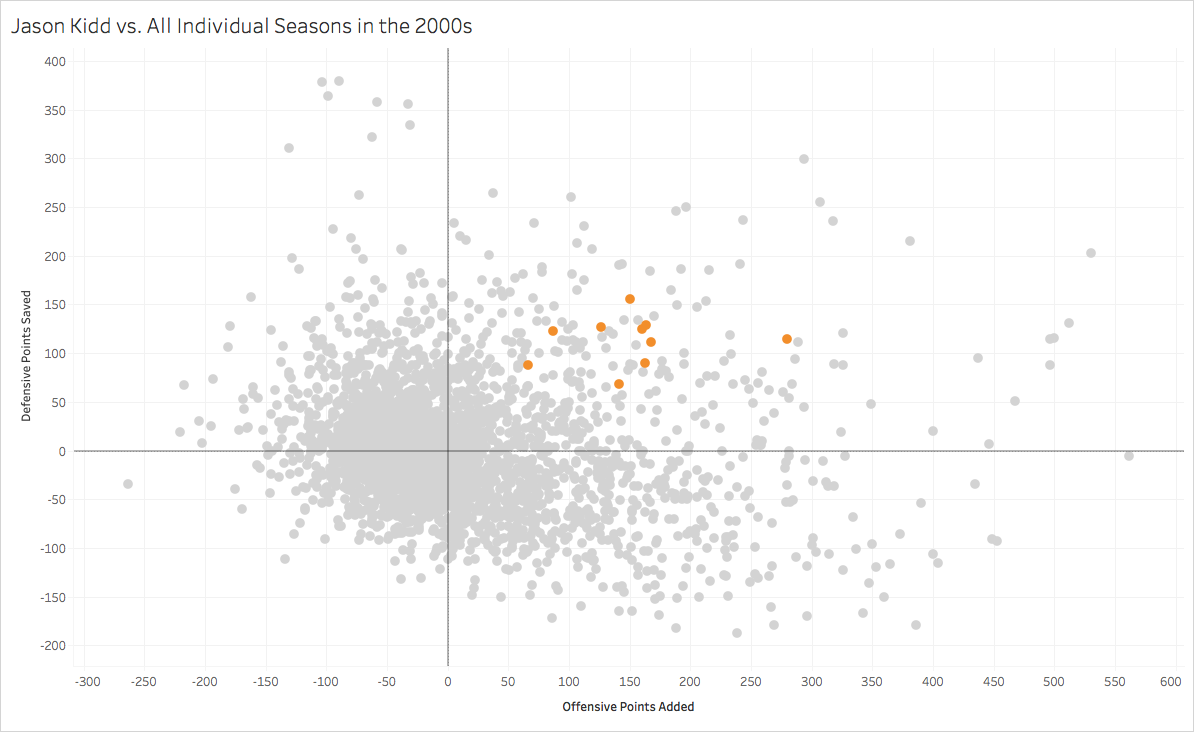 Without question, Jason Kidd asserted himself as the position's top dog of the new millennium.
With seven All-Star appearances, four All-NBA First Team honors, three All-NBA Defensive First Teams, as well as leading the then-New Jersey Nets to the NBA Finals in 2003 and '04, Kidd's excellence borders on incomparable. The league leader in assists per game four times during the relevant time frame, the Cal legend averaged 14.0 points, 7.0 rebounds, 9.2 assists and 1.9 steals for New Jersey and, eventually, Dallas.
In order to maintain his relevance as his athleticism dwindled later in his career, Kidd even became a lethal spot-up shooter, converting 37.8 percent of his threes over the last five campaigns of his career.
And although it doesn't fall within the realm of our study, his transition into a deadly role player gave the 2010-11 Mavs just enough juice to overcome the mighty Heat's Big Three of Dwyane Wade, LeBron James and Chris Bosh in that year's Finals. At all of 37 years old, Kidd dropped 7.7 points per night in the six-game vanquishing of Miami, plus 4.5 rebounds and 6.3 assists while converting 12 of his 28 attempts from beyond the arc.
Overall, Kidd's 2,636.93 TPA for the decade outpaced John Stockton's contributions in the 1990s (2,165.67 TPA), and his 12,091 career dimes are second-most in league history, trailing only the Jazz legend.
Honorable Mentions: Stephon Marbury (734.84 TPA), Sam Cassell (651.22 TPA), Darrell Armstrong (638.81 TPA)
Follow Frank on Twitter @frankurbina_
Follow NBA Math on Twitter @NBA_Math and on Facebook.
Unless otherwise indicated, all stats are from NBA Math, Basketball Reference or NBA.com.