Ranking the NBA's Top 10 Big 3s by NBA Math's Total Points Added

Once upon a time, in the not-so-distant past, before the Age of the Super Team, the NBA-wide trend for elite franchises was to try creating the perfect Big Three.
Though there were a few exceptions in the 1980s and '90s, like the Larry Bird-Kevin McHale-Robert Parish Boston Celtics, or the Charles Barkley-Clyde Drexler-Hakeem Olajuwon Houston Rockets, the trend became more pronounced about 10 years ago—originally by the 2007-08 Celtics. Danny Ainge's team created basketball poetry by combining the scoring talents of Paul Pierce, the sharpshooting accuracy of Ray Allen and the defensive ferocity of Kevin Garnett to form one of the best-fitting trios in league history.
As a response, the Miami Heat created their own Big Three—one built around two of the game's top five players at the time (Dwyane Wade and LeBron James) and a floor-spacing big who would act as the perfect safety valve (Chris Bosh).
Now, with that era all but over, nostalgia has kicked in; thus, we've decided to rank some of today's best trios.
Rather than using potentially biased eye tests, we are going to build every organization's most potent Big Three based on NBA Math's total points added (TPA) metric. You can look at every player's ranking in the advanced statistic right over here. For our purposes, we're only going to include men with at least 1,200 minutes played (I mean, wouldn't a Kyle Lowry-Demar Derozan-Lucas Nogueira Big Three just look weird?) so we can measure true impact and weed out the limited-minute superstars.
10. Denver Nuggets: Gary Harris, Nikola Jokic, Paul Millsap (524.24 TPA)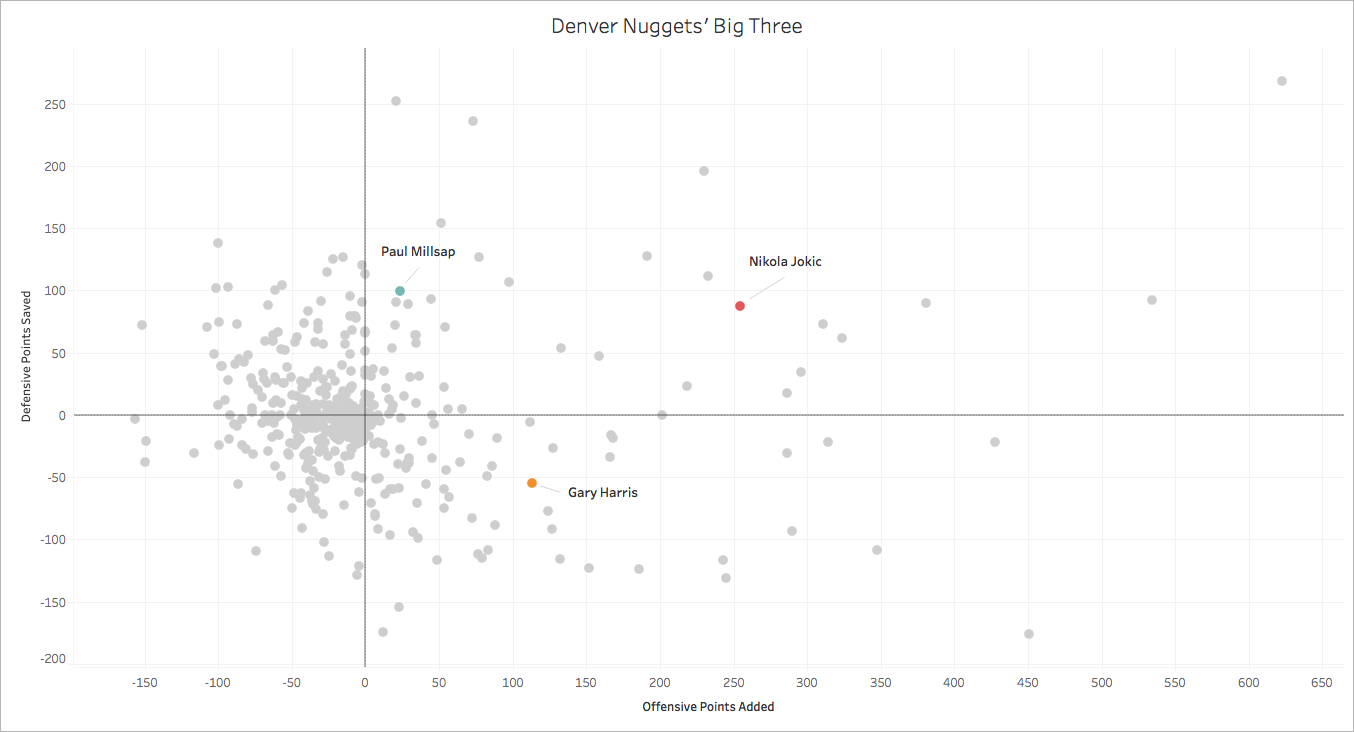 The Denver Nuggets missed the 2017 playoffs by one game. Since then, the look of their team has changed just a bit.
On July 4, Denver added the power forward version of a Swiss Army Knife known as Paul Millsap via a three-team trade with the Atlanta Hawks and Los Angeles Clippers. In that transaction, the Nuggets sent Danilo Gallinari, after six-and-a-half solid-but-injury-filled years with the franchise, to Los Angeles. Though the acquisition of Millsap on a reported three-year, $90 million deal was a tad costly, especially considering he's already 32 years old, the fact that the agreement contains a club option after Year 2 should quell any and all concerns.
Underrated for his defensive abilities, the ex-Hawk can efficiently get buckets, sure, but he can also lock it down on the less glamorous side of the ball. Millsap finished the 2016-17 season with 99.84 defensive points saved—the league's No. 20 mark.
His brilliance was most apparent when facing post-ups or dribble hand-offs, per NBA.com. When defending the former, Millsap allowed just 0.59 points per possession (PPP), a rate that put him in the 95.8 percentile; while defending the latter, meanwhile, he allowed 0.75 PPP, which placed him in the 80.9 percentile. Considering Denver's struggles on that end last season (No. 29 in defensive rating), the Louisiana Tech product's arrival will be a welcome sight.
Millsap and Nikola Jokic (who we already talk about enough on this site) will form one of the NBA's best power forward/center partnerships. If we take a look at their TPA scores from last season, we will see their combined total is second only to another duo we'll be discussing shortly.
Per @NBA_Math's TPA, top 4/5 duos based on 2016-17 scores:

1 NOP-524.18 (Boogie/AD)
2 DEN-447.85 (Millsap/Jokic)
3 MIN-393.44 (KAT/Dieng)

— Frank Urbina (@frankurbina_) July 3, 2017
Oh, and the third member of the triumvirate, Gary Harris, is pretty damn good too. The 22-year-old will be heading into his fourth year as a pro, and if he continues on his present trajectory, he'll be one of the NBA's better two-way wings for years to come. Just look at the chemistry he and Jokic already have:
The Western Conference is going to be a buzzsaw next year. Nevertheless, the Nuggets' trio should propel them into the postseason, perhaps even as far as the second round depending on what they can get out of the point guard position (which currently looks like a Jamal Murray/Jameer Nelson/Emanuel Mudiay pile of "meh").
9. Washington Wizards: Bradley Beal, Otto Porter Jr., John Wall (561.64 TPA)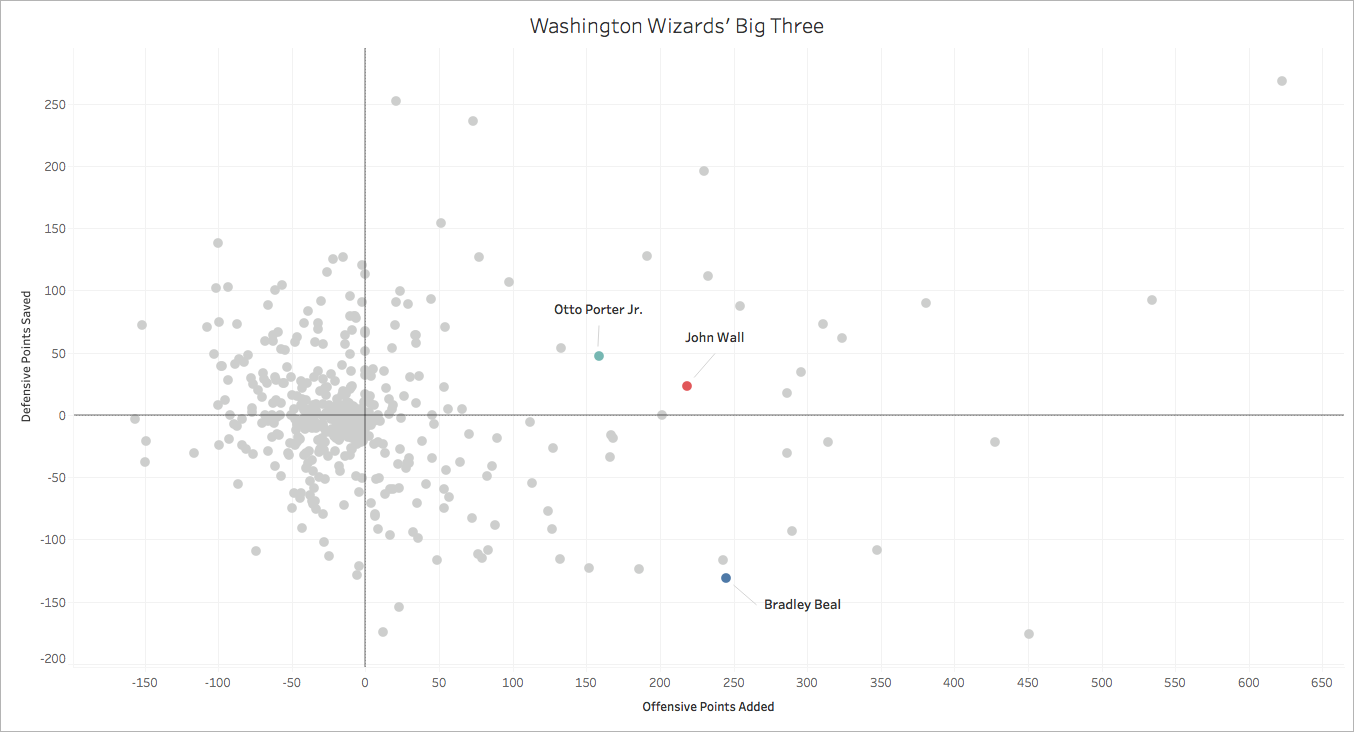 If you were building the perfect backcourt-wing trio on paper, you would want it to look a lot like the Washington Wizards' threesome of John Wall, Bradley Beal and Otto Porter Jr: one hyper-athletic freak with all-seeing court vision at point guard, a knock-down three-point shooter at the 2 and a three-and-D specialist at small forward who doesn't need 20 shots per night to do his damage.
In particular, Porter's growth this past season helped Washington take the next step as a team. In 2016-17, the Georgetown product became just the fourth player since 2012-13 to average at least 13.0 points, 6.0 rebounds and 1.4 steals per contest with a 62.0 true shooting percentage. The other two men on the list are LeBron James (who did it twice) and Kevin Durant.
Is Porter anywhere near as talented as the two former MVPs? No, but he's the perfect small forward for a team with other high-usage players.
ICYMI: Some of the qualified three-and-D studs (read: Otto Porter) during the 2016-17 season earned their paydayhttps://t.co/fn8eYtNtXj pic.twitter.com/OrnpaFBZEa

— NBA Math (@NBA_Math) July 8, 2017
Now that Porter is re-signed long-term, Washington is just waiting on John Wall's signature (it offered a four-year, $170 million super-max, per ESPN's Brian Windhorst) before it can really start looking towards the future.
Either way, their Big Three, as well as the accompanying frontcourt of Marcin Gortat and Markieff Morris (quite solid complimentary pieces in their own right) should have the Wizards right back where they were last postseason: contending for the Eastern Conference Finals.
8. Milwaukee Bucks: Giannis Antetokounmpo, Jabari Parker, Greg Monroe (597.67 TPA)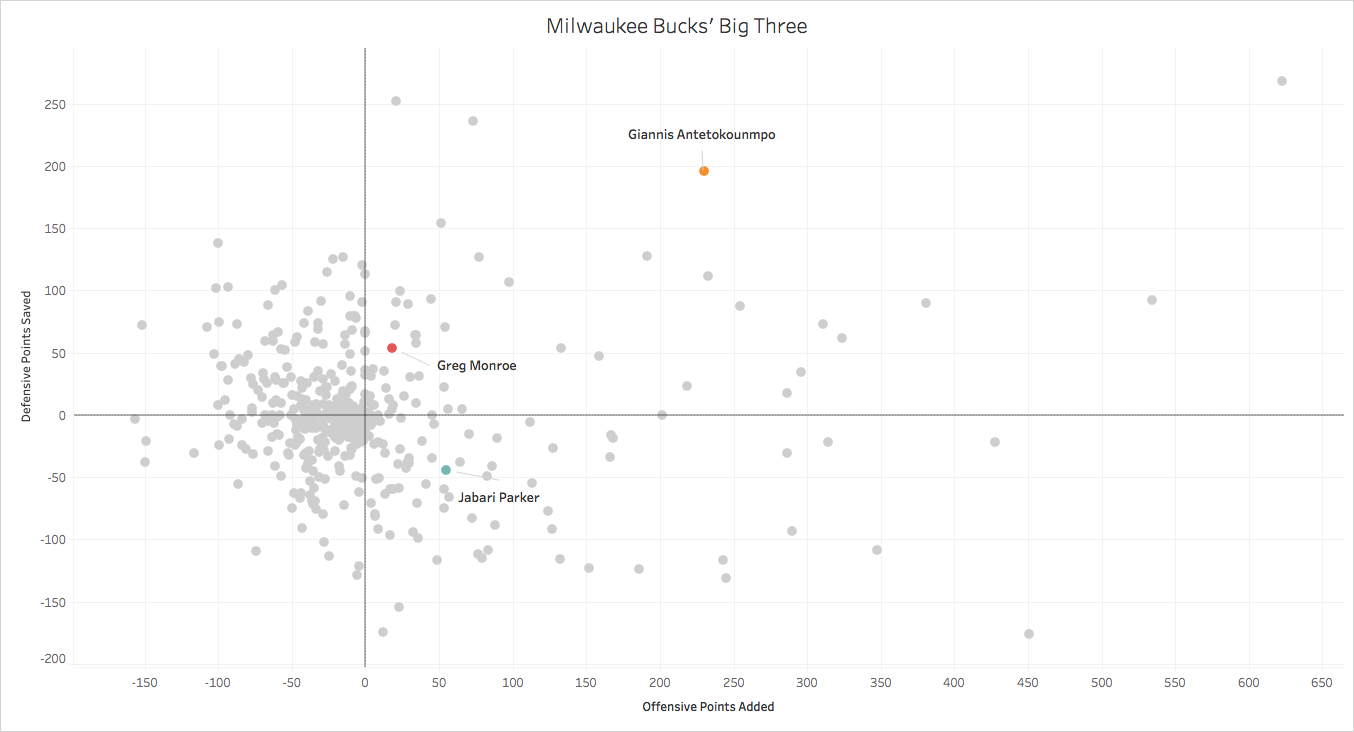 No disrespect to Jabari Parker or Greg Monroe, but this "Big Three" is really more of a "Gargantuan One" and an "Above Average Two". Giannis Antetokounmpo finished last season No. 4 overall in TPA at 425.68, while Parker (whose season ended on Feb. 8 after yet another torn ACL) and Monroe (who was extremely effective as an off-the-bench big) combined for a score of 81.99.
The Greek Freak just completed a rather absurd campaign, one that saw him average 22.9 points per night, along with 8.8 rebounds, 5.4 assists, 1.6 steals and 1.9 blocks. As his outside shot continues to improve (Antetokounmpo's effective field-goal percentage has gotten better every year he's been in the NBA), his dominance will only extend further. Even if he never becomes an above-average three-point shooter (career 27.7 percent from deep), the 22-year-old, who already has an All-NBA Second Team and Most Improved Player award under his belt, is headed straight for superstardom.
And although there was some scuttle from ESPN's Adrian Wojnarowski regarding other teams trying to poach the uber-talented wing away from Milwaukee, it appears Bucks fans shouldn't worry too much. Antetokounmpo himself emphatically shot down the report through his Twitter account:
I got loyalty inside my DNA 🦌

— GiannisAntetokounmpo (@Giannis_An34) July 7, 2017
The Bucks' supporting cast may not be great, but they have the most important piece of the puzzle already: a top-10 player. If Milwaukee can continue to build around him, it should be a force in the Eastern Conference for years to come.
7. New Orleans Pelicans: DeMarcus Cousins, Anthony Davis, Jrue Holiday (599.7 TPA)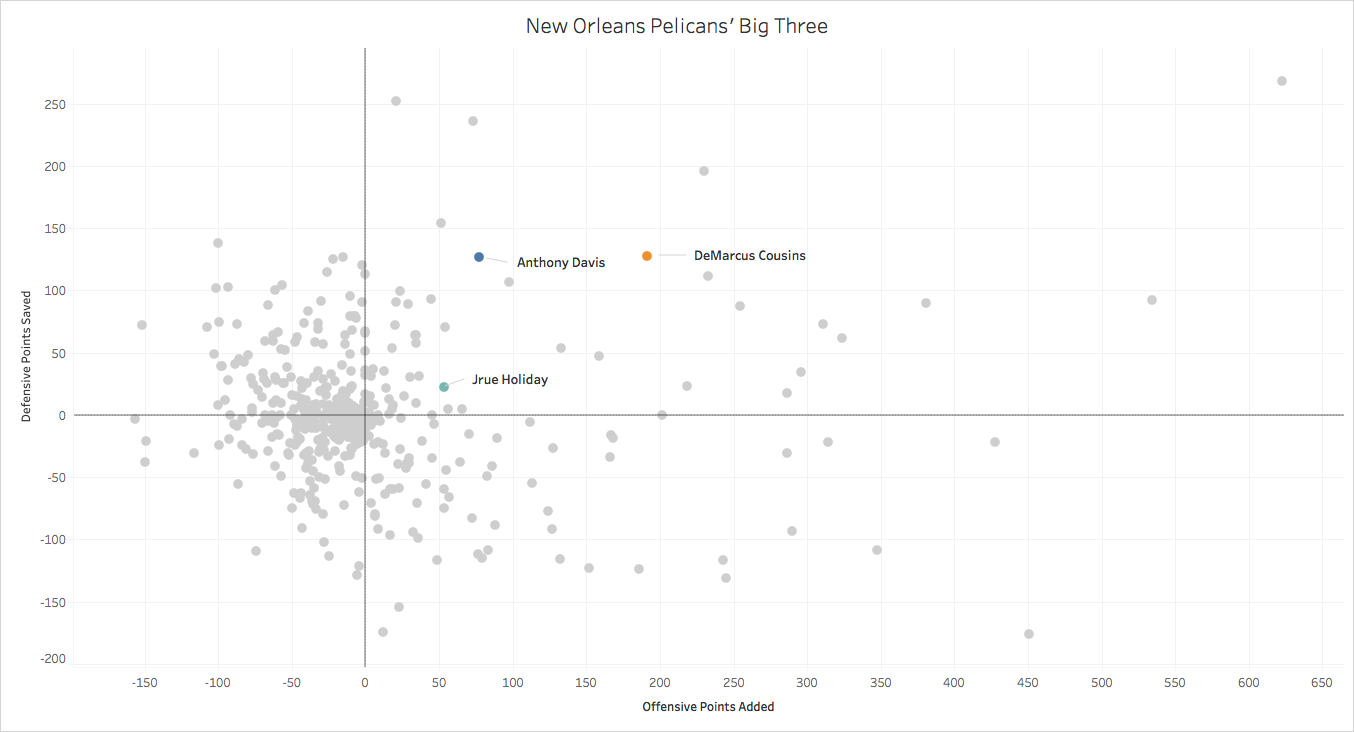 Per TPA, the best power forward/center duo based on 2016-17 output belongs to the New Orleans Pelicans, though their two behemoths, Anthony Davis and DeMarcus Cousins, didn't really get a chance to blossom after the latter came over in a midseason trade with the Sacramento Kings. Even when Cousins finally (somewhat) found his footing in early March (he averaged 24.6 points, 12.4 rebounds and 3.7 assists from March 3 through April 4), his play did not lead to much team success. During that month-long stretch, the Pelicans went 7-7 when their newest acquisition was active.
Then again, according to nbawowy, they did boast a healthy 7.3 net rating with Cousins and Davis on the floor throughout those 32 days, meaning there's hope for the duo yet.
The third member of their triumvirate, Jrue Holiday, is one of the league's most slept-on floor generals. In 2016-17, the UCLA product scored 15.4 points while dishing out 7.3 assists and recording 1.4 steals per contest. New Orleans was also 5.6 points per 100 possessions better with its starting point guard on the floor.
Head coach Alvin Gentry's team has the makings of a playoff-caliber unit, so long as it can put it all together. (And pray it can survive with one semi-serviceable wing—Solomon Hill—on the entire roster.)
6. Boston Celtics: Gordon Hayward, Al Horford, Isaiah Thomas (613.34 TPA)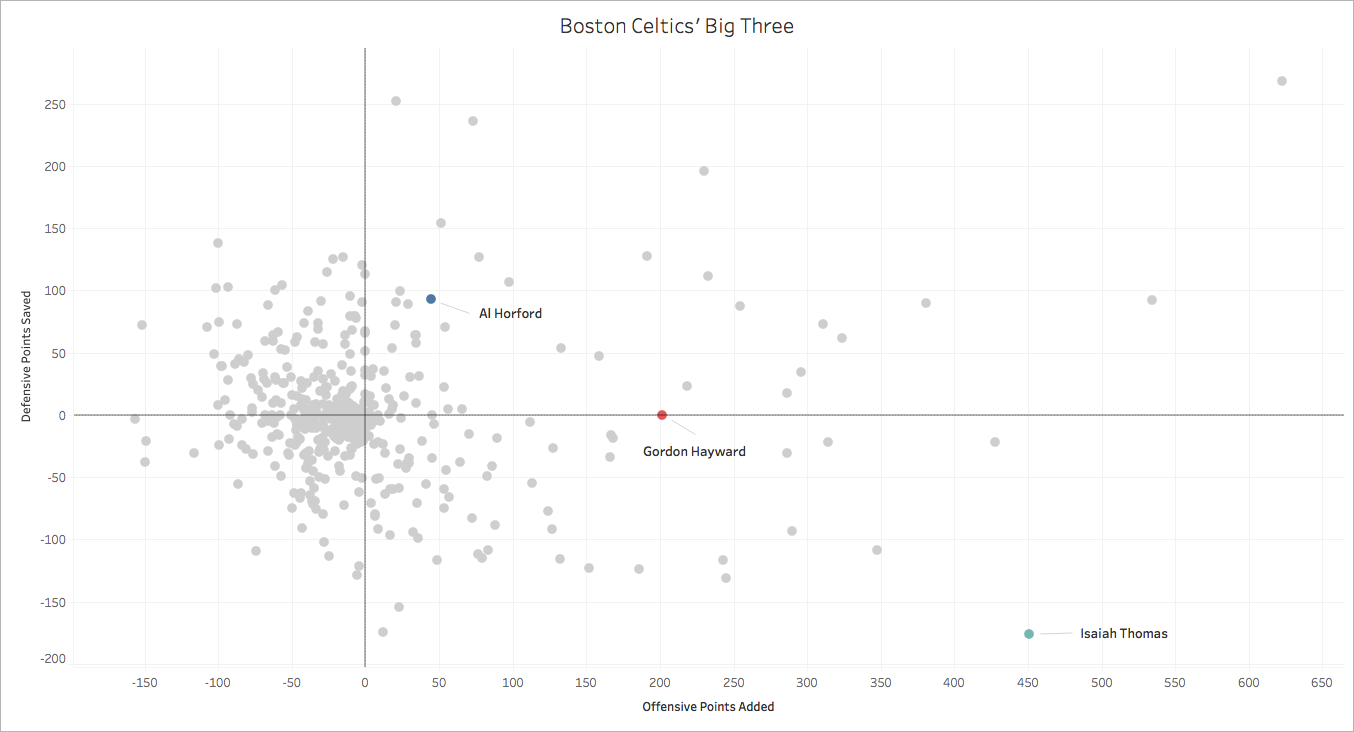 The most well-balanced Big Three to this point is the Celtics' trio of Al Horford, Gordon Hayward and Isaiah Thomas. Horford finished last season with 137.1 TPA (No. 29), Hayward with 201.66 (No. 24) and Thomas with 274.58 (No. 15). That's subject to change in 2017-18, of course, as Hayward did all of his damage in Quin Snyder's ultra-slow offense (Utah was dead last in pace last year). Playing in a faster system could benefit the former Butler Bulldog's overall output.
Then again, Boston's lead guard, Thomas, attempted 20.6 shots per 36 minutes in 2017. If that number doesn't go way down, the looks for Hayward may just not be there, which would make it very difficult for his averages to improve much at all.
In any case, it won't all rest on Hayward's shoulders. Horford is one of the NBA's best distributing big men and Thomas, before injuring his hip in the postseason, was a one-man supernova last year. Additionally, Marcus Smart, Marcus Morris, Jaylen Brown, Jayson Tatum and, last but not least, the untouchable Terry Rozier surround this threesome. The Celtics are a team that should be deep enough to push for the No. 1 seed again, as well as pose a bigger threat to the Cleveland Cavaliers in a potential Eastern Conference Finals rematch.
5. Cleveland Cavaliers: Kyrie Irving, LeBron James, Tristan Thompson (662.43 TPA)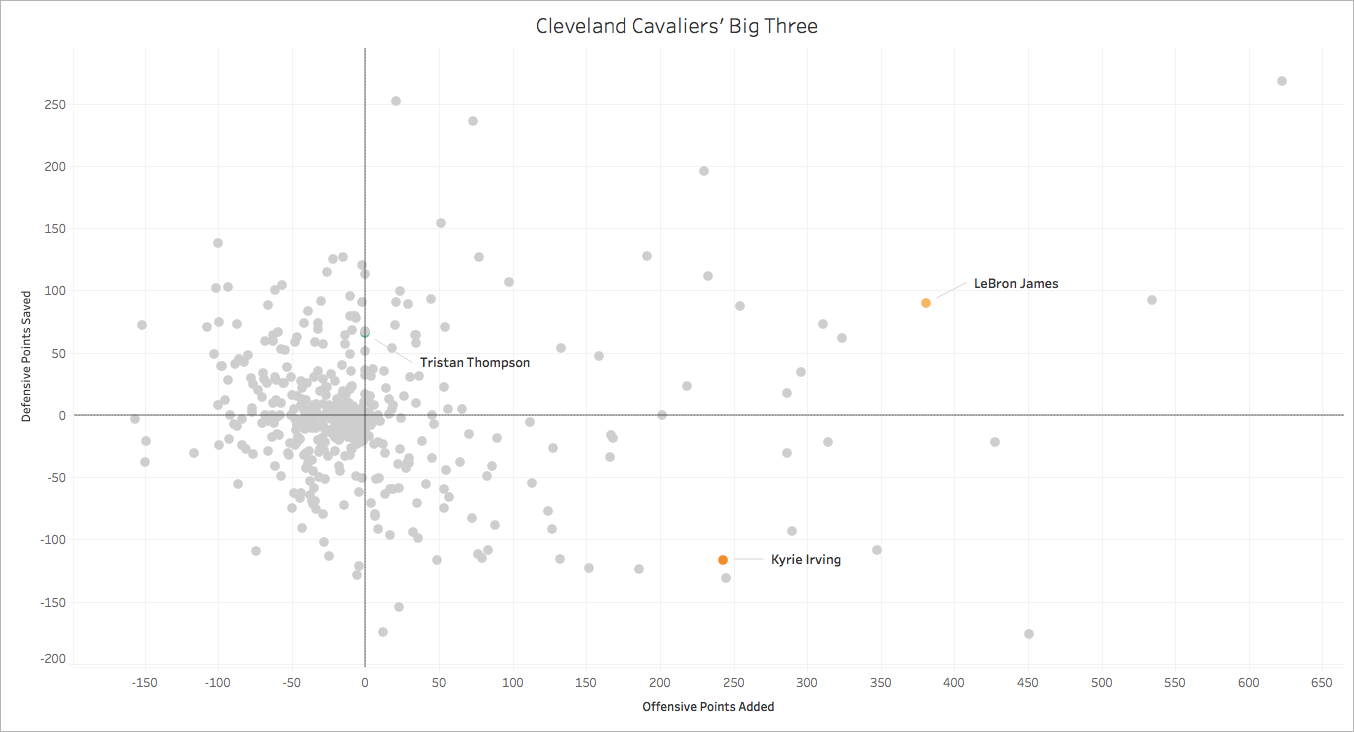 I know, I know.
"Tristan Thompson? But everyone knows Cleveland's Big Three includes Kevin Love! What gives?!"
I agree. Love is a far more talented player than Thompson.
But we're forming our trios based on TPA, and the all-knowing metric (don't worry; that's tongue-in-cheek) likes the former Longhorn a whole lot more than the stretch 4. Thompson finished last season with 65.54 TPA (No. 60), while Love finished with 26.44 (No. 97).
In any event, Love is still more valuable by most team metrics.
It's interesting to note that according to nbawowy, the Cavs' had a 108.6 defensive rating with Love on the floor and Thompson off; if we flip their roles, the number balloons to 111.1. Neither rate is worth bragging about. In fact, both would be among the NBA's six worst defensive ratings if maintained for the year. But most would have guessed the opposite to be true. Thompson is the superior defender, so Cleveland's defense should be better when he's on the floor as the only traditional big. Somehow, that's not the case.
Furthermore, also consider that head coach Tyronn Lue's team was 9.0 points per 100 possessions better when Love was in the game, but just 0.7 points per 100 possessions better with Thompson in. At this point, we have more than enough evidence to realize who belongs in Cleveland's Big Three.
It speaks to LeBron James' and Kyrie Irving's brilliance that even with Thompson included in their triad, they still place fifth among the league's best trios.
4. Minnesota Timberwolves: Jimmy Butler, Jeff Teague, Karl-Anthony Towns (790.23 TPA)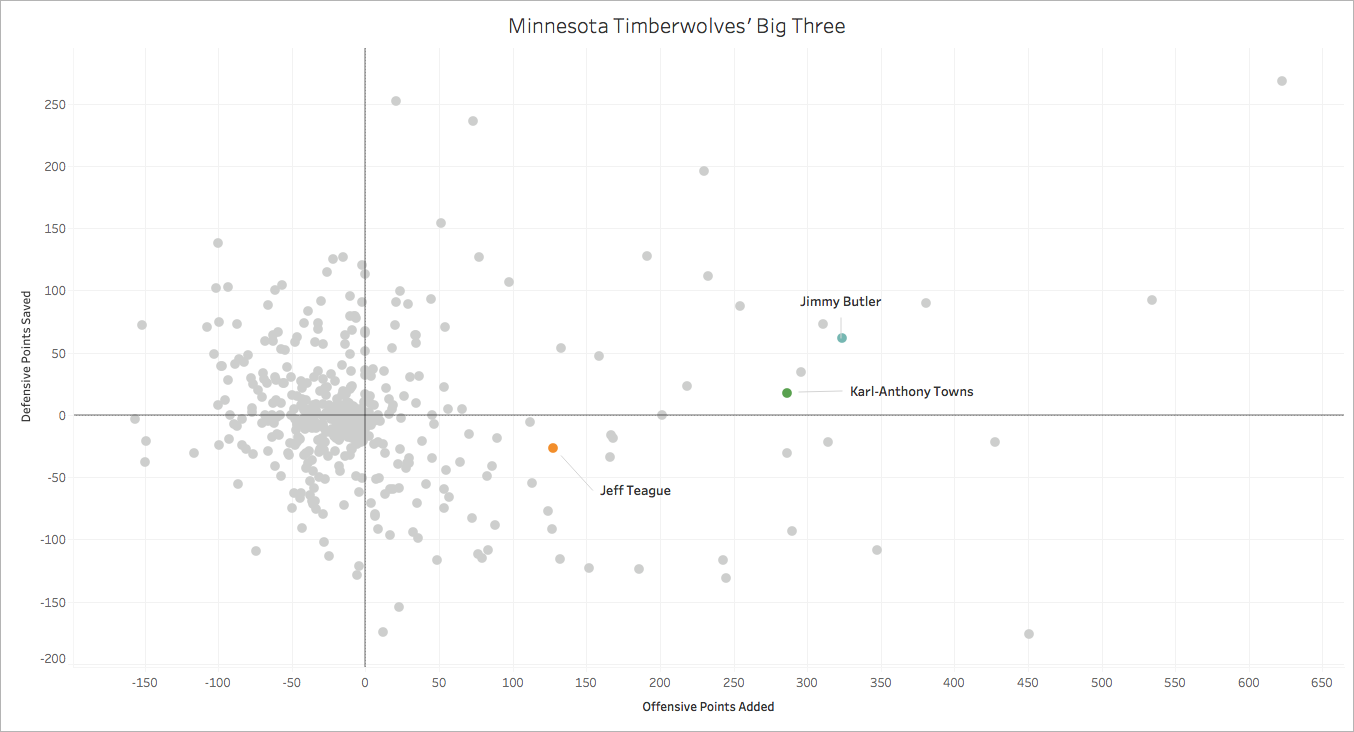 Our next Big Three comes from a team that had one of the most active offseasons: the Minnesota Timberwolves. Two of the three members of Minnesota's rendition weren't even on the team last year; Jimmy Butler came over through a draft-night trade (in exchange for the No. 7 pick of the 2017 NBA Draft Lauri Markkanen, Zach LaVine and Kris Dunn), while Jeff Teague was acquired as an unrestricted free agent.
No matter how they came together, the Timberwolves should be one of 2018's most exciting young teams. Karl-Anthony Towns is bound to take the next step in his development, which is insane to even think about considering he's coming off a year in which he averaged 25.1 points, 12.3 rebounds and 2.7 assists per night.
Now, he has one of the NBA's most efficient scorers and sturdiest defenders accompanying him on the wing in Butler, and an above-average lead guard feeding him the ball in Teague. (You know who else was an above-average lead guard? Ricky Rubio. Head coach Tom Thibodeau's insistence on trading him at all costs still doesn't make much sense to me. If he wanted a better shooter at the 1-spot, then why not go after George Hill instead? But I digress.)
The former Bull, especially, should make life easier for Towns (as well as for Andrew Wiggins, who fantastically missed the cut for Minny's Big Three due to his inefficient scoring and second-worst defensive points saved total from 2016-17). Butler is coming off a year where he finished No. 3 in win shares (13.8), No. 5 in value over replacement player (6.3) and No. 6 in TPA (384.82).
Big Three be damned.
The duo of Towns and Butler will be among the league's finest next season, and it'd be downright shocking if Minnesota didn't break its 14-year playoff drought.
3. Golden State Warriors: Stephen Curry, Kevin Durant, Draymond Green (1022.48 TPA)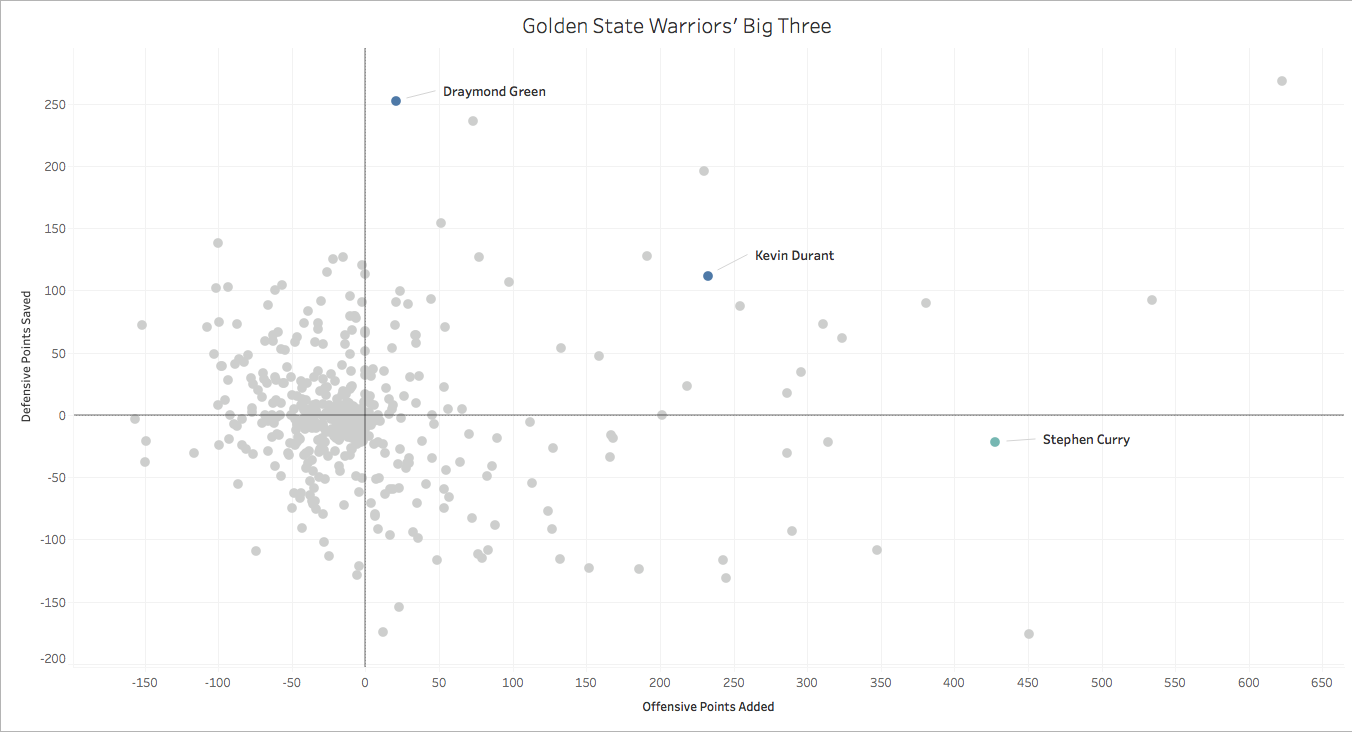 As if seeing Minnesota's trio finish with a higher TPA than Boston's or Cleveland's wasn't shocking enough, we have another stunner on our hands: The Golden State Warriors don't have the best Big Three in basketball, according to the NBA Math metric.
Before you grab your pitchforks, though, please realize this is merely a fun exercise in examining every team's top trio. Anyone with an unbiased mind would take Stephen Curry, Kevin Durant and Draymond Green over the two triads that finished ahead of them. Per nbawowy, Golden State lineups that featured the club's three best players had a mortifying 124.9 offensive rating and an astounding 102.6 defensive rating. For those keeping track, that's good for an absolutely dominant 22.3 net rating.
And as if those three weren't enough, the Dubs also have the league's best three-point shooter in Klay Thompson, boast an elite sixth man in Andre Iguodala and added sharpshooters Nick Young and Omri Casspi this offseason. Oh, and they apparently acquired the second coming of Ben Wallace in the 2017 NBA Draft—Jordan Bell:
So yeah, no one is touching Golden State anytime soon. But credit to these next two teams for trying, at least.
(For the record, Durant did miss 20 games last season due to a knee injury. If we modestly add another 15 games to his total and account for the TPA he contributed nightly in 2016-17, the former MVP was on pace for a score of 438.72 TPA through 77 games played. Add that to Curry and Green's actual totals, and the Warriors trio would have finished this list ranked No. 1 overall, with 1,116.89 TPA combined. Just absurd.)
2. Houston Rockets: Trevor Ariza, James Harden, Chris Paul (1049.41 TPA)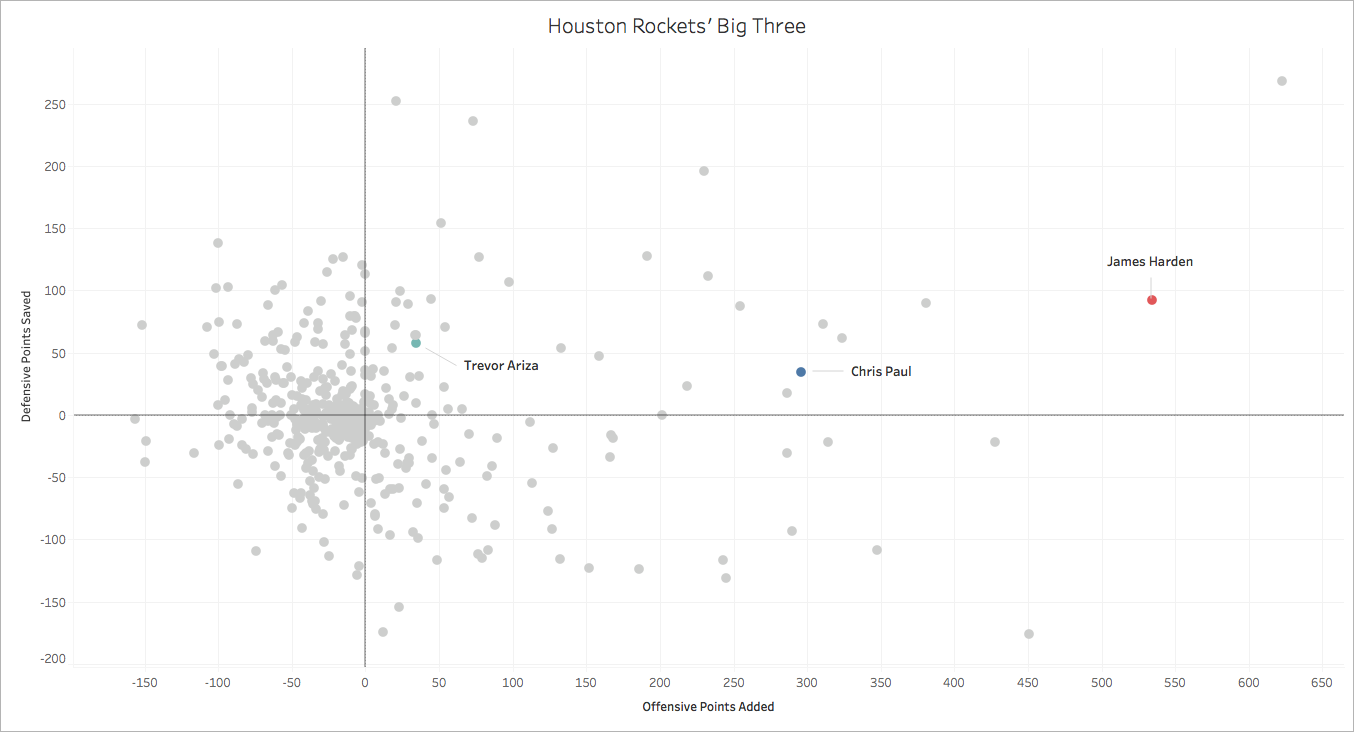 On June 28, Adrian Wojnarowski, then still with The Vertical, dropped the mother of all #WojBombs by announcing the biggest deal of the offseason: The Clippers traded the Point God himself, Chris Paul, to the Rockets in exchange for Sam Dekker, Patrick Beverley, Lou Williams and other periphery pieces.
The move gave the Rockets one of the NBA's most explosive backcourts, maybe ever, featuring Paul and James Harden.
It is somewhat fair to wonder how savvy it is to take the ball out of Harden's hands, as the shot-making maestro is coming off his best year as a professional. In 2016-17, The Beard averaged 29.1 points, 8.1 boards and led the league at 11.2 assists per night. All three marks are career highs for Harden, and they helped give the Rockets the NBA's No. 2 offensive rating (111.8).
At the same time, they failed to beat a weakened San Antonio Spurs squad in the second round of the playoffs, so it makes sense for general manager Daryl Morey to find his best player some help. That helps comes in the form of the greatest floor general of this generation, CP3, who, despite missing 21 games last season, finished No. 10 in TPA (330.75) and held averages of 18.1 points and 9.2 assists per contest.
Their personalities may not be the best fit—Harden, the laid-back scorer and Paul, the ultra-demanding teammate—but in pure basketball terms, it should be beautiful to behold. It helps that Harden ranked in the 90.6 percentile as a spot-up shooter last season, scoring 1.20 PPP on such looks, while Paul placed in the 77.3 percentile, scoring 1.10 PPP on the same opportunities.
While one of the savants has the ball, the other is a huge threat to knock down the open shot, and the gravity created from opponents refusing to leave either man open will create lanes for cutters, as well as rim-dives from the quietly excellent Clint Capela.
Having these two play together will almost certainly hurt their TPA scores, as they're both going to have the rock in their hands considerably less. If we do this same exercise in a year, Houston's Big Three likely won't rank second again.
Nonetheless, the Rockets are going to be a fascinating case study, both in their on-court interactions and in a Real World, reality-television sense. If I had to bet on it, I'd put my money on the two superstars figuring out how to make it work.
1. Oklahoma City Thunder: Paul George, Patrick Patterson, Russell Westbrook (1069.43 TPA)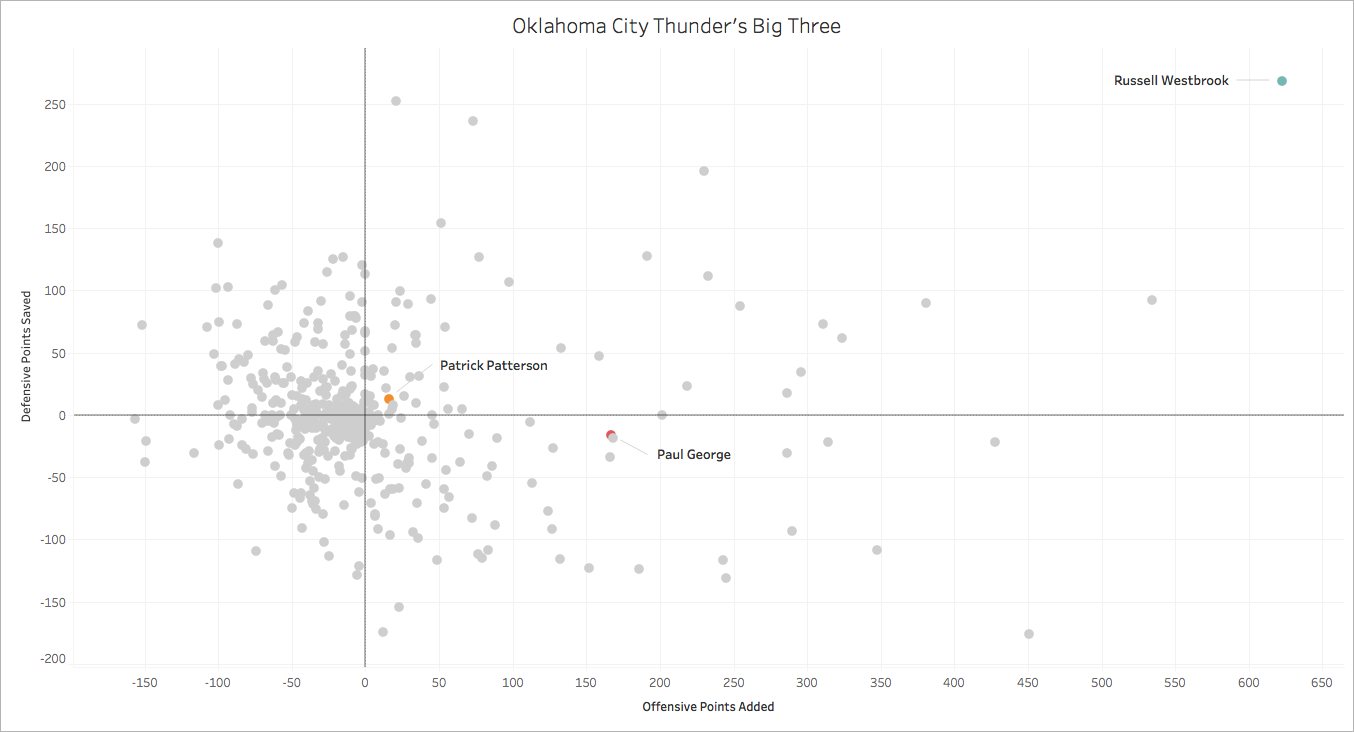 As NBA Math Editor in Chief Adam Fromal covered in his article about point guard peaks, Russell Westbrook broke multiple statistics in 2016-17 with his triple-double campaign. Because TPA uses box plus/minus (BPM) as a baseline, we'll allow ESPN.com's Kevin Pelton to explain:
Frankly, Westbrook's season has broken BPM, which is not quite as flattering to him as it sounds.

To improve the quality of the rating for most players, BPM uses interaction effects that multiply a player's assist percentage by his usage rate and his rebound percentage. As you might guess, Westbrook's season is off the charts historically by both measures…

Basically, Westbrook's season is way outside the sample on which BPM was trained to estimate player value, making its estimate of his value unreliable. BPM is treating Westbrook's versatility as exponentially better than anyone else's on record, and that's surely an exaggeration.

In short, Westbrook probably isn't having the greatest year in modern NBA history, just the one best designed to maximize BPM.
Even so, you don't need us to tell you that Westbrook was breathtakingly dominant last season. And after general manager Sam Presti pulled off arguably the biggest fleecing of the decade by trading Victor Oladipo's bloated contract and Domantas Sabonis (No. 482 in TPA in 2016-17) for former All-NBA performer Paul George, the fiery lead guard is finally going to have some help.
Thanks for the tweets reporting the "theft" of Paul George by @okcthunder.

Our investigative findings: totally legal & very savvy.

— Oklahoma City Police (@OKCPD) July 1, 2017
What's more, though you may question whether Patrick Patterson belongs in this Big Three, consider that he finished last year No. 95 in TPA (28.39), playing the role of stretch 4 who can ably defend either frontcourt position quite well. Many think of Patterson's deal, a three-year, $16.4 million agreement, as one of the best value signings of the summer.
The two stars and the underrated, role-playing big, along with Steven Adams and Andre Roberson, will form one of the NBA's best five-man units. If the Thunder can get enough out of their bench (a major if, considering the assortment of dreck it used last season), they could make a push for the Western Conference Finals. And who knows? Maybe they could even take a game or two in a potential showdown against Golden State. Just don't bet on it.
Follow Frank on Twitter @frankurbina_.
Follow NBA Math on Twitter @NBA_Math and on Facebook.
Unless otherwise indicated, all stats are from NBA Math, Basketball Reference or NBA.com.