Long Live The Process: Philadelphia 76ers Are Ready to Make the Leap

It turns out Sam Hinkie wasn't so crazy after all.
The former Philadelphia 76ers general manager was chastised—and eventually resigned—for intentionally losing games and tanking for higher draft picks. But four years after "The Process" began, things are definitely trending towards sunny in Philadelphia.
Despite never exceeding 20 wins in their preceding three campaigns, the 2016-17 Sixers finished with a record of 28-54. They now possess four top-three picks (Joel Embiid, Jahlil Okafor, Ben Simmons and rookie Markelle Fultz) and signed veterans J.J. Redick and Amir Johnson over the offseason. Add in Dario Saric, Robert Covington and Jerryd Bayless, and the Sixers will run out a strong nine next season.
Let's take a look at how the new-and-improved team will fit together.
Joel Embiid
Given the team's injury luck with recent first-round picks, it's tough to avoid hypotheticals when discussing the Sixers' prospects. But former third overall selection Joel Embiid displayed legitimate flashes of greatness last season—for 31 games, anyway.
The Cameroonian product put up 20.2 points, 7.8 rebounds and 2.5 block per game on 46.6/36.7/78.3 shooting splits, and he did so in just 25.4 minutes per contest. Then, in late January, the big man started missing games before undergoing season-ending surgery in March to repair a torn left meniscus.
After sitting out his first two seasons with foot issues, this was the first Sixers fans had seen of Embiid since his time at Kansas. Though disappointing, it's hard not to be excited about his future…if he can only find a way to stay healthy.
The 7'0″, 250-pound Embiid possesses an array of moves around the basket—floaters, hook shots and even a mean Dream Shake to boot:
And if none of those are going, he can put the ball on the floor, rise up and dunk on the opposition's head:
As NBA Math Deputy Editor Dan Favale put it on a recent episode of Hardwood Knocks, Embiid is the unicorn we didn't know we had. Fan awareness was high on the unique skill sets of Giannis Antetokounmpo, Kristaps Porzingis and Karl-Anthony Towns, but prior to those 31 games, we were largely unsure how good The Process could really be.
Sure, Embiid has drawn comparisons to former Houston Rocket Hakeem Olajuwon since as early as 2013, his freshman season at Kansas. And there's good reason to see similarity.
But in his first stretch of NBA action, Embiid displayed the conviction to be even better than The Dream. Not only can the former Jayhawk hold his own in the post at either end, he can step out in the mid-range and beyond the arc to knock down treys:
Dive deeper, and you'll see Olajuwon and Embiid had remarkably comparable rookie seasons, both at age 22:
Their points and blocks were nearly identical. Olajuwon had more rebounds and shot a better percentage from the field, but when you factor in Embiid's long-distance volume, their effective field-goal percentages (eFG%) inch closer. And remember: Embiid put up these numbers in just 25.4 minutes compared to Olajuwon's 35.5.
Though he never exceeded 30 minutes in a single contest—and was held out of back-to-backs—the 7-footer recorded nine double-doubles and scored at least 20 points in 19 of his 31 games. Yes, playing in short spurts meant he could go all out in his stints, but his proficiency in that time can't be overlooked. Only New Orleans Pelicans star Anthony Davis matched Embiid's averages of points, rebounds and blocks.
The Sixers posted a defensive rating of 99.1 with Embiid on the floor, which would have ranked first in the league as a team. And if blocking shots around the basket weren't enough, he could also switch onto guards and make their lives miserable in space or on chase-downs:
(Aside: C'mon, this isn't even fair.)
With Embiid on the court, the 28-54 Sixers played like a 48.5-win team, but that number plummeted to 19.7 with him on the bench (via NBA Math's FATS calculator). They went 12-19 with him in the lineup overall but really started clicking in January, finishing the month 10-5 overall and 7-2 when their star suited up. Over that stretch, the big man tallied 23.4 points, 9.1 rebounds, 2.6 blocks, 1.1 steals and 2.8 assists per game.
Then, just like that, he was sidelined yet again, and the Sixers continued their plunge towards the bottom of the East. But the nosedive may have been worth it, as Philly parlayed its lowly position on the totem pole, among additional assets, into another dynamic talent.
Markelle Fultz
When the Boston Celtics received the first overall selection in the mid-May Draft Lottery, the immediate assumption was that they'd select University of Washington's Markelle Fultz. But they shocked the world a month later and traded the pick to Philadelphia for this year's No. 3 selection and a future first-round pick.
When the dust settled, Fultz was a Sixer, and Jayson Tatum was a Celtic.
The top pick sports an offensive game beyond his years, tallying averages of 23.2 points, 5.7 rebounds, 5.9 assists on 47.6/41.3/64.9 shooting splits in one season as a Washington Husky. And with a near-6'10" wingspan, Fultz has defensive upside to boot; he also notched 1.6 steals and 1.2 blocks per game. Only Anfernee "Penny" Hardaway and Fultz have put up similar numbers in a single season since 1992-93 (when college stat tracking began):
The 6'4″, 190-pound combo guard has drawn hybrid comparisons to stars Damian Lillard and James Harden, both for his willingness to launch from every corner of the hardwood, and his relentless, yet herky-jerky assaults on the basket:
Highlights courtesy of Too Mainey's YouTube video.
Fultz is unseasonably patient controlling the ball in pick-and-rolls, constantly probing and contemplating the roving Chess pieces at his service, wary to make a thoughtless decision. And considering his insane usage rate (31.4), the Maryland native's 3.2 turnovers per contest are quite admirable:
This patience will be paramount not just to the Sixers—who ranked last in points per pick-and-roll possession (PPP)—but to Redick's shooting and Embiid's rolling and cutting, as well:
Ben Simmons
Ben Simmons averaged 19.2 points, 11.8 rebounds and 4.8 assists on 56 percent proficiency from the field in one go-round at Louisiana State University. After getting selected with the first overall pick, the former Tiger sat out his entire rookie season with a broken bone in his right foot—but not before putting on a passing clinic at NBA Summer League:
Highlights courtesy of FreeDawkins' Youtube video.
The 6'10" Simmons is effective rebounding the ball and bringing it up the floor himself, scanning the court for shooters and cutters to break free, as the above video shows. He won't be constantly handling the ball with Fultz in tow, but last year's No. 1 pick has the passing ability to slot in as de facto point guard, or simply make plays in transition and out of the high post.
Despite his passing prowess, shooting is an area of concern and need for improvement for the Australian combo-forward. He rarely lined up from deep at LSU, and his 67 percent accuracy from the line is troubling. But with defenders sagging, Simmons has still shown the knack to attack the basket at a productive rate:
Even if he never extends his range beyond the arc, acquiring consistent in-between to mid-range skills would do wonders for the lefty's offensive leverage. With a more polished game, Simmons has the potential to be the perfect hybrid player in today's NBA.
JJ Redick
After spending the last four campaigns with the Los Angeles Clippers, J.J. Redick signed a one-season, $23 million deal to join the Sixers. The 11-year veteran arrives having averaged 15.8 points, 2.1 rebounds and 1.6 assists on 44.0 percent three-point shooting (5.8 attempts per game) during his stint as the starting shooting guard for the team formerly known as Lob City.
Redick was utilized in many different ways under Clippers head honcho Doc Rivers; according to NBA Math's play-type profiles, his most frequent offensive actions came off screens (31.8 percent), handoffs (19.0), spot-ups (18.9) and in transition (14.7). So it's no coincidence those were the categories in which the flame-throwing 2-guard added offensive value a season ago: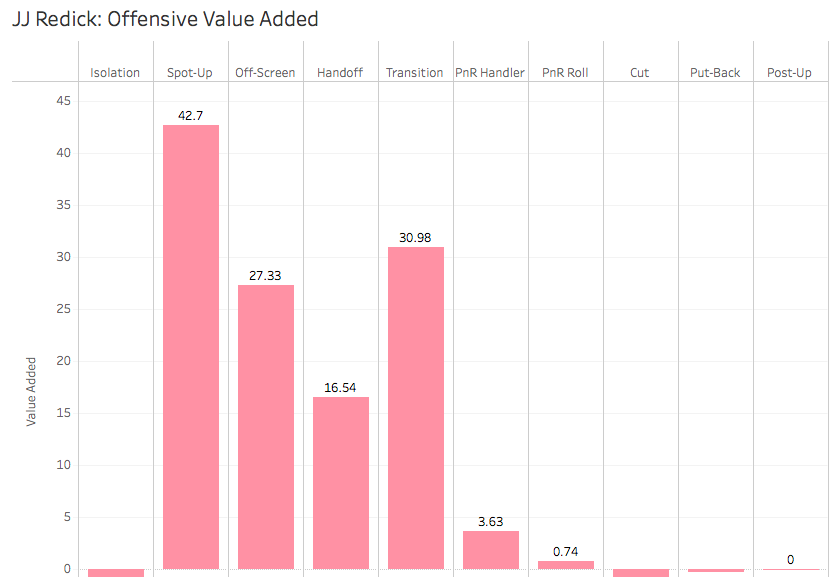 The former Duke Blue Devil is a career 41.5 percent shooter from deep, and given the Sixers ranked 25th in three point accuracy and last in transition PPP, his presence should be a major boost right away. Per the table above, Redick added 30.98 more transition points than an average player would have in those situations. With Fultz, Simmons and even Embiid adept at pushing the pace, the newly-acquired shooting guard will be a quality dump-off option on the break:
Offense, of course, is just one side of the ball, and despite the perception he's just a shooter, Redick is no slouch on defense, either. He added value in multiple categories for the Clippers, especially defending the PnR ball-handler: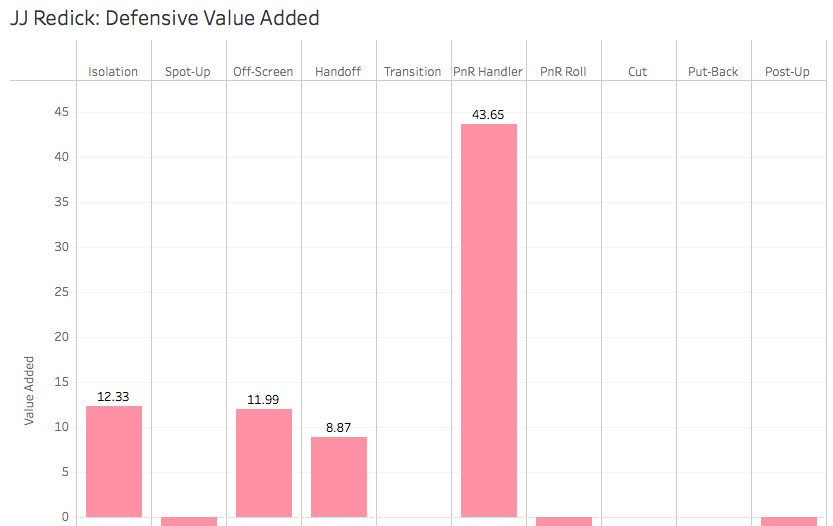 Redick has quick hands and is almost always in the position necessary to come up with steals, so he adds both elite shooting and quality team defense to Philly's attack. And his seasoned voice is an invaluable bonus to a young locker room.
The Leftovers
As of now, Philly's 2017-18 starting lineup should most likely be comprised of Fultz, Redick, Simmons, Dario Saric and Embiid, with Robert Covington, Amir Johnson and Jerryd Bayless as the first bodies off the pine.
In his first NBA season, the 6'10" Saric notched 12.8 points, 6.3 rebounds and 2.2 assists per outing while starting 36 games. The Croatian power forward was in contention for Rookie of the Year and should be able to take his play to the proverbial next level with so much additional talent around him. Meanwhile, the 6'9″ Covington maintained steady production in his third season with the Sixers, putting up marks of 12.9 points, 6.5 boards and 1.5 assists per game with a 49.2 percent eFG%. He started every game he appeared in, and though his offensive repertoire still needs some padding, he really leaves a dent on the defensive end: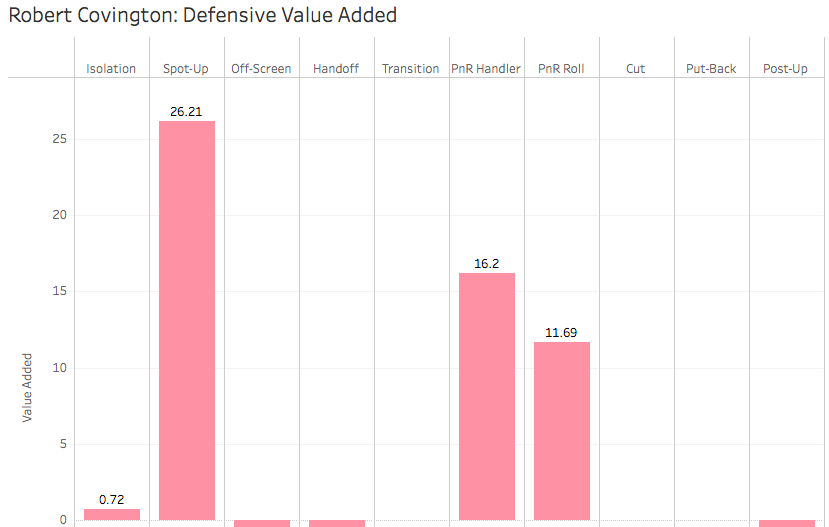 Covington possesses the skills to defend around the basket and in space; he tallied 1.9 steals and 1.0 blocks per contest—strong numbers for a wing. He has experience playing the 4, but with Saric likely remaining in the starting lineup, he'll move to a combo-forward role off the bench. Though Covington may be a better fit with the starters, head coach Brett Brown is likely to stick with the younger, more high-profile forward at the tip. But given the pairs' versatility, and Simmons' height, the team will have a range of lineups at its disposal.
Amir Johnson joined the Sixers on a one-year, $11 million contract early in the free-agency process. The Los Angeles native spent the last two seasons as the Celtics' starting power forward and averaged 6.9 points, 5.5 rebounds and 0.9 blocks on 58 percent shooting. But his impact goes far beyond the raw stats. He'll be a high-energy big off the bench, as well as a quality option to pair with Embiid when Philly wants to trot out a more traditional look.
Plus, he knocked down 40.9 percent of his triples on 66 attempts last season, and his 61.2 eFG% placed fifth among eligible forwards.
While Fultz and Redick will be in the starting five, Jerryd Bayless, T.J. McConnell and Nik Stauskas are expected to pick up the remaining backcourt duties. Bayless battled a wrist injury throughout last season, suiting up for just three games. But with career averages of 8.6 points, 2.9 assists and 2.1 boards, he'll be a steadying second-unit presence. His fit is particularly intriguing when baking in his accuracy on the long ball. With Milwaukee in 2015-16, he shot 43.7 percent from deep on a career-high 4.4 tries.
McConnell notched 6.9 points, 6.6 assists, 1.7 steals and 3.1 rebounds per game in his second NBA campaign, but he shot just 20 percent from behind the rainbow. Stauskas, on the other hand, put up 9.5 points, 2.8 rebounds and 2.4 assists during his typical outing with a 50.0 eFG% (4.5 three-point attempts per game) during his third go-round.

The Sixers offense was atrocious a season ago, ranking last in efficiency and turnovers, and in the bottom 10 of points, three-point accuracy and eFG%. But they placed third in steals and seventh in blocks while finishing 17th in defensive efficiency. Now, following the additions of Fultz, Simmons, Redick, Johnson and a healthy Embiid, with a stocked bench to boot, they should be shooting for top 10 to 12 status on either end of the floor.
Future Books
Adding players like Redick and Johnson to the fold creates an ideal cocktail of veteran voices and young talent in the Sixers' locker room. And better still, they have the opportunity to create major cap space next summer, since both are locked up for just a single season.
In addition to the two veterans, Covington will also be an unrestricted free agent. Embiid and Stauskas will be restricted, while Simmons, Okafor, Saric, McConnell, Justin Anderson, Richaun Holmes and Timothe Luwawu-Cabarrot will all have team options.
Even so, the Sixers can get more than $40 million to spend if all options are picked up and they play their free-agent rights to perfection. Bringing back Embiid and Covington on relatively economical deals will be of upmost importance, but with proper cap-management, the team should have max space after re-signing them.
Laughingstock to Playoff Hopeful
The Sixers have been the laughingstock of the NBA for years. But that was Hinkie's plan. Internal pieces such as Covington, Embiid and Saric have shown steady improvement, while Fultz and Simmons are itching to make their debuts. With new veterans tagging along, the team should make a strong showing in the weakened Eastern Conference.
And if that happens, you can bet every major free agent will at least consider joining Philly's young core, which is much more than they could have hoped for a short time ago.
Even if LeBron James won't actually take his talents to Philadelphia, the situation suits itself to incorporate an established star. And if they don't poach an All-NBA stud, grooming their own talent and adding supplementary role players should be enough to compete in the East for years to come.
Long live The Process.
Follow Michael on Twitter @mbrock03
Follow NBA Math on Twitter @NBA_Math and on Facebook.
Unless otherwise indicated, all statistics via Basketball-Reference and NBA.com.